*This post may contain affiliate links. This means we may make a commission if you purchase an item using one of our links*
If you've found yourself on this post, you're probably looking to get into astronomy, start star-gazing and want to be able to do so whilst travelling right?
Well then you've found yourself on the right page because this list is directly designed to assist you in discovering a scope that's lightweight, generally easy to carry around in the wilderness or to lug around to the top of mountains to where the light pollution doesn't get in the way.
This list is in no particular but, do note that all of these telescopes are solid picks if you're looking to carry around a powerful yet compact system that pretty much, is more than capable of observing some of the wonders of space.
In A Hurry? Check Out Our 3 Best Options Below!
Name
Most Affordable
Orion Starmax 90
Editor's Choice
Celestron NexStar 130SLT
Most Powerful
Celestron NexStar Evolution 8
Image
Most Affordable
Image
Editor's Choice
Image
Most Powerful
Name
Celestron NexStar Evolution 8
Image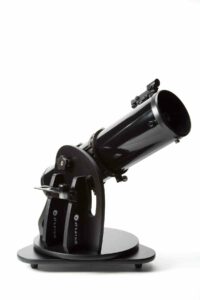 Pros
Very affordable
Easy to use out of the box
A great gateway into astronomy
Fairly light weight and portable
The eyepieces and other accessories are a nice touch
Cons
Regular maintenance needed as it's a reflector telescope
As it's a fast telescope coma will be noticeable
The Zhumell Z130 is a solid beginner telescope, only setting you back around $200 to purchase while also being fairly compact system too. In terms of the specifications it has, the aperture is 130mm, the focal length at 650mm which results in a focal ratio of f/5.
What this translates to in regards to practical use is you being able to observe space at a maximum magnification of 256x, which will allow you to view quite a large number of celestial objects, the likes of which include, Saturn, jupiter and a plethora of other faint deep space object like galaxies and nebulae.
As for the accessories you'll get within the box, it'll be 2 eyepieces, a 25mm (26x) and a 10mm (65x), a red dot finderscope, an eyepiece rack and a Dobsonian mount. As for how practical the two eyepieces are, you'll be able to view jupiter and its moons without much detail and observe some nebulae out in space with them.
The Z130 weighs in at around 10kg whilst the dimensions are 24 x 18 x 18.5 inches mean it's a little bit too big to be carried in a backpack but, it's still fairly portable and can easily be carried around in a bigger carry-on bag.
For the price and the power it displays, the Zhumell Z130 is a very solid entry level pick for astronomers like you wanting a competent device to take on their travels.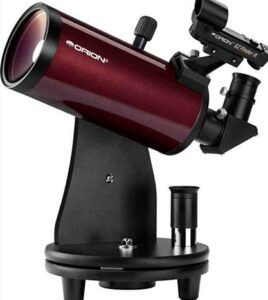 Pros
Great for planetary viewing
Decent in box accessories
It's low maintenance
No major visual issues
Very portable
Cons
The mount isn't great for the Mak optics
Isn't that powerful for the price
Kellner eyepieces are mediocre
This is yet another $200 telescope and is in fact significantly lighter and more compact than the Zhumell Z130 however, because it is so light weight, weighing in at roughly 3kg, the optics and the overall power of the system is less than the Zhumell Z130.
The aperture for the starmax 90 is at 90mm whilst the focal length is 1250mm which results in a focal ratio of f/13.8. This means means that you can magnify a lot more with the eyepieces that are included.
In the box you'll be provided with 2 eyepieces, a 25mm and 10mm piece. These 2 will be able to magnify your viewing by 50x and 125x, which of course is significantly better, out of the box when compared to the Z130.
However, the draw back here is that the maximum power of the starmax 90 is around 3 times weaker than the Z130 being only at a max theoretical magnification of 157x.
Nevertheless, even with the weaker power it'll still be more than capable of viewing Jupiter's moons or Saturn's moons as well as other nebulae in space but, the details you see won't be the greatest due to smaller surface of the lens.
Of course this is just a compromise you'll have to deal with for portability and considering it's dimensions are 49.5 x 26.7 x 26.7 cm, it's certainly very compact and will very easy to carry in a backpack, if that's what your looking for in your telescope.
Also as the Starmax 90 is a tabletop scope, if you're planning to travel with it, a tripod is something you should consider looking into but all in all, people have enjoyed this scopes compact nature and find it to be a solid portable telescope despite its weaker optics.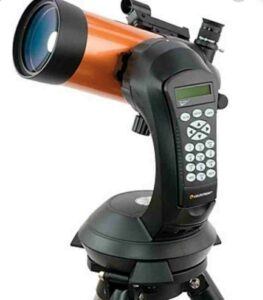 Pros
Fairly easy to set up
Won't require a ton of maintenance
Very portable
Cons
It's a bit underpowered for the price (mostly due to the GoTo Mount)
The booting sequence is annoying
Only 1 eyepiece provided
Celestron's Nexstar 4SE is a somewhat expensive scope setting you back around $500 depending on where you shop. It's also both a computerized and hybrid telescope, being an in-between of a reflector and refractor scope, called a catadioptric based telescope (more specifically it's a Maksutov-Cassegrain design).
This has a few benefits to it such as reducing the problems associated with both of these lenses such as chromatic aberration from refractor scopes and deviation from flatness on reflector scopes.
Of course a hybrid mirror lens also has its problems, with the major one being less light captured and ultimately less detail when looking through the scope (although not by much).
The aperture found within the 4SE is 102mm, the focal length is 1325mm with a focal ratio of f/13.
This means that you can achieve much higher magnification with the eyepieces. For example with the 25mm eyepiece included in the box you'll be able to get a magnification of 53x whilst a 10mm eyepiece would mean you'd be able to magnify upto 135x. When compared to the Z130, this is pretty much double the magnification despite the smaller aperture.
When you take into account the maximum theoretical magnification being 241x, that's not a bad statistic for the 4SE. Even though you also don't get a 10mm piece in the box, considering that they're relatively affordable, I can't say you'll be missing out on too much not having a smaller eyepiece right away.
The other accessories included within the box are a star pointer red dot finderscope, adjustable steel tripod with a built-in wedge , a Sky TM level 1 astronomy software, NexRemote telescope control software and a computerised hand control with nearly 40000 Object Database.
The 4SE weighs in at around 10kg with dimensions of 82.3 x 69.1 x 34 cm which means that it may be too big for a backpack nevertheless, it's more than compact enough to carry in a carry-on bag or just in a fairly large bag.
Users of the scope have said that it's easy to set up and an easy to use scope and very good for beginner astronomers too so, you can't really go wrong with this one.
4. MEADE ETX-80
Pros
Compact and portable
Will require minimal maintenance
Enclosed tube means it more durable than the other reflector offerings
Cons
Chromatic aberration
A little expensive considering the specs
The etx-80 is a scope that costs around $250 – $350 and is also a computerized refractor scope. Being a refractor telescope means that it's a fairly low maintenance system but, because of the low maintenance it's also a lot more expensive than a reflector scope.
It has an aperture of 80mm, a focal length of 400mm and a focal ratio of f/5. This means that the overall power of the system is a lot smaller than the majority of the less portable scopes on this list but, once again that's a compromise you'll need to make for portability I guess.
The accessories that are included in the box are 2 eyepieces at 26mm and a 9.7mm which allow for a magnification of 15x and 41x respectively.
You're also provided with a Barlow lens which is built into the system and can be activated with the flip of a switch, a removable tripod, a backpack for the scope, a red dot finder, AudioStar Computer Hand Controller with 30,000 object data base, a mount and a few other accessories
As for what the Barlow lens can do, it'll allow you to increase the magnifications further when either of the eyepieces are attached. The 26mm will magnify to 30x and the 9.6mm to 82x. As for the theoretical maximum magnification, the etx-80 can achieve a magnification of 157x.
This means that you'll be more than capable of viewing Jupiter and Saturn through the lens and because it's a refractor scope, it's also pretty good at viewing objects on earth, which you may enjoy doing. However, above the 80x magnification, there will be a lot of chromatic aberration, which will limit you're experience the further you look into space.
Furthermore, because the system is computerized, you will need power to turn the scope on. When travelling with it, you'll need 6 AA batteries to turn it on whilst you can also use an portable power tank power it up too.
Now for how portable it is, etx-80 only weighs in at around 2kg and with the included backpack, it'll be very easy to carry the system around so, if your main priority is extreme portability, the etx-80 is a more than capable device even with the sacrifice in detail due to the small aperture.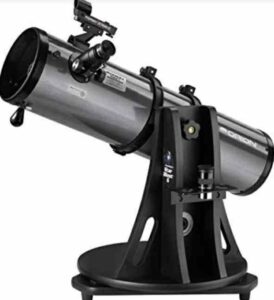 Pros
Good accessories
A powerful 6 inch aperture
Fairly lightweight and portable
Easy to use and set up
Cons
A little too expensive when compared to other 6inch Dobsonian devices
Requires regular maintenance and collimation
The EZ finder is mediocre
No hex key provided
Orion's starblast 6 is a scope that will set you back around $320 – $370 and is another slighter heavy tabletop scope. Of course this doesn't mean it's still not really reasonably portable but, at a weight of a 10.66 kg and with it's dimensions 32 x 21 x 20 inches, it's not going to be horrible carrying it around and travelling with it.
The aperture of the lens is 150mm, the focal length is 750mm which results in a focal ratio of f/5. The eyepieces that are included in the box are a 25mm and 10mm which will produce a magnification of 30x and 75x respectively. The maximum magnification of the starblast 6 stands at 300x.
This means that with this scope you'll be able to view pretty much everything within our solar system with pretty good detail with the moon obviously being very detailed.
You'll also be able see other more faint objects in space such as bright deep-sky objects such as nebulas, galaxies, and star clusters. However, as this scope is a reflector scope, it will be fairly high maintenance due to the optics being exposed.
Besides the eyepieces, the other accessories that are included within the Starblast 6's box are an EZ Finder II aiming device which is plastic based so not very durable, an eyepiece rack, Starry Night software and other bits and bobs such as a quick start manual etc.
There are a few cons to this system such as the lack of 2mm hex key provided within the box to rotate the secondary mirror, the scope needs to be constantly collimated due to the f/5 ratio but, this shouldn't be too much of problem because it's fairly easy to collimate.
Nevertheless, individuals have found the starblast 6 to be a very solid scope with very easy assembly and although it's not the most portable device on this list, it's definitely a solid pick in terms of the value for the money it provides.
Pros
Easy to assemble
Good in box accessories
A fairly affordable automatic computerised system
Cons
Suffers from some comatic aberration
Will need to be maintained and collimated regularly
The mount is too small for the tube
The mount is also really old and will require you to put in the date and time every time it's rebooted
The Nexstar 130SLT is a scope that will set you back around $400 – $450 so it's an upper entry level scope. The aperture of the system is at 130mm, 650mm focal length and a focal ratio of f/5.
130SLT is pretty much identical to the Zhumell Z130 in terms of specs with the main difference being the fact the 130SLT is a computerised system and the accessories provided in the box are a lot better.
In the box you'll receive a 25mm eyepiece that results in a 26x magnification and a 9mm lens which will allow a 72x magnification. The 130SLT's maximum magnification rests at 300x which means that you will be able to view a large number of the planets within our solar system at good detail and deep space objects like nebulae.
The other accessories included in the box are a 2″ red dot StarPointer finderscope, a tripod and a computerized mount with a database with the ability to locate over 4,000 celestial objects.
The 130SLT weighs in at a little over 8kg so, it's not at all heavy and easy to take with you to a camping trip for the best views.
The biggest cons with it are the mediocre battery life and the constant need to re adjust and collimate the scope, which are obviously a little annoying but, all in all the experience with this telescope is positive across the board.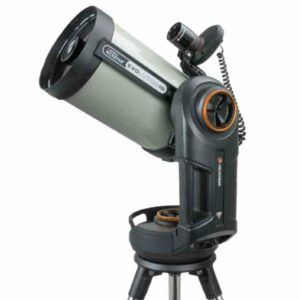 Pros
Great mount
Rechargeable battery
Comes with some very useful accessories
It's provides a great quality viewing experience
Cons
Very expensive considering the specs
Has narrow field and you need an adapter to use a wide field eyepiece
Issues with manufacturing problems
Celestron's nexstar evolution 8 is among the most expensive telescopes on this list, so it's not a scope I would recommend anyone to get unless they really wanting both a very powerful system and a portable system.
Weighing in at only around 18kg, the evolution 8 isn't the lightest gear on this list but, considering the power of the system as well as the other accessories included within it, it definitely isn't a bad choice if wanted a system that is realtively lightweight for the power it delivers if you're willing to stretch the wallet a fair bit.
The aperture of the telescope is 203.2mm, the focal length is 2032mm which leaves us with a focal ratio of f/10. What this means is that the initial magnification of the system will be a lot higher than the other scopes on this list and the use of a 203mm lens means you'll be able to gather around 2.5x the light of the Z130 and the 130SLT on this list.
As for the eyepieces included in the box, you'll be provided with a 40mm (51x) and 13mm (156x).
With the 203mm lens, you'll be able to achieve a maximum theoretical magnification of 480x which obviously means you'll be able to see Saturn and its rings with a good amount of details and obviously be able to see a ton of detail on the moon as well as other celestial objects such as the Andromeda Galaxy, Dumbbell Nebula, Double Double cluster, Epsilon Lyra etc.
As the evolution 8 is also a computerized system, you will need to charge it regularly but a full charge should last you 10 hours which is pretty good. The set up process for the evolution 8 is very simple with the alignment of the scope only taking a few minutes.
One thing to note is that although the system is fairly lightweight, you'll still need to purchase at least their small rolling on case as a carry on bag probably won't be enough.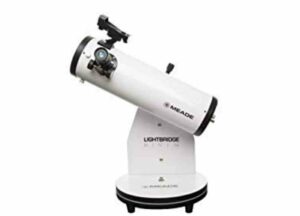 Pros
Lightweight and compact
Good specs for the price
An easy to use beginner level system
Decent accessories in the box
Cons
Requires regular collimation and maintenance as it's a reflector device
Meade's mini 114 is a more budget oriented telescope only costing around the $120 – $170 range  depending on where you shop and it's among the weaker scopes on this list too.
The specs for this model are an aperture of 114mm, focal length of 450mm which results in a focal ratio of f/4.
As for the eyepieces included in the box, you'll get a 25mm for 17x and a 9mm for 50x. The maximum magnification for the mini 114 is a relatively small 224x but, considering the price you're paying for it and the lightweight nature of it, being around 5kg, the stats aren't bad at all.
The system is very solid for looking at the moon and checking out some of the more nearby planets however, the detail you'll see won't be all that great. Nevertheless, at the asking price and it being a very easy to use telescope out of the box and also being portable enough to carry around in a backpack, I'd say that it's a very decent scope for the money.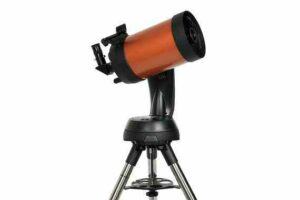 Pros
It's very sturdy and low maintenance
Can see Jupiter, Saturn, The messier catalog, other galaxies and a ton more
light weight
Motorised and automated GoTo mount
Easy to set up and align due to sky align software
Cons
The eyepiece is mediocre
The finderscope is poor
The mount is prone to failure due to poor manufacturing decisions
Celestron's nexstar 6se is just a bigger version of the 4se but of course with better optics and a slightly weightier design. The weight of the scope with the included tripod is only a little over 13kg so it's not necessarily the lightest system on this list but, when it's optics are taken into account, it's certainly not a bad system.
The 6SE has a 152 mm aperture, a 1500mm focal length with a focal ration of f/10. These specifications are very solid as it allows for a high magnification rating when used with larger eyepieces but, the system will likely still set you back $800 – $1200 if you're looking to buy it.
The accessories included within the box are a fully automated GoTo mount with a database of 40,000+ celestial objects which automatically locates and tracks objects for you, a 25mm eyepiece which allows a 60x magnification with a maximum magnification of 354x, which isn't necessarily the greatest for the price but, the computerized Goto is likely to be the main reason for purchasing the 6SE anyways.
All in all, it's a solid scope and relatively and lightweight to boot. So, if that's what you're in the market for, the 6SE isn't going to let you down.
The Different Types Of Telescopes
It's worth noting that the list above is compromised of 3 different variations of a telescopes which includes a refractor, reflector and catadioptric design.
The refractor scope is a very sturdy design which means low maintenance and allows for a great viewing experience when looking at nearby object however, these scopes also tend to have issues with chromatic aberration when at the peak magnification of a scope.
A reflector scope has fewer issues with distortion but, as the optics tend to be exposed, they're also very high maintenance. These types of scopes are good for viewing faint objects so, if that what you're looking for, a reflector scope is a good one to go for.
A catadioptric scope is a good mix of the other 2 scopes being both sturdy and great at viewing nearby and faint objects as well as capturing good images of celestial objects. However, due to this design essentially being the best of both scopes, they're also significantly more expensive than similarly powerful telescopes (this design allows tends to be used got computerized scopes which adds to the price).
Travelling With Your Telescope
If you're taking a telescope outside of the country of your residence, it's a good idea to invest in a carry on bag or cases when boarding a plane in order to protect your gear from being damaged or stolen.
Considering how the optics of a telescope are fragile, it's definitely a very good idea to take, at the very least, that area of your telescope within a carry-on bag when boarding
Conclusion
Hopefully this list has helped you to find a scope that fits your needs and also keep in mind that you will get what you pay for. A $300 or below will always exclusively mean the scopes are toys and the more expensive variants will generally also be less fragile, usually at the expense of the power of the scope.
Then again when you're travelling, the sturdiness of your telescope will be very important, of course if you just want something portable and easy to move around your local area, the cheaper scopes are far from being a bad decision.
Name
Most Affordable
Orion Starmax 90
Editor's Choice
Celestron NexStar 130SLT
Most Powerful
Celestron NexStar Evolution 8
Image
Most Affordable
Image
Editor's Choice
Image
Most Powerful
Name
Celestron NexStar Evolution 8
Image