*This post may contain affiliate links. This means we may make a commission if you purchase an item using one of our links*
Astrophotography is an expensive hobby as it can require a variety of accessories to do effectively whether it be a great camera, a top notch telescope and of course an awesome lens to help you shoot night sky and planet photos.
This post will simply go over 7 Fuji lenses that will add to your arsenal to further your results in this hobby.
In A Hurry? Check Out our Best Options Below!
Name
Most Affordable
Fujinon XF16mm
Editor's Choice
Fujifilm XF 18mm
Most Powerful
Fujinon XF 16-55mm
Image
Most Affordable
Image
Editor's Choice
Image
Most Powerful
Image
7 Best Fuji Lenses For Astrophotography
1. Fujinon XF 16-55mm F2.8 LM WR
Pros
Great build quality
Sharp images
Weather resistant
Cons
It's on the heavier side
The lens hood is cheaply built
This fuji lens is a versatile lens that can zoom between the 55mm telephoto framing and the 16mm focal length thay allows you to shoot wider more expansive shots of stars in the night sky.
It's robust usage of materials for the chassis using a elements group 17/12 along with its weather sealed construction. It's sealed shut with metal bolts which holds the chassis together with the rubber gaskets preventing smaller particles like dust finding its way into the lens.
This sturdy design will be great for strapping the fujifilm XF lens to your astrophotography set up to take amazing images of the night sky even in conditions that are far from ideal.
Being able to zoom and take wider field shots makes this lens an excellent piece of kit despite being rather heavy and bulky at 655 grams. Another issue has to do with its poorly designed plastic hood that is easily bendable and can even be a pain to remove or attach to your set up.
Other than this flaw fujifilm's XF 16 – 55mm zoom lens is an excellent lens for your your astrophotography needs.
2. Fuji 55-200mm f/3.5-4.8 OIS LM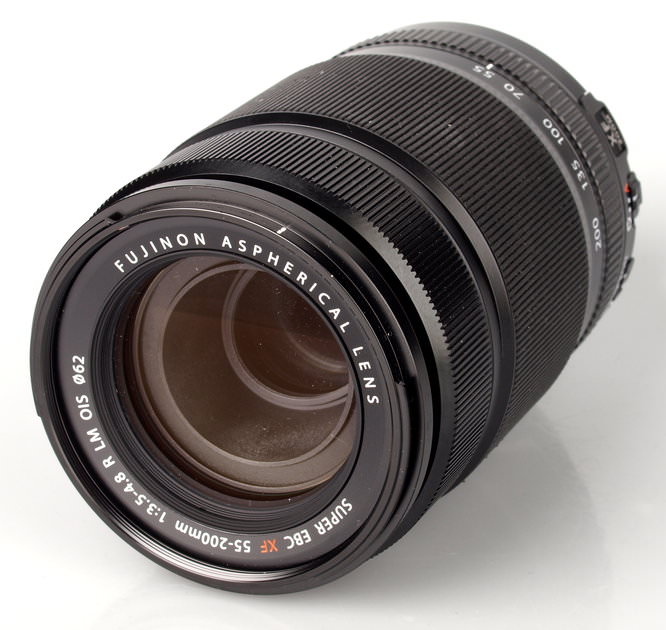 Pros
Excellent performance at 55mm
Great build quality
Versatile shooter for both star, moon and planet shots
Good built in optical image stabilisation
Cons
Sharpness decreases as more of the telephoto functions are used
Weighs 580 grams
If you're after a shaper more zoomed in image, the fuji 55-200 is a great telephoto lens to get. It'll allow your images to gather more light which would be great for astrophotography shots a little further away.
It has really good build quality being mostly metal in build whilst also weighing in at 580 grams, which is relatively light considering the size of the lens.
The optical image stabilisation will allow you to maintain focus without a blurry image forming which is beneficial for the slower focal ratio. This is because the slower aperture means more light will be taken in and the bigger depth means more details will be captured of the night sky.
As a telephoto lens the fuji 55-200 will be able to capture more than just the milky way but also zoom shots of the moon and some of the other celestial objects in our solar system.
With that being said this fuji is at its sharpest around 55mm and the sharpness decreases the more telephoto you use. Despite this, if you're particularly after the versatility of a variable telephoto lens this option is worth looking into.
3. Fujinon XF16mm F1.4 R Weather Resistant Lens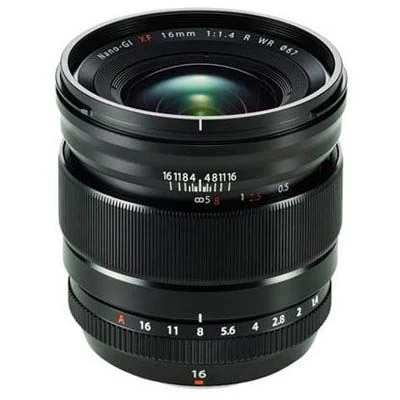 Pros
Great build quality
Weather resistant
Excellent low light performance
Cons
Some cheaper components such as the lens roof
Not the lightest at 375 grams
Another one of fuji's higher end wide angle lenses, the XF16mm will provide excellent wide field imagery of stars, nebula and other galaxy visible in night skies with minimal light pollution.
The optical design uses 13 elements in 11 groups with two aspherical elements and two extra-low dispersion glass elements combined with together to minimise chromatic aberration limits any distortion around the edges. In short this lens will be very accurate in terms of the colors it produces.
Fuji have designed this lens to go between a very wide f/1.4 to a narrower f/16 so the variety of shots whether it be high depth field or a more focused astro shot.
Furthermore, it's weather resistant tag means it'll do just as well in wet conditions and in temperatures that go as low as -10°C.
It's also well built being mostly metal and and weight in at 375 grams, although not as heavy as the above lenses is still quite heavy.
4. Fujinon XF16mm F2.8 R Weather Resistant Lens
Pros
Lightweight
Well built
Weather resistant
Sharp and detailed images
Cons
Fuji's fujinon Xf16 is yet another wider angle lens with a metal weather resistant framing that can protect it against the elements, whether rain, from dust or extreme cold.
It's also one of the smaller wide field lenses on this list weighing only 155 grams so carrying it around won't be nearly as much of nuisance as the larger offerings.
Although the aperture makes it a little less capable in night time photography, this fujinon's ability to capture wild field shots of the night sky will still be excellent
There are also elements of barrel distortion even though its minimal whilst vignetting and chromatic aberration can be found but it's controlled very effectively throughout the experience of using this lens.
Ultimately, this lens is a great option for those looking for an excellent wide field lens that isn't so heavy as to imbalance your astrophotography set up.
5. Fujifilm XF 23mm f/1.4 R LM WR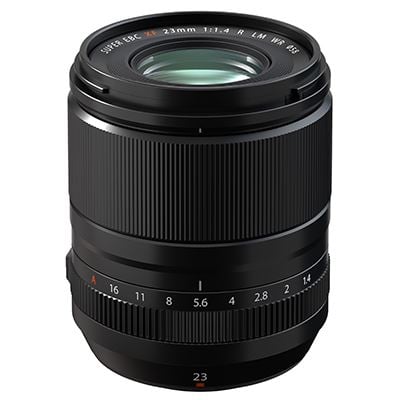 Pros
Amazing image quality
Great build quality
Weather resistant design
Cons
Lack of sharpness around the edges
On the bigger side
Much like the other offerings, the fujifilm XF 23mm is excellently built lens that allows you to smoothly focus visuals manually. It's not the heaviest lens in the market considering its size but, at 375 grams it's far from lightweight.
The fujifilm XF 23mm is also weather resistant meaning its sealed in a way that stops dust and rain particles from entering the barrel whilst also being capable of functioning in extreme cold environments.
Auto focusing is another area where this lens truly excels where it'll be able to pinpoint and focus on a subject far quicker than the majority of the competition which can be particularly useful for moon or planetary shots that need to focus faster and capture said images quicker too.
15 lens elements, spread across 10 groups also allows the XF 23mm to reduce visual discrepancies like chromatic or spherical aberration whilst at the same time producing extremely sharp and detailed astro images that you'd be proud to show to your peers.
6. Fujifilm XF 14mm f/2.8 R
Pros
Wide angle
Great image quality
Great build quality
Lightweight at only 235 grams
Cons
Not weather resistant
Autofocus is a little slower than modern offerings
The fujifilm XF 14mm has a lens much wider than the majority of the offerings on this list whilst offering an equally excellent ability to capture detailed images of the night sky.
Build quality is top notch too like most of their other offerings where the barrel and body of the lens is almost completely metal, it's lightweight weighing in at only 235 grams and it's lens is also shaped well enough to minimise unwanted light from adding too much of a glare on the photos taken.
Where it matters the XF 14 does deliver however, considering it one of fuji's first XF lenses, it's definitely slower than newer models and it's not weather resistant meaning users would need to be careful when shooting stars through their set up on humid nights or dusty nights.
Weather resistance is a premium feature so it shouldn't really be expected from a lens a little lower down on the totem pole.
Nevertheless, the quality of images the fujifilm XF 14 captures will not disappoint provided you have a decent idea on how to beautifully compose a photograph.
7. Fujifilm XF 18mm f/2.0 R
Pros
Lightweight
Smaller frame
Good build quality
Great image quality
Cons
Slower auto focus
Not weather resistant
Not great for video
By far the smallest lens on this list the fujifilm XF 18mm only weighs a measly 116 grams with the slimmest overall body too that packs its wide angle lens.
A smaller frame does mean it is lacking in the features department but, you will save a lot more money opting for the XF 18mm over all the other options on this list.
The image quality is solid and will work well with a combination of post procession and great composition but, it is fair bit more limited than the newer models in the line up.
Its auto focus isn't the fastest and the lack of a rubber gasket to make the lens weather resistant are all knocks against it, particularly in the more humid night time terrain most will usually take pictures. You'll simply need to be more careful with the XF 18mm otherwise it may get damaged.
Ultimately, the fujifilm XF 18mm is an excellent lens that won't break the bank quite as much as the above alternatives whilst also providing you the ability to capture great wide field astrophotography images.
Summary
Hopefully this article has shown you a few fuji lenses to look into in order to further add to your style of astrophotography.
Astrophotography obviously has its fair share of moving parts and as a result there are specific telescopes that will allow you to further enhance your astrophotography beyond the lens you use to snap shots of stars and planets.
If you want to check out some of the best astrophotography telescopes out there, click here to see what we recommend you invest in.
Name
Most Affordable
Fujinon XF16mm
Editor's Choice
Fujifilm XF 18mm
Most Powerful
Fujinon XF 16-55mm
Image
Most Affordable
Image
Editor's Choice
Image
Most Powerful
Image