*This post may contain affiliate links. This means we may make a commission if you purchase an item using one of our links*
A picture is worth a thousand words, whether snapping one of your loved ones, an action shot of a speeding car and of course in this case taking a wide expansive shot of the stars shining down on us in the night sky.
If you're looking to take the next step on your astrophotography journey, picking suitable lens is one thing you will eventually need to consider. So if you've found yourself on this post I'll be going over 7 of the best Nikon lenses you can look at to take your astrophotography journey to the next level.
The 7 Best Nikon Lenses For Astrophotography
1. Nikon AF-S DX NIKKOR 35mm f/1.8G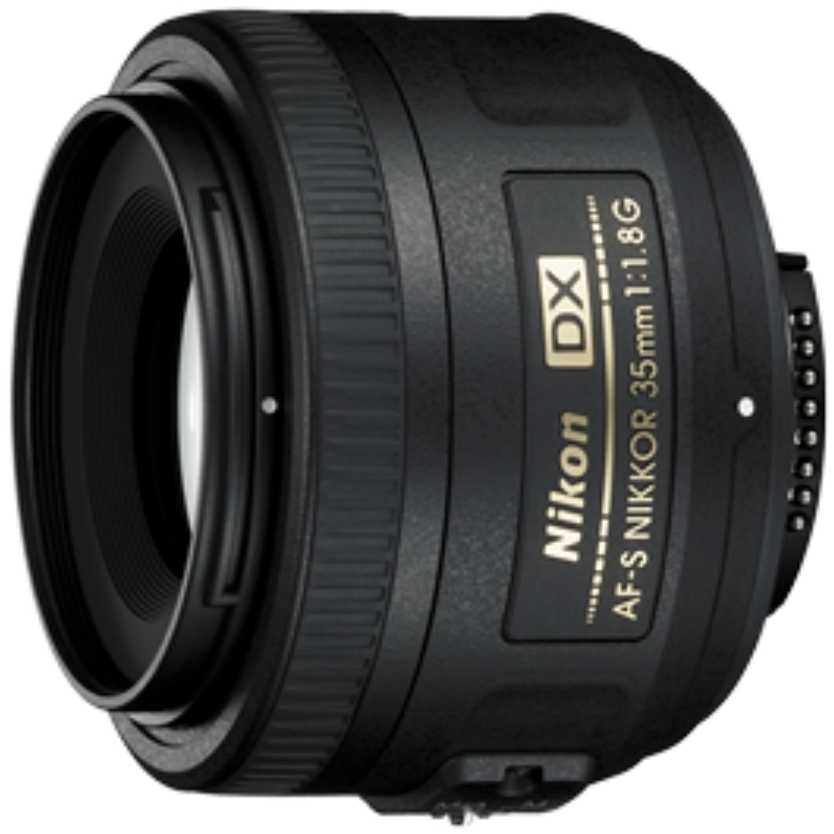 Pros
Inexpensive
Relatively compact
Sharp and crisp images
Cons
It's a little heavy at 305 grams
No optical image stabilisation
Some distortion and purple fringing
If you're getting into astrophotography but your budget doesn't stretch enough to purchase a far more powerful lens, the Nikon AF-S DX 35mm is a great entry point.
Despite its relative cheapness, this nikon lens will allow you to take images of the night sky that have are sharp, bright and can capture as much detail as is possible for this smaller framed lens.
Although it isn't as new as other Nikon offerings, its build quality is still generally great with a hard and textured plastic exterior, a metal mount and a rubber gasket on the lens mount to limit the dust particles that can find their way inside.
Weighing in at 305 grams, this isn't the lightest of lenses out there either.
Of course, being cheaper than most of its competition it will have a few lackluster parts like the plastic on the filter thread and the manual focus being a bit finicky but, if you want to get into astrophotography without breaking the bank with a lens that still produces amazing images, the Nikkor 35mm is a great place to start.
2. Nikon AF-S NIKKOR 20mm f/1.8G ED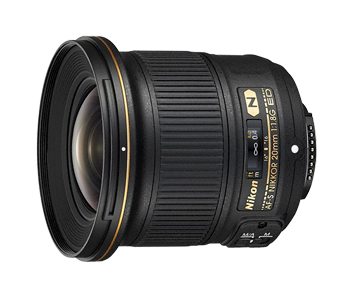 Pros
Sharp and contrasted images
Detailed wide-angle shots
Lightweight for its size
Cons
Isn't great for closer shots
The filter thread is plastic and can be worn down more easily over time.
This nikon lens is another excellent wider field, astrophotography lens that is lightweight, compact whilst providing excellent, crisp and sharp images despite its smaller size.
Of course the lower focal length of 20mm makes it more suited for wide/landscape based photography and limits its use cases, if say you wanted to capture a more detailed close-up of specific stars and planets. However, when it comes to taking wider landscape images of star clusters in a clear night sky, this Nikon AF-S Nikkor 20mm is a solid recommendation.
The 13 lens elements, two of which are "Extra-low Dispersion" (ED) is a positive feature of this as typically higher-end lenses tend to use it to boost contrast. Furthermore, the aspheric lenses that are used within minimises the spherical aberration so images remain more accurate.
It's not as bulky as other options too, weighing in at 355 grams. Its design isn't anything special but, it works well. Nikon has used a hard and textured plastic exterior, a metal mount and a rubber gasket on the lens mount to seal dust off from getting inside.
In short, shooting wide-field astrophotography with this lens will garner excellent results, if you have an eye for detail and not when and how to take effective shots of the night sky.
3. Nikon 14-24mm f/2.8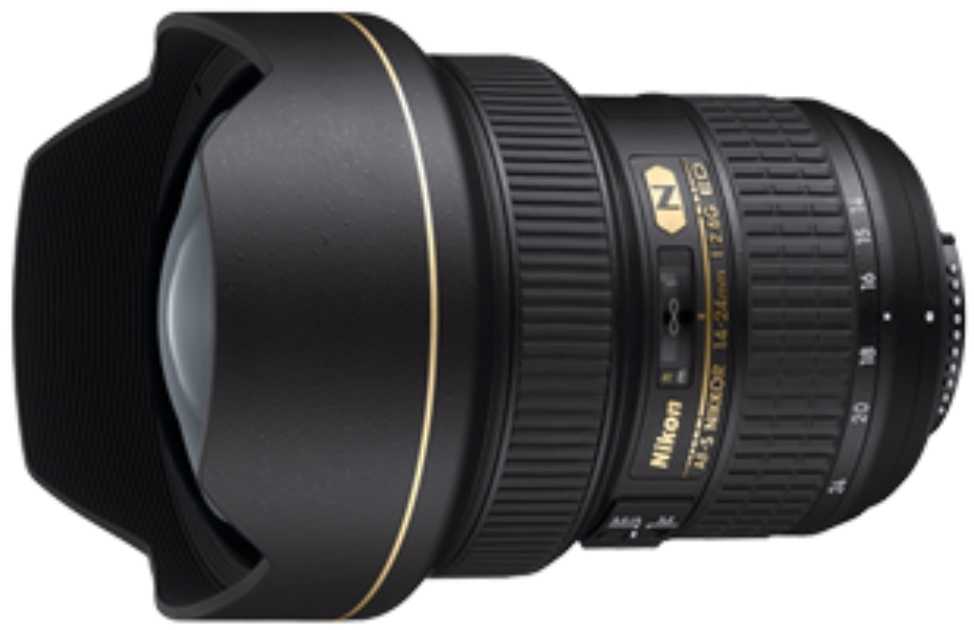 Pros
Can withstand all kinds of weather conditions
Excellent autofocus
Really wide views
Crisp and contrasted imagery
Cons
It's really heavy
On the bulkier side
This is an older model but it still has a number of excellent features, a timeless, well-built design and a focal length that lends itself well to wider more landscape based astrophotography shots.
It uses two ED and three aspherical lens elements in a complex 14 element optical design that allows it to provide some of the best edge to edge performance at the time of its release (which still holds up today), excellent contrast and the ability to zoom between the focal lengths making it versatile too.
In regards to its design, it's built to withstand a more rugged environment where other than the plastic, the whole lens is metal with great performance in all kinds of weather, hot or cold. On the downside, as it is so well built, it does weigh 969 grams.
The design is mostly solid despite its size where the manual focus is easy to reach with the thumb whilst it also has top-notch autofocus performance even in low light.
All in all, even though the Nikon 14 – 24 came out over a decade ago in 2007, it will still produce outstanding images especially due to its wider field view better suited for astrophotography.
4. Nikon 24mm f/3.5D PC-E
Pros
Great crisp imagery
Very well built
Can focus the foreground and background at the same time
Cons
Manual focus only
It's very bulky and heavy at 730 grams
This is another wide-angle offering from Nikon that is best suited for more landscape and architectural shots. In turn that should translate quite well to taking landscape shots of stars in the night sky.
The 13 lens elements in 10 groups, with 3 Extra-low Dispersion (ED) will minimize chromatic aberration and the 3 aspherical elements are great in correcting spherical aberration and Coma too. It has a variety of coatings that limit the amount of glaring and ghosting.
One of the things that this nikon 24mm f/3.5D does extremely well is not only keep the foreground in focus but, the background too. This is accomplished through its usage of the tilt-shift lenses that helps this lens to do just that.
One downside is that it is an entirely manually focused lens therefore, you will need to be relatively experienced in handling such a lens as it can get a little finicky when subjects are moving. The manual focus is placed at the front of the barrel making it is easy to maneuver with your thumb and index finger.
This is less of an issue for astrophotography based scenarios but, it is worth noting.
Build quality and overall ruggedness is one of the nikon 24 f/3.5D's strong points as it's built mostly out of metal with plastic only present on the hood and the front filter thread whilst weighing in at 730 grams. It isn't possible to fully seal the lens nevertheless, the design has been implemented in such a way that will limit the amount of dust that gets through.
5. Nikon 16-35mm f/4 VR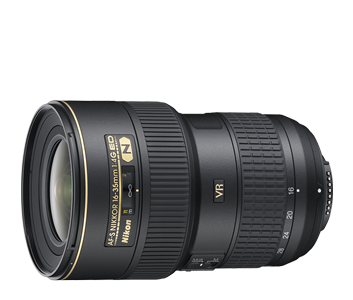 Pros
Ultra wide and zoom capabilities
Great build quality
Good low light performance
Great autofocus
Cons
This lens first came out in early 2010 and at the time was the first ultra wide-angle lens that had the ability to zoom in. Even now it holds up, producing high quality images of landscapes and otherwise due to the zooming. The nikon 16 – 35mm is also great at low light photography and is capable of producing excellent landscape based shots.
Nikon's 16 – 35mm uses 17 elements in 12 groups, 2x ED and 3x aspherical elements and 1x element with Nano Crystal Coat which means glaring won't be a significant problem whilst coma and spherical aberration will be reduced significantly too.
Nikon has utilised a very industrial design here where this lens is mostly metal with small plastic elements around the hood. It is also designed to be protected against tougher weather where it's sealed to limit moisture or dust creeping its way inside.
As a result, it does weigh a fair bit at 680 grams.
The autofocus is both fast and silent which is great for video if you also want to delve into that.
Despite its. bulk, this ultrawide zoom angle lens will be another excellent pick for your astrophotography needs provided you're fine in handling the bulk.
6. Nikon Nikkor 24mm f/1.8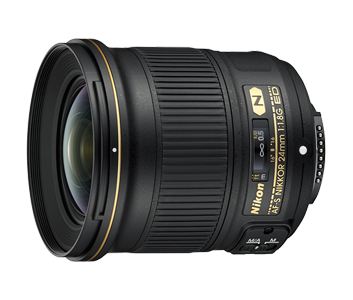 Pros
Great crisp and contrasted images
Lightweight considering the quality of the images produced
Great autofocus
Cons
Nikon's nilkkor 24mm is another excellent lens that provides great wide angle visuals that are not only crisp in detail but with the Nano-coating and Super Integrated Coating technologies on the lens, it produces colors that are vibrant along with other issues like ghosting being minimised.
Furthermore, the 12 elements used within the optics with 2 being extra-low dispersion and 2 aspherical, optical issues like coma and spherical aberration are minimised too. In short, all of these elements combine to provide amazing photos despite having lighter and less bulky internals which make it weigh in at 355 grams.
It's built reasonably well however, the barrel is almost entirely plastic with a rubber gasket placed along its all-metal mount to stop dust from creeping in although, this is not a complete failsafe. Nevertheless, nikon's lens as a whole should be competent in most temperatures, whether hot, cold and even in dusty environments.
The manual focus is placed in an easy to reach place at the front of the lens whilst the silent wave motor autofocus is really good at focusing if that's the option you're going to take.
As a whole, this is a great lens for astrophotography as not only can it handle sub-zero temperatures but, will also take some beautiful images of the night sky.
7. Nikon AF-S FX NIKKOR 24-70mm f/2.8E ED VR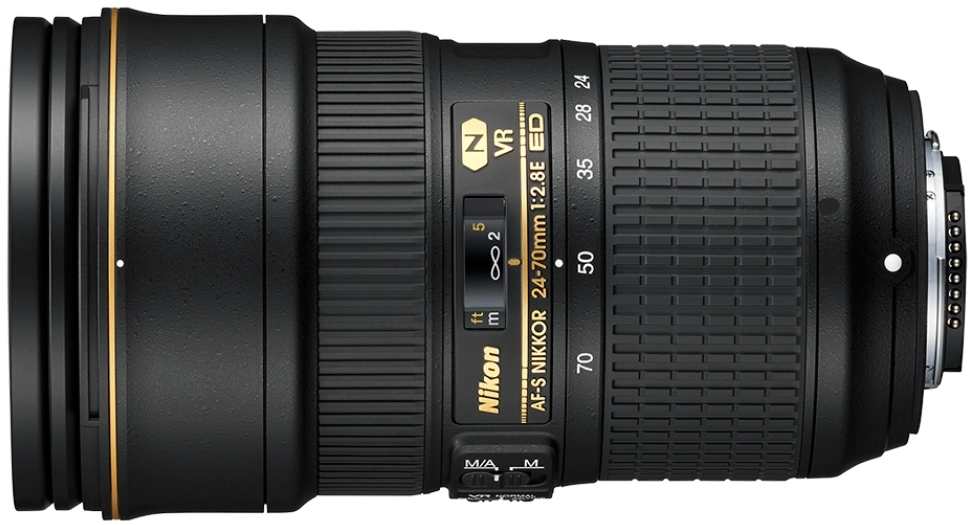 Pros
Great build quality
Versatile lens
Produces sharp and contrasted images that are pleasing to the eye
Cons
No weatherproofing
Bulky and heavy
Images can be softer looking when shooting subjects at closer distances
This is a lens that many would refer to as a workhorse lens due to its ability in shooting both wide angle, panoramas, portraits and many other circumstances such as astrophotography too.
It utilises a complex 20 element optical design in 16 groups with nikon introducing its first implementation of the Aspherical ED (Extra-low Dispersion) lens element which was designed to deliver the highest optical precision and performance. The addition of Nano and fluorine coating also improved the protection on the lens from moisture and dirt.
Taking into account this is a top end lens, the image quality, sharpness and contrast are exceptional as is to be expected however, to produce this top tier performance, something has to make up for it, where in this regard it's the size and bulk.
It does weigh in at 1070 grams but, taking into account its almost all metal build and the versatility in zoom application, if that is what you seek, this nikkor 24 – 70mm is worth investing in.
The wider angle option makes it great for taking photos of star clusters when the skies are clear enough to allow whilst the zoom can also help capture more up close images of the moon and other planets within our solar system, provided the right equipment is used.
It certainly isn't at the top of the list but, if you're looking to do more with your camera than simply taking landscape shots, the nikkor 24 -70mm is worth checking out.
Do You Need A Lens For Astrophotography?
Of course, lenses can be extremely expensive so if you're on a budget, it isn't necessary to splash out for one if you're starting out. You can always get your feet wet in the astrophotography journey using a smartphone or a cheaper point and shoot.
The telescope you use for astrophotography is important too so if that's an area you've yet to look into, we've covered our best options in this article.
Summary
Nikon is famous worldwide for its influence in camera tech and in turn assisting astrophotographers all around the world capture breathtaking images of the night sky.
Hopefully, one of these lenses discussed here are to your liking and will help you on your path to producing images of star clusters, galaxies, nebulas and planets that you would be more than proud to show off to everyone around you.