*This post may contain affiliate links. This means we may make a commission if you purchase an item using one of our links*
If you're sole goal is simply to observe the moon, the number of telescopes fit for the job are almost endless, taking into account we can see the moons with our own eyes. Monoculars, binoculars or even your modern day smartphone will allow you to get a decent glimpse of the lunar surface.
However, they won't allow you to see anywhere near as much detail as a telescope would allow therefore, in this article we'll provide you with 7 different options that will not only allow your to view our moons surface in vivid detail but, also allow you to venture deeper into the hobby of astronomy than any other device not particularly suited for the job.
In A Hurry? Check Out Best Picks Below!
Name
Editor's Choice
NexStar 6SE
Most Affordable
NexStar 4SE
Most Powerfull
Zhumell Z8
Image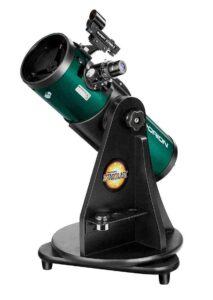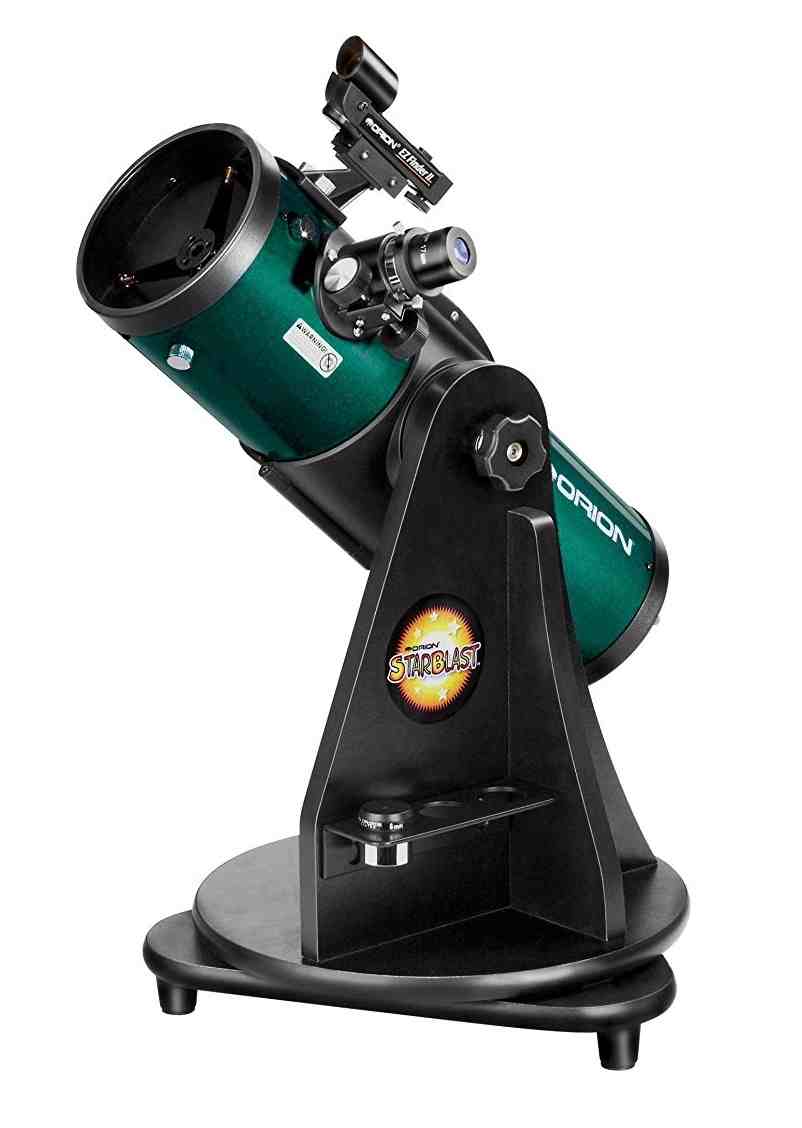 Pros
Solid optics for the price
Really portable
A great tabletop mount
Reasonably affordable
Pre-assembled
Good for beginner level astronomers and children
Cons
The eyepieces are mediocre
Will require high maintenance due to exposed optics
Regular maintenance required
A great entry level device for viewing the moon would be this little table top offering from Orion, the starblast 3.5 Astro.
The portable design along with solid newtonian reflector optics used within allow for clear visuals of the moon and even planets further away within our solar system.
This is because with an aperture 114mm, a focal length is 450mm resulting in a very fast and wide focal ratio of f/4 means it'll be able to achieve a usable magnification of around 150x, making it more than capable of viewing the likes of Jupiter and Saturn whilst also remaining a solid pick for wider field viewing of a star filled night sky.
You'll also get a decent bunch of accessories where the starblast comes with two Explorer II 1.25 inch Kellner telescope eyepieces (17mm and 6mm), EZ Finder II reflex sight for easy aiming, eyepiece rack, collimation cap, Starry Night astronomy software, and a few other miscellaneous gear.
Yes, it's not the most detailed or most powerful setup you can get but, if you're just looking to get started and want something that's competent, compact and doesn't break the bank, I do believe Orion's starblast 4.5 Astro is a telescope worth looking into.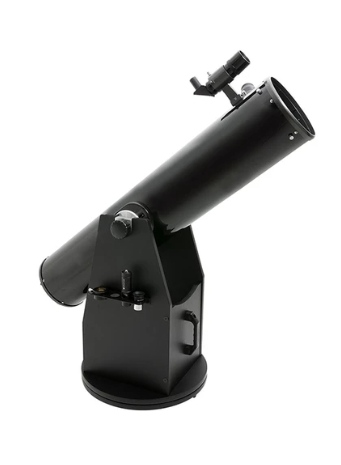 Pros
Great power for the price
High quality dobsonian mount
High quality dual speed focuser
Solid eyepieces included
Cons
It's heavy
More maintenance necessary
If you're willing to spend a bit more money to spare, Zhumell's Z8 would be an excellent telescope for viewing the moon among other elements within space.
It's specs are good bit better than the above device as it consists of a 203mm aperture, a focal length of 1200mm resulting in a focal ratio of f/5.9. This means the Z8 will be able to achieve upto 350x in usable magnification and will also be a lot less prone to comatic aberration around the edges of the images.
Of course it'll still be there but not to the same degree as faster telescopes.
In regards to just pure power and detail you'll be able to get a lot out of this dobsonian device. Do keep in mind that due to its it power, the weight and size increase will be quite significant.
Nevertheless, if you're fine with moving the dob mount and the tube separately, the maneuvering and storing side of things won't be too much of a hindrance.
Zhumell provide a 2" 30mm eyepiece for wide field views and a 1. 25" 9mm eyepieces, dual-speed focuser, a 9×50 finderscope with the normal books and guides which as far as in box accessories go, are good quality although, do expect to eventually invest in better eyepieces overtime.
As a whole, there's not very many areas if any where the Z8 sucks at. In fact to some degree it may even be the only telescope you'd ever need, that's why if you can find it a good price, whether it be used for viewing the lunar surface or outer space observation, I don't think you'll be left disappointed with the Z8.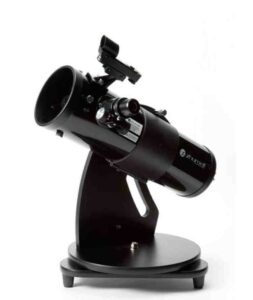 Pros
Good accessories in the box
Good specifications for the price
Very portable
Great for young kids due to its easy to use optics
Cons
The viewfinder is awkwardly positioned on the side
Will require regular maintenance due to exposed optics
Collimation process can be a bit finicky
Another more beginner oriented telescope worth looking into is Zhumell's Z114 which is yet another great tabletop dobsonian device.
It has specs which consists of an aperture of 114mm, a focal length of 465mm resulting in a very fast and wide focal ratio of f/4.07. This means that the Zhumell will be able to achieve a usable magnification of around 150x which should be more than sufficient for viewing the moon among other entities within space.
It goes without saying that the smaller form factor will provide weaker performance nevertheless, the specs of the Z114 are generally a great starting point for most newbies to the astronomy scene.
In the box you'll get a 1.25" focuser, two 1.25″ 17mm and 10mm eyepieces, a Red Dot Finder and a fair few other manuals and miscellaneous paperwork. These accessories are quite good even if for maximum power purchasing better eyepieces may be necessary.
As a whole, I do see the Z114 to be q genuinely solid pick for your moon viewing needs.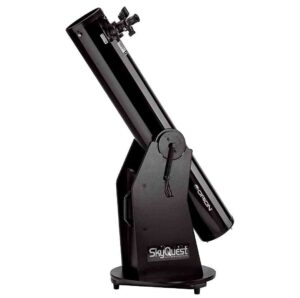 Pros
Great value for money
Easy to use
Easy to set up
A good 25mm eyepiece
Easy to collimate
Cons
Accessories are subpar
No mount provided
The finderscope is a bit finicky
Another highly praised affordable telescope that can obviously do quite a bit considering its price is Orion's XT6. It's a more middle of the road size although definitely a bit on the bulkier size, nevertheless for what it is the XT6 will more than satisfy the majority of you in regards to its visual performance and overall value.
With an aperture of 150mm, the focal length is 1200mm resulting in a focal ratio of f/8. This means that the XT6 will be able to achieve a usable magnification of around 250x whilst the focal ratio does also diminish coma to decent.
What this means is that visuals will look a little cleaner (around the edges).
As for the accessories you'll be provided with it includes one 1.25″ plossl eyepieces with a wider 25mm (48x), a 2x Barlow lens, a red dot finderscope and a solar filter. These aren't the, best in terms of value for money (particularly the finderscope) nevertheless, for an out of the box experience they will suffice for a little while.
Of course if your budget allows it, buying better eyepieces will allow the XT6 to shine but, it isn't absolutely necessary when you set this dobsonian up.
Speaking of the dobsonian aspect of the XT6, the mount is also sturdy and robust even though being made of particle board does mean that the underside of the mount may potentially rot if too much moisture gets on it.
Ultimately, if you do pick this device up, other than maybe needing to upgrade the eyepieces, chances are that you'll really enjoy using it, whether it be purely viewing the lunar surface, other planets or the other wonders of outer space.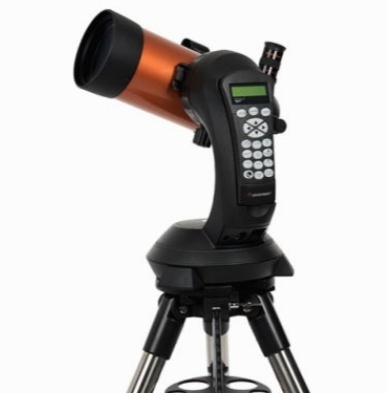 Pros
Fairly easy to set up
Won't require a ton of maintenance
Very portable
Cons
It's a bit underpowered for the price
The booting sequence is annoying
Only 1 eyepiece provided
Celestron's Nexstar 4SE is the first computerised telescope on this list that utilises what is known as a GoTo Mount. This mount basically uses motors that automatically align the device towards one of the various stars, clusters and planets within its database and even tracks them automatically whilst you look through the eyepiece.
Computerised telescopes are a great buy for individuals who believe they'd struggle with manually finding objects to view or don't want deal with extra effort needed to look for celestial objects other than the moon (which I'm sure no will have trouble finding).
With an aperture of 102mm (4″), a focal length of 1325mm resulting in a focal ratio of f/13. This means that this telescope won't be the most powerful but, it'll be more than competent for planetary viewing. Although with a max usable magnification of around 200x it won't necessarily be the most detailed device for astronomy.
Another one of its positives has to do with the computerised mount which will make it easier to find celestial objects although, keep in mind it will add more to the overall price tag.
Ultimately, the nexstar 4SE is a good all round telescope that is both compact and relatively powerful and will definitely serve you well.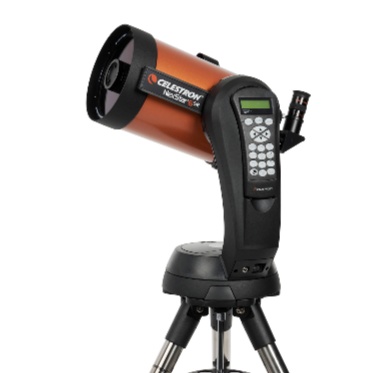 Pros
It's very sturdy and low maintenance
Can see Jupiter, Saturn, The messier catalog, other galaxies and a ton more
light weight
Motorized and automated GoTo mount
Easy to set up and align due to sky align software
Cons
The eyepiece is mediocre
The finderscope is poor
The mount is prone to failure due to poor manufacturing decisions
Celestron's nexstar 6SE is a more powerful variant of the 4SE with a slightly different optical design using Schmidt-Cassegrain optics as opposed to the maksutov-cassegrain found in the above telescope.
This means that it utilizes both reflector and glass optics within its chassis reducing the more common visual discrepancies found in refractor or reflector optics.
Once again the 6SE uses a computerized mount that has a very large database of celestial objects it can point towards automatically. It'll also be useful in aligning the optics too which will make the whole set up process easier.
As the 6SE is a bigger version of the 4SE the specs are also better, where Celestron provides an aperture of 150mm, a focal length of 1500mm which results in a focal ratio of f/10 for this device.
This means you'll be able to achieve a usable max magnification of around 250 – 300x whilst the narrower focal ratio does make it great for planet viewing and the moon too.
As for the accessories you'll get, they include a 1.25" Diagonal and 25 mm eyepiece and Celestron's Star Pointer, which is a zero-power red-dot-style finderscope. One thing that you'll definitely need to do here is invest in a narrow focal length eyepiece or even a barlow lens to utilise the 6SE'S maximum usable power.
Just like the smaller nexstar above the GoTo Mount does mean the price will be a bit on the higher side but, if you want a bit more convenience in the form of an automated computerised mount, the 6SE will be great place for a beginner to start.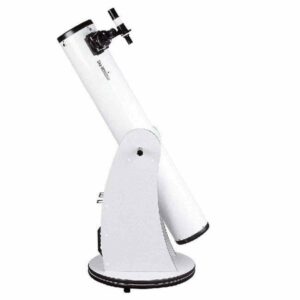 Pros
Easy to assemble
Easy to use
Great accessories
Great optics for the price
Great value for money overall
Cons
Will need to be regularly maintained and collimated
The finderscope is a bit small
The skywatcher skyliner 150p is an excellent 6 inch telescope provided you can find a good deal on it. If you can find it around the $300 – $400 range as it is a bit more expensive at some places, it'll be one of the best value devices out there.
With an aperture of 153mm, a focal length of 1200mm resulting in a fairly narrow focal ratio of f/7.8, it'll be solid all round reflector device as it can allow you to view objects quite a distance away with it's 300x max usable magnification, which obviously should prove more than enough when observing the moon.
The higher focal ratio also means some of the coma that's common among reflector telescopes won't be as noticeable.
Accessories are very improtant for telescopes mostly as they are required to get it working.
You'd be happy to know skywatcher doesn't skimp out here and provides an excellent starter set where you'll be provided a single-speed 2" rack-and-pinion focuser made mostly of metal, two 1.25" Super eyepieces that are very similar to Plossls which includes a 25mm (48x) and 10mm (120x) eyepieces, a basic 6×30 finderscope and a bunch of miscellaneous documents.
As is the case with cheaper dobsonian devices, the mount used isn't the most versatile as it can only move in 1 direction at a time and the materials used for the mount aren't the best either however, you'd be happy to know that it can be separated from the tube itself making storage at the very least easier.
I know that in regards to simply checking out the moon, the size and power of the 150p may be a little overkill however, if you want a device that not only produces great visuals but, is also versatile and great bang for your buck, you honestly cannot go wrong with skywatcher's offering here.
Should You Buy Moons Filters?
Moon filters are designed to make it easier for you to locate the crater's present on the lunar surface but aren't absolutely necessary if you simply want to observe the satellite.
If you do want to get one though, check this out as it will help with the clarity of viewing the craters on the lunar surface.
Monoculars And Binoculars That Can be Used To View The Moon
Considering we can see the moon with our naked eye and nowadays even some of our phones have the ability to zoom in and capture detailed images of the moon, it also shouldn't be be very surprising that monoculars and binoculars have sufficient power to view the giant grey rock in our night sky.
For some great Monocular options to view the moon, check out this list of ours whilst our best binoculars for viewing the moon among other other planets can be found here.
Conclusion
Hopefully this article has helped you find a telescope perfect for your lunar viewing needs and then some.
Being able to observe not just the basic structure of the moon but, also the details of the craters on the lunar surface will be more than possible with any one of the devices listed on this article.
Therefore, if you really want the gear to start your astronomy journey in person, you can't go wrong with either one of the seven mentioned above.
Name
Editor's Choice
NexStar 6SE
Most Affordable
NexStar 4SE
Most Powerfull
Zhumell Z8
Image