*This post may contain affiliate links. This means we may make a commission if you purchase an item using one of our links*
If you're in the market for a pair of binoculars that are solid for viewing planets, then you've come to right article.
In this article we'll be recommending some great options in the binocular astronomy scene from a relatively affordable pair to some of the best compact planet observing binoculars in the market.
In A Hurry? Check Out Our Best Options Below!
Name
Most Affordable
Celestron Giant SkyMaster
Most Powerful
Orion 9545 Resolux
Editor's Choice
Celestron SkyMaster Pro
Image
Most Affordable
Name
Celestron Giant SkyMaster
Image
Most Powerful
Image
9 Best Binoculars For Viewing Planets
Below are 9 great options for anyone looking to purchase a pair of binoculars for viewing planets from the slightly more affordable offerings to some of the more top of the line devices if your budgets stretches far enough.
1. Celestron Giant SkyMaster
These particular binoculars aren't the largest and certainly aren't the most powerful, however, when it comes to it's ability to gaze at stars or some planets within our solar system, it's a very solid but limited device (as all of the binoculars on this list).
It's specifications are quite decent with a 70mm aperture lens that magnifies 15x and its affordability is great too. As for the field of view the Giant SkyMaster's lenses provide, it stands at 4.4 degrees which isn't a super wide field but it's plenty wide for observing celestial objects in space.
The lenses on the Giant SkyMaster are not fully coated meaning it also won't be able to utilise all of the light gathered within the lenses due to reflections however, this isn't its worst shortcoming. Of course the main reason why the lenses aren't fully coated is due to the Giant SkyMaster's price.
A few other issues the that it has includes its subpar collimation where the lenses are quite easy to mess up. So you may occasionally need to readjust the alignment to see a seamless image as opposed to 2 different ones. This is a problem that can easily be fixed through tinkering with the adjustments screws on the device, although they are a little hidden.
The video below shows how to find them.
All in all, the Giant SkyMaster is a great pair of binoculars to look at if you're just looking for a moderate entry level pair for astronomy purposes. It's decently light at 1.49kg, it's useable for most people who wear glasses with a 13mm eye relief and it also comes with its own bag for carrying.
So, if you're not looking for a very good planet viewing pair binoculars and will be satisfied with a fairly competent pair of binoculars, the Giant SkyMaster isn't a bad place to start.
2. Orion Giant 15 x 70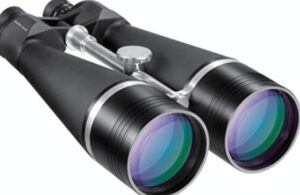 The Orion Giant has the same technical specifications as the Celestron Giant SkyMaster with 70mm aperture lenses and the 15x magnification however, if your search for it on amazon you'll come to find that a pair of these Orion Giants will cost in region of $200.
The reason for the 3x price increase is due to how much more light it's able gather due to the its BAK-4 prisms and fully multi-coated optics. The contrast in turn is also better resulting in a more detailed view of outer space despite the lack of any increase in the technical specifications.
It's eye relief is at 18mm which should provide more than enough room for individuals who need glasses to comfortably look through the Orion Giant.
Furthermore, the ability to individually align each binocular lens makes it much more convenient to fix any realignment problems you will inevitably run into.
As for what you get in the box with the Orion Giant, besides the binoculars themselves, you get a hard cased shell that protects it, which purchasers of the device have found to be really good with the more durable materials used on it.
The main complaint that this binocular pair has is its heft. it weighs in at 4.16kg so, if you do plan on using the device for extended periods of time, it'll probably be a good idea to purchase a tripod otherwise you will strain yourself observing the night sky.
3. Orion MiniGiant
The Orion MiniGiant is a slightly smaller device than the 2 devices above it however, the smaller size in this case doesn't necessarily mean it's a bad device. Firstly, the Orion MiniGiant is over $200 so it's not cheap but, it's smaller specs of 15 x 63 means it will be fair bit lighter than the Orion Giant at least.
The Orion also has fully coated lenses with a high-grade BAK-4 prisms which means it'll have very solid light gathering capabilities, pretty much negating its clarity difference due to it using a smaller aperture lens, in fact some cases it might even be better than other large binoculars that aren't fully coated.
In regards to image quality, users have stated that's it's great so, you shouldn't worry about that too much.
The devices eye relief is 19mm allowing it to be comfortable for most individuals who use glasses when observing. On the other hand its 3.7 degree field of view isn't the best but, it's still solid enough for checking out start cluster, the moon and of Jupiter, its moons and a few other planets.
The build of the MiniGiant is very sturdy, the collimation is fairly decent to configure and weighing in at the only 1.18kg it's pretty darn light but, at its max magnification of 15x, a tripod will still be necessary for longer astronomy viewing sessions as even the slightest movement may mess up your otherwise astronomy or maybe even bird watching experience..
4. Orion Scenix
The Orion Scenix is much weaker device than the ones above having a magnification of 7x with an aperture of 50mm however, this is can also be a positive thing because it'll make it easier to hold up and use for extended periods without your arms getting tierd and needing extra accessories like a tripod.
The Orion Scenix isn't all that expensive either costing around $100. In terms of the build quality, the Scenix definitely well made as its body is made of metal, it's optical glass is high-grade BAK-4, the lenses are multi coated allowing for less light being wasted and providing a more contrasted and crisp images and it only weighs in at 816g, which I don't think yiu need me to tell is super lightweight.
The eye relief is 20mm which should be more than enough for most individuals wearing glasses. And lastly, probably the Secnix's most stand out feature, it has a field of view of 7.1 degrees. This of course is significantly larger than the ones mentioned above and ultimately means the image will come out as much wider and in turn wobbly of you get what I mean.
As a whole the Orion Scenix is much more beginner oriented when it comes to astronomy due to its lesser magnification and smaller aperture nevertheless, it's great build quality, light weight and frankly more than capable optics, do mean that although it won't be the best pair of binoculars for viewing planets, it won't be a terrible one either due to how good the optics are
Click Here For Orion's Official Pricing
5. Celestron SkyMaster Pro
The SkyMaster Pro is a mid range pair of binoculars where you do get a fairly powerful device for its mid range price. The 20x magnification along with the 80mm aperture does mean the SkyMaster is more powerful than the pair of binoculars mentioned previously.
The large objective lenses uses q BaK-4 prisms design and are fully multi-coated, utilizing Celestron's proprietary XLT coating technology. This allows the lenses to be better for viewing darker objects as the coating provides better light gathering abilities and reduces reflections on the lenses to zero or at the very least close to zero.
The SkyMaster Pro has a pretty mediocre eye relief which stands at 15.5mm so, it may not be suited for those of you who wear glasses when observing however, for those who don't need glasses, the SkyMaster should be more than comfortable.
The collimation process doesn't seem to be very problematic for most and the addition of the red dot finder makes it easier to lock on objects more effectively so that's definitely a plus.
It's also reasonably light weight considering its lens size then again  this does make sense when you take into account the lower eye relief. It weighs in at only 2.27kg which is still a little heavy for longer astronomy viewings but, it should be easy to attach the SkyMaster onto a tripod to more or less resolve this problem.
As a whole there really aren't any major complaints users of the device have had when it comes the SkyMaster Pro's performance which in turn makes a pretty solid mid ranger to go for.
6. Orion Resolux 9545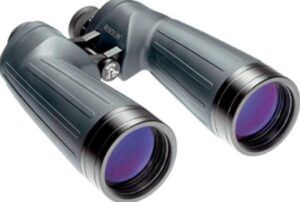 The Orion Resolux is, in terms of specs, a weaker item than the one mentioned above as it has a 70mm aperture lens which magnifies to 15x. Nevertheless, it's still a reasonably powerful pair of binoculars and should be more than capable of seeing some solid views of the moon and even glimpses of some of the closer planets (of course only as bright star like balls though).
The Resolux is also quite an expensive pair too. The main reason why the device is more expensive is due to not only having BAK-4 prisms and advanced multi-coatings on all of its lenses, a sturdy build and a pretty decent eye relief of 18mm but, because it's fully waterproof, and nitrogen purged to prevent internal lens fogging.
As for the image quality, due to the coating and the ability to individually allign each lens, it's got high contrast, minimal chromatic aberration and is described as being relatively easy to pick an use. It's field of view is decent too, at 4.4 degrees so all in all the image quality, according to users, is very good through the Orion Resolux.
I found that the only major con with the device was it's weight, being a slightly heavy 2.27 kg meaning if you do opt for it, a tripod will be a necessary purchase especially if you're planning to view objects in outer space for longer periods of time.
7. Celestron Echelon 20 x 70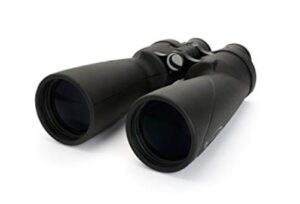 First things first, this binocular is among the top of the line available as it will set you back over $700 but, with the larger price tag, it shouldn't surprise you that the Echelon will provide a high quality image along with a very high quality and sturdy build.
The specs of the echelon include 70mm apertures lenses, a max magnification of 20x, Celestron's XLT coatings and fully multi-coated lenses along with BaK-4 Porro Prisms which allow for maximum contrast and in turn more detailed images, all without being compromised due to chromatic aberration which is more common among the cheaper devices.
The pair of binoculars are also fog resistant and waterproof due to the chassis of the device being fully enclosed.
This makes it a lot more durable and more suitable for any outdoor adventures, if that's something you plan to do along with viewing planets.
The eye relief is solid too at 19.5mm, so if you tend to wear glasses whilst observing, it shouldn't be a problem when using a Celestron echelon. Another key feature of the device is that each of the lenses are individually adjustable allowing for a seamless alignment process.
As for the accessories you'll get with the Echelon, you'll be provided with an objective lens cap, rain guard, professional-grade hard shell carrying case, neck strap, lens cloth, and an instruction manual.
The accessories included are definitely nice, particularly the hard case as it'll make it a lot easier to travel with the device if you ever plan on doing so.
I guess the only negative for this device is the lack of an included tripod and of course a cheaper price point to buy it at.
The most surprising thing about the Echelon is that it's reasonably light weight and compact coming in at 25.8 x 8.4 x 22.2 cm and weighing in at 1.87 kg, which should mean you won't fatigue within a minute of using it.
8. Bushnell Legacy WP 10 x 50
The Bushnell Legacy WP is a more mid tier beginner pair of binoculars as it will set you back around $120 – $150 so the device obviously will not provide the best of images but, you will still be able to make out Jupiter, Venus, Saturn through the lens, although only as bright star like dots.
10x magnification and the 50mm aperture lenses aren't the largest on this list either so expecting the clearest and most detailed images shouldn't be expected but, the BAK4 Porro prism design and fully multi-coated lenses do mean the contrast and quality of the views will be great for the price.
The pair is also waterproof, which isn't something lower end binoculars tend to provide, which makes the bushell legacy a much better device for rugged use. However, do keep in mind that the porro prism isn't as rugged as a more premium roof prism models.
Nevertheless, this isn't to say the bushnell is for everyone, the small eye relief of 14mm doesn't make it ideal for people who tend to wear glasses when using binoculars and of course the power is less than other similar priced products but, if you're after something portable with dimensions and weight at 22.9 x 19.1 x 9.5 cm by1.05 kg and really want a waterproof pair of binoculars at a reasonably affordable price, the Bushnell Legacy WP 10 x 50 isn't a bad one to go for.
9. Pentax SP 10 x 50
The Pentax 10 x 50 is a mid range entry level pair of binoculars coming in at around $150 – $200 but, it does have its pros, and of course limitations.
Firstly the 2 lenses used by the pentax are fully multi coated whilst using a high-quality BAK4 porro prism interior which allows for some good quality and accurate images through the eyepieces once you align them.
The magnification and the size of the lens are pretty average being 10x and 50mm for both lenses but, due to that compromise the pentax has a fair share of advantages over the technically cheaper and more powerful devices.
As for the eye relief, it's a more than sizeable 20mm whilst the field of view is pretty decent at 4.97 degrees.
The advantage to the device is that its fully enclosed casing along for the pentax to be waterproof for upto 1 meter meaning rainy climates shouldn't be much of a bother if you ever decide to use it in those kind of situations although, it's unlikely you'd ever use it in those conditions when viewing planets anyways.
The pentax is also compatible with a tripod so, if you're arms ever get tired, getting a tripod is definitely an option, not that you'd need it all too often.
The reason I say this is because the pentax is actually a very portable device with its dimensions and weight being 5.8 x 16.5 x 19.8 cm by 907g respectively, which I'm sure you'll agree is a very manageable weight.
I guess the only major downside is the devices smaller specifications so it won't be as good for seeing the likes of Jupiter or Saturn but  for viewing the moons and star clusters in clear skies, it'll more than get the job done.
Features And Qualities You Should Know About A Pair Of Binoculars
There are many elements to a pair of binoculars so in this section we'll simply be going over the main features that you should at the very least know a little more about before splashing the cash on a pair.
The Magnification Power
The magnification power will determine how far you'll be able to observe without much loss in detail. For example in the article above all of the magnification powers fall within the 7x – 20x with the larger the magnification the, the further the binoculars will be able to observe however, a larger magnification doesn't always mean a device is better for outer space observing.
It simply means it'll be better for observing at a much further distance, which I guess technically would mean it'd better for planet viewing but, just know that the other factors I'll mention below will play a huge role in how your experience goes too.
The Objective Lenses Aperture
The size of the aperture will determine how much light each a single device can gather. If you're trying to observe more darker environments, which outer space mostly is, a larger aperture will allow for the overall brightness of the view to be better.
Of course a larger aperture tends to result in a much bigger device so, in reality if you're planning to use a binocular pair for an extended period of time (with or without a tripod) you may need to compromise here.
The Coating On The Lenses
The coating of the lens will, much like the aperture of your device, determine the sharpness, contrast, minimise reflections and ultimately provide the best viewing experience with your device.
Ideally for the best views of planets you'll want to invest in a pair of binoculars that have both a decent aperture and have fully multi-coated lenses because that way you'll be able to gather the most light, contrast and detail whilst maintaining little to zero reflections which would hinder the whole viewing experience.
The Field Of View
The field of view will determine how wide or narrow the images will appear through the binoculars lenses. The field of view is generally showcased in one of 2 ways, whether in degree form known as the angle of view (AOV) or in terms of feet or meters per a specific distance. For example, 300 ft. per 1,000 yards.
Simply put, the larger the number the wider the view.
The Exit Pupil Size
The exit pupil allows for the device in question to provide more detail. This is because with a larger exit pupil you'll gain access to bigger and more clear images.
The Weight Of The Device
If you're planning on having longer viewing sessions with your device, the weight will always play a big part in how your experience goes. Ideally you'd want a system that's lightweight at around 1 – 3kg or if it is a lot heavier than that, you'd atleast want the ability to use it with a tripod.
Summary
I hope this list has helped you with making an informed decision on what pair of binoculars you should invest in if you're not quite ready to purchase a telescope.
Obviously a telescope will do a better job in the planet viewing side of things but they are also a ton clunkier or perhaps more difficult to use as a whole.
However, if you're curious about some great planet viewing telescopes to look, I've comprised a list of them within an article which can access by clicking here.
Anyhow, if you're simply looking for a compact and a fairly beginner level approach to astronomy, any one of the binoculars found on this list are definitely worth giving a look and should more than satisfy most of your basic level astronomy needs.
Name
Most Affordable
Celestron Giant SkyMaster
Most Powerful
Orion 9545 Resolux
Editor's Choice
Celestron SkyMaster Pro
Image
Most Affordable
Name
Celestron Giant SkyMaster
Image
Most Powerful
Image