*This post may contain affiliate links. This means we may make a commission if you purchase an item using one of our links*
If you're in the market for a telescope, the number of available options certainly do not make it easy on your average to find. Whether you want one best suited for astrophotography, the best price to aperture ratio devices or simply the most versatile devices, you're likely have a hard time deciding what to go for.
Nevertheless, if your primary goal is to find specialized contraption for planetary viewing, the Maksutov-cassegrain telescopes discussed in this list are generally the best for this. So continue reading for a thorough breakdown on 7 of the best Maksutov-cassegrain telescopes money can be buy.
In A Hurry? Check Out Our 3 Best Options Below!
Name
Editor's Choice
Celestron Nexstar 4SE
Most Affordable
Orion Starmax 90mm
Most Powerful
Celestron Nexstar 5SE
Image
Editor's Choice
Image
Most Affordable
Image
7 Best Maksutov-Cassegrain Telescopes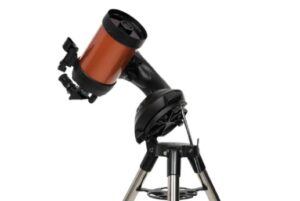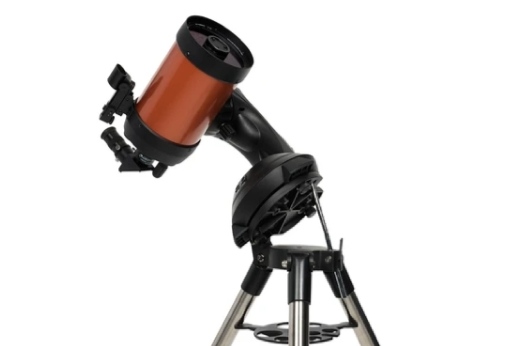 Pros
The device is very portable
The GoTo mount is nice and easy to use
It's a decent system for astrophotography
The image quality is solid
The accessories provided in the box are of solid quality too
Cons
It's really expensive
It not very power efficient
The boot up process is a little annoying
The Nexstar SE line up is the middle of the road nexstar offering by celestron. As a result these telescopes are technically meant to be a step up from the the SLT line, where the 5SE does seem to be step above from.
If you're after a more unique and stylized orange based OTA tube to potentially liven up your bedroom or because you like the color orange, the 5SE will be a nice beginner level telescope to invest in.
Spec wise celestron's 5SE comes with a 125mm aperture lens with a focal ratio of 1250mm resulting in a narrow focal ratio of f/10. It also uses Maksutov-Cassegrain optics which means its overall performance and clarity will be superb whilst those interested in astrophotography will find it competent in that regards too.
Of course you shouldn't expect the best results but usable shots can definitely be produced.
Celestron's Nexstar 5SE comes with a red dot StarPointer finderscope, 25mm Plossl eyepiece, visual back, and a mirror star diagonal. These are good inbox accessories but, again you would need to purchase better eyepieces in order to get the most performance out of this device.
The GoTo Mount is great too although some of these SE line mounts are known to have a few issues in the manufacturing process. Nevertheless, if you can get it working you'll have access to a database upwards of 40k celestial objects and a computersied mount that can even assist with the aligning process of the mirrors using the sky align software feature.
Celestron are one of the biggest telescope brands around producing great gear at all price ranges so, it shouldn't be all too surprising that the 5SE is an excellent device for both beginners in this case or those more experienced hobbyists.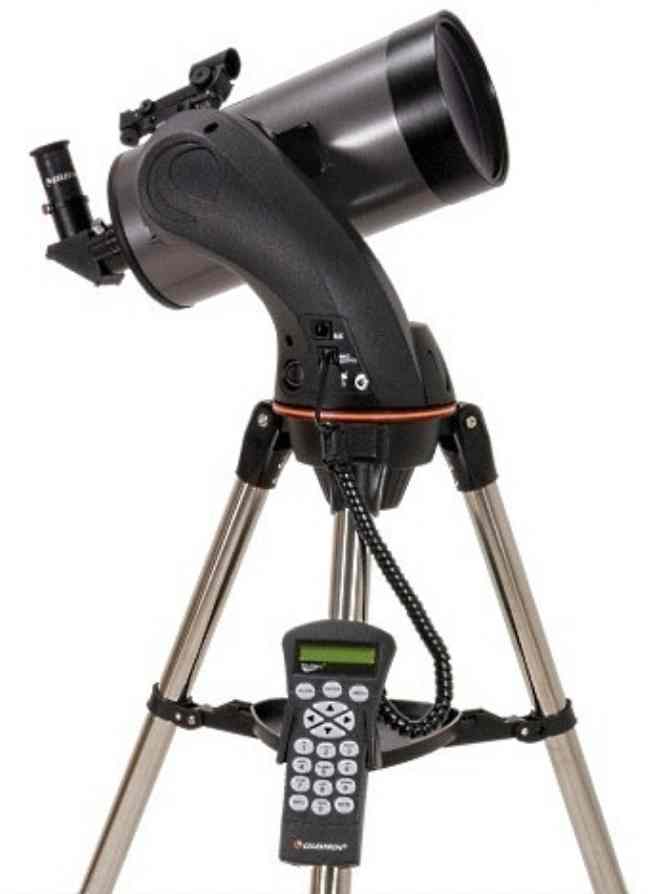 Pros
Good in box accessories
Easy to set up
Solid performance
Cons
A little pricey
The mount is somewhat unstable
The eyepieces provided are sub par
Celestron's Nexstar 127SLT is a computerized telescope, in this case utilizing a GoTo Mount with a catadioptric optics namely the maksutov-cassegrain optical variation.
By using these optics, the 127SLT will be a great for planetary viewing and as the tube itself is also closed, this will make the device more durable and in turn easier to maintain over the reflector options mentioned above.
With an aperture of 127mm, focal length of 1500mm resulting in a focal ratio of f/12, the 127SLT will allow you to view a good number of celestial objects at a similar level to the Z130 but, with the addition of the computerised and automated mount, locating the objects will be a far easier task.
The mount is battery powered and does have a few annoying quirks such as requiring a full set up every time the telescope is shut down for example. However, if you're able to handle this issue (which honestly is a minor inconvenience at most) the 127SLT will be a very competent partner for astronomy.
Two 1.25″ kellner eyepieces at focal lengths of 25mm and 10mm, a starpointer finderscope, a database of over 10k objects found within the provided SkyAlign software, a star diagonal, a tripod a few manuals and other miscellaneous documents are provided in the box.
Other than the low quality kellner eyepieces the other items within the box are satisfactory and shouldn't require an immediate upgrade.
Ultimately If your budget can stretch a little, the Nexstar 127SLT would be a more than adequate telescope to delve into this hobby of astronomy.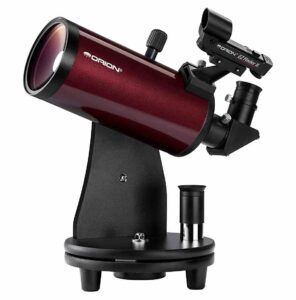 Pros
Great for planetary viewing
Decent in box accessories
It's low maintenance
Very portable
Cons
The mount isn't great for the Mak optics
Isn't that powerful for the price
Kellner eyepieces are mediocre
Orion's Starmax 90mm is yet tabletop based telescope that has maksutov-cassegrain (Mak) optics inside. This in turn means this device does cost a bit more than your cheaper offerings nevertheless, it doesn't take away from the Starmax's more than competent performance.
The starmax has an aperture of 90mm, a focal length of 1250mm resulting in a very narrow focal ratio of f/13.9. The max theoretical magnification of this device is 180x although real world usage may be around 10 – 20% lower.
Two 1.25″ kellner eyepieces at focal lengths of 25mm and 10mm, a red dot finderscope, a 1.25" prism star diagonal a table top mount along with a bunch of other miscellaneous documents is what you'll find within the box. Once again the eyepieces are relatively low in quality whilst the other items are acceptable.
As a result you may need to upgrade the eyepieces to better quality ones but, they will get the job done. As for the table top mount, it is technically a good mount too so that's a win for the starmax in our books too.
However, due to the really long focal length of Mak telescopes, with the combination of the tabletop dobsonian mount the visuals will shake a lot more than the other alternatives on this list.
However, thankfully due to the vixen dovetail bar design for attaching mounts you should be able to purchase a tripod that accommodates and may even fix this issue if you choose to do so.
Orion's Starmax 90mm is portable and lightweight (weighing only 2.9kg) too which is always a major plus as moving it around won't strain you..
All things considered, minus the gripe with the shaky visuals the optical quality, the overall quality of the starmax is great and will most certainly satisfy your astronomy itch.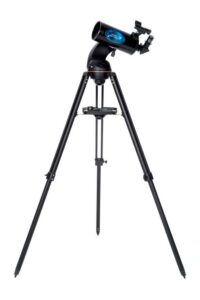 Pros
Uses an enclosed shell
solid build quality
great optics
Portable and lightweight
Cons
Hard to get the device set up and aligned
The WiFi when connecting your device gets disconnected a lot
not very beginner friendly
The eyepieces are mediocre
Can only move the mount when it's linked to the app
Celestron's AstroFi 102 is another solid Maksutov-cassegrain offering by Celestron even if it's overall aperture and in turn power doesn't give deliver on the same level as the other telescopes here.
As for what these power is, the 102 AstroFi has an aperture at 102mm, a focal length of 1325mm resulting in a very narrow a wide focal ratio of f/13.
This will allow it to view numerous stellar entities in the night sky, the likes which include Jupiter, Saturn, Mars along with some of the bigger moons that orbit them such as Titan or Ganymede.
With that being said he overall max magnification isn't particularly impressive at around 241x (real world usage may top this out 200x) but will still allow for great views of most planetary and celestial bodies.
Each of these AstroFi's come with their fair share of accessories such as 1.25″ kellner eyepieces at focal lengths of 25mm and 10mm, a 1.25″ star diagonal, a red dot finderscope, a computerized Altitude-Azimuth single fork arm mount, a tripod along with a bunch of documents to show how to work the device.
It's WiFi based computerised mount does have some issues such where it can disconnect and even become a pain however, if you're able to get everything runny smoothly, the visuals this little telescope produces can be genuinely awesome.
The smaller frame also means it shouldn't be too much of chore to store it away after you've had your fill of stargazing into the night sky.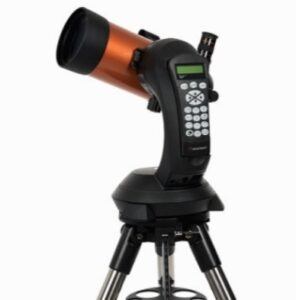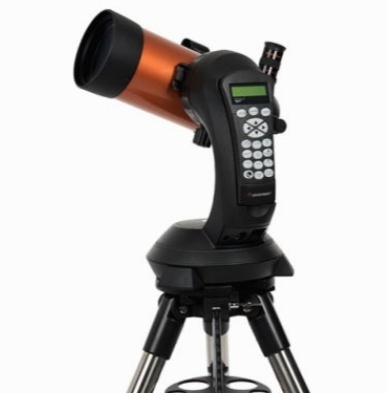 Pros
Fairly easy to set up
Won't require a ton of maintenance
Very portable
Cons
It's a bit underpowered for the price
The booting sequence is annoying
Only 1 eyepiece provided
Celestron's Nexstar 4SE uses a GoTo Mount, which is a mount that uses motors that automatically align the device towards one of the various stars, clusters and planets within its database, even tracking them automatically whilst you look through the eyepiece.
Computerised telescopes are a great buy for individuals who believe they'd struggle with manually finding objects to view or don't want deal with the extra effort needed to look for celestial objects.
The stats of the Maksutov-cassegrain optics within the 4SE includes an aperture of 102mm (4″), a focal length of 1325mm resulting in a focal ratio of f/13.
This means that this telescope won't be the most powerful but, it'll be more than competent for planetary viewing. Although with a max usable magnification of around 200x it won't necessarily be the most detailed device for astronomy.
in regards to the accessories that come in the box, they include a 1.25″ 25mm plossl eyepiece, a start pointer red. dot finderscope, the computerised mount with a controller, an accessory tray and bunch of other miscellaneous documents.
As with any telescope out there, Celstron's 4SE has a few drawbacks such as annoying boot sequence, a limited number of accessories and even being a bit underpowered for the price. However, this isn't enough
Ultimately, the Nexstar 4SE is a good all round telescope that is both compact and relatively powerful and will definitely serve you well.
6. Orion StarSeeker IV 150mm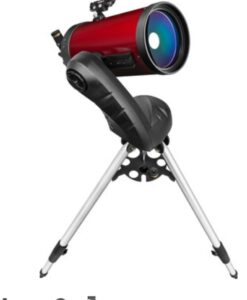 Pros
Very powerful
Solid mount
Great visuals
Cons
Not the best value 6 inch around .
Heavy at 12kg (26.7lbs)
This another maksutov-cassegrain offering from Orion that will prove a very competent telescopes for who ever wishes to delve into this hobby.
It's larger aperture 150mm does mean it will be more powerful and more clearer than all of the other telescopes on this list but, a larger size also means it'll be a little more tedious to lug around or even store Iin your household. Especially when you take into account the device itself is 12kg (26.7lbs).
In regards to its stats, the starseeker has an aperture of 150mm, a focal length of 1800mm resulting in a focal ration of f/12. It's theoretical and maximum magnification is around 300x which means it can view as far Neptune with the right eyepiece, among other stars and nebulae.
The accessories provided are decent also where in the box you'll receive
Includes GoTo hand controller, 23mm (78x) and 10mm (180x) wide field 60-degree eyepieces, 90-degree diagonal, 2″ visual-back, EZ Finder II sight, DeepMap 600, MoonMap 260.
These should serve you well especially when starting out but, to utilize this starseeker at its maximum capacity would require that you invest superior eyepieces down the line.
The GoTo mount and the SkyScan software allows for a two alignment options which are both very practical for when you initially start up the device and want to adjust the device to remain sharp when observing celestial bodies in outer space.
All in all the maksutov-cassegrain variant of Orion starseeker IV 150mm is an excellent telescope with a huge number rof positives for it and the odd few compromises, particularly in weight and price side of things. So, if you're in the market for telescope more powerful than the average, with a GoTo mount to boot, you can't go wrong with Orion's starseeker IV 150mm.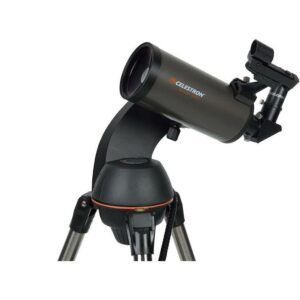 Pro
Requires minimal maintenance
Automated tracking with the GoTo Mount
Good focuser and star diagonal prism
Easy to set up
Cons
The eyepieces provided are mediocre
The specs aren't all that great
The build quality is mediocre
The Nexstar 90SLT is the second weakest computerised telescope in the Nexstar SLT line however, it's optics are still very solid and wouldn't necessarily be amiss on more expensive systems.
As is its specs are include an aperture of 90mm, a focal length of 1250mm resulting in a focal ratio of f/14 meaning you'll be able these to achieve a theoretical max magnification of 213x and the higher focal ratio will make it a solid telescope for viewing planets, even if it isn't comparable to the telescopes mentioned before this.
In the box you'll be provided with 2 1.25″ eyepieces at 25mm and 9mm, a red dot star pointer finderscope, a motorised altazimuth mount, a tripod and a bunch of other miscellaneous documents.
In regards to the quality of these itesm the focuser is made of metal and is probably one of it's higher quality accessories, the finderscope is quite mediocre and the rest of accessories are the same. Overall the in box accessories aren't amazing but they should be passable for beginner level astronomers.
The mount is a solid too being a GoTo Altitude-Azimuth Single Fork Arm and the the number of objects numbering 40,000 should serve as a great starting block for those not familiar with where to look for objects to view.
As a whole, despite its lower level specs, if you're looking for a more portable computerized offering, Celestron's Nexstar 90SLT is a great place option to have
Summary
Maksutov-cassegrain telescopes are excellent optics for those mostly interested in planetary viewing, a more compact overall design and the option to take pictures of the night sky of the moment is fit for the occasion.
This guide of ours has outlined 7 excellent offerings that should more than satisfy your needs and possibly even kickstart your journey into astronomy.
Name
Editor's Choice
Celestron Nexstar 4SE
Most Affordable
Orion Starmax 90mm
Most Powerful
Celestron Nexstar 5SE
Image
Editor's Choice
Image
Most Affordable
Image