*This post may contain affiliate links. This means we may make a commission if you purchase an item using one of our links*
Welcome to my Orion Starmax 90mm review!
If you're in the market for an entry level telescope, the Orion Starmax 90mm is probably one that's popped up on your radar, which is probably the main reason why you've found yourself on the review.
This review on the Orion Starmax 90mm will cover all the core features of the device, the pros and cons and ultimately will help you  to make a decision on whether the device is worth the money or one you should skip.
Overview
Full Name: Orion Starmax 90mm
Type: Maksutov-cassegrain
Aperture: 90mm
Focal length: 1250mm
Focal ratio: f/13.9
Dimensions & Weight:
Included eyepieces: 2 1.25″ kellner eyepieces at 25mm and 10mm
Rating: 4/5
Pros
Great for planetary viewing
Decent in box accessories
It's low maintenance
No major visual issues
Very portable
Cons
The mount isn't great for the Mak optics
Isn't that powerful for the price
Kellner eyepieces are mediocre
Orion 10022 StarMax 90mm TableTop Maksutov-Cassegrain Telescope
This grab-and-go TableTop Maksutov-Cassegrain telescope provides powerful views of the Moon and bright planets such as Jupiter, Saturn, and Mars
Weighing just 6.5 lbs. assembled, this compact telescope and base can be taken just about anywhere to provide great views of the night sky while on road-trips, camping, or the short trip out to the backyard
90mm aperture Maksutov-Cassegrain telescope gathers enough light for beautiful views of brighter deep space objects like globular clusters, nebulas, and many bright galaxies
Nifty tabletop base provides a stable viewing foundation you can set on any sturdy table, or even attach it to a field tripod with a 3/8" or 1/4"-20 threaded post
Includes two 1.25" eyepieces (25mm and 10mm focal lengths), EZ Finder II reflex sight for easy aiming, 90 degree mirror diagonal for comfortable night sky viewing, and more!
How Do The Orion Starmax 90mm's Optics Work?
All telescope tend to come in one of 3 main different optical variations, these 3 being a reflector, refractor and compound based optics. The optics found within the Starmax 90 in this case is of the compound variation namely the maksutov-cassegrain (Mak) sub-variation.
What this means is that the optics within the Starmax will be a combination of the other 2 optics whilst there is also a corrector lens in place (called the meniscus corrector) used in order to combat aberrations and the coma that the device would suffer from due to its use of a spherical mirror and refractor lens.
As a whole though, this will result in the following pros for the device :
Great for viewing planets
As the optics aren't exposed, maintenance is not required all too often
Are generally quite compact for their size
In regards to the cons they are as such :
the light within the tube is folded one time which means that there will be a loss of some detail
Generally more expensive than similar sized reflector or refractor telescopes
Not great for astrophotography
On top of this the collimation aspect of the Starmax is pretty awesome or should I say the lack thereof. The starmax is actually capable of withstanding a few nicks and knocks without getting out of alignment. This obviously can't be said for the large majority of other telescopes especially for reflector based telescopes.
What Do The Orion Starmax 90mm's Specifications Mean?
The Starmax 90 has an aperture of 90mm, a focal length of 1250mm resulting in a very narrow focal ratio of f/13.9. This means that the device will be able to achieve a max magnification of around 160x – 180x whilst its focal ratio of 13.9 will make it a great telescope for planetary viewing if you can find yourself in a comfortable position to do so.
As a result you will be able to view a decent number of celestial objects, some of which include :
The moon and its craters in reasonable detail
Jupiter in reasonable detail
Saturn and an outline of its rings near max power
You should be able to make out some star clusters, a few galaxies as bright dots and maybe some asteroids if you're able to track them and if they're near enough to you.
Regarding the Starmax 90's portability, it shouldn't come as too much of suprise that this is one of if not the devices best points. The dimensions of the Starmax are 49.5 x 26.7 x 26.7 centimetres whilst the weight of the Starmax is 2.9kg (6.5lbs).
So, for most users, whether kids or adults, they will have no problem moving ir around or even putting it in a backpack when travelling making it quite the convenient device.
Accessories Included In The Box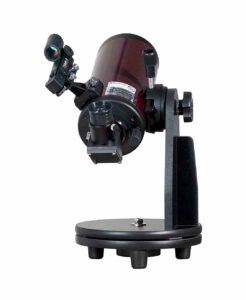 The Starmax comes with 2 1.25″ kellner eyepieces at focal lengths of 25mm and 10mm, a red dot finderscope, a 1.25" prism star diagonal. A table top mount along with a bunch of other miscellaneous documents.
The eyepieces although useable aren't necessarily very good so that's something I would recommend upgrading. The red dot finderscope is just your run of the mil one and isn't a bad inbox addition whilst the star diagonal prism is actually very good.
The Orion Starmax 90mm's Mount
The mount used here is a single arm fork tabeltop Dobsonian which of course is designed to be used on a table and allows for the Starmax's supreme portability. This mount is attached to the Starmax via a Vixen dovetail bar with ¼ 20 holes meaning if you do want to change it (which is very much recommended) you can do so.
Anyways, regarding why this mount isn't necessarily great for the Starmax and its optics, this is mainly because of the focal ratio present on the Starmax.
Normally a tabletop dob would come with reflector based devices that tend to have a wider focal ratios allowing for users to move the device around without causing any kind of major shakiness.
The problem here is because the focal ratio is so high on the Starmax as a result of the Mak optics used, it will be hard to make adjustments when viewing objects without moving the dob too much.
This isn't necessarily the worst of issues but, it sure as hell will be annoying in situations where you just want to make a micro-adjustment.
What Are Users Of The Orion Starmax 90mm Saying
Users seem to really like the devices portability and found it to be a great grab and go telescope for viewing a few of the planets and of course the moon. Of course users didn't find its light gathering abilities as anything special and the issues with tracking were a pain too nevertheless, for what the Starmax offers users seem to really like it.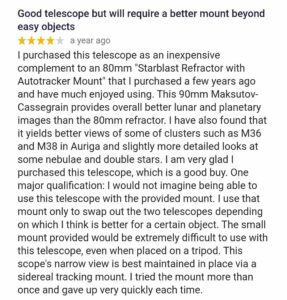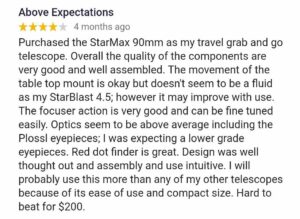 Other Alternatives Worth Checking Out
The starmax is honestly a great telescope that will allow for some great views and for the price isn't a terrible Mak device either. With that being said if you want more power for your money, I'd suggest looking into the  Zhumell Z130 or the slightly weaker Zhumell Z114 but, if power isn't too much of an issue the Starmax will probably suffice.
On the other hand if you simply want to look into some portable alternatives, we've created a list of some of our favourite portable devices which can accessed by clicking here.
Summary
The Orion Starmax 90 is a great portable grab and go telescope if that's important to you. It'll be able to assist you in seeing a variety of celestial objects although I wouldn't expect to see everything in the best of detail due to its lower light gathering abilities.
The only major gripe is to do with the subpar mount for the specific optics the starmax uses so, I'd suggest getting a tripod or a different mount to minimise the difficult tracking.
Overall, I do think the Starmax 90 is a great portable device that is worth getting if you're willing to sacrifice power for that.