*This post may contain affiliate links. This means we may make a commission if you purchase an item using one of our links*
Welcome to my Celestron Omni XLT 102 Review!
In this review I'll cover the pros, cons and the XLT 102's features to ultimately help you decide whether it's a beginner level GoTo telescope worth investing in or one that you should skip.
Overview
Full Name: Celestron Omni XLT 102
Type: Achromatic Refractor
Aperture: 102mm
Focal length: 1000mm
Focal ratio: f/9.8
Dimensions & Weight: 1m optical tube & 14.97kg in total weight (9.97kg for tripod and tube)
Included eyepieces: 1.25″ Plossl 25mm
Rating: 4/5
Pros
Solid singular eyepiece and star diagonal prism
Great for planetary viewing
Reasonably portable
Easy to set up
Easy to maintain over time
Great CG-4 mount
Cons
Limited accessories provided
Not great for viewing faint objects
Low quality finderscope
Quite expensive
Nor good for astrophotography
Celestron – Omni XLT 102 Refractor Telescope – Hand-Figured Refractor with XLT Optical Coatings – Manual German Equatorial EQ Mount with Setting Circles and Slow Motion Control – Includes Accessories
CELESTRON'S LEGENDARY OMNI XLT REFRACTOR OPTICAL TUBE: Celestron technicians hand select the glass for each lens in your Omni XLT refractor so only the finest grade optical glass is used.
STARBRIGHT XLT OPTICAL COATINGS: Every air-to-glass surface in the Omni XLT's optical path is fully multi-coated with our proprietary StarBright XLT anti-reflective coatings for the maximum level of light transmission to the eye.
ULTRA-PRECISE GERMAN EQUATORIAL MOUNT: Celestron CG-4 manual EQ mount with setting circles, worm gear slow-motion controls and ball bearings on both axes.
ACCESSORIES INCLUDED: Everything you need to begin observing immediately—6x30 optical finderscope, sturdy full-height steel tripod with 1.75" legs, 1.25" star diagonal, and a 25mm multicoated eyepiece.
BONUS ASTRONOMY SOFTWARE: Learn more about the night sky with your FREE download of Starry Night, one of the top consumer rated astronomy software programs with a database of more than 36,000 celestial objects and printable sky maps.
How Do The Celestron Omni XLT 102's Optics Work?
The optics used within the XLT 102 is the oldest variation of the 3 main ones, namely refractor, reflector and compound optics. The XLT 102 has what can be referred to as an achromatic refractor lens.
This is the he inferior of the two main refractor lenses, with the other one being an Apochromatic lens.
As a result the achromatic variation has a variety of cons to it that may be detrimental for users, some of which include :
As the lens is thicker, it suffers from chromatic aberration therefore, certain lights i.e. ultraviolet light won't be accurately captured.
Refractor based devices tend to be more expensive than their similarly powered reflector counterparts (A 4 inch reflector may only set you back $100, one example being the Zhumell Z100 which is half the price of the XLT 102)
It's not as good at viewing faint objects in outer space unlike a reflector or a compound device.
On the other hand there are a fair few pros present, which include the following :
Due to an a enclosed tube being used, the optics won't need to be cleaned or collimated all the time
Refractor devices can also double as a spotting scope of sort and the infinity 102AZ is no exception.
The images will generally be sharper because misalignment isn't very common
Overall though, the optics within the XLT 102 are still very solid and will provide an arguably more consistently stable and usable experience over reflector systems. Reflectors would require far more tinkering as a result of the mirrors within those devices being exposed.
What Do The Celestron Omni XLT 102's Specifications Mean?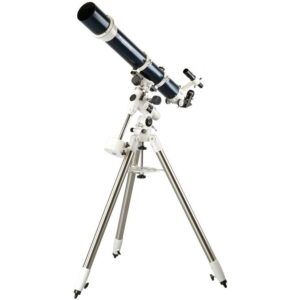 The XLT 102 has an aperture of 102mm, a focal length of 1000mm resulting in a focal ratio of f/9.8. What this means is that this device will be able to achieve a max magnification of around 200x whilst the higher focal ratio makes it an ideal device  for viewing planets.
Of course this means its ability to view faint objects like galaxies and nebulaes will be limited but, if that isn't too much of a concern for you, the XLT 102 will be a solid device.
Moreover, the focal ratio also makes the chromatic aberration that is so often prevalent within achromatic refractors to be minimised a fair bit too.
In regards to what the XLT 102 will allow you to view, it includes the following celestial objects :
The moon and its craters in great detail
Jupiter, Venus, Saturn and Mars should look pretty great through the scope and fairly easy to locate.
Uranus and Neptune might barely be viewable at the max magnification that the Infinity 102AZ can handle.
Galaxies, nebulaes, star clusters and large parts of the messier should be viewable although there may be issues showing accurate colours with some stars.
If portability is a major factor for you when it comes to picking a telescope, the XLT 102 should not disappoint you here. The optical tube and the tripod come in at a combined weight of 9.98kg, which isn't very heavy at all whilst the counterweight increases the overall weight of the XLT 102 by a further 5kg. In total this adds up to a total of just under 15kg.
Of course at its maximum weight, the XLT 102 may prove to be difficult for some to move around but, if you were to move the components separately most users shouldn't have a problem.
Furthermore, the length of the optical tube comes in at around 1m whilst the tripod and mount height aren't officially disclosed although I'd assume it'd be around the 1.1m – 1.2m range.
Accessories Included In The Box
The inbox accessories provided include a 25mm 1.25″ Plossl eyepiece, a 1.25″ star diagonal prism, a 6×30 finderscope and a bunch of documents.
The singular eyepiece is a decent 25mm eyepiece but you will definitely need to invest in lower focal length ones to get the most out of the XLT 102's power (click here to check out our top eyepieces).
The 6 x 30 finderscope is not very good at all being very uncomfortable and lacking brightness. A 9 x 50 finderscope is probably the size you'd want to look into if you decide to buy this device.
Lastly, the star diagonal prism is very solid for 1.25″ eyepieces but, you will likely need to purchase an adapter in order to use the wider 2″ eyepieces.
The Celestron Omni XLT 102's CG-4 Mount
The mount used by the XLT 102 is the same CG-4 equatorial mount used by the XLT 120 which actually uses a very well built all metal design chassis. So, this means that it has a tripod with legs at a 1.75″ thickness and it uses an advanced VX mount design without all of the electronics generally found within them.
Furthermore, the device is eligible for a few cool upgrades such as a single-axis or dual-axis motors for hands-free tracking and slewing. The ability to purchase a polar scope for a more precise polar alignment and even the option to buy accessories that will allow CG-4 equitorial mount to act as a GoTo mount.
Just like the XLT 120, astrophotography isn't one of the 102's strong points as its aperture is too low and the mount is unlikely to hold all of the equipment necessary for a good astrophotography session.
Of course taking a snapshot with your phone should still be doable but, I wouldn't expect too much in this regard.
Minus this lack of ability, the CG-4 mount is a very solid beginner level mount and of course a very nice addition to the XLT 102.
What Are Users Of The Celestron Omni XLT 102 Saying
Overall, minus the low quality finderscope, the somewhat steep pricing, the mediocre astrophotography ability and the minor visual discrepancies, the XLT 102 appears to be quite well received from users.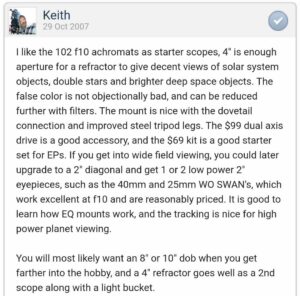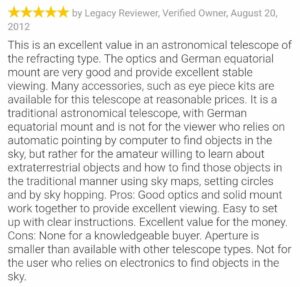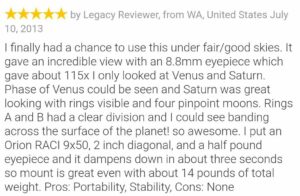 Other Alternatives Worth Checking Out
Although the XLT 102 is a pretty solid device, considering how much you'd have to pay for it, you could very easily purchase a high quality Dobsonian for the price with far better light gathering abilities. My 2 main options are the SkyWatcher Dobsonian 8 inch and the Orion SkyQuest XT8. 
On the other hand, if you're actually willing to pay more for an astrophotography based device, this list of our top picks should point you in the right direction.
Summary
The Celestron Omni XLT 102 appears to be a very component first telescope or a good upgrade if you're coming from a lower quality device as it has one of the best value mounts for the price, its ability to view planets is far better than most and its portability is a plus too.
The only downsides are to do with its expensive price tag, the limited accessories provided and the subpar astrophotography ability (if that's important to you).
With that being said, I still believe you will find the XLT 102 to be a very competent device if you were to pick it up even if 85 isn't necessarily at the top of my recommendations.