*This post may contain affiliate links. This means we may make a commission if you purchase an item using one of our links*
Welcome to my Celestron AstroMaster 130EQ Review!
In this review I'll cover the pros, cons and the Celestron AstroMaster 130EQ's features to ultimately help you decide whether it's a beginner level GoTo telescope worth investing in or one that you should skip.
Overview
Full Name: Celestron AstroMaster 130EQ
Type: spherical mirror reflector
Aperture: 130mm (5.11″)
Focal length: 650mm
Focal ratio: f/5
Dimensions & Weight: 88.9 x 48.3 x 30.5 centimetres & 12.6kg
Included eyepieces: 20mm and 10mm
Rating: 2.5/5
Pros
Reasonably priced
Decent specs
Cons
Uses a spherical mirror
Subpar build quality
Mediocre accessories
Regular maintenance required
Somewhat difficult to align the mirrors
Sale
Celestron - AstroMaster 130EQ-MD Newtonian Telescope - Reflector Telescope for Beginners - Fully-Coated Glass Optics - Adjustable-Height Tripod - BONUS Astronomy Software Package
Powerful reflector telescope: The Celestron AstroMaster 130EQ-MD telescope is a powerful reflector telescope for astronomy beginners. It features fully-coated glass optics, a sturdy and lightweight frame, two eyepieces, a StarPointer red dot finderscope and an adjustable tripod.
High-quality 130mm optics: The heart of the system is a 130mm glass optic objective lens. The AstroMaster mount features two slow-motion control knobs that allow you to make precision adjustments.
Quick setup & lightweight frame: This telescope for kids and adults to be used together features a lightweight frame manual German Equatorial mount for smooth and accurate pointing. Setup is quick and easy, with no tools required for assembly.
Included accessories: We've included two eyepieces (20mm and 10mm), a travel tripod, motor drive, and a StarPointer red dot finderscope. Accessories also include a FREE download of one of the top consumer rated astronomy software programs.
Unbeatable customer support: Buy with confidence from the world's telescope brand, based in California since 1960. You'll also receive unlimited access to technical support from our team of US-based experts.
How Do The Celestron AstroMaster 130EQ's Optics Work?
Telescopes tend to come with one of the 3 main optical types namely, a reflector, refractor and compound based optics. In this case the 130EQ utilises a reflector design which simply means it uses 2 mirrors inside the tube which are referred to as a primary and secondary mirror.
The unfortunate thing here is that unlike the more expensive telescopes out there, the 130EQ utilises a spherical primary mirror as opposed to a parabolic mirror which will result in an inferior overall experience particularly when it comes to the alignment/collimation process of the mirrors.
With that being said the core pros and cons of reflector optics tend to be fairly universal and that is what I'll list down below.
The pros of reflector based optics within the 130EQ include the following :
Great for viewings faint objects in the sky as all types of light can pass through the lenses (this isn't the case for a refractor)
Reflectors are generally cheaper to manufacture, resulting in cheaper telescopes.
These optics don't suffer from chromatic aberration 
As for the cons, they are as such :
The optics are exposed meaning you'd need to clean them up regularly
You'll regularly need to collimate the device too as they're easy to knock out of alignment
Low focal ratio reflector devices tend to suffer a lot more from comatic aberration
Can't view things on earth very well unlike the other 2 variations
Spherical optics suffer from spherical aberration resulting in a lack of focus and clarity
The problem with the spherical mirror used within the astromaster is that because there is no coma corrector to correct the focus of the images, they will ultimately come across as being very lackluster and won't really perform well at the higher power levels.
With that being said the optics should still work well enough to see objects in space even if they are ultimately unfocused.
What Do The Celestron AstroMaster 130EQ's Specifications Mean?
The 130EQ has an aperture of 130mm, a focal length of 650mm resulting in a reasonably fast and wide focal ratio of f/5. What this means is that theoretically the 130EQ should be able to achieve a max magnification of 307x although in reality due to the spherical mirror used and the lower focal ratio resulting in coma, the useable magnification will be closer to 200x.
If you're able to achieve that level power or lower you should be able to view the following objects with the 130EQ :
Jupiter, it's red spot and even its cloud bands with solid detail near the max magnification.
Saturn's rings and the colour of the planet at the max magnification.
You'll be able to make out a good amount of detail on mars when it's nearest to the Earth.
Uranus, Mercury, Venus and Neptune can all also be observed although not in very much detail, specifically with Uranus and Neptune both of which willl only be visible, in the best case scenario, as tiny blue disc (circle) shaped objects.
Nebulaes
Star clusters
Andromeda and a few other galaxies.
A good amount of celestial entities within the messier catalogue.
The moon and it's craters in very good detail.
As for the telescopes weight and dimensions, fully assembled the 130EQ comes in at 12.6kg which is a little heavy but for convenience you could always separately move the tripod and the telescope tube.
As for its dimensions, they are 88.9 x 48.3 x 30.5 centimetres so, it's reasonably portable. Overall the portability of the 130EQ is one of its stronger elements and I can't imagine many people will have much of problem with this aspect of the device.
Accessories Included In The Box
The 130EQ comes with a 1.25″ rack and pinion focuser, 2 1.25 kellner eyepieces at 20mm and 10mm, a built on red finderscope, a tripod and bunch of miscellaneous documents
The 20mm eyepiece is very subpar and isn't even rubberised which does make it pretty uncomfortable to use, the 10mm is alright but the kellner brand isn't known for its quality so, this is an upgrade you'll probably need to make.
The focuser is actually solidly built and more than use able. I guess you could say the biggest issue here is to do with the built on finderscope. In terms of build quality it's not all that bad but, when it comes to focusing an image it will struggle, which I'm sure you don't need me to tell you will be quite the problem for any telescope out there.
The Mount
The mount is a German equitorial mount referred to as the CG-3 by Celestron and it's a fairly competent mount despite its somewhat flimsy build quality according to users.
Nevertheless, it's able to hold the telescope tube reasonably steady. It's also able to fit a dslr on it which can allow for some very basic astrophotography sessions but, you shouldn't expect too much out of the CG-3.
One issue with the mount is that it isn't very ergonomically designed for eyepiece placement which ultimately could result in some awkward positioning when you're trying to use the device.
Overall, the CG-3 is useable but not anything special.
What Are Users Of The Celestron AstroMaster 130EQ Saying
For the most part users find the 130EQ to be a mixed bag. They found that the telescope was average a best, from being build somewhat averagely with subpar accessories in the box.
The major saving grace happened to be with its somewhat reasonable pricing but, as I'll mention below there are alternatives for a similar price that do provide a better overall experience.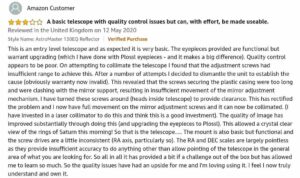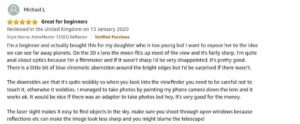 Other Alternatives Worth Checking Out
The major issue with 130EQ is its use of a spherical mirror as opposed to a parabolic mirror which ultimately does make the images it provides come across as a little lower in quality.
Therefore, a few alternative 130mm devices Worth looking into that have the more desirable parabolic mirror design include the Zhumell Z130, the Meade Lightbridge Mini 130 and if you're looking for a higher powered device the skyquest XT6 is a solid device to go for too.
Summary
The AstroMaster 130EQ is a mixed bag device with a few decent qualities but overall still an average telescope.
If you can pick the device up on a really good deal it might be worth checking out otherwise I would suggest you look into one of my alternatives and entirely skip this one.