*This post may contain affiliate links. This means we may make a commission if you purchase an item using one of our links*
Welcome to my Orion SkyQuest XT10 Review!
If you've found yourself on this review, there's a good chance that it's a system that you've been hearing really good things about, receiving a bunch of positive feedback when it comes to the systems quality however, you also don't want to jump head first into buying it without learning a few things about it right?
If that's the case, it's a good thing you've found yourself on this review because here we'll be discussing the pros, cons, features and other elements to decide if the Orion SkyQuest XT10 is a worthy beginner/intermediate level telescope or one that you should simply skip.
Overview
Full Name: Orion SkyQuest XT10
Type: Newtonian Reflector
Aperture: 254mm (10″)
Focal length: 1200mm
Focal ratio: f/4.7
Dimensions & Weight: 132.1 x 64.8 x 60.2 centimetres & is 23.4kg
Included eyepieces: 1.25″ 25mm plossl
Rating: 4.5/5
Pros
Great value for money
Great specs for the price
Easy to set up
Great for viewing celestial objects in great detail
Cons
Not portable
Suffers from coma
Particle board is prone to damage
Orion 8946 SkyQuest XT10 Classic Dobsonian Telescope
Item may ship in more than one box and may arrive separately
The Orion SkyQuest XT10 Classic Dobsonian is a big 10" aperture reflector telescope with a small price tag
Gobbles up light for great views of deep-sky objects such as nebulas, galaxies, star clusters, and close-up views of more nearby targets like the Moon and planets
Simple point-and-view Dobsonian design reflector telescope is easy and fun to use for the whole family
Stable Dobsonian telescope base and Orion CorrecTension friction optimization system keeps reflector optical tube perfectly balanced in any position
How Do The SkyQuest XT10's Optics Work?
The optics used within the SkyQuest XT10 are is reflector based which means that the tube will have a primary mirror and a secondary mirror. The mirrors here are also of the Newtonian reflector design which means it'll use a parabolic mirror and should theoretically provide a clearer and more focused image when collimated.
With that being said the reflector optical design comes with both pros and cons.
The pros of the optics within the XT10 are as such :
Great for viewings faint objects in the sky as all types of light can pass through the lenses (this isn't the case for a refractor)
Reflectors are generally cheaper to manufacture, resulting in cheaper telescopes.
These optics don't suffer from chromatic aberration 
Whilst the cons of this design include the following :
The optics are exposed meaning you'd need to clean them up regularly
You'll regularly need to collimate the device too as they're easy to knock out of alignment
Low focal ratio reflector devices tend to suffer a lot more from comatic aberration
Can't view things on earth very well unlike the other 2 variations
Spherical optics suffer from spherical aberration resulting in a lack of focus and clarity (this shouldn't be an issue for the XT10 as it uses a parabolic mirror)
Although the reflector optics within the XT10 has its fair share of cons, as a whole they will perform very nicely for the majority of individuals as the cons are mostly nullified due to the large optics inside.
What Do The SkyQuest XT10's Specifications Mean?
The XT10 has an aperture of 254mm, a focal length of 1200mm resulting in a very wide focal ratio of f/4.7. This means that the device should theoretically magnify upto 508x at its highest point making a very capable device for viewing a lot of objects (in solid detail).
As for what you'll be able to see provided you get enough power out of the XT10 is the following :
The moon and its craters at really high detail levels
Jupiter, Saturn, Venus, Mars And Mercury in good detail too.
Jupiter and Saturn's moons will also be visible through the XT10 where they will show some hints of colour and be seen as disc like entities through the lens.
Uranus and Neptune will also be reasonably easy to view through the scope, showing up as blue coloured disc shape entities without much visible detail and in the best viewing conditions you may even be able to see Neptune's moon, Triton as a bright dot
You'll be able to see most nebula, star clusters, galaxies, the messier catalogue, the hershel 400 along with other dimmer deep space objects in reasonable to good detail depending on how dim the celestial entity is.
Although the focal length of the telescope will ultimately make it harder to achieve the higher magnification levels due to the price of eyepieces you'd need to purchase, if you do achieve the higher magnification levels the XT10 will be very useable and provide very detailed views of the aforementioned celestial objects.
Of course there is one major downside to getting a 10 inch device and that's to do with its portability. Fully assembled the device will weigh in at 23.4kg whilst it's dimension are quite large too at 132.1 x 64.8 x 60.2 centimetres so, don't expect to take the system with you on a roadtrip unless you have a large enough pickup truck to take it with you.
Accessories Included In The Box
The accessories you'll find in the box will depend on whether or not you go for the XT10 plus or normal variant but, within the normal classic variant you'll get one 1.25″ 25mm plossl eyepiece, a 2″ Crayford focuser that allows you to use 2″ eyepieces, a simple red dot finderscope and a few other miscellaneous documentation.
The eyepiece and the accessories are the same quality as the smaller XT8 or even the XT6 but, the lack of a higher powered eyepiece does mean that the performance of the telescope will be limited unless you decide to upgrade (check out our list for some eyepieces with buying).
The Mount
The Mount used by the XT10 is of the Dobsonian style and is made of a melamine covered particle board.  This cheaper particle board used does mean that the mount is more susceptible to damage and could even rot if moisture seeps into it.
The adjustment of the mount is done using a spring tension design but, because the bearings used to adjust the springs are a little small, it is a little bit of pain to sort out. The bearings are also prone to sticking due to the nylon material used as opposed to the more desirable teflon padding.
In short the mount isn't the highest quality dobsonian you can find however, it's still a fairly capable one despite the few issues that it displays.
What Are Users Of The SkyQuest XT10 Saying
For the most part users have found the XT10 to be a great device that's worth the money and have found it to be great value for money in terms of price to performance ratio.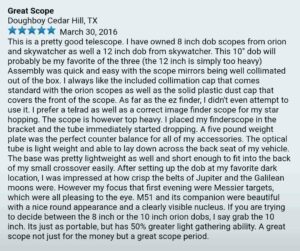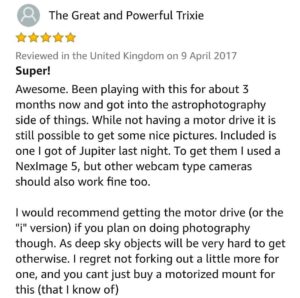 Of course its lack of portability or the good but the limited accessories provided does mean that it'll be hard to move around and that you likely will need to invest a little bit more into the setup nevertheless, as a whole the user experience seems to be mostly positive.
Other Alternatives Worth Checking Out
There really aren't very many better devices, particularly Newtonian reflector devices (for the price) than the XT10 so I can't really recommend anything far better or even slightly better nevertheless, one of its weakest points is astrophotography so, if that's something you'd like from your telescope, this list of some of our favourite astrophotography telescopes may be worth looking into.
Summary
The SkyQuest XT10 is a great intermediate to advanced level telescope that will provide users with a good amount of detail and just a very pleasant viewing experience when used.
Of course there are accessories that you will need to upgrade on and it isn't the most portable devices either but, if you do pick it up, in my opinion it will be worth the price.
Orion 8946 SkyQuest XT10 Classic Dobsonian Telescope
Item may ship in more than one box and may arrive separately
The Orion SkyQuest XT10 Classic Dobsonian is a big 10" aperture reflector telescope with a small price tag
Gobbles up light for great views of deep-sky objects such as nebulas, galaxies, star clusters, and close-up views of more nearby targets like the Moon and planets
Simple point-and-view Dobsonian design reflector telescope is easy and fun to use for the whole family
Stable Dobsonian telescope base and Orion CorrecTension friction optimization system keeps reflector optical tube perfectly balanced in any position