*This post may contain affiliate links. This means we may make a commission if you purchase an item using one of our links*
Welcome to my Orion SkyQuest XT6 Classic Dobsonian Telescope Review!
In this review I'll cover the pros, cons and SkyQuest XT6's features to ultimately help you decide on whether the SkyQuest XT6 is a system worth investing in or one that you should skip out on.
Overview
Full Name: Orion SkyQuest XT6 Classic Dobsonian
Type: Reflector
Aperture: 6″(150mm)
Focal length: 1200mm
Focal ratio: f/8
Dimensions & Weight: 123.7 x 41.4 x 34.5 cm by 9.12 kg
Included eyepieces: 25mm 1.25″
Rating: 4.8/5
Pros
Great value for money
Easy to use
Easy to set up
A good 25mm eyepiece
Easy to collimate
Cons
It's really big
Higher levels of maintenance and collimation due to it being a reflector
The finderscope in the box is poor
Sale
Orion 8944 SkyQuest XT6 Classic Dobsonian Telescope
Perhaps the best beginner Dobsonian reflector telescope you can buy - big 6" aperture at an amazing price
A beginner may use a 60mm telescope for a few months or years before deciding they need to upgrade to a better telescope - a 6" Dobsonian will give you a lifetime of wonderful views
Simple navigation and no need to polar align makes this Dobsonian reflector telescope extremely ease to use for the whole family
The 6" diameter f/8 parabolic mirror is fantastic for Moon and planetary views, and also has enough light grasp for deep-sky viewing of nebulas, galaxies, and star clusters
The stable Dobsonian base provides a vibration free image even when viewing at a high powers, and features smooth enough motions to make tracking of celestial objects a breeze
How Do The Orion SkyQuest XT6's Optics Work?
The Orion SkyQuest XT6 Classic Dobsonian uses Newtonian reflector optics, which are quite common for devices in its price range and tend to produce some solid results but, it still has a few drawbacks, although I wouldn't consider them game changing in the slightest, only a little annoying.
If you don't already know, telescopes tend to come in one of 3 optical designs, a reflector, refractor and compound. Of course all of these also have their own sub variations but, as as a whole all three of these optical designs use a different design to determine how their lenses operate (check this post for a bit a more detail on that).
As for the pros and cons of the reflector optics within the SkyQuest XT6, the pros include the following :
Great for viewings faint objects in the sky as all types of light can pass through the lenses (this isn't the case for a refractor)
Reflectors are generally cheaper to manufacture, resulting in cheaper telescopes.
These optics don't suffer from chromatic aberration
The cons of a reflector system include :
The optics are exposed meaning you'd need to clean them up regularly
You'll regularly need to collimate the device too as they're easy to knock out of alignment
Low focal ratio reflector devices tend to suffer a lot more from comatic aberration  
The collimation isn't going to be too major an issue with the SkyQuest XT6 once you get used to it and the other issues aren't major problems either. It's just that they'll be minor annoyances but, as a beginner it's probably a good idea to learn these things anyways so I to some extent the cons may even be pros for some.
What Do The Orion SkyQuest XT6's Specifications Mean?
As for the SkyQuest XT6's specs, the aperture is 150mm, the focal length is 1200mm resulting in a focal ratio of f/8. This means that the system won't suffer from as much comatic aberration as wider reflector system whilst the larger focal ratio means that it'll also be a solid system for planetary observation.
The XT6's max theoretical magnification of 300x also means it'll be a able to see a lot of things in outer space at good detail, especially for the systems price tag of around $260.
Of course as is the case with most telescopes, the theoretical max and the useable magnification will vary slightly in real world use but, it should easily be possible to observe upwards of a 200x magnification with the XT6.
As for what you'd be able to make out with the system, they include :
The moon and its craters will in very high detail
You should be able to make out all of the planets within our solar system uptil Neptune, although you won't be able to make it out beyond its blue disk like shape.
Jupiter can be seen at some really good detail with XT6 as well as observe some of it's moons
You'll be able to make out a good amount of separation on Saturn's rings as well a few of the moons orbiting it.
Start clusters, galaxies and nebulae and the messier catalogue will all be visible through the scope but, mainly as bright spots in the night sky.
All in all, the specifications of the device will produce some really nice images through the viewfinder in the right conditions.
As for it size, this is pretty much it's biggest "flaw" I guess you could say. It's not the worst thing in the world but definitely will be a problem for some.
The dimensions and weight of the SkyQuest XT6 are 123.7 x 41.4 x 34.5 cm by 9.12 kg making the system almost 5ft tall. This means it'll be a little hard to store but, it does disassemble into 2 pieces which will make it a lot easier to move around as the device isn't really a heavy one.
Accessories Included In The Box?
The accessories found in the box include one 1.25″ plossl eyepieces with a wider 25mm (48x), a 2x Barlow lens, a red dot finderscope and a solar filter.
The singular eyepieces that comes with the classic variant is a solid eyepiece and with the use of the included Barlow lens you will be able to view at just under 100x magnification but, investing in a more powerful 10mm device or even a eyepiece that can adjust to various focal length (more details of these eyepiece can be found on this article) is definitely something you will need to do.
Also the red dot finderscope that comes in the box is a very subpar one. It's plasticy, struggles to attach to the scope and in some cases might require you to use sellotape to do so. This is another another area you'll want to upgrade, probably to a much better 9×50 finderscope when you decide it's necessary.
As a whole, the XT6 classic is missing a few accessories which can be slightly fixed if you get an XT6 plus which comes with a 10mm eyepiece too but, the accessories found in the normal variant are, for the most part, passable and usable out of the box.
The Orion SkyQuest XT6's Mount
The mount used by the SkyQuest XT6 is a Dobsonian style one that uses springs for tensioning, a system that in theory allows for easy balancing with heavy eyepieces but, unless you get an adapter to utiles a 2″ telescope, most wouldn't even a problem as most won't use the heavier 2″ eyepieces so, there realistically shouldn't be any issues regarding the balancing of the mount.
The XT6's base is a particle board overlaid with melamine which is quite heavy. One problem with melamine used is that if it gets damaged the whole board can quickly warp and rot but, this is something you should be able to fix with a bit of DIY. You can create your own base or even buy plywood base to counteract this issue if the melamine ever gets damaged.
Another great thing about the mount is that it is pretty easy to assemble with the use of an Allen key, a few screws and of course your trusty philips screwdriver.
What Are Users Of The Orion SkyQuest XT6 Saying
Besides the slightly larger design than is ideal for most and the mediocre red dot finder, the SkyQuest genuinely seems to be a product that the large majority of beginner level astronomers and even more intermediate users seem to love.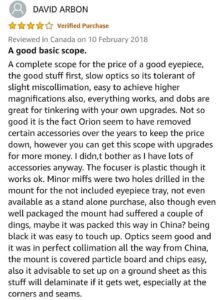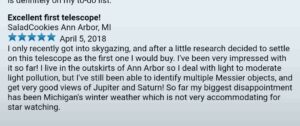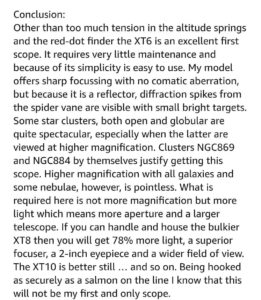 So, the XT6, in the eyes of its many users is a very pleasant experience, if you can get past in larger footprint and are willing to invest a little more on more useable accessories.
Other Alternatives Worth Checking Out
There really aren't very many if any system within the 6inch aperture range that are better than the XT6 so, if your price doesn't stretch beyond it's roughly $300 range, you'll practically have hit a home run with this SkyQuest.
However, there are a couple things that aren't it's strong suit such as portability and it's subpar astrophotography ability.
So if you'd rather invest in a more portable device, click here to check out our list on some of the better options in the market, our best dobsonian alternatives can be found here whilst you can click here to check out our recommended astrophotography telescopes instead.
Summary
The Orion SkyQuest XT6 Classic Dobsonian telescope is a very good 6 inch Dobsonian telescope to invest in with a good quality build, great specs, decent accessories bar the finderscope and of course the great price of around $250 – $300.
Dare I say it's among the best in its class and one that I personally would highly recommend you get if you're willing to put up with the large frame, regular maintenance and of course don't mind spending a bit more on a better accessories.
In short the SkyQuest is a great Dobsonian telescope and definitely one that's highly recommended.