*This post may contain affiliate links. This means we may make a commission if you purchase an item using one of our links*
Dobsonian (Dob) telescopes are often regarded as the best bang for the buck value devices out there so, it's not surprising that whenever a beginner looks into telescopes most veterans almost always point towards devices that utilise this mount specifically.
Dob telescopes come in all shapes and sizes, with a tabletop option being very popular among the cheapest options on the market. With that being said I won't be including tabletop based dobs as technically speaking they don't offer the full experience. In this article we'll be covering the 11 best dobsonian telescopes you can buy if a dob design is what appeals to you.
In A Hurry? Check Out Our Best 3  Picks Below!
Name
Most Affordable
Fujinon XF16mm
Editor's Choice
Fujifilm XF 18mm
Most Powerful
Fujinon XF 16-55mm
Image
Most Affordable
Image
Editor's Choice
Image
Most Powerful
Image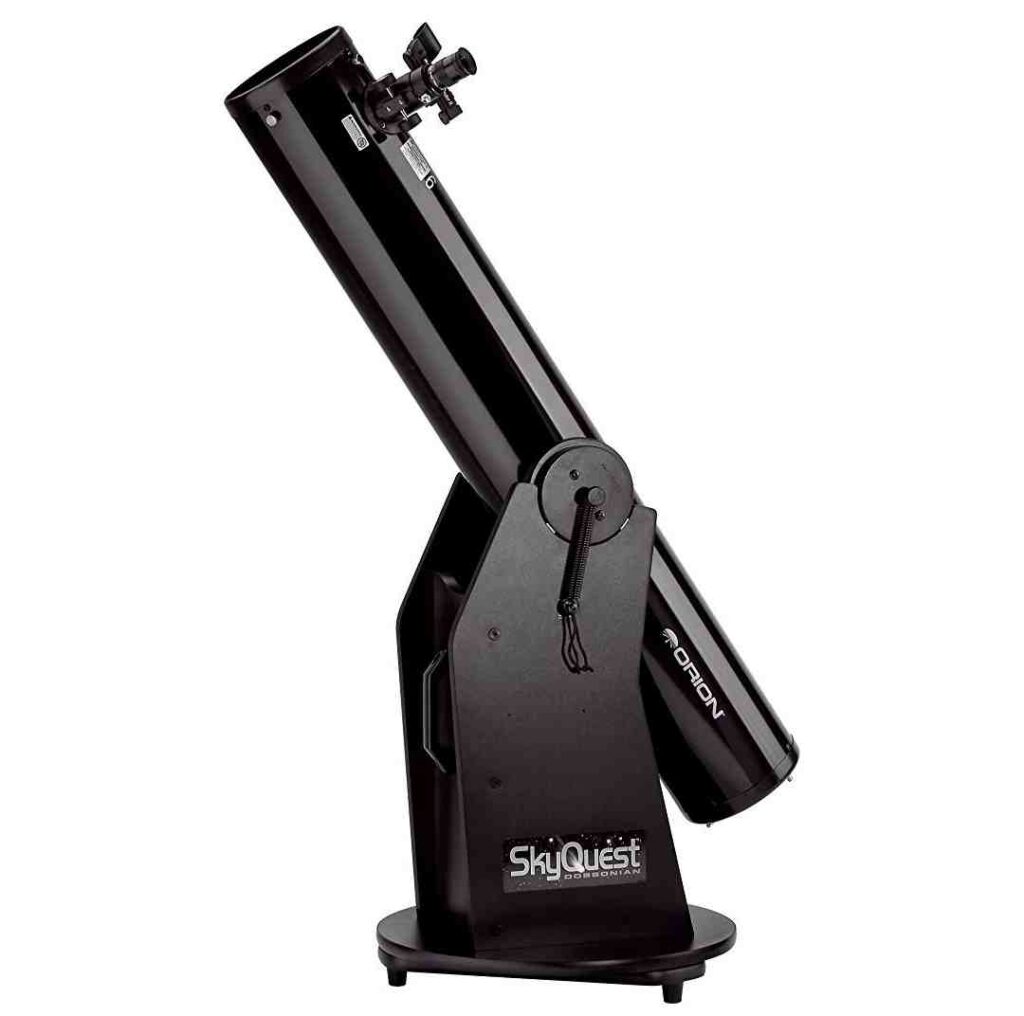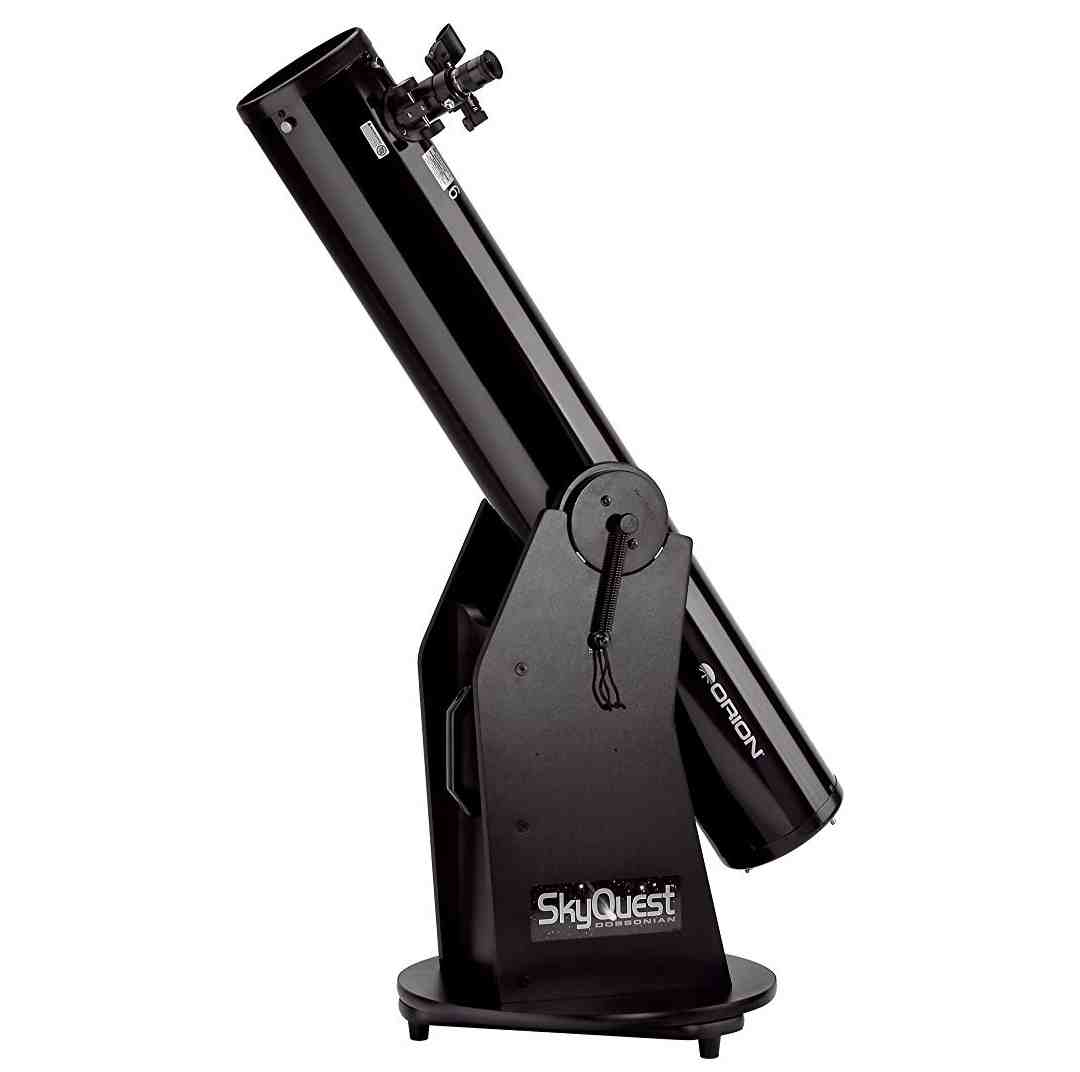 Pros
Great value for money
Easy to use
Easy to set up
A good 25mm eyepiece
Easy to collimate
Cons
Higher levels of maintenance and collimation due to it being a reflector
The finderscope in the box is poor
Particle board used
Orion's SkyQuest XT6 is among the best deals a beginner getting into astronomy can. This has a lot to do with the reflector optics and the dobsonian mount supplied with this device which significantly reduces costs all around.
The specs are more than respectable with the aperture at 150mm, the focal length at 1200mm resulting in a focal ratio of f/8. As a result the device will be capture a good amount of light whilst the narrower focal ratio means coma or other forms of aberration will be minimised exponentially.
Being able to achieve a theoretical max magnification of 300x, the xt6 will be able to make out just about anything you'd want to uptil as far Neptune. As why Pluto can't be observed, well to put it bluntly it's way too short. Deep space objects like galaxies and nebulae will also be observable.
Accessory wise you'll be provide with one 1.25″ plossl eyepieces with a wider 25mm focal length (48x), a 2x Barlow lens, a red dot finderscope and a solar filter. Other than the finderscope which is finicky and in some instances even unable to attach to the device without sellotape being needed, are good for simple inbox items.
The mount is a great too as it's easy to set up with just an Allen key spare but, the particle board used is susceptible to rot so do keep that in consideration when looking into this device.
Even with these "shortcomings" per say the XT6 is among the best 6 inch dobs you can get in the market, which is why I'm certain you won't be disappointed if you decide to pick it up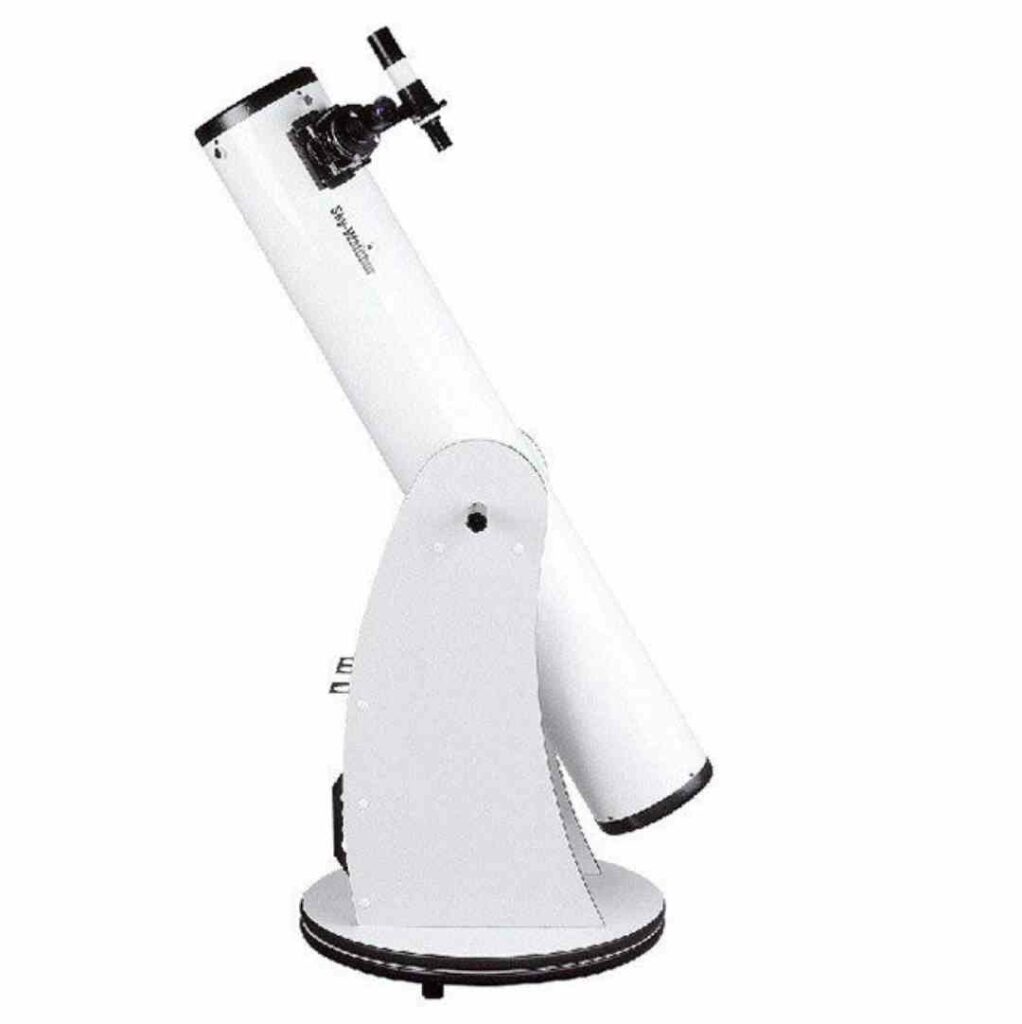 Pros
Easy to assemble
Easy to use
Great accessories
Great optics
Cons
Will need to be regularly maintained and collimated
The finderscope is subpar
The SkyWatcher 6 inch Dobsonian is also another great 6 inch Dobsonian offering that delivers on all front whilst also providing top quality inbox accessories too.
It's specs are as such, 153mm, a focal length of 1200mm resulting in a fairly narrow focal ratio of f/7.8.
This means performance wise the skywatcher 6 inch is very comparable to the above pick so being able to make out awesome visuals of both planets and deep sky objects when paired with equipment that can bring out it's magnification power of a useable number around 220 – 250x (300x theoretically).
Inbox accessories aren't always great but the skywatcher appears to break this mold providing you with some excellent pieces of equipment.
These include a single-speed 2" rack-and-pinion focuser made mostly of metal, two 1.25" Super eyepieces that are very similar to Plossls which includes a 25mm (48x) and 10mm (120x) eyepieces, a basic 6×30 finderscope and a bunch of miscellaneous documents.
The finderscope in this case a bit of downer as the images it'll provide are a little too dim so an upgrade will definitely be necessary, the Dobsonian mount is once again very smooth but as is the case with cheaper dobs, the particle board is likely to rot and in turn will need to be replaced down the road.
Overall if you can find one of these at the sub $400 range, it's definitely a piece of telescopic kit worth looking into.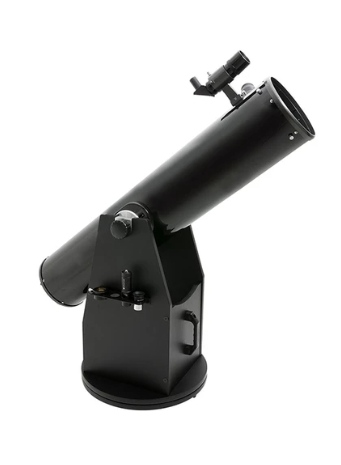 Pros
Great Power For The Price
High Quality Dobsonian Mount
High quality dual speed focuser
Solid eyepieces included
Cons
Open Tube Means Higher Maintenance
It's far from lightweight
The Zhumell Z8 is a device that I wouldn't recommend complete beginners to invest as it will take up a lot of room in your conservatory, or whatever storage department you can leave it in.
Nevertheless, if you do pick this device up you'll most certainly be satisfied with its performance. It's specs are as follows, aperture is 203mm with a focal length of 1200mm resulting in a focal ratio of f/5.9. The larger means that the details you'll be able to view through the Z8 will be exponentially better than a 6 inch device.
With a theoretical max magnification at 400x (closer to a usable 350x) all planets and deep space objects will be more detailed than the aforementioned devices. Dobsonian also come in different variations an the one that's attached to the Zhumell is quality mount too.
It uses ball bearings which results in a far smoother motion when moving the mount or adjusting tension to balance your tube.
Zhumell includes great accessories with the Z8 too, with a 2" 30mm eyepiece for wide field views and a 1. 25" 9mm eyepieces, dual-speed focuser, a 9×50 finderscope with the normal books and guides.
Of course to maximise the performance of the Z8 investing in more powerful eyepieces will be necessary but, as a whole these accessories are genuinely amazing as simple inbox additions. That's why if you do have enough room, the Z8 is an excellent astronomy buddy to have around!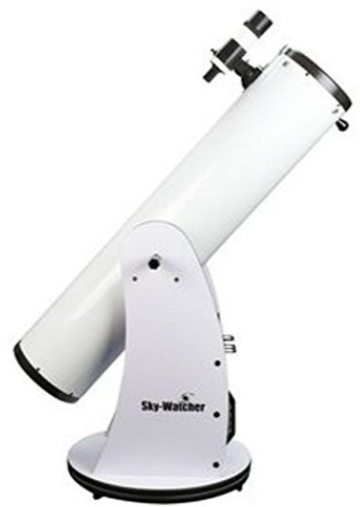 Pros
Powerful for the price
Can see Jupiter, Saturn, The messier catalog and ton more with the scope
Fairly light weight for what it offers
Easy to set up
Cons
The mount is built in a very mediocre manner
The finderscope is average
Fairly high maintenance due to it being a reflective scope
Much like the SkyWatcher 6 incher the 8 inch variant is just a more powerful caracutre of that device with all the pros and of course the cons to boot.
With a larger aperture at 203mm,  focal length at 1200mm and focal ratio of around f/5.9 the visuals that this dob produces will be amazing granted you use a great eyepiece with it. It's also a faster device so wider field views will be one of its better attributes although as a result coma will be more prevalent, at least more so than the smaller 6 inch counterpart.
Accessory wise the 8 incher comes with 2 Plossl eyepieces at 25mm (48x) and a 10mm (120x) 1.25″ eyepieces, a 9×50 finderscope, a 2 inch crayford focuser along with the regular inbox accessories.
It has to be said the dobsonian mount used here is one of the cheaper particle boar based set ups but in terms of the smoothness and performance you'll be able to achieve, it'll be more than satisfactory for most.
Weight and size is bound to be an issue the larger you decide to go but, much like most of the other options on this list, the mount and tube can be separated making it far easier to move around and to store away too.
Pros
Can be separated into two pieces for easier storage and portability
Great in box accessories
Great specs
Great mount
Cons
Very heavy despite its compact and portable design
Issues with part maintenance
Hard to collimate, specifically for new users
Will require a fair bit of maintenance
The skywatcher Flextube 200 or also known as the SkyWatcher collapsible is another 8 inch device by skywatcher except this time round the device can be collapsed into itself.
By collapsible it simply means that the tube of the device can be folded into itself taking up less room, in regards to height mostly, when attempting to store the telescope set up away.
If an 8 inch device that also relatively portable is important to you, the flextube will prove to be an excellent telescope for your need. In regards to what the Flextube's specs are, it includes an aperture of 203mm, a focal length of 100mm resulting in a focal ratio of f/6.
As a result the Flextube is a fast telescope and in turn will have some issues with coma due to the mirror optics utilised. The overall power and light gathering abilities for this 8 inch telescope will allow you to make some great and detailed views of planets and other deep space objects allowing users to achieve anywhere between 320 – 350x of usable max magnification.
Accessory wise, the collapsible comes with 2 1.25 inch Plossl eyepieces at 25mm(48x) and 10mm(120x), a 2" Crayford focuser with a 1.25" adapter, a 8×50 finderscope, an eyepiece tray and a bunch of other miscellaneous documents.
Not many inbox accessories are quite as balanced as the Flextube's offerings so, I'm sure you'll be able to get a good amount use with these before eventually upgrading your setup.
A few of its negatives have to do with how heavy the tube is, the increased maintenance due to the fully open design and even a collimation process that can be a bit of a pain.
Nevertheless, as a whole if you really want a flexible and more compact design for such a large telescope, skywatcher's collapsible offering is certainly not a bad place to start.
Pros
Great specs
Great value for money
Easy to set up
Good accessories
Cons
It's heavy
Higher levels of maintenance and collimation due to it being a reflector
The focuser isn't as smooth as you'd like it to be
Orion's SkyQuest XT8 Plus is revamped version of the XT6 but with a number of improved accessories and just better specs as a whole.
With an aperture of 203mm, a focal length of 1200mm and a focal ratio of f/5.9 the XT8 plus will be a very capable device and allow you to see breathtaking views of the night sky, jupiter, saturn among other objects within our near vicinity, then again when we get to this level of aperture details will be more than satisfactory for most.
Now for what separates the XT8 plus from is identical classis counterpart, the accessories found in the box includes a 2″ 28mm DeepView eyepiece, 1.25″ 10mm Sirius Plossl eyepiece, Shorty 2x Barlow lens, eyepiece rack, EZ Finder II reflex sight, collimation cap, DeepMap 600 Folding Star Chart, a 2″ dual-speed Crayford focuser with 11:1 fine-focus among other documentation.
Of course, it's shouldn't be surprising that paying that little bit more would result in a superior accessory pot (and a unique colour variant) but, is surprising is that all of these accessories a genuinely really good and would require to go out shopping immediately just to be able to stargaze through a sharp and fairly accurate eyepiece.
Another plus variant that may find handy is the ability to carry this 19.1kg device using the cut outs in the base instead of separating the mount from tube and moving them just adjust where you want to keep the telescope.
Collimation is also often a pain for reflectors but in this case the XT8 Plus delivers too.
What I'm getting at as a whole is that if you want an brilliant device that's also excellent value for money, XT8 plus or even the classic variant, is definitely worth the investment.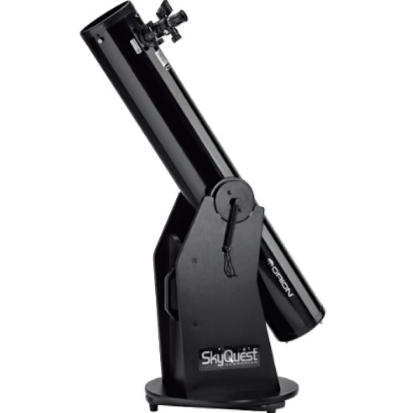 Pros
Easy to use
Still great value for money
Good accessories
Solid specs for the price
Cons
More expensive than other similarly powered devices
Uses the inferior spherical mirror design
Will require regular maintenance and collimation
Mediocre finderscope
If you're not after a super large dobsonian, the XT4.5 by Orion should satisfy your needs.
Yes, it is among the weakest telescope spec wise packed with an aperture of 114mm, a focal length of 900mm resulting in a focal ratio of f/7.9. This means that the XT4.5 will able to achieve a usable magnifications around 200x whilst the slower focal ratio means it'll also be a very competent planet viewing device despite lower aperture.
Of course with the loss in size and the use of spherical mirrors the details and clarity of the XT4.5 will be minimised but, a positive twist is that as a result of the focal ratio being much higher, the visual discrepancies like coma and spherical aberration in this case will not be anywhere near as prevalent as most of the telescopes mentioned on this list.
In regards to the accessories the skyquest XT4.5 comes with a solid line up with 2 1.25″ plossl eyepieces at 25mm and 10mm, a 6×26 finderscope, a 2x Barlow lens, a cheap red flashlight, a plamisphere, along with a few miscellaneous documents.
Yes the finderscope will likely need to be upgraded and there are a few cheaper items included too but, as inbox items for a cheaper overall device, the eyepieces and the other items will be more than satisfactory until you're ready to upgrade.
Particle board that's about 0.5 inches thick is used at the base of the XT4.5 much like the bigger variants so, it is worth noting you'll likely need to replace it when rot takes over. Furthermore, the mount has resulted in some balancing issues, so keep this in mind too.
These two points are only minor issues but, the use of spherical mirrors may very well be deal breaker due to the difficulty of getting super clear views.
Of course the higher focal ratio does minimise this but, if you're comfortable with this miniature full sized Dob device, I'm sure it'll provide a more than satisfactory experience for you like it has for many many others prior.
8. Skywatcher 10-inch Collapsible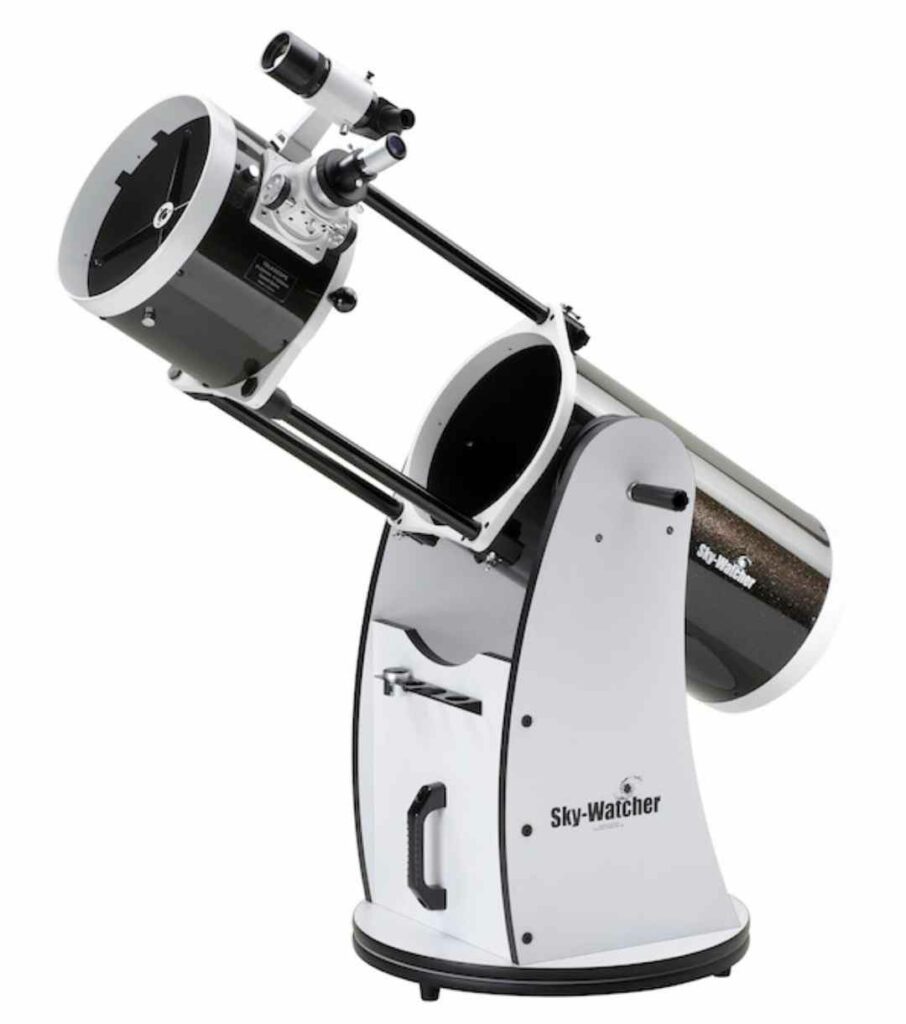 Pros
Tube can shrink by 36% in size
Easy to set up
Excellent specs
Easy to separate when transporting
Good accessories
Cons
Very heavy
Uses particle board
Part maintenance issues just like the smaller variants
Will require a lot of maintenance
Fairly easy to knock the mirrors out of alignment
The skywatcher 10-inch Collapsible or otherwise called  the skyline 250p Flextube (I know, both name are longwinded) is in short, just a bigger and more powerful upgrade over the Flextube 200 mentioned above.
It has specs which that are powerful enough to essentially be the one and done big telescope In your home as it'll pretty much let you see 95+% of everything that we're currently able to see with an in home device.
With an aperture of 254mm and focal length of 1200mm, it means this device comes in at a very fast focal ratio of f/4.7. As a whole viewing planets and deeps space objects will be far better than the telescopes mentioned above as the max useable magnification can be well above 400x.
However, coma will be far more visible around the edges of you eyepieces. Although I doubt it'll dampen the experience, it's still an annoyance that's worth keeping note of.
The 250p comes with a 2" Crayford focuser and a 1.25" adapter, allowing you to utilize both 2" and 1.25" eyepieces. Also included, are two 1.25" eyepieces (25mm and 10mm), a 8×50 finderscope, eyepiece tray and a number of documents, guides etc.
These are definitely satisfactory if you're new to StarGazing but, in order to get the max performance out of the collapsible, upgrading your eyepiece options is a definite must.
The OTA tube can be retracted to be stored in a more compact manor just like the smaller variant and maintenance will definitely be higher too due to the open tube design but, if a foldable (per say) telescope is essential for you, a collapsible form factor is definitely not a bad route too.
With a very well built teflon pad based dob mount, smooth movement and controlled movement as a result of the tension controlled handles, locating a planet among other celestial objects will be a breeze. Unfortunately particle board is still used in order to keep the cost down but, even then this mount is very much worth it.
Carrying this chunky beast won't be easy either as, not only will you need to collapse the device, you'll also need to separate the mount from it just so it's possible to move it around. In fact the tube itself comes in at 15kg whilst the dob mount is likely a few kg heavier.
Overall, the collapsible 10 inch by skywatcher is a great piece of kit and will be a great companion for those clear StarGazing nights if of course you have enough room to store it when you're done using it.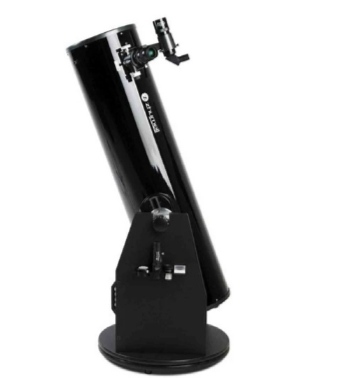 Pros
Amazing specs for the price
Great accessories included
Easy to set up
Cons
Will require regular maintenance and collimation
It's big and quite heavy
Zhumell make some great telescopes, whether with their entry level Z100 line and their single/double digit Z line where of course the Z10 is no exception.
If you're after a competent, powerful, easy to set up and use dob device, the Z10 will undoubtedly meet your expectations, minus the weight and size of it (obviously).
The specifications of the Zhumell Z10 are as follows, a 254mm aperture, a focal length of 1250mm resulting in a fairly wide focal ratio of f/5. This wider and faster focal ratio means coma will be visible but, as is generally the case, it's ability to gather more light and in turn more detail should stop this visual hiccup from affecting your experience too much.
Seeing the Moon, Jupiter, Saturn, both their moons and even Neptune should be doable with the Z10, provided you can magnify high enough.
As for the accessories that are included in the box, they're pretty good considering their shipped in the box. You'll get 2 eyepieces, one 2″ fully coated 30mm eyepiece and another 1.25″ 9mm eyepiece, a dual Crayford focuser, a 8×50 Finderscope, a Laser Collimator, a 1.25″ moon filter along with a few other books and miscellaneous documentation
The dob mount is very much like the one offered with the Z8 and that's a great mount. The same can be said about the Z10's too.
Overall, considering the great deal you can get for this telescope (sub 800) for the accessories and power and if you can handle storing such a massive device, the Z10 by Zhumell will prove to be more than worth your while.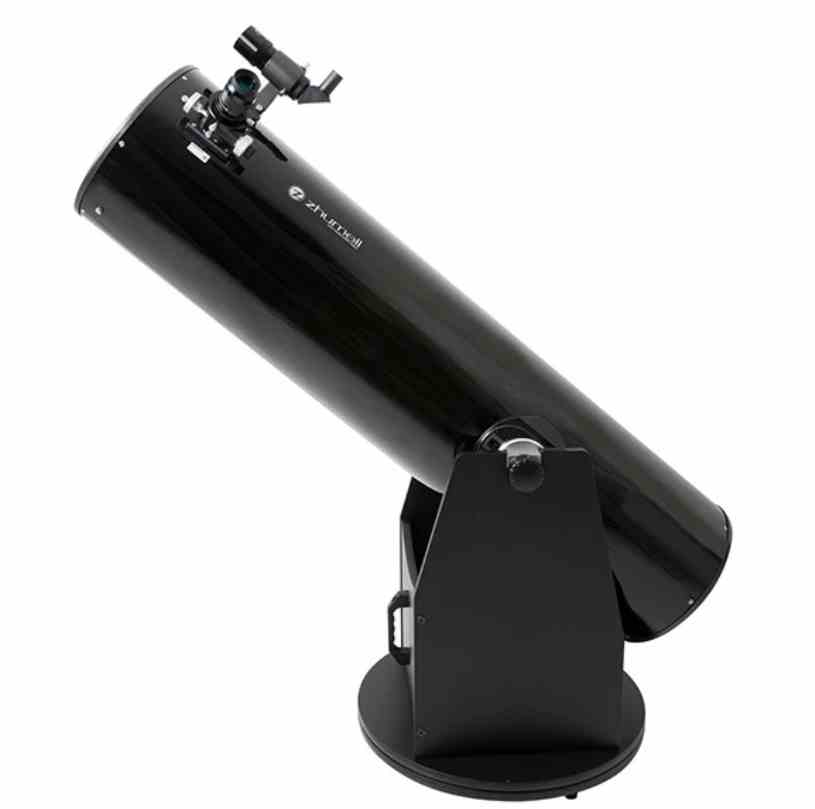 Pros
Great value for money
Great accessories included
Easy to use
Great Optics
Cons
Will need to fairly regularly be collimated and maintained
It's big and heavy
Coma is prevalent due to the faster optics
It shouldn't really suprise you at this point that the the Z12 by zhumell is on the list. Although they're far from the most well known brands, they do know how to make a great Dobsonian device and the z12 is no exception.
With an aperture of 305mm, focal length of 1500mm resulting in focal ratio of f/4.9, it's is by far the most powerful device on this list and well, the clarity or the visuals will be a step above all the rest.
The fact is the Z12 can achieve a max magnification of 500 – 550x that'll be usable so, seeing the likes of jupiter and saturn should be excellent whilst Neptune may be shown in a lot more clarity too. Of course the wider and faster focal ratio means its not necessarily the best for planetary viewing but, even then it'll perform like a champ in this field.
When the package is open you'll find a number of accessories inside, which includes a 2″ 30mm eyepiece for wide field views and a 1.25" 9mm eyepiece, an 8×50 finderscope, a dual-speed Crayford focuser and a bunch of other miscellaneous documents.
These are more or less the same as the ones included with the Z8 and Z10, which are regarded as solid inclusions however, considering only one eyepiece is included and one that won't even bring out the most power from the Z12 , this is an area that'll definitely require some investment.
Zhumell includes a great mount with the Z12 which is a ball bearing based one like the smaller variants and it'll provide smooth tracking and controlling.
Portability or the lack thereof should I say is the Z12's biggest weakness, then again if you're looking into a larger device this is always an area you'll suffer in.
Overall this the Zhumell Z12 is great and excellent value for money too, especially when you take into account its capabilities.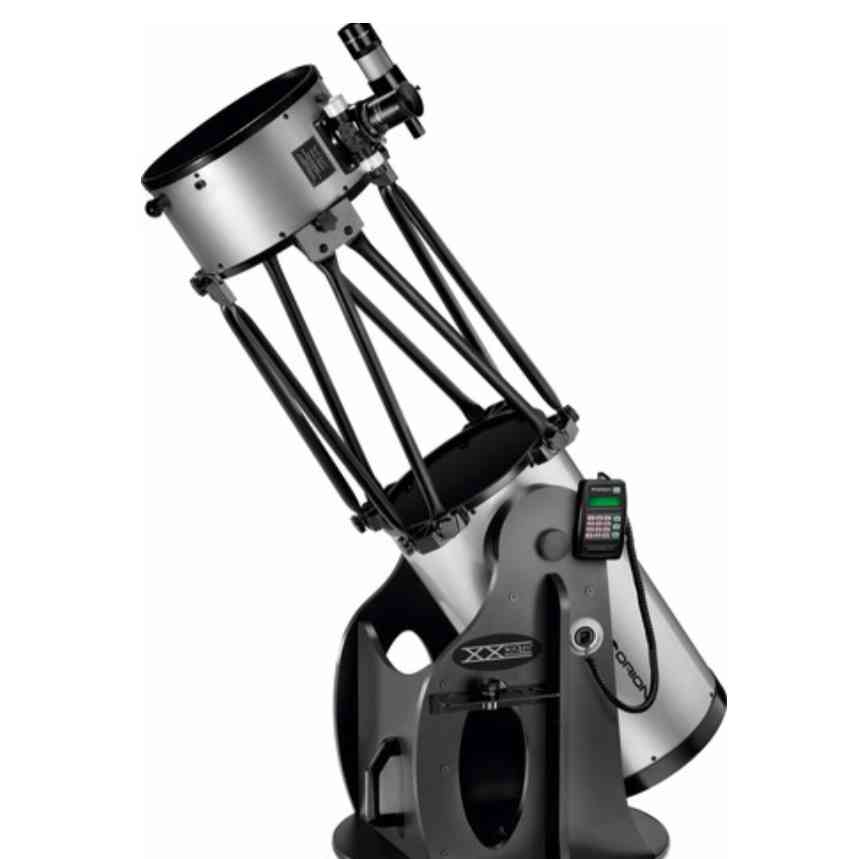 Pros
Very good specs
Truss tube makes the tube easier to carry and store
Great mount
Findescope, focuser and 10mm plossl eyepiece is solid
Cons
Mediocre 2″ eyepiece
Very heavy
Will require regular maintenance
Collimation cap subpar
Orion's skyquest XX12i is a somewhat unique device on as it does have computerised elements to it whilst using the collapsible Truss Tube design to minimise the footprint for storage.
Unlike the other offerings the XX12i uses a IntelliScope mount which in simple terms means the mount will guide you towards any object you want to see but, you'll manually have to follow the instructions to locate your designated target. This means that the mount is the most capable on this list.
In regards to the specs it has a 305mm (12″) aperture, a focal length of 1500mm resulting in quite the wide and fast focal ratio of f/4.9. So very much like the device above, the XX12i will be an excellent telescope when it comes to viewing anything you want considering it can achieve a useable magnification of 500x +.
Detail and clarity is not an area where the XX12i will suffer, I can tell you that much at least.
Orion includes a 2″ 35mm deepview eyepiece and a 1.25″ 10mm plossl eyepiece, a 9 x 50 finderscope, a 2″ Crayford focuser, a cooling accelerator fan, an eyepiece rack, a collimation cap, Starry Night software and bunch of other miscellaneous documents in the box and bar the mediocre 30mm wide eyepiece, all the other accessories are useful.
Of course in order to receive the maximum emission of power with the XX12i a eyepiece or Barlow lens will be necessary but, as an out of the box experience the XX12i will be more than sufficient.
Overall, XX12i is a telescope that more than lives up to its price tag therefore, if you're in the market for a 12 inch telescope that's able shrink a decent amount when storing, the XX12i is a very decent piece of kit to go for.
What Is A Dobsonian Mount?
A dob mount is a flat contraption that is used to both balance and maneuver your telescope when StarGazing. They're also locked to moving in only 4 directions (up, down, left right) and not in 360 motion like equitorial mounts.
This is why these mounts aren't often configured to be automated mounts nevertheless, even with the limited movement, the overall sturdy visual experience and an easy to separate design makes a dob mount a really good one for your telescope.
What Is A Fast Telescope?
A fast telescope is a label given to devices that have smaller focal ratio which is defined by dividing the aperture by the focal length.
Larger mirrors are able to gather light much faster than smaller ones therefore, even if for example a telescope had a focal length of 1500mm but an aperture of 300mm it would still be a fast telescope (f/5) despite having a focal length that's very long.
This is terminology that's often used to describe how long a camera lens would need to be exposed before capturing an image so, theoretically a faster telescope would be better for capturing images as the camera wouldn't need to be exposed for too long.
Faster scopes are also wider in the visuals they produce so, they're pretty great for wide scale visuals of the stars and just moderately competent for planet viewing.
Summary
If you're in the market for a telescope pairing that is both an excellent visual performer with a sturdy and highly functional mount (with its few limitations of course) a Dobsonian device is certainly one that'll be worth your money.
Of course dobs aren't the greatest for astrophotography if that's a feature you really want. Nevertheless, when it comes to bang for buck, a Dobsonian is one I'd recommend you get 9 times out of 10 especially if your just getting into astronomy.
A Recap Of Our 3 Favorites!
Name
Most Affordable
Fujinon XF16mm
Editor's Choice
Fujifilm XF 18mm
Most Powerful
Fujinon XF 16-55mm
Image
Most Affordable
Image
Editor's Choice
Image
Most Powerful
Image