*This post may contain affiliate links. This means we may make a commission if you purchase an item using one of our links*
Welcome to my Orion SkyQuest XX12i IntelliScope Truss Dobsonian Review!
If you've found yourself on this review, there's a good chance that it's a system that you've been hearing really good things about and receiving a bunch of positive feedback when it comes to the systems quality however, you also don't want to jump head first into buying it without learning a few things right?
If that's the case, it's a good thing you've found yourself on this review because here we'll be discussing the pros, cons, features and other elements to decide if the Orion SkyQuest XX12i IntelliScope is an advanced level telescope worth buying or one that you should simply skip.
Overview
Full Name: Orion SkyQuest XX12i IntelliScope
Type: Newtonian Reflector
Aperture: 305mm
Focal length: 1500mm
Focal ratio: f/4.9
Weight: 37.6kg
Included eyepieces: 2″ 35mm deepview and 1.25″ 10mm plossl
Rating: 4.5/5
Pros
Very good specs
Truss tube makes the tube easier to carry and store
Great mount
Findescope, focuser and 10mm plossl eyepiece is solid
Cons
Mediocre 2″ eyepiece
Very heavy
Will require regular maintenance
Collimation cap subpar
Orion 10023 SkyQuest XX12i IntelliScope Truss Dobsonian Telescope
A big but easily transportable 12" aperture truss-tube Dobsonian reflector with power-saving push-to IntelliScope Object Locator included for computerized location of over 14,000 celestial objects
12" aperture enhanced reflectivity (94%) parabolic optics collect plenty of light for clear, crisp views of solar system targets like the Moon and planets as well as deep space objects like cloudy nebulas, faint galaxies, and sparkling star clusters.
Truss-tube design allows the reflector optical tube to be disassembled for easy transport to any observing site in virtually any size vehicle
Stable Dobsonian base outfitted with EbonyStar on non-stick coating (PTFE) azimuth bearing and huge 8" altitude bearings provide smooth altazimuth panning motion for easy manual tracking of celestial objects
Includes dual-speed (11:1) 2" Crayford focuser, 9x50 finder scope, 35mm DeepView 2" eyepiece, 10mm Sirius Plossl 1.25" eyepiece, cooling accelerator fan, eyepiece rack, collimation cap, Starry Night software and more!
How Do The Orion SkyQuest XX12i IntelliScope's Optics Work?
The SkyQuest XX12i uses reflector optics within its chassis and if you're unfamiliar with how they work, in very brief terms reflector optics utilise two mirrors, aptly named the primary and secondary mirrors, on which light from outerspace bounces off before directing itself through an eyepiece into your eyes.
As for the type of reflector optics used by XX12i, it's a Newtonian reflector design, which means that the primary mirror is parabolic and in turn will allow for visuals to be focus at a singular point allowing users to collimate the mirrors far easier over the cheaper spherical mirrors occasionally used in other devices.
Of course the large size of the mirrors does mean its light gathering capabilities are bound to be amazing and should even perform well in heavily light polluted areas too, although an area minimal to no light and clear skies is always preferred.
As for the other pros of the reflector optics inside, they include the following :
Great for viewings faint objects in the sky as all types of light can pass through the lenses (this isn't the case for a refractor)
Reflectors are generally cheaper to manufacture, resulting in cheaper telescopes.
These optics don't suffer from chromatic aberration 
And the cons are as such :
The optics are exposed meaning you'd need to clean them up regularly
You'll regularly need to collimate the device too as they're easy to knock out of alignment
Low focal ratio reflector devices tend to suffer a lot more from comatic aberration
Can't view things on earth very well unlike the other 2 variations
Spherical optics suffer from spherical aberration resulting in a lack of focus and clarity (this shouldn't be an issue for the XX12i as it uses a parabolic mirror)
What Do The Orion SkyQuest XX12i IntelliScope's Specifications Mean?
The XX12i has a 305mm (12″) aperture, a focal length of 1500mm resulting in quite the wide and fast focal ratio of f/4.9. What this means is that you should theoretically be able to achieve a max magnification of the 600x (real world usage will be 10 – 20 percent less) and will be able to gather a ton of light for very detailed visuals.
However, the f/4.9 focal ratio also means coma will be quite prevalent and it won't necessarily be the best for up close planetary viewing too. Nevertheless, I will say at a 12″ aperture I don't doubt the XX12i's ability in producing visuals of planets that are far crisper than telescopes that are primarily designed for excelling at planetary viewing.
With that being said, you should be able to view the following celestial objects and more with the SkyQuest XX12i :
The moon and its craters at really high detail levels
Jupiter, Saturn, Venus, Mars And Mercury in good detail too.
Jupiter and Saturn's moons will also be visible through the XX12i where they will show some hints of colour and be seen as disc like entities through the lens.
Uranus and Neptune will also be reasonably easy to view through the scope, showing up as blue coloured disc shape entities without much visible detail and in the best viewing conditions you may even be able to see Neptune's moon, Triton as a bright dot
You'll be able to see most nebula, star clusters, galaxies, the messier catalogue, the hershel 400 along with other dimmer deep space objects in reasonable to good detail depending on how dim the celestial entity is.
In regards to weight and portability, this isn't an area that the XX12i will be all too great at but, with the Truss Tube that it does use, it should be a lot easier to store the device when separated into 2 parts (into the dobsonian mount and tube) and when the tube is shrunk down.
The tube itself weighs in at 22.3kg whilst the mount comes in at 15.3kg. Fully assembled the SkyQuest XX12i will weigh a monstrous 37.6kg!
Therefore, carrying it fully assembled will be really tough for most and even moving it separately will more than likely require a and extra person to help you out if you don't have a cart to roll it on.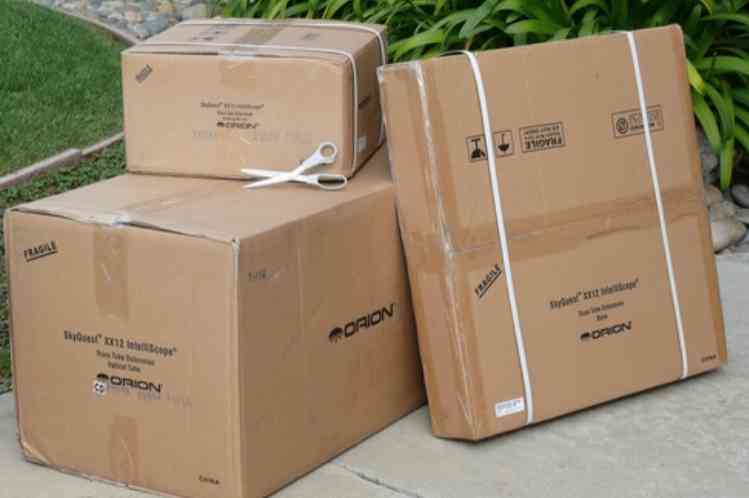 Then again, if considering the whole set up comes in 3 boxes, I'm sure you'd already be aware that the main reason why any would buy a 12″ device is because they're super invested in this hobby or just have a lot of money to burn on a cool (and heavy) toy.
Accessories Included In The Box
The XX12i comes with a 2″ 35mm deepview eyepiece and a 1.25″ 10mm plossl eyepiece, a 9 x 50 finderscope, a 2″ Crayford focuser, a cooling accelerator fan, an eyepiece rack, a collimation cap, Starry Night software and bunch of other miscellaneous documents.
The 35mm eyepiece isn't very good whilst the plossl is a decent in box accessory but, in order to get the most power out of the XX12i it would be for the best to upgrade your gear here (which you can do by checking this list out).
The collimation cap is pretty useless too which is why I would suggest purchasing a laser collimation cap if you think you you'd struggle with aligning the mirrors.
The finderscope and focuser are solid however, so those won't need upgrading immediately.
The Orion SkyQuest XX12i IntelliScope's Computerised Mount
The XX12i uses a dobsonian mount that is unfortunately made of particle board. This is quite common amongst cheaper chinese made dobsonian mounts so, you'll just have to be careful with it so it doesn't rot.
Even though the materials used for the mount are great, a couple great things about this mount is that it will allow for the images you see to be very sturdy and the setting up process is also very quick and easy.
Another one of it's benefits are that it uses ebony star pads to allow for very smooth transitions when moving and adjusting your positioning with XX12i tube. As for the IntelliScope system, it's very accurate at pinpointing to the celestial object you ask for it to locate after it you've gone through the star alignment process.
Although this is a manual mount so, you'll need to move the mount yourself every time you select your object of choice
Of course it's super smooth movement shouldn't make this much of problem.
What Are Users Of The Orion SkyQuest XX12i IntelliScope Saying
The XX12i is well regarded by most for it's power and overall ability. Of course it's super heavy and it's something a beginner shouldn't invest their money as they will struggle using it but, if you're an intermediate level astronomer who wants a large telescope that's more manageable (due to the the truss tube), you will definitely be satisfied with XX12i.

One user did have an issue with the build quality of the PVC on the particle board device so that's probably worth keeping in mind too though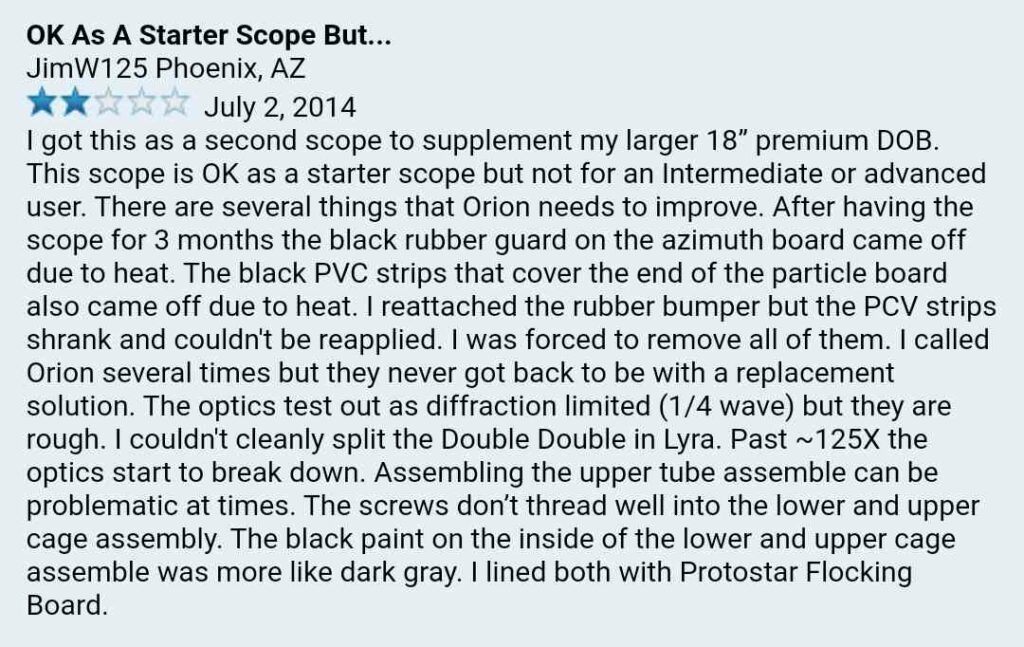 Other Alternatives Worth Checking Out
The XX12i is a great device that certainly has a lot going for it but, considering its price you could definitely do better if you're willing to sacrifice a little portability and the IntelliScope system.
If you are willing to do that then the Zhumell z12 is worth looking into the skyquest xt10. On the other hand, if you also want a competent astrophotography device as the XX12i won't be the greatest at this, check out our list on the top picks.
Summary
The Orion Skyquest XX12i is an awesome highly powerful reflector telescope with decent accessories provided in the box and a truss tube design that makes it one of the more portable devices at this aperture range and should make it possible to place in your car when looking for the best session in ideal low light areas.
Of course it's also not the best value for money at this aperture range but, if the truss tube design is important to you as an advanced level amateur astronomer, the XX12i will undoubtedly serve you well if you do decide to buy it.