*This post may contain affiliate links. This means we may make a commission if you purchase an item using one of our links*
Welcome to my Zhumell Z12 Deluxe Dobsonian review!
In this review I'll be going over the pros, cons and features of the Zhumell Z12 so that you can make an informed decision on whether this 12 inch telescope is worth your money or whether it's a device that you shouldn't waste your money on.
Overview
Full Name: Zhumell Z12 Deluxe Dobsonian
Type: Newtonian Reflector
Aperture: 12″(305mm)
Focal length: 1500mm
Focal ratio: f/4.9
Dimensions & Weight: 5ft+ and 33.75kg
Included eyepieces: 2″ 30mm and 1.25″ 9mm
Rating: 4.8/5
Pros
Great value for money
Great accessories included
Easy to use
Great Optics
Cons
Will need to fairly regularly be collimated and maintained
It's big and heavy
Zhumell Z12 Deluxe Dobsonian Reflector Telescope
A durable, sturdy construction means your Zhumell will stand up to years of use at public star parties, camping trips, and more
Product specs | Weight – 75 lbs. | Aperture – 12" | Focal length – 1500 mm | Len – Dobsonian | Focal Ratio – 4:95 | Magnification (with eyepieces) – 50x, 167x | Limiting Magnitude – 14.9 | Lowest useful magnification – 43x | Optical tube weight – 66 lbs.
This Alt/Azm mount was not intended to be upgraded to have a computerized go-to system
Two fully multi-coated eyepieces: a 2" 30mm eyepiece for wide field views and a 1.25" 9mm eyepiece for higher magnification
Features an 12" parabolic primary mirror that captures a substantial amount of light and produces crisp, bright images free of visual defects like spherical aberration
How Do The Zhumell Z12 Deluxe Dobsonian's Optics Work?
The Zhumell Z12 much like its smaller variants in the Z10 and Z8 uses Newtonian reflectors optics to project images to its users. What this means is that there will be two mirrors inside the tube, on which the light gathered from outerspace will bounce between before reaching the eyes of the observer
The mirror design are also parabolic and not spherical meaning the images you see won't suffer from spherical aberration.
In this section I'll basically compare the ability of the optics to the other two telescope optics, namely refractor optics and compound optics, so that you'll have a rough idea about what you're gaining from picking up a reflector device in Zhumell Z12 and of course the shortcomings of the optics too.
The pros of the Zhumell Z12 optics include the following :
The optics are great for viewings faint objects in the sky as all types of light can pass through the lenses (this isn't the case for a refractor telescope).
Reflectors are generally cheaper to manufacture, resulting in cheaper telescopes.
These optics don't suffer from chromatic aberration unlike refractors again
As for the cons, they include the following :
The optics are exposed meaning you'd need to clean them up regularly
You'll regularly need to collimate the device too as they're easy to knock out of alignment
Low focal ratio reflector devices tend to suffer a lot more from comatic aberration
Can't view things on earth very well unlike the other 2 variations
They can't double spotting scopes unlike the other 2 variants
The maintenance and collimation are arguably the 2 biggest issues most people will have with any kind of reflector scope, more so once it comes to cleaning or at the very least blowing the dust off the mirrors within the device.
The maintenance definitely can be minimised if you put a dust cap after every session but eventually you will need to get it cleaned and I can tell you know, it is quite the delicate process.
We've actually covered how you can go about cleaning a reflector device within this article if you're curious.
What Do The Zhumell Z12 Deluxe Dobsonian's Specifications Mean?
As for the specs of the device, the aperture comes in at 305mm, the focal length is 1500mm resulting in focal ratio of f/4.9. What this means is that at max power you should theoretically be able to bring out a power of over 600x with the Z12, which should allow you to see anything worth seeing within outerspace within the comfort of your home.
Of course with the extreme power the device will be far from lightweight or easy to lug around without either a truck or just good sized car to put it, especially when trying to find the ideal environment for stargazing.
But, if the skies are clear and it's the right time of the year, you'll be able to view a many celestial objects in a highly detailed manner (for an ametaur telescope at least) with the Zhumell Z12.
A few objects that you'll definitely be able to see with the device (with the right equipment) include :
The moon and its craters in very high detail
You should be able to make out all of the planets within our solar system until the furthest planet from us in Neptune, and be able to see all of them at good levels of detail.
Jupiter's features, separation in Saturn's rings and Mars' surface can all be seen in pretty solid detail along with some of their moons
Star clusters, galaxies and nebulae and the messier catalogue will all be visible through the scope too.
Now regarding the size of the device, in terms of circumference the Zhumell Z12 is roughly 18″ or 45cm thick whilst it's also a very tall device standing in at over 5ft tall. Of course it's far from a light device too as it will weigh in at a pretty monstrous 75lb (33.75kg) when fully assembled.
As the telescope is heavy and also because the primary mirror is susceptible to being cracked if system does ever get dropped due to how the mirrors are placed, you'll ideally want to be very careful when moving the Z12 around.
Accessories Included In The Box?
The accessories in the Z12's box are  pretty much the same as the Z8 and Z10. Therefore this means you'll get a  2″ 30mm eyepiece for wide field views and a 1.25" 9mm eyepiece, an 8×50 finderscope, a dual-speed Crayford focuser and a bunch of other miscellaneous documents.
These accessories are very good inbox accessories and will go a long way in the beginning, until you're ready to get more out of the power. At such a point you'll certainly want to look at upgrading your eyepiece sets (here's a list on some of our top picks).
The dobsonian designed mount is of course very solid too, being designed to point more point and shoot as opposed to automated like some more modern telescopes. The Z12, just like it's smaller variants, uses ball bearings which can be adjusted for tension, and can slide along the tube for balancing.
The azimuth bearing is pretty decent too as it uses a uses a roller design over the typical Teflon laminate. This means rotating the whole device should be pretty smooth but, it'll also need a bit of getting used to.
What Are Users Of The Zhumell Z12 Deluxe Dobsonian Saying
Besides the collimation being a little tough and the weight and size of the Zhumell Z12, pretty much everyone who decided to purchase it have found it to be a really pleasant experience, at least according to purchasers on telescopesplus.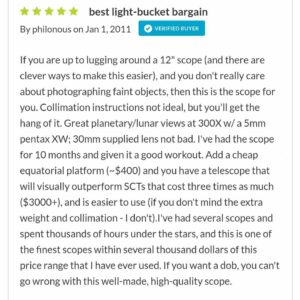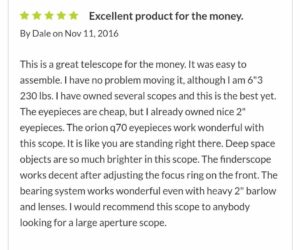 Other Alternatives Worth Checking Out
Other than it's lack of ability in the astrophotography side of things and of course its heft the Zhumell Z12 is probably up there as being one of the best 12 inch devices for the price so, there's not much I could recommend you purchase over it when it comes to the overall value.
However, if you want to get into astrophotography it may be worth checking one of the telescope within this article or for a more portable telescope maybe consider getting the Zhumell Z8 or check out this list.
Summary
All in all the Zhumell Z12 is an excellent telescope for the price, from the great optics to the solid accessories, solid user experience and ease of use, provided you follow the instructions within the manual.
The only real negative I can think of is that it'll be a bit of pain to move around, then again if you're looking into the Z12, I'm sure you already knew it wasn't going to be a very portable telescope anyways.