*This post may contain affiliate links. This means we may make a commission if you purchase an item using one of our links*
Welcome to my Zhumell Z10 review!
In this review I'll be going over the pros, cons and features of the Zhumell Z10 so that you can make an informed decision on whether this heavily praised 10 inch telescope is worth your money or whether it's something you should down right avoid.
Overview
Full Name: Zhumell Z10
Type: Newtonian reflector
Aperture: 254mm
Focal length: 1250mm
Focal ratio: f/5
Dimensions & Weight: 53cm x53cm x 138cm by 27kg
Included eyepieces: 2″ 30mm and 1.25″ 9mm
Rating: 4.5/5
Pros
Great specs for the price
Great accessories included
Easy to set up
Cons
Will require regular maintenance and collimation
It's really big and quite heavy
Zhumell – 10-inch Dobsonian Reflector Telescope – Large Aperture for Crisp, Bright Images – Solid Base Construction with Handle for Easy Transport – Ideal Astronomical Telescope
SUPERIOR OPTICS: The Zhumell Z10 features high-quality, coated glass optics that gathers a substantial amount of light and produces crisp, bright images.
STURDY DOBSONIAN BASE: The durable Dobsonian base will stand up to years of use from public star parties to camping trips and beyond. Use the integrated carry handle for easy transport.
10" PRIMARY MIRROR: Our Newtonian reflector telescope is equipped with a large, 10-inch primary mirror for stunning views of planets, galaxies, nebulae, and more.
BUILT-IN COOLING FAN: Cool the primary mirror to the ambient outdoor temperature faster so you can enjoy the sharpest views sooner.
ACCESSORIES INCLUDED: This telescope kit comes complete with a 2" 30mm eyepiece for wide-field views, a 1.25" 9mm eyepiece for higher magnification, a 2" focuser with 1.25" adapter so you can use a variety of astronomical eyepieces, a 8x50 right angle finderscope, a 1.25" Moon filter, a collimator cap, and more.
How Do The Zhumell Z10's Optics Work?
The Zhumell Z10 uses reflector based optics within its tube, particularly a Newtonian reflector which uses a higher quality parabolic mirror design. The great thing about these optics when compared to a cheaper spherical mirror is that Newtonian reflectors don't suffer from spherical aberration.
There are also 2 other core optics you can find within telescopes, namely refractor and compound optics but I won't be covering them in detail here (if you want a more detailed look though, click here to read an article we've written on the subject) but, I will compare the pros and cons of a reflector to them.
The pros of the optics found within the Zhumell Z10 :
Great for viewings faint objects in the sky as all types of light can pass through the lenses (this isn't the case for a refractor)
Reflectors are generally cheaper to manufacture, resulting in cheaper telescopes.
These optics don't suffer from chromatic aberration 
As for the cons, they include :
The optics are exposed meaning you'd need to clean them up regularly
You'll regularly need to collimate the device too as they're easy to knock out of alignment
Low focal ratio reflector devices tend to suffer a lot more from comatic aberration
Can't view things on earth very well unlike the other 2 variations
They can't double spotting scopes unlike the other 2 variants
As a whole the optics found within the Zhumell Z10 are very solid with its cons only really being minor annoyances which you definitely will look past (to some degree) the further along you get using telescopes and learning the tricks of the trade.
What Do The Zhumell Z10's Specifications Mean?
The Zhumell Z10's specifications include a 254mm aperture, a focal length of 1250mm resulting in a fairly wide focal ratio of f/5. This wider focal ratio does mean coma will be a lot more visible on the device but, this shouldn't detract all that much from your experience all that much.
As for how the specs translate in real world usage, the Zhumell will be able to achieve a quite staggering theoretical magnification of 500x meaning you'll be able to locate anything within out solar system with great detail especially at the top end of the systems power and of course other deep space objects should look great through the lens too.
If I were to list a few of things the Z10 would comfortably be able to view, they'd include :
The moon along with it's craters
Every planet within our solar system along with some of Jupiter and Saturn's moons in fairly good detail
Star clusters, galaxies, the messier catalogue among other deep space objects should look great too
The other major thing to consider is the Zhumell Z10's dimension and weight. This telescope is obviously far from being portable. It is quite big with it being well over 5ft tall when fully assembled and weighing in at around 27kg (60lbs).
This makes the Z10 far from a beginner friendly device. Instead it's obviously geared towards more intermediate to veteran level amateur astronomers who also have a for bit of space to store it.
Accessories Included In The Box?
In the box the Z10 comes with 2 eyepieces, one 2″ fully coated 30mm eyepiece and another 1.25″ 9mm eyepiece, a dual Crayford focuser, a 8×50 Finderscope, a Laser Collimator, a 1.25″ moon filter along with a few other books and miscellaneous documentation.
The accessories that come with the Z10 along with the optical performance itself really makes this device one of the best value for money systems on the market and one that really doesn't cut any corners.
Yeah later down the line the equipment will likely need to be upgraded especially the 9mm eyepiece which is quite a narrow eyepiece but in general, what you get with the Z10 is very similar to the great Z8 so I'd say this is definitely one of the better features of the Z10, along with its price of course.
The mount is pretty solid too being a dobsonian design.
What Are Users Of The Zhumell Z10 Saying
On telescopesplus it shows that the Zhumell Z10 is genuinely really well received across the board with users saying the accessories within the box are great and the overall setting up process and performance of the device being very good also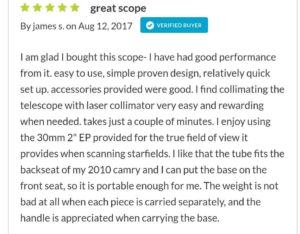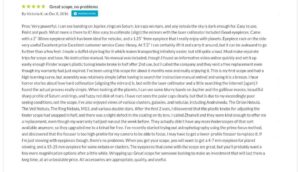 The only real nitpick about the device is it's weight and size, which at over 5ft is far from an easy thing to move around even if its isn't super heavy.
Besides the size of the device the Zhumell Z10 seems to tick more or less any box a good telescope should tick.
Other Alternatives Worth Checking Out
As the device is very large, unless you have a lot of space to store it, it may become a bit of a pain in the butt to deal with which is why, if you're interested in a more portable offering in exchange for the overall power of your telescope, this list on the best compact telescopes might be worth looking into.
On the other hand if you're interested in a system made more so for astrophotography, it might worth clicking here to check out some of our favourite astrophotography systems.
Summary
All in all the Zhumell Z10 is a great 10 inch device that really doesn't fall short in anything at all considering it's roughly $700. The value for money is obviously there, it's easy to set up, the views will look great through the lens and of course the accessories provided are really great too!
The only real complaint anyone had with the device was its size and heft, which honestly is understandable as Zhumell had to cut costs somewhere right. Nevertheless, if you can look past the systems size and heft, the Zhumell Z10 is a very very good 10 inch device and one I won't hesitate in recommending.