*This post may contain affiliate links. This means we may make a commission if you purchase an item using one of our links*
If you're in the market for a more high end compound/catadioptric design and have seen quite a few people recommend you invest in a a Schmidt-Cassegrain variant, this list on the best Schmidt Cassegrain (SCT) telescopes is a great place to be as we'll be covering some great systems both reasonably affordable to very high end so, that you have a variety of systems to pick from.
In A Hurry? Check Out Our Best 3 Options Below!
Name
Most Affordable
Celestron Nexstar 5SE
Most Powerful
Celestron CPC 925
Editor's Choice
Celestron Nexstar 8SE
Image
Most Affordable
Image
Most Powerful
Image
7 Best Schmidt-Cassegrain Telescopes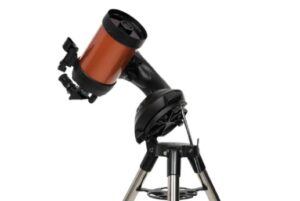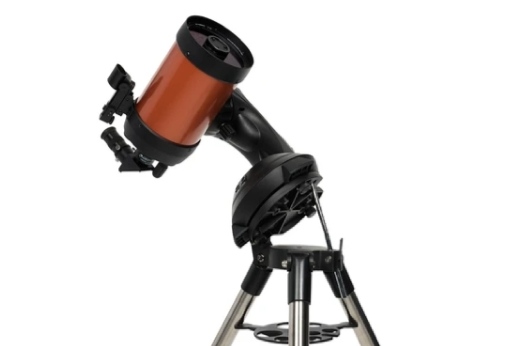 Pros
Great Optics
Portable and lightweight
Good mount
Lower maintenance required
Great beginner kit for astrophotography
Cons
Optics are a little weak for the price
Not great for wide field views
Limited accessories
The Celestron Nexstar 5SE is the second weakest (I guess you could say) within the mid range nexstar SE line of products offered by Celestron and it's a GoTo computerised system at the same time.
The 5SE isn't what one would call a cheap device but, within the SCT and GoTo scene, it's also far from an expensive item too.
If you're curious about its specs, they're honestly quite modest when compared to reflector or refractor systems of the same price but, they're not bad either. The aperture is 125mm, the focal length is 1250mm which results in quite a narrow focal ratio of f/10.
This means the Nexstar 5SE will be able to achieve a maximum theoretical magnification of around 250x, with the usable amount being a little less than that when you take into account real world issues.
This means the telescope will be able to see the moon and it's craters in very good detail, the likes of Jupiter and Saturn will look great through the lens whilst every other planet including Neptune will be visible, albeit not in much detail. You'll be able to see galaxies, constellations, nebulae among other deep space objects making it quite a solid system overall.
The accessories found in the box include a red dot StarPointer finderscope, 25mm Plossl eyepiece, visual back, and a mirror star diagonal. They're all fairly good quality however, you definitely will need to consider upgrading some, particularly the eyepiece, if you want to get the most out of the 5SE in terms of its viewing power.
The mount is a computerised one that works quite well and is an automated GoTo instruments meaning once you pop what you find (as long as it's in the database) the entire mount will lock onto the object and even follow it automatically so it doesn't get out of frame.
All in the Nexstar 5SE is pretty solid SCT, that's fairly light being only 8kg but, it certainly does have a few minor annoyances (which I discuss a little more about in this full review) however, these annoyances don't detract from this pretty solid beginner to mid level SCT telescope it is.
2. Celestron Skyprodigy 6 SCT
Pros
Great optics
Good mount
Good battery life
Great inbox accessories
Great for viewing planets
A solid beginner level astrophotography device
Cons
The Skyprodigy 6 is also a computerised system, which is roughly $800 – $1000 and is slightly more powerful than the 5SE mentioned above.
It's specs are solid for it's price range with an aperture of 152mm, a focal length of 1500mm resulting in a focal ratio just under f/10.
This of course means the Skyprodigy 6 will be a great system for viewing planets due to the naturally narrow objective lenses SCT devices provide and the max magnification of around 300x also means you'll be able to observe planets like Saturn and particularly Jupiter in great detail.
Depending on how close Mars is to Earth when orbiting the Sun, it'll also be possible to see it in great detail too. The other planets within our solar system will also be visible but not in great detail whilst Venus just doesn't have much to observe. Of course galaxies, star clusters, nebulaes and elements of the messier catalogue will also be visible.
As for the accessories the Skyprodigy includes in the box, you'll get two 1.25-inch eyepieces at 9mm and 25mm, a red dot finderscope, a hand controller, the computerised mount, the sky align software features, a tripod among a bunch of other pieces of documentation.
The mount used is of course a computerised, automated and battery powered system that can last for upto 30 hours but, I'd probably say it'll more conservatively last 20 hours, which is still great but you will need to replace your battery every so often.
A great feature about the automated mount is that it can align the scope for you quite easily making it reasonably beginner friendly. Of course the trade off here is that the whole system will be a little bulky but that's decent enough trade off (in my opinion).
Despite the added heft, the Skyprodigy 6 is still around 17 – 20kg so it should be manageable for most to move around. There is another issue regarding a faulty hand controller but, as a SCT device the Skyprodigy is definitely a good one to go for as it strikes a pretty good balance between being somewhat portable whilst producing a great and detailed viewing experience.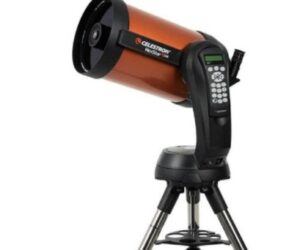 Pros
Great optics
A cool and unique design
Easy to set up
Great for viewing planets
Is versatile in the sense it can be used for both visuals and photography
Cons
It's heavy
Limited accessories
The mount on this SE line up is known to have issues
Limited number of inbox accessories
The Celestron Nexstar 8SE is simply a beefed up variant of the Nexstar 5SE with better specs and a larger frame. This of course means it's pretty darn expensive too starting at around $1.3k to buy brand new.
The specs of the device include a 203.2mm aperture, a focal length of 2032mm resulting in fairly narrow f/10 focal ratio. With specs like this you'll be able to see at a theoretical max magnification of 480x and the narrower focal ratio of the device makes it a much better device for observing planets too.
As for what you'll be able to see with the Nexstar, all of 7 planets should be at the very least visible with the system, with Mars, Jupiter, and Saturn looking specifically great through the eyepiece once you're pushing the upper boundaries of the telescopes power.
Star clusters, galaxies, the messier catalogue among other deep space objects will look pretty great through the lens too.
Regarding the items that come included in the box, you'll get a 1.25″ 25mm Eyepiece, a 1.25″ Star Diagonal, a Star Pointer Red Dot Finderscope, an Adjustable Steel Tripod, the SkyTM Level 1 Astronomy Software, NexRemote Telescope Control Software, a RS232 Cable, the Computerised Mount and Hand Control with over 40 000 Object Database among other manuals and documentation.
The eyepiece included is honestly quite mediocre and won't really allow you to get very much power out of the Nexstar, which is quite annoying considering the price of the device so, that's one thing you will need to consider upgrading.
The mount itself is pretty decent and will get the job done however as it's an altazimuth mount, which in general terms is a great design, it's still not quite as practical as equitorial mounts when it comes to astrophotography if that's something you're most interested in.
The mount is of course is fully automated computerised GoTo mount which should simplify the whole process of finding planets and other deep space object. It's also battery powered so a power supply will be quite essential if you ever plan to use it outside.
Besides the price, the other things that may turn you off from purchasing this device is it's size and heft, which although manageable will require a bit more man power to move around over the smaller systems within the Nexstar SE line. Nevertheless, all in all the Nexstar 8SE is a great Schmidt-Cassegrain telescope.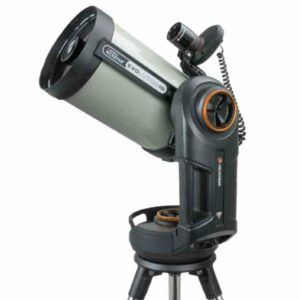 Pros
Mount can be recharged
Awesome optical performance
A versatile visual and photography device
Mount is great and accurate
Cons
It's really heavy
It's expensive
Inbox accessories are a little disappointing
The Nexstar Evolution 8 is a system that's found in the highest level models within Celestron's Nexstar line meaning, even though the Nexstar 8SE has the same specs as the evolution, it does lack a fair bit when taking into account the accessories  found within the Evolution 8 along with the quality of the GoTo mount it uses.
That being said the Evolution 8 is also a very expensive system that will set you back around $1.5k – $1.9k.
The Nexstar Evolution 8 uses a 203mm aperture lens, 1500mm focal length resulting in a focal ratio of f/7.4. The size of its lens means that you'll be able to see a maximum theoretically useable magnification of 480x which makes its a very competent device and should allow you to see all the planets within our solar system.
In fact besides seeing details on the first 5 planets, it may even be possible to see details on Uranus although, I have to say  this will only be achievable if you can somehow reach the Evolution 8's max power. All in all though, the Evolution 8 much like the Nexstar 8SE above will be great for seeing most things in our galaxy as well as observe other deep space objects.
The accessories included in the evolution 8's box includes a stainless steel tripod a single Fork Arm Altazimuth GoTo mount that has a rechargeable battery of up to 10 hours of runtime. This rechargeable battery is the primary reason why the evolution is so much more expensive than the nexstar SE line, that require you to carry around 12v batteries to charge up.
The charging time for a full battery is around 4 to 8 hours (until the light stops blinking). The other accessories include two Plossl eyepieces at 40mm (50x) and 13mm (153x) of reasonably high quality,
Ultimately, the reason why the Evolution 8 is so much more expensive than the 8SE is due to how much better the mount is and some would say that if you've got the money for this high end device it's definitely an investment worth making for the sake of convenience and a better overall experience in terms of stability when stargazing.
5. Celestron CPC 800 SCT Computerized Telescope11073-XL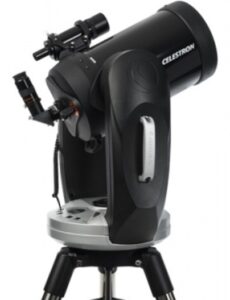 Pros
StarBright XLT coating increases the quality of the images
Great optics
Versatile performer
Very well made
Great GoTo mount
Easy to set up
Cons
Very heavy
Very expensive
Disappointing inbox accessories
The Celestron CPC 800 is very similar to the Evolution 8 In terms of specifications but is just a little more expensive than it being roughly $1.8k – $2.3k.
The CPC 800's specs come in with an aperture of 203.2mm, a focal length of 2032mm resulting a solid focal ratio of f/10.
This means it has a a pretty solid theoretical power/magnification at 480x, according to the Celestron's website, so you'll pretty much be able to see everything the evolution 8 can but with a somewhat better performance when it comes to viewing planets due to the narrower and larger focal ratio.
The premium StarBright XLT coating will also add to the quality of the images as it'll minimise the loss of light and will produce slightly more contrasted colours over other 8inch systems.
In terms of what you'll be able to see, it's more or less identical to the Evolution 8's capabilities as they do use the same sized mirrors so, all of the planets up till Neptune can be seen via the CPC 800, the messier catalogue, andromeda, other galaxies, nebulaes, star clusters among other named celestial entities.
The Mount is also a computerized automated GoTo variant which is accompanied by a heavy metal tripod so, it'll always be stable and won't shake about when you reach the more outrageous magnification levels.
The mount also makes the whole setting up process pretty easy to do, with the collimation only taking a few minutes after it's been booted up. The mount will however require a power supply at 12V DC so do keep note of that.
Regarding the accessories, you'll be given a single eyepiece at 1.57″ 40mm eyepiece (51x), a 9×50 finderscope, 1.25″ Star Diagonal and few other miscellaneous documents. The single included eyepiece is a little disappointing but the accessories in general are solid.
Lastly, in terms of how heavy it will be, when fully assembled its come in at around  20kg whilst it'll generally stand at around 5ft when attached to the tripod, reaching nearly 6ft in height at its peak. So, yeah this beast of a device is far from small and light so that's something you should take into account before biting the bullet and picking one up.
6. Celestron CPC 925 GPS Computerised Telescope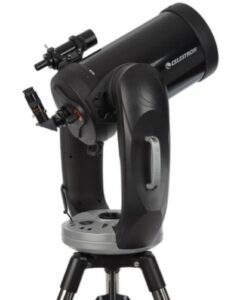 Pros
Awesome specs
Great mount
The XLT coating increases the quality of the visuals
Versatile performer
Great mount
Easy to set up
Cons
Very expensive
Very heavy
Very expensive
The CPC 925 is also a very expensive piece of kit as it'll set you back around $2.5k – $3k, which is fair bit more expensive than the smaller CPC 800 or the evolution but, for the price you obviously get better image quality and and a very high end computerised telescope.
The specs of the device are solid coming in at an aperture of 235mm, a focal length at 2350mm resulting in a very solid focal ratio of f/10. What these specs mean is that the CPC 925 will be able to magnify the image you'll see through the eyepiece to 555x whilst the larger focal ratio also makes it solid for viewing planets more thoroughly.
As for what you'll be able to view with the CPC 925, it'll be pretty much everything within our solar system with the planets up till Jupiter coming out in great quality, the CPC 925's power may allow you to make out the surface of Uranus but Neptune will be made out as a bright blue disc like entity only.
As for what accessories you'll be given in the box when purchasing the CPC 925, it's basically identical to the CPC 800 mentioned which means you'll be given a single eyepiece at 1.57″ 40mm eyepiece (51x), a 9×50 finderscope, 1.25″ Star Diagonal and few other miscellaneous documents.
The mount seems to be the same too, which is actually quite a good thing as it allows for the CPC 925 to be quite balanced when the device is automatically locking onto a celestial object.
But, because it is so sturdy it's also a little larger and heavier than the other SCT scopes mentioned above. If you decide to pick up the CPC 925, you'd need to get comfortable moving around a 26kg device. Besides this minor negative and of course the telescopes price, there isn't very many bad things to point out about it.
7. Celestron CPC 1100 StarBright XLT GPS 2800mm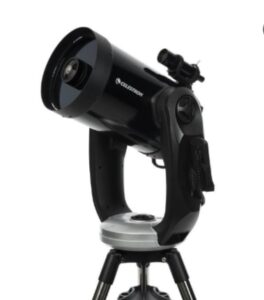 Pros
Awesome specs
Great mount
The XLT coating increases the quality of the visuals
Versatile performer
Great mount
Easy to set up
Cons
Very expensive
Very heavy
Very expensive
Inbox accessories are disappointing
The CPC 1100 is of course the largest and highest end CPC SCT telescope within this line up of telescopes and it provides more or less the same accessories and experience in terms of comfort when viewing as the smaller variations above.
Of course as it is the biggest telescope out of everything within this list, it is of course far and away the most expensive ranging around $3k+ to purchase it.
The specs of the CPC are undoubtedly solid as it comes with an aperture of 279.4mm, a focal length at 2800mm resulting in a very solid focal ratio of f/10.
What these specs mean is the power that you'll be able to achieve with the CPC 1100 will be enormous, allowing you to theoretically magnify the image upto 600x whilst the larger focal ratio of course makes it specifically great for viewing planets in detail.
At the 600 magnification, you shouldn't have a single problem seeing seeing pretty much everything you want to see within our solar system, certainly in a bit more detail than the CPC 925.
The special coating also means contrast and overall detail levels will be many times better than most 11 inch telescopes too, which I guess is the least you could ask for considering the CPC 1100's price!
The accessories you'll be provided when purchasing the CPC 1100 are actually identical to the smaller variants meaning you'll be given a single eyepiece at 1.57″ 40mm eyepiece (51x), a 9×50 finderscope, 1.25″ Star Diagonal and few other miscellaneous documents.
The Computerized Altitude-Azimuth Dual Fork Arm mount is also the same along with the 2″ Stainless Steel tripod.
The useable accessories within the box are in my opinion quite underwhelming so you'll definitely want to invest in better eyepieces in particular if you want to get the most out of the CPC 1100 so, be prepared to spend a bit more money to maximise the devices power.
It's also not the lightest system either coming in at 29.5kg when fully assembled but, overall the CPC 1100 much like every other CPC device on this list, is a great piece of hardware and will do an excellent job if you decide to pick it.
How Do Schmidt-Cassegrain Telescopes Work?
Schmidt-Cassegrain telescope are basically a sub category of the cassegrain telescope models but improved using a few tweaked design choices.
The cassegrain design is a further sub category of the compound/catadioptric telescope, which is one of the 3 core telescope optics, the other 2 being refractor optics and reflector optics.
As for how SCT telescope are designed they are primarily reflector based with a concave primary mirror at the bottom of the telescope and another significantly exaggerated convex secondary mirror at the top.
SCT's also use a corrector lens at the front of the telescope where light is entered, known as a Schmidt corrector lens or more commonly known as a corrector plate.
This corrector plate is mostly designed to minimise aberration (spherical aberration in most cases) so that the overall experience with your SCT device is crisp.
Due to the design of the convex secondary mirror SCT devices tend to have longer focal lengths than other similarly sized systems which in turn makes them great telescopes for planetary observations.
All in all there really aren't any major negatives to a SCT telescope besides maybe their price to performance ratio. Therefore, if you're willing to accept the inflated prices you honestly cannot go wrong with any one of the telescopes covered on this list.
If you want a more in depth analysis of the SCT's benefits over other optical variations I'll link them down below for further reading.
Summary
Hopefully our list of the best Schmidt-Cassegrain telescopes (that we know of) has helped you decide on what telescope you should look into or at the very least made the task a little bit easier.
SCT telescopes generally are great devices and you can't go wrong with purchasing one if you're able to stretch your budget a little.
Name
Most Affordable
Celestron Nexstar 5SE
Most Powerful
Celestron CPC 925
Editor's Choice
Celestron Nexstar 8SE
Image
Most Affordable
Image
Most Powerful
Image