*This post may contain affiliate links. This means we may make a commission if you purchase an item using one of our links*
This Celestron Nexstar 5se is a beginner level compound computerised telescope and is the 2nd lowest model within Celestron's popular nexstar SE lineup.
This is also one of the more popular beginner computerised systems out there which is likely another reason you've found yourself on this Celestron Nexstar 5se review. In this review I'll cover the pros and cons of the system, what users think of it, how it's optical design works and lastly a few other alternative computerised systems you could look into in case the 5SE isn't to your liking.
Overview
Full Name: Celestron Nexstar 5SE
Type: Schmidt-Cassegrain
Aperture: 4.9″ (125 mm)
Focal length: 1250mm
Focal ratio: f/10
Dimensions & Weight : 81.3 x 68.6 x 33 cm; 7.98 kg
Included eyepieces: 25mm 1.25″
Rating: 4/5
Pros
The device is very portable
The GoTo mount is nice and easy to use
It's a decent system for astrophotography
The image quality is solid
The accessories provided in the box are of solid quality too
Cons
It's really expensive
It not very power efficient
The boot up process is a little annoying
Celestron - NexStar 5SE Telescope - Computerized Telescope for Beginners and Advanced Users - Fully-Automated GoTo Mount - SkyAlign Technology - 40,000+ Celestial Objects - 5-Inch Primary Mirror
Nexstar computerized telescope: The NexStar 5SE Computerized Telescope features Celestron's iconic orange tube design with updated technology and the latest features for amazing stargazing for beginners and experienced observers.
5-Inch aperture: The five-inch primary mirror in this Schmidt-Cassegrain telescope for adults and kids to be used together packs enough light-gathering ability to observe the best that our Solar System has to offer, while retaining a compact form factor.
Fully-automated go to mount: Featuring a database of more than 40,000 celestial objects, the go to mount built into our telescopes for astronomy beginners automatically locates and tracks objects for you. Tracking Rates-Sidereal, Solar and Lunar. Tracking Modes-Alt-Az, EQ North & EQ South
Easy to assemble and break down: The single fork arm design and sturdy steel tripod all assemble and break down from separate components for easy transportation. SkyAlign technology gets your telescope aligned and ready in minutes.
Bonus free starry night software: The NexStar 5SE Telescope includes a free download of one of the top consumer rated astronomy software programs for an interactive sky simulation.
How Does The Celestron 5SE's Optical Design Function?
The Nextstar 5SE uses a Schmidt-Cassegrain optical design much like the the nexstar 6SE (which I've reviewed) and the Nextstar 8SE.
This is also a design put within the compound designed systems and mostly fixes the major issue prevalent within your typical reflector or refractor system, whilst also allowing for a much smaller frame as a whole.
The benefits of a compound telescope include basically fixing the major issues with the other 2 other designs such as chromatic aberration pretty much being eliminated and because the optics aren't exposed, unlike a reflector system, constant maintenance isn't always required.
However, as the light is folded within the tube to create a more compact design there will be loss of detailed when compared to a mid range reflector or refractor system with the same level of power.
The Schmidt-Cassegrain design is actually very similar to a Maksutov-cassegrain found within the 4SE but, because it uses a corrector lens at the front of the telescope, it's designed to be a lot better for astrophotography than that maksutov found in the cheaper, so if astrophotography is something you want to delve into, the 5SE is a decent device for beginners.
Here's a few examples of images taken through the 5se along with some post processing applied to it below, from user within amazon.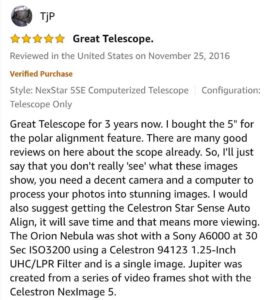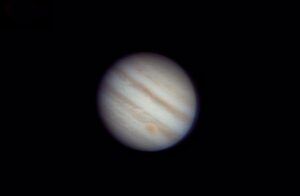 Clearly the device isn't the greatest at astrophotography, for that you'd need to invest in a telescope directly designed for them and invest in some high quality accessories to boot but, it's definitely a capable device for very beginner level individuals looking to take a few decent screen saver quality images of the universe.
Also do note that if you do opt to invest in the astrophotography side of the things, you'd want to get a DSLR camera that doesn't weigh heavier than 4.54kg as that's the maximum load capacity.
What Do The Nexstar 5SE's Specifications Mean?
As for the specifications of this device, it has a 125mm aperture lens with a a focal length of 1250mm which means it does have a pretty narrow focal ratio of f/10. This means that the optics are much better suited for planetary viewing although with 2″ eyepiece it'll still be possible to get great views of the wider expanse of outer space.
Theoretically speaking, the device is able to magnify to a very decent 295x however, in actual practice it'll likely only fall within the 250x range, which is the very least you should expect considering the device can set individuals back around $700.
The magnification ultimately means that with the right eyepieces, the Nexstar 5SE will be very competent for amateur astronomy, which is an experience that's further heightened due to the GoTo mount which will make it easier to lock on to celestial objects that you're interested in seeing.
As for what you'll be able to see with the scope, Jupiter and Saturn should be visible at pretty solid detail levels with nebulae, star clusters a multiple galaxies also being easy enough to spot and observe.
As for 5SE's dimensions and weight , they're at a pretty portable 81.3 x 68.6 x 33 cm and 7.98 kg so, if portability is a necessity for you, the 5SE isn't a bad telescope to go for.
The 5SE obviously isn't the most powerful of devices but, it's optical design definitely makes it a competent piece of kit.
The Computerised Mount
Celestron have 3 different variations of telescopes that are focused on the GoTo mount/computerised side of things. These include the the beginner nexstar SLT line up, the Mid level Nexstar SE line and the top end Nexstar evolution line.
Simply put, the more you're willing to pay, the better overall quality you'll get with the device.
The entry level GoTo systems have lower quality optics within them such as a reflector and Maksutov-Cassegrain optics, the SE line is where the Nexstar 5SE of course lies and they use Maksutov-Cassegrain and Schmidt-Cassegrain optics whilst the top evolution line uses only use the top of the line optics with more modern features such as rechargeable batteries, WiFi etc.
The GoTo mounts are also different, particularly from the lower end SLT line up, as in this case the SE line does use a more optimised GoTo mount that's both automated and has ton more data available within it over the cheaper variant but, these mounts also seem to have a few issues in the manufacturing process which seems to be most prevalent within the 6SE model.
The mount is controlled via remote and has a database of over 40,000 celestial objects. Along with the sky align software that comes with all GoTo celestron devices, the process of aligning the lens should be fairly straightforward and ultimately allow you to see some great sharp images of outer space.
Of course the mount isn't perfect considering it isn't rechargeable meaning if you'd either need a lot batteries or invest in 12 volt power supply.
The mount is often regarded as being quite beginner friendly but, it does have a few annoying quirks. You'll need to enter the date and time every time you boot up the device and annoyingly if the device is bumped, you'll need to go through this booting up process every time.
This problem can be solved if you purchase a Celestron's SkySync GPS accessory or their SkyPortal WiFi adapter, but these can cost an extra $100.
Accessories Included In The Box
The items within the box includes a red dot StarPointer finderscope, 25mm Plossl eyepiece, visual back, and a mirror star diagonal.
The accessories are decent quality and will do their job pretty well so you shouldn't need to worry about upgrading them immediately after getting them although, later down the line, particularly in the eyepiece (check this list out) it may worth purchasing some more versatile and higher quality items.
What Do Users Of The Device Think?
Users of the device have found it to be a solid as a whole but, it does appear to have a bit of a learning curve if you're a beginner, according to reviews I found on highpointscientific.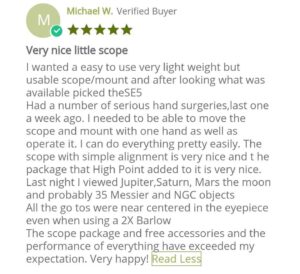 All in all the device is very well received by users and fairly easy to use.
Other Alternatives Worth Looking Into
If you're looking into other computerised telescopes you could check out this list but, if you're more interested in devices better designed for astrophotography, you can check out this list.
If you're looking to invest in a cheaper device considering the 5SE is very expensive for its price, you can check this list I created instead. 
Summary
The Celestron Nexstar 5SE is genuinely a very solid system, the GoTo mount is pretty good too although it has that annoying booting up cycle and of course the image quality is very good.
However, considering it's price rage and the power you get for it, it's far from the most cost effective of options out there.
But, if you're looking for a compound system that's portable, has a solid GoTo mount, has good accessories in the box, basically just does a good job and are willing to look past its price tag, the 5SE isn't a bad device at all.