*This post may contain affiliate links. This means we may make a commission if you purchase an item using one of our links*
*There are affiliate links on this page
The Celestron Astromaster 114EQ is telescope that's primarily marketed for beginner level astronomers so if you're expecting the best performance in the market with this device, in short it's probably not going to happen.
Nevertheless, in this Celestron Astromaster 114EQ review I'll provide you with a breakdown of the pros, cons, it's features and ultimately whether or not this telescope is worth buying.
Overview
Full Name: Celestron AstroMaster 114EQ
Type: Bird-Jone Newtonian 
Aperture: 4.5″ (114 mm)
Focal length: 1000mm
Focal ratio: f/8.7
Dimensions & Weight : 28 x 82 x 42.5 cm and 12.7 kg
Included eyepieces: 20mm 1.25″ and 10mm 1.25″
Rating: 3/5
Pros
It's a fairly cheap device
It comes with some decent accessories
Cons
Uses an outdated Bird-Jones optical design
Low build quality
The collimation is a pain
The mechanical aspect of the device is a nuisance
Sale
Celestron - AstroMaster 114EQ Newtonian Telescope - Reflector Telescope for Beginners - Fully-Coated Glass Optics - Adjustable-Height Tripod - Bonus Astronomy Software Package
POWERFUL REFLECTOR TELESCOPE: The Celestron AstroMaster 114EQ Newtonian telescope is a powerful and user-friendly reflector telescope. It features fully-coated glass optics, a full-height tripod, 2 eyepieces, and a StarPointer red dot finderscope.
NEWTONIAN REFLECTOR OPTICAL DESIGN: With a 114mm aperture, the AstroMaster 114EQ can gather enough light to see our Solar System and beyond. View Saturn's rings, Jupiter's Galilean moons, the Moon's craters, and more.
EASY TO SET UP AND USE: This is a great telescope for kids and adults to use together. It features a manual German Equatorial mount for smooth and accurate pointing. Setup is quick and easy, with no tools required.
INCLUDED ACCESSORIES: We've included 2 eyepieces (20mm and 10mm), a full-height tripod, and a StarPointer red dot finderscope. You'll also receive a FREE download of one of the top-rated astronomy software programs.
UNBEATABLE WARRANTY & SUPPORT: Buy with confidence from Celestron, a leading telescope brand in California since 1960. Your purchase includes a 2-Year US Warranty and unlimited support from our team of US-based experts.
The Astromaster 114EQ's Specifications
The Astromaster has some pretty solid specifications with an aperture of 114m, a focal length of 1000mm which in turn allows for maximum theoretical magnification of 225x.
However, in terms of useable magnification it'll be much lower. This is mostly due to the cost of 114EQ being around $120 – $150. Because of this price cut, although most other systems don't do this, Celestron opted to go for an outdated Birds-Jones Newtonian optical design making the system more underpowered than the more modern Newtonian reflector designs.
This design ultimately causes quite a few problems that most modern systems don't suffer from.
So if you take a roughly 100x useful magnification into account, you'll be able to see planets like venus, jupiter and saturn but, the detail won't be all that great. As for the moon and other star clusters and nebulae, they should look pretty great through the lens.
The dimensions and weight of the device are quite large but not too large as to make it very difficult to move around. These figures comes in at 28 x 82 x 42.5 cm with a weight of 12.7 kg
The Problems With The 114EQ's Mirror Design
Although some may confuse the mirror design of the astromaster as being a Newtonian reflector, the fact is that this is completely false.
The 114eq actually uses a fundamentally lackluster design known as the Bird-Jones design. All of the main telescope optics  have their strengths and weaknesses however, this particular design is a lot worse than a normal Newtonian reflector, Refractor or the various compound or catadioptric ones.
The Bird-Jones design is a compound based design. As for how a system like this is made, the design uses a spherical primary mirror with a corrector lens just before the secondary mirror.
The main benefit of this design is the cost efficiency for the manufacturers as it allows for the secondary mirror to be shrunken whilst keeping the primary in the shape of a sphere, which isn't a great design choice.
The design did make sense in the past because coma correctors weren't around meaning larger focal ratios were kind of necessary in order to produce sharper images.
Back then eyepieces were also very simply designed meaning the Bird-Jones did make sense in 60's and 70's. However, right now with significantly better eyepieces, Bird-Jones isn't ideal as it doesn't work well with most modern accessories, although if it is done right it'll still be useful.
Unfortunately, the 114EQ haven't implemented the Bird-Jones optical design properly either they've actually completely botched this design. This is because Celestron's variation of this design places the corrector lens inside the focuser.
This means collimation will be a pain to do and using eyepieces won't provide for a consistent image because the lack of the space between the primary mirror and corrector lens not being fixed means the image from the eyepiece can vary from being too close or too far from the lens.
This particular design is the biggest problem with the Astromaster 114EQ over something a lot more reliable. This isn't to say it's a bad system to go for it you still want to because users on amazon do seem to like them.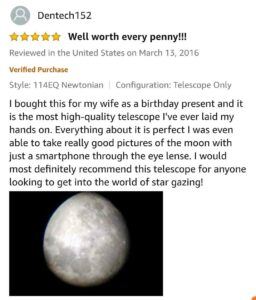 But, the fact is that due to the fundamentally flawed design, you're better off investing in another system that won't be annoying when you decide to use other accessories with it.
The Accessories Included In The Box
Within the box you'll receive a fairly competent set of accessories from a 1.25" rack-and-pinion focuser, a StarPointer red-dot finderscope, 2 1.25″ eyepieces at 20mm and 10mm along with CD ROM called the sky.
The build of the telescope along with the accessories are generally mediocre quality at best as they're mostly made of plastic but, they get the job done for the most part and for the price.
Besides the optical design of the tube, it's mechanical aspects are kind of poor too, even If still useable. Due to the plastic casting protruding over the focuser, the process of sliding the tube rings won't be easy to do and in turn will require you to constantly mess around with the mount in order to achieve the right balance with the declination axis.
Other Alternative Telescopes You Can Look At
Although on amazon the reviews for Astromaster are mostly positive and it does show signs of being okay for a first time telescope, it has a bunch of glaring issues with the most prominent ones being its outdated Bird-Jones optical design and it  being a pain to both collimate and occasionally to view through due to its awkward design.
The fact of the matter is that if you want a quality low end telescope, the 114EQ wouldn't make it on the top of my list that's for sure.
If you're thinking about investing in in other alternative systems, I suggest checking this best of list I created to help those who are on a budget. 
If you're more interested in the process of taking pictures instead, you can also look at this list I created to help you out for such a situation.
Conclusion
All in all the Celestron Astromaster 114EQ is a mediocre piece of of hardware which honestly is mostly saved due to the fact it's a cheap system to get if you're on a tight budget.
The bottom line is that it does work and if you put in the effort you can have it do wonders for you like many other out there but, the fact is, if you're willing to invest a tiny bit more in a more traditional Newtonian reflector or even a refractor system, the experience will be quite a bit better as you won't need to worry about the effects a new eyepiece will have on your experience.
Hopefully this reviewed has helped in deciding whether the Astromaster 114EQ is the telescope for you.