*This post may contain affiliate links. This means we may make a commission if you purchase an item using one of our links*
Welcome to my Apertura DT8 Review!
If you've found yourself here, there's a good chance you've been hearing a bunch of positive feedback when it comes to the Apertura DT8's quality however, you also want to be a little more thorough research before buying a more expensive telescope which is probably why here.
If that's the case you've come to the right place because here we'll be discussing the pros, cons and other features of this device to help you decide if it's a worthy intermediate/advanced level telescope worth purchasing or one you should skip.
Overview
Full Name: Apertura DT8
Type: Newtonian reflector
Aperture: 203mm
Focal length: 1200mm
Focal ratio: f/5.91
Dimensions & Weight: 23.49kg fully assembled and around 1.6 – 1.7m tall.
Included eyepieces: 1.25″ 25mm plossl
Rating: 4.5/5
Pros
Great value
Good accessories
Detailed visuals
Sturdy build
Cons
Will need to be focused regularly due to the reflector optics used
You will need to purchase eyepieces to get more out of the device.
It's heavy
How Do The Apertura DT8's Optics Work?
Aputera uses parabolic reflector optics within (also known as Newtonian reflector optics) which as a whole are awesome optics for viewing deep space objects and generally are far better at producing clearer more focused visuals over the cheaper spherical optics.
There are of course other optical variations such as the refractor based telescopes and even catadioptric/compound devices which use a mixture of refractor and mirror optics but, the optics within the apertura won't be hindered very much at all even if maintenance will be a lot more prevalent.
As for the general pros of the Newtonian optics :
They don't suffer from chromatic aberration
They're great for viewing faint objects as all types of light can pass through the lenses
A reflector is also cheaper than the other designs meaning you can get a larger scope for less money.
And the cons are as such :
As the optics are exposed you will need to maintain it more
You'll need to realign the lenses very regularly
You'll see diffraction on brighter objects in space.
What Do The Apertura DT8's Specifications Mean?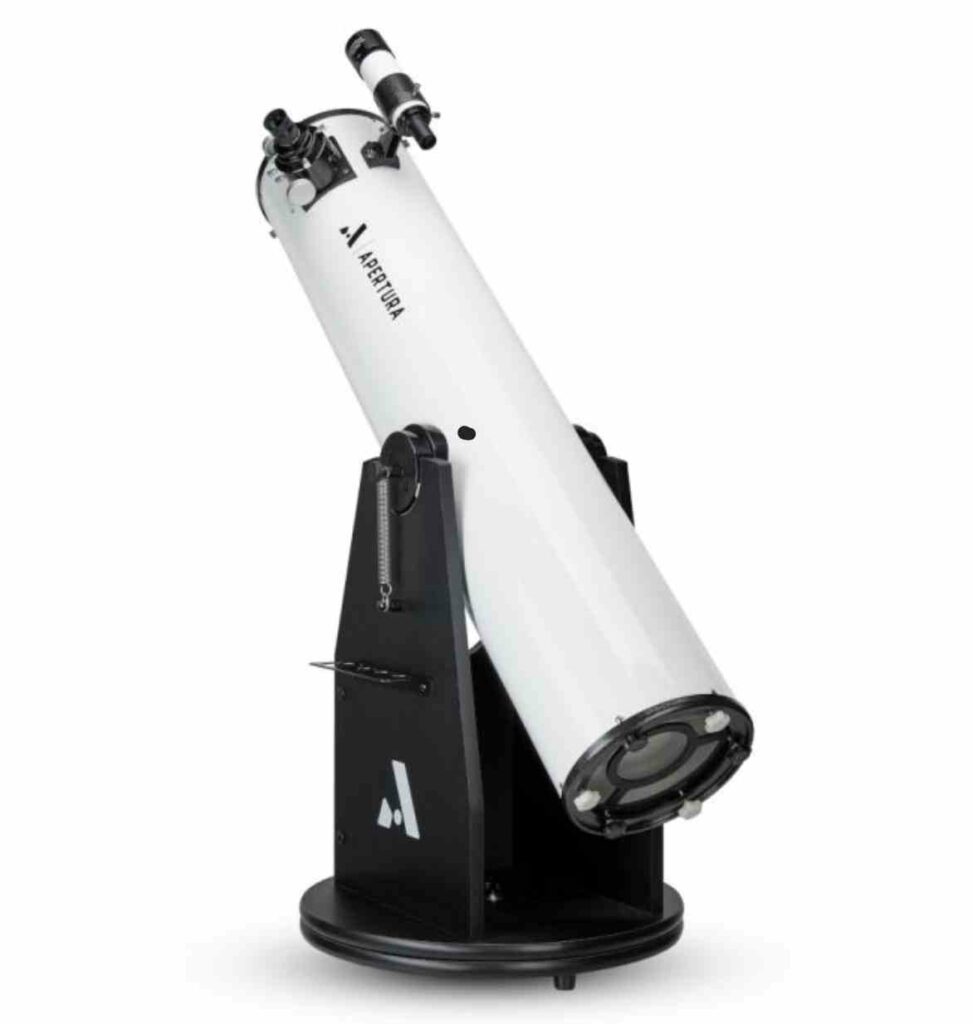 Apertura provide the following specs for their 8 inch model, a 203mm aperture, a focal length of 1200mm resulting in a fairly wide focal ratio at f/5.91. This means that the Apertura will have a bit of coma on the edges of the eyepiece when viewing and that the overall view through the lens will also be on wider side. Apertura's 8inch dob will allow you to view upto a max theoretical magnification of 400x although real world use will be a little less.
Nevertheless, you'll still able to see a good number of celestial objects in the sky, some of which include the following :
The moon and its craters at really high detail levels
Jupiter and Saturn's moons will also be visible through this telescope where they will show some hints of colour and be seen as disc like entities through the lens.
Uranus and Neptune will also be reasonably easy to view through the scope, showing up as blue coloured disc shape entities without much visible detail and in the best viewing conditions you may even be able to see Neptune's moon, Triton as a bright dot
You'll be able to see most nebula, star clusters, galaxies, the messier catalogue, the hershel 400 along with other dimmer deep space objects in reasonable to good detail depending on how dim the celestial entity is.
Being an 8 inch device, the Apertura DT8 won't the best for popping it into a bag and going on a hike but, the mount and the tube can be separated, which should ease the experience of moving the entire telescope around or when packing or up in your car to take it to less light polluted location.
With that being said it still is a chunky boy weighing in at 23.49kg (52.2lbs) when fully assembled with the tube being 11kg (24.5lbs) and the mount 12.5kg (27.7lbs).
As for its dimensions the height will be between 1.5m – 1.6m in total with the mount's height at around 0.7m and the tubes roughly 1.17m tall. It's a managable length for sure but taking extra precautions when moving the entire telescope, preferably with someone else's help would be the safest thing to do even if technically doing it alone is possible.
You could also simply place the entirely assembled scope on a 4 wheel cart too if you want easier maneuverability.
Accessories Included In The Box
The DT8 comes with a 2″ Crayford Style focuser, an adapter for 1.25″ to 2″ eyepieces, a 25mm plossl eyepieces, a 8×50 finderscope, a dust cap along with a bunch of other miscellaneous documentation.
These accessories are once pretty good although to get the most performance out of the DT8 you would need to invest in lower focal length eyepieces (this is a list of some of our favourites). Other than that there isnt much reason to upgrade your inbox gear straight away as they will serve you well by allowing you to view a good number of celestial objects.
The DT8's best accessory arguably would have to be the focuser as it'll focus much faster than other in the box ones and will be more than adequate for extended use for novices invested in this hobby of astronomy.
The Apertura DT8's Mount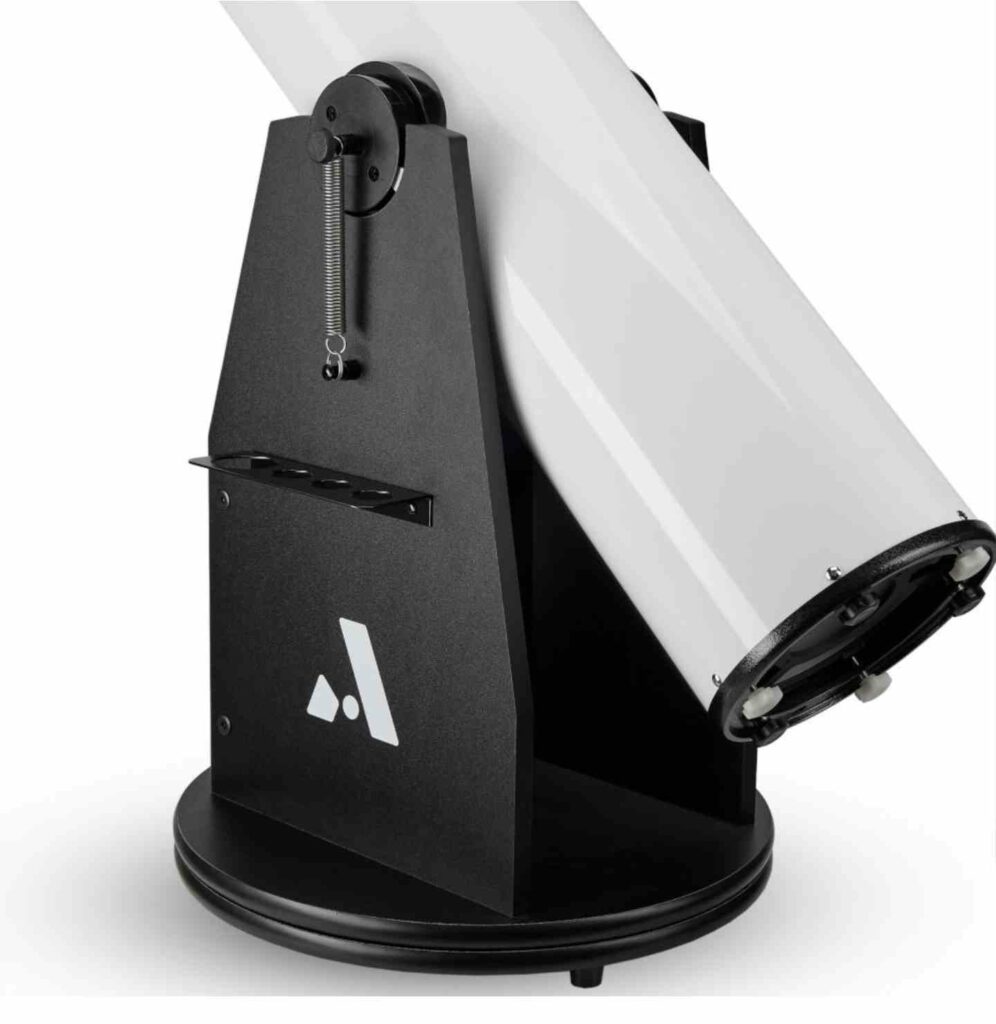 Apertura uses a dobsonian mount with the DT8 which means that it'll be a lot bulkier and can only move in one of 4 directions at any given time. This is either up, down, left or right.
Dob mounts at this price range are good for what they are and are generally made of particle board. As this material is on the cheaper side expect some form molding down the road as particle board is known to rot. There are some fixes to this with the main fix being to use plywood for the bottom nevertheless, minus this potential issue with rotting, the alt azimuth dobsonian mount paired with the DT8 will still be a very competent tool for adjusting your view.
What Are Users Of The Apertura DT8's Saying
For the most part this is regarded as one of the best value buys when it comes to dobsonian telescopes and telescopes with a larger aperture. Of course there are the few problems that individuals may have with focusing and the weight and size but, as a whole Apertura's DT8 is an excellent device that many owners have had a pleasant experience with.
Other Alternatives Worth Checking Out
If the aperture to price ratio is something you're looking for, as in the pure value for money in your telescope, the DT8 is honestly amongst the best you can find, with the skywatcher 8 inch, Orion's skyquest XT8 and the Zhumell Z8 being a few of the other top offerings.
Ultimately, whether or not you choose to buy either one of these telescopes will probably come down to which one is the cheapest. Now if you're after a telescope better suited for planetary viewing, this list of ours may find a telescope better suited for your needs. This isn't to say that the DT8 wouldn't do a sufficient job here, it's just that a wider focal ratio isn't the best suited specifcations for planet based observation.
Summary
If you're looking for an excellent device with a value centric price range, Apertura's DT8 is amongst the best buys you can get provided you're fine with the 4 way movement of the mount. if you are, you'll honestly be throughly pleased with this telescope.
However, if you're not up for going through the learning curve of a manual telescope, expect to have a few problems. If you can handle this though, or if you're simply looking to upgrade allowing you to observe a lot more detail than your current set up, i habve no doubt the DT8 will be serve you very well.