*This post may contain affiliate links. This means we may make a commission if you purchase an item using one of our links*
Picking your first telescope can be quite the complex task, you've got to decide whether you want a compact and small device, a bigger more powerful device, a versatile scope that can deal with both astrophotography and visual viewing or even one that comes with a computerised mount.
It's a lot to take in when starting out, which is why if you're an adult who's found themselves here searching for a great beginner level telescope, it isn't a bad place to start.
I'll be going over 9 of the best telescopes for adult beginners, which fall under all price ranges and sizes. Each telescope will deliver an excellent experience for those looking to take this hobby seriously.
In A Hurry? Check Out Our Best 3 Picks Below!
Name
Editor's Choice
Celestron Nexstar 5SE
Most Affordable
Celestron Powerseeker 80EQ
Most Powerful
Skywatcher Flextube 200
Image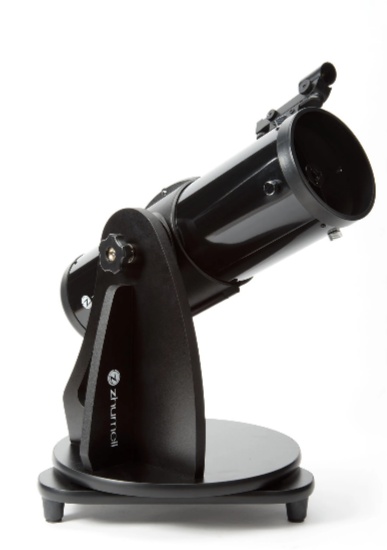 Pros
Good accessories in the box
Good specifications for the price
Very portable
Great for young beginners due to its easy to use optics
Cons
The viewfinder is awkwardly positioned on the side
Will require regular maintenance due to exposed optics
Collimation process can be a bit finicky
The Zhumell Z114 is an excellent entry level tabletop dobsonian telescope for beginners of all ages so, it should come as no surprise that it'll be an excellent StarGazing companion for adult beginners getting into this hobby.
Spec wise it has an aperture of 114mm, a focal length of 465mm resulting in a very fast and wide focal ratio of f/4.07. This means that the Z114 will show great wider field observations and whilst also also magnifying upto 228x making a competent telescope for planetary viewing.
Of course its fast nature of the gathering light does mean that coma on stars will be visible and in turn the true useable magnification will be lower but, it'll provide detailed views of global clusters, among other celestial entities in outer space.
In short you should be able to see saturn and its ring nearer it max useable magnification of around 150 – 170x, although don't expect details like the hubble telescope can show (for obvious reasons).
Zhumell provides a 1.25" focuser, two 1.25″ 17mm and 10mm eyepieces, a Red Dot Finder and a fair few other manuals and miscellaneous paperwork. These are decent enough for an entry level device however, if you want to get the most capabilities out of the Z114, investing in some more powerful eyepieces or a Barlow lens is a must.
As for the mount, it is a table Dobsonian variant which means you will need to place the scope on a higher surface to comfortably view through the eyepiece. Thankfully bar a few ergonomic and awkward placements on the mount, the mount itself is genuinely a brilliant performer and helps keep the footprint and weight of the Z114 under wraps.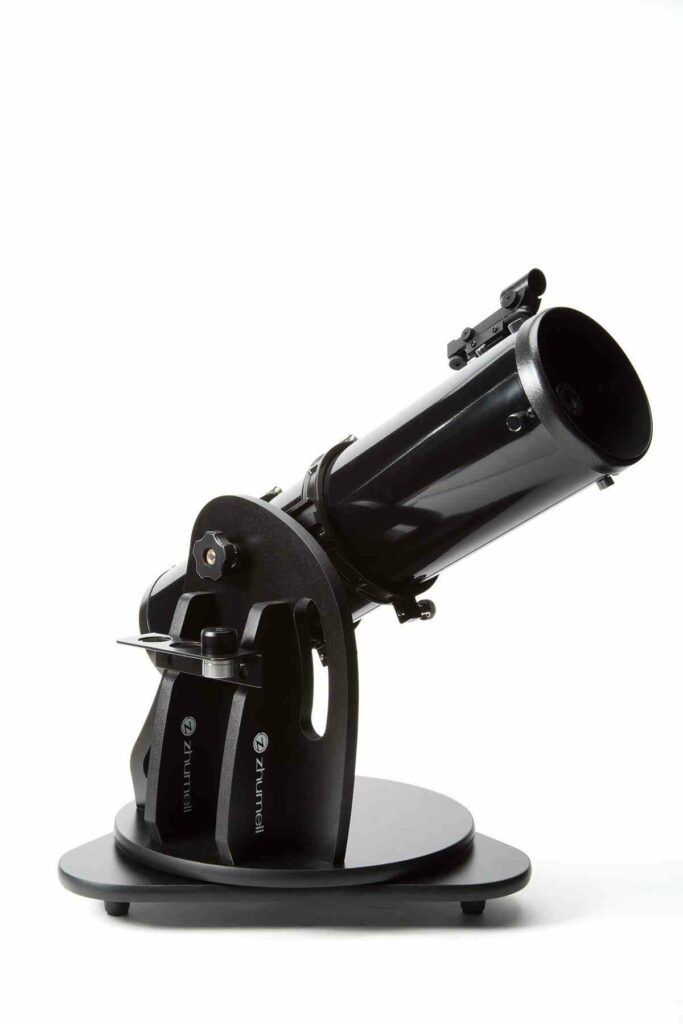 Pros
Very affordable
Easy to use out of the box
A great gateway into astronomy
Fairly light weight and portable
The eyepieces and other accessories are a nice touch
Cons
Regular maintenance needed as it's a reflector telescope
As it's a fast telescope coma will be noticeable
Zhumell's Z130 is also an excellent beginner level tabletop dobsonian offering. It improves in every way from the smaller Z114 bar the portability and compact side of things. With that being said the Z130 is still great in that regard too.
The specs of the device include an aperture of 130mm, a focal length of 650mm and a focal ratio of f/5. What this means is that the telescope will be able to gather a fair bit of light however, as the focal length isn't very large, the scopes zoom will be limited and the detail on certain celestial objects will be lacking.
Viewing distant objects will be great too provided you can find eyepieces and a barlow lens that can put to use the Z130's useable magnification around 200 – 230x.
Again like the Z114 the Z130's a fast telescope too and considering its is a reflector based device coma will be present in your visuals. Then again for this price, visual discrepancies are quite common.
A 1.25" focuser, two 1.25″ 17mm and 10mm eyepieces, a Red Dot Finder and a fair few other manuals and miscellaneous paperwork can be found in the box, all of which are reasonably competent additions but upgrades will definitely be needed in order to get the most out of the Z130.
Tabletop mounts are limited and to some degree are a nuisance as you'll need to place it on other objects to get a comfortable viewing experience but, much like the Z114's offering, this mount is still a very good performer and is a great addition if you're after a far more portable StarGazing experience.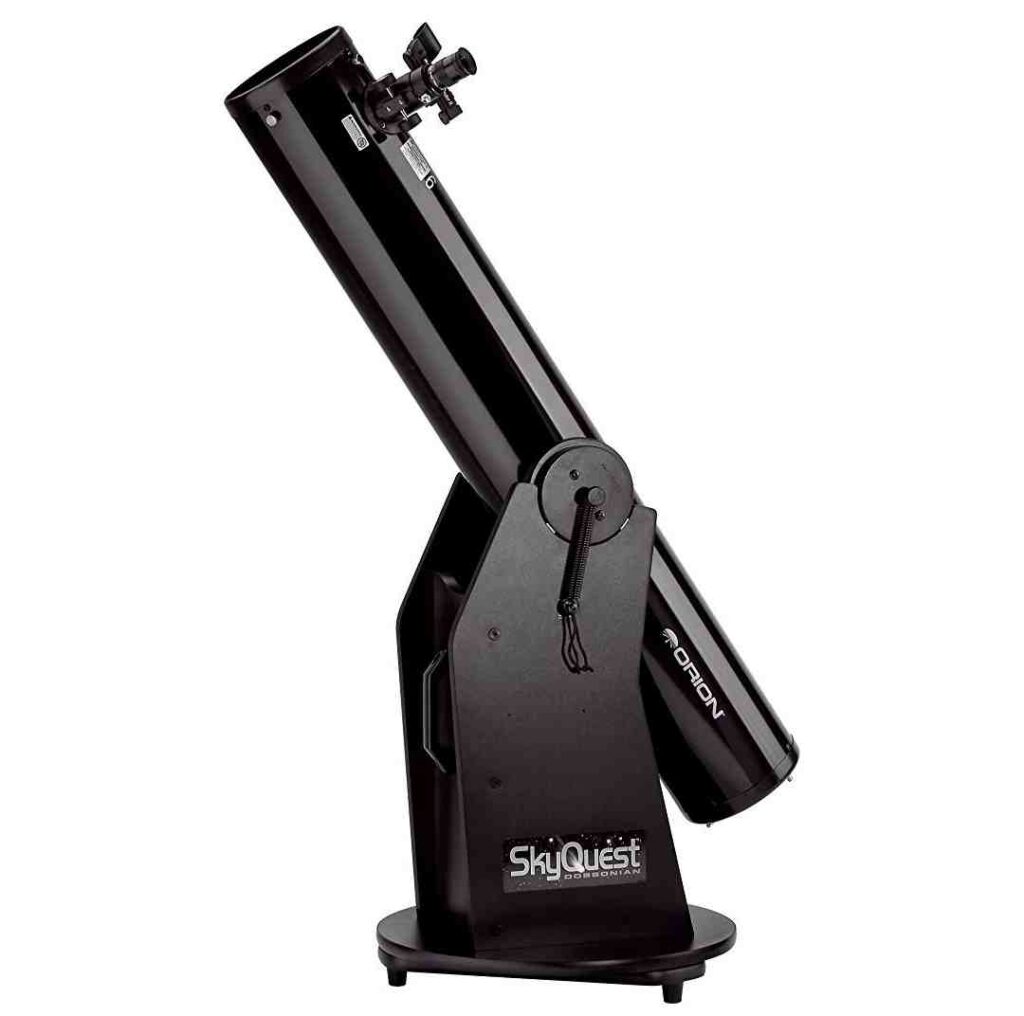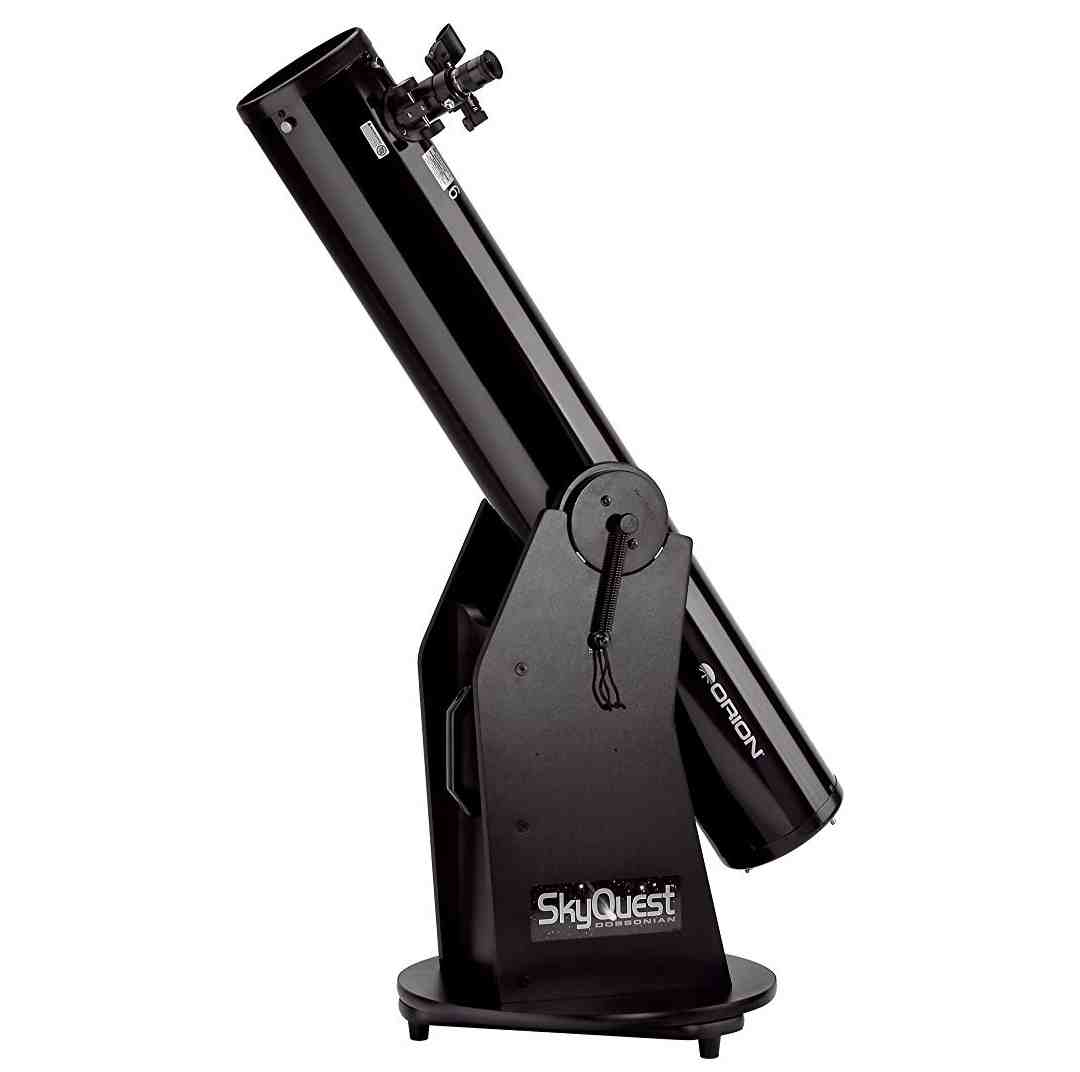 Pros
Great value for money
Easy to use
Easy to set up
A good 25mm eyepiece
Easy to collimate
Cons
Higher levels of maintenance and collimation due to it being a reflector
The finderscope in the box is poor
Particle board used
When it comes to the best value for money 6 inch telescope in the market, the skyquest xt6 is always among my top picks and certainly one that you'll have a good time with especially if you're beginner who has enough space to store it and wants to view celetial objects in a good amount of detail and clarity.
Spec wise the XT6 has an aperture of 150mm, a focal length at 1200mm resulting in a focal ratio of f/8. What this means is that the device will be great for planetary viewing due to its narrower and slower focal ratio of f/8 whilst also minimising coma which is very common amongst reflectors.
Magnification wise, you'll be able to see around a 250x range which should the usable rate although in theory 300x should be possible with this skyquest telescope.
The accessories in the box include one 1.25″ plossl eyepieces with a wider 25mm (48x), a 2x Barlow lens, a red dot finderscope and a solar filter. Other than the finderscope which isn't the best the other items are good enough as starter gear . With that being said expect to upgrade these if you want to maximise the XT6's performance.
Dobsonian mounts are generally used for cheaper devices and as a result allows for the price of a telescope to remain lower. Other than the use of particle which is common amongst the beginner or entry level telescopes, the mount included here is great and easy to set up.
In short, if you decide to pick this up it shouldn't dissapoint, at least not when it comes to the performance to price ratio.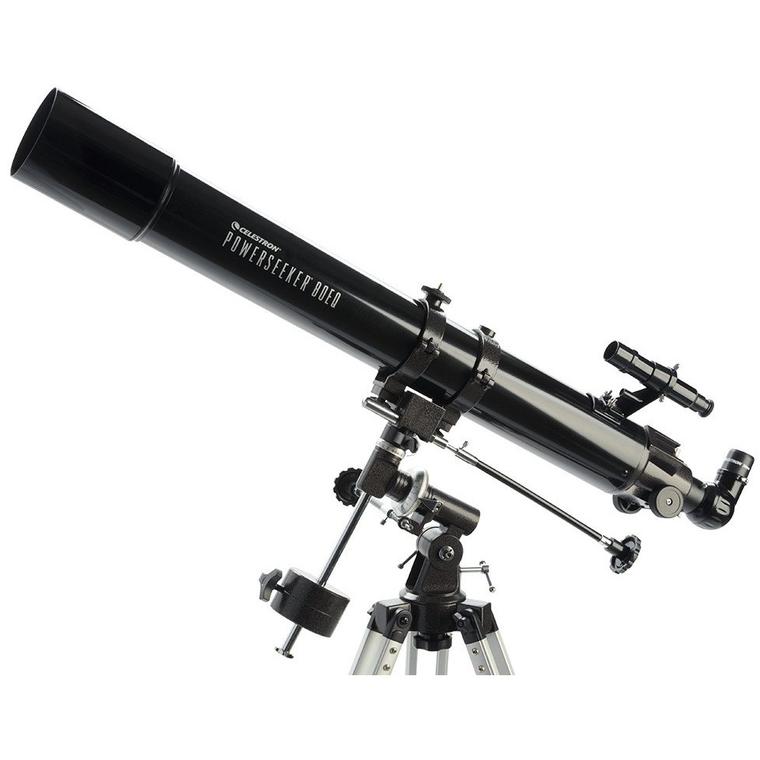 Pros
A good amount of accessories provided
Good value for money
A decent mount
Minimal maintenance
Cons
The 675x magnification marketing is a lie
Limited in performance
The PowerSeeker 80EQ is a competent and affordable beginner level device that will provide great visuals for novices getting involved in astronomy.
Achromatic refractor lens based telescopes are known to have their fair share of visual discrepanciesc, such as chromatic aberration, false colours etc. However for what these optics lack in accuracte colours, they do make it up by having their fair share of positives such as the lesser maintaince as a result of enclosed design iof the tube.
Therefore, Celestron's PowerSeeker 80EQ will be a lot less of a pain to maintain and collimate although users have found this device to have bit of a learning curve. Spec wise you're not getting anything spectacular with the 80EQ as it's aperture stands in at 80mm (3.15″),a focal length of 900mm resulting a focal ratio of f/11.
It's estimated that the magnification level IS around 225x although real world usage I imagine would be much lower if not barely half of what's advertised. Nevertheless, even with this limitation you should still be able to capture views of Saturn and even glimpses of its moon along with a lot of the other nearer planets.
A narrower focal length makes the 80EQ an ideal planet viewing scope even if the telescopes power is quite limited.
One 1.25″ kellner eyepiece at 20mm and another Ramsden 4mm, a PowerSeeker 3x Barlow lens, a smartphone adapter, an EQ-1 German equatorial mount, a tripod among other documentation are included within the box. These accessories are genuinely great and the mount, which is of the equitorial variant, is a good in box item too.
Admittedly the PowerSeeker isn't the best in terms of specs and is even a little harder to get started with however, if you want a device that's, portable, compact and requires far less maintenance than any of the other reflector offerings within this list celestron's 80EQ is definitely worth looking into.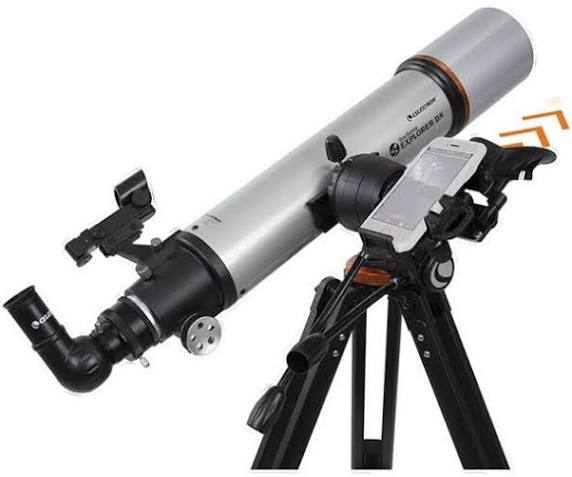 Pros
Requires minimal maintenance
Portable
Easy to set up
Can be used as a spotting scope
Decent accessories
StarSense app is useful
Cons
Celestron StarSense 102AZ is another great refractor based telescope worth getting if you're new to the hobby of astronomy.
It's more powerful than the 80EQ coming in with an aperture at 102mm, a focal length of 650mm resulting in a focal ratio of just under f/6.5. These are very average specs for the price however, refractor devices tend to produce great visuals with a good contrast even if in this case the numbers are lower than a reflective device. In fact at these lower aperture levels the performance difference is negligible to a slightly bigger reflector device.
Nevertheless, despite these lower specs you should be able to see the likes of Saturn, Jupiter, Mars among other celestial objects in space. with that being said fainter deep space objects may not be as visible as reflective devices would show.
Celestron's starsense 102AZ device comes with 2 1.25″ kellner eyepieces at 25mm and 10mm, a StarPointer red dot finderscope, a 90 degree erect image starpointer, a Manual Alt-Azimuth mount, a StarSense Explorer phone dock, a tripod and a bunch of other miscellaneous documents.
These accessories are competent for in box items however, I'd definetely recommend upgrading them, particularly the eyepieces.
One of the main reasons why the starsense 102AZ would be worth getting is due to the befnefits its software provides which will guide you in finding any celestial object that can be found within the app. Essentially how it works is your phones camera takes multiple snapshots of the night sky and then aims to find any celestial object within the apps data and then simply guides you to it.
You would still need to manually move the mount. It's not quite as accurate as a GoTo mount but it certainly isn't a bad bit of gear for beginners struggling to locate planets an other named celestial objects
Overall I'd say the 102AZ is an excellent beginner level device that's at the very leat worth a look due to its more feture packed offering.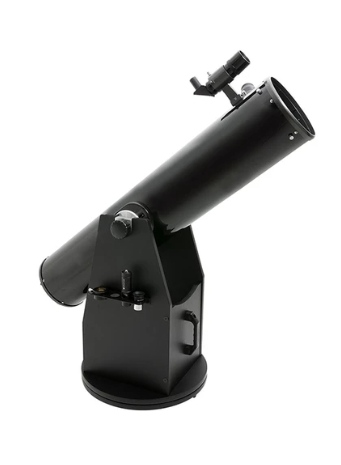 Pros
Great Power For The Price
High Quality Dobsonian Mount
High quality dual speed focuser
Solid eyepieces included
Cons
Open tube means more maintenance
It's not lightweight or compact
The Zhumell Z8 is by far the largest telescope on this list but considering how excellent a device it is for the specs it provides, if you have enough room to store it and are willing to stretch your budget a little, you cannot go wrong with investing in this exemplary dobsonian device.
It's specs are as follows, aperture is 203mm with a focal length of 1200mm resulting in a focal ratio of f/5.9. The larger means that the details you'll be able to view through the Z8 will be exponentially better than all the other devices on this list.
As a result you'll be able to view all of the planet uptill neptune near the peak of its usable magnification (which should be around 350x). F/6 is a fast focal ratio so some coma may still creep in on the edges of stars and planets but, as a whole the newtonian reflector optics will do a fine job for you.
Zhumell includes great accessories with the Z8 too, with a 2" 30mm eyepiece for wide field views and a 1. 25" 9mm eyepieces, dual-speed focuser, a 9×50 finderscope with the normal books and guides.
Lastly the mount is great too as they use ball bearings allowing for a smooth tracking and adjustment motion of the mount and in turn your scope too.
You may need to pruchase eyepieces or a Barlow lens to further increase the performance of the Z8 but, if you do decide this is the telescope for you, provided your up for learning its mechanics, it'll serve you very well.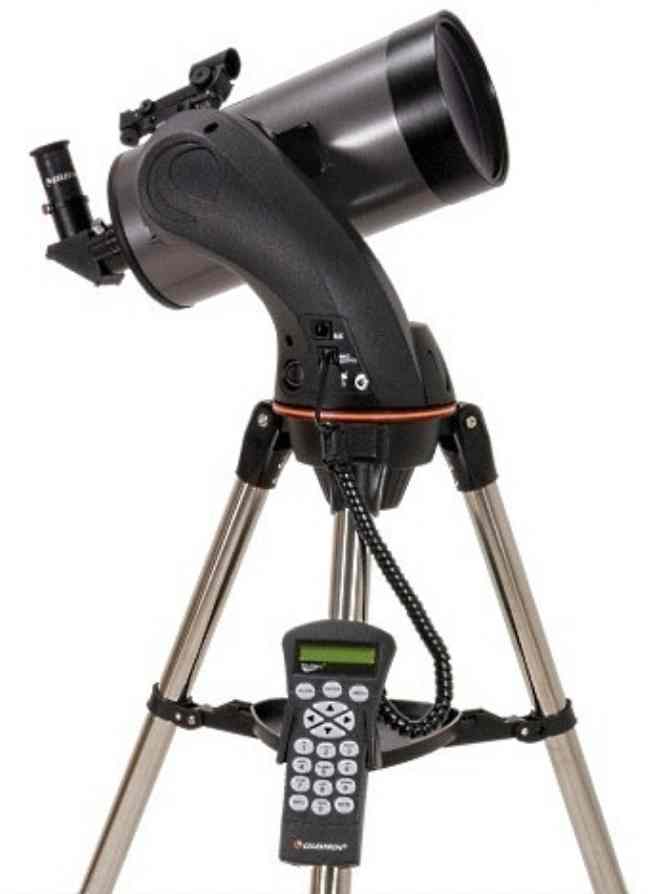 Pros
Decent in box accessories
Easy to set up
Solid performance
Cons
A little pricey
The mount is somewhat unstable
The eyepieces provided are sub par
Celestron's Nexstar 127SLT is a computerized telescope, in this case utilising a GoTo Mount with a catadioptric optics namely the maksutov-cassegrain optical variation.
By using these optics, the 127SLT will be a great for planetary viewing and as the tube itself is also closed, this will make the device more durable and in turn easier to maintain over the reflector options mentioned above.
With an aperture of 127mm, focal length of 1500mm resulting in a focal ratio of f/12, the 127SLT will allow you to view a good number of celestial objects at a similar level to the Z130 but, with the addition of the computerised and automated mount, locating the objects will be a far easier task.
The mount is battery powered and does have a few annoying quirks such as requiring a full set up every time the telescope is shut down, but if you can get over that (which honestly is a minor incovenience) it will be a very competent partner for astronomy.
Two 1.25″ kellner eyepieces at focal lengths of 25mm and 10mm, a starpointer finderscope, a database of over 10k objects found within the provided SkyAlign software, a star diagonal, a tripod a few manuals and other miscellaneous documents are provided in the box.
Other than the low quality kellner eyepieces the other items within the box are satisfactory and shouldn't require an immediate upgrade.
ultimatetly If your budget can stretch a little, the Nexstar 127SLT would be a more than adequate telescope to delve into this hobby of astronomy.
Pros
Can be separated into two pieces for easier storage and portability
Great in box accessories
Great specs
Great mount
Cons
Very heavy despite its portability
Issues with part maintenance
Hard to collimate, specifically for new users
Will require a fair bit of maintenance
SkyWatcher's Flextube 200, also known as the collapsible 8 inch, is a unique telescope as it utilises a tube that can be adjusted and as the name suggest collapsed into itself lowering its footprint by roughly 36%.
therefore, it among the more portable 8inch devices in reagrds to its footprint when collapsed. If a compact large device is important for you whilst also maintaining top notch power at a reasonable price tag, the Flextube will deliver on all fronts even if maintenance will technically be bit toughere due to the more open tube design.
in regards to the specifications the Flextube has an aperture at 203mm, a focal length of 100mm resulting in a focal ratio of f/6. This puts its technical performance at the same level as the Z8 mentioned above whilst the reflector optics used will still produce some coma.
The mount however is of a lower quality because it does particle board nevertheless, it's still a competent dob mount allowing for smooth turning and a sturdy visual experience.
In regards to the accessories, you get 2 1.25 inch Plossl eyepieces at 25mm(48x) and 10mm(120x), a 2" Crayford focuser with a 1.25" adapter, a 8×50 finderscope, an eyepiece tray and a bunch of other miscellaneous documents.
These are also solid although once again in order to get the most out of the Flextube an upgrade on the eyepieces and eventually the finderscope will be necessary.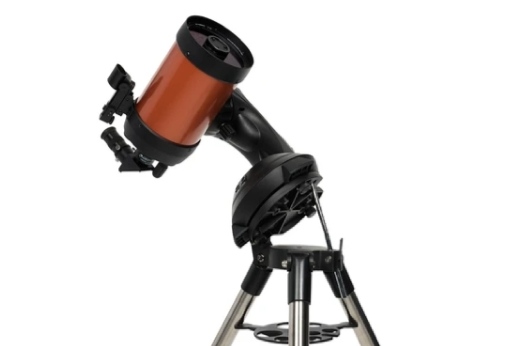 Pros
The device is very portable
The GoTo mount is nice and easy to use
It's a decent system for astrophotography
The image quality is solid
The accessories provided in the box are of solid quality too
Cons
It's really expensive
It not very power efficient
The boot up process is a little annoying
The Nexstar SE line up is the middle of the road nexstar offering by celestron. As a result these telescopes are technically meant to be a step up from the the SLT line, where the 5SE does seem to be step above from.
If you're after a more unique and stylised orange based OTA tube to potentially liven up your bedroom or because you like the colour orange, the 5SE will be a nice beginner level telescope to invest in.
Spec wise celestron's 5SE comes with a 125mm aperture lens with a focal ratio of 1250mm resulting in a narrow focal ratio of f/10. It also uses Schmidt-Cassegrain optics which means its overall performance and clarity will be superb whilst for those who are interested in astrophotography will also find it to competent in that regards too. Of course you shouldn't expect the best results but usable shots can definetly be produced.
Celestron's Nexstar 5SE comes with a red dot StarPointer finderscope, 25mm Plossl eyepiece, visual back, and a mirror star diagonal. These are good inbox accessories but, again you would need to purchase better eyepieces in order to get the most performance out of this device.
The GoTo Mount is great too although some of these SE line mounts are known to have a few issues in the manufacturing process. Nevertheless, if you can get it working you'll have access to a databas upwards of 40k celestial objects and a computersied mount that can even assist with the aligning process of the mirrors using the sky align software feature.
celestron are one of the biggest telescope brands around producing great gear at all price ranges so, it shouldn't be all too surprising that the 5SE is an excellent device for both beginners in this case or those more experienced hobbyists.
The Different Optical Variations
Reflector
A reflector telescope is an optical variation that is comprised of 2 mirrors in the chasis. This can use either a spherical or parabolic primary mirror along with a secondary mirror that's often flat and helps the light gathered within the tube to reach your eyes.
In regards to cost efficency devices with these optics tend to have the best dollar to aperture ratio so, if you simply want the best bang for your buck a reflector based dobsonian will probably be the best place to start.
Refractor
Refractor telescope use glass based optics within its chassis that come in either a doublet or triplet variation. The type of refractor optics can be broken down further into an achromatic or apochromatic lens with the later being among the best optics for all round performance and for astrophotography although it does come at a far heftier price.
Overall, these optics are amazing for visual use and even beginner to advanced level astrophotography but, they're also more expensive than reflectors.
Catadioptric/Compound
These optics can be broken down into various different options but, in general terms these tend to be a combination of reflector mirrors and the glass lens used within a refractor based device.
You'll also often see the likes of a Schmidt-Cassegrain or a maksutov-cassegrain telescopes bundled with a GoTo Mount whilst remaining portable considering the specs on show. As a result catadioptric telescopes are on average more expensive the reflector and refractor device.
Of course if you're looking into the higher end options the price does even out however, as entry level telescopes compound based devices are the most expensive out of the 3.
The Different Mounts
Dobsonian
These mounts can also be referred to alt-az mounts as they can only be moved in 4 different directions. As a result dobsonian are often manual or in the instances they do use computers you would still need to manually maneuver the mount in order to lock onto a celestial object.
Even with this limitation dobs are very sturdy mount and don't result in the shaky visuals that cheaper tripod based mounts tend suffer from.
Dobs are also far cheaper to manufacturer which is why they're often paired with cheaper telescope and offer the best bang for the aperture buck.
Equatorial
Equatorial mounts are the tripod based mounts that allow for 360 degree of motion as opposed to the 4 directions of a dob. In turn telescopes that come with an equitorial mount are often more accurate than dobs however as these mounts also tend to be attached to tripods, unless you mange to get a high quality tripod, most will suffer from a bit of shakiness.
GoTo Mount
A GoTo Mount is simply put an equitorial mount equipped with motors and computers to help automatically track objects without you needing to directly manevure the device yourslelf. These can be very useful if you don't want to deal with all the hassle of reading starmaps and manually adjusting and positioning your device.
However, this convenience obviously comes at quite the large cost considering most GoTo devices are a bit on the expensive side…
Conclusion
No telescope is perfect. Even if you searched the depths of the Internet you still wouldn't find a perfect device for your needs that sits perefectly within you price range, which of course is why we recommend a variety of great options within spanning across a pretty healty range in pricing.
In the end of the day if you just want to get started with astronomy buying the biggest thing out there wouldn't be the best thing you could do as a beginner, you've got to build this skill up that's nothing on this list way too overpowered and frankly a waste of money for someone dipping their toes into.
A Reminder Of Our 3 Favourites!
Name
Editor's Choice
Celestron Nexstar 5SE
Most Affordable
Celestron Powerseeker 80EQ
Most Powerful
Skywatcher Flextube 200
Image