*This post may contain affiliate links. This means we may make a commission if you purchase an item using one of our links*
Welcome to my Sky-Watcher 8 inch Collapsible Review!
If you've found yourself here, there's a good chance that this telescope is one you've been hearing really good things about and receiving a bunch of positive feedback on when it comes to its quality however, you also don't want to jump head first without learning a few things right?
If that's the case you've come to the right place because here we'll be discussing the pros, cons and other features of the device to help you decide if the Sky-Watcher 8 inch Collapsible is a worthy intermediate/advanced level telescope or one that you should probably skip.
Overview
Full Name: SkyWatcher 8inch Collapsible
Type: Newtonian Reflector
Aperture: 203mm (8″)
Focal length: 1200
Focal ratio: f/6
Dimensions & Weight: 91.5 x 66 x 48 cm and 25.65kg
Included eyepieces: 2 Plossl 1.25 inch at 25mm and 10mm
Rating: 4/5
Pros
Can be separated into two pieces for easier storage and portability
Great in box accessories
Great specs
Great mount
Cons
Very heavy despite its portability
Issues with part maintenance
Hard to collimate, specifically for new users
Will require a fair bit of maintenance
Sale
CELESTRON Flextube 200 Dobsonian 8-inch Collapsible Large Aperture Telescope – Portable, Easy to Use, Perfect for Beginners (S11700)
LARGE APERTURE: Get a bright, bold viewing experience at a fraction of the cost of other optical designs.
INNOVATIVE COLLAPSIBLE DESIGN: Unique strut design allows for optical tube to collapse for ease of portability while keeping collimation.
PROPRIETARY TENSION CONTROL HANDLES: These patented handles allow for accurate movement without the need for perfect balance.
94% REFLECTIVE MIRRORS: Fully multi-coated borosilicate primary and secondary mirrors deliver exceptional views.
TEFLON BEARINGS: Proprietary Teflon bearings ensure smooth azimuth movement.
How Do The Sky-Watcher 8 inch Collapsible's Optics Work?
The SkyWatcher 8″ Collapsible uses Newtonian reflector optics within it's tube. What this means is that it has a primary mirror that's of a parabolic shape and not spherical in shape like the mirrors cheaper reflector devices tend to use.
As a result its ability and ultimately the sharpness of the visuals you see through the eyepiece should theoretically be very good and of course as far as I can tell the majority of individuals have found this to be the case.
As for the other pros of the reflector optics within the SkyWatcher 8 Collapsible, they include the following :
Great for viewings faint objects in the sky as all types of light can pass through the lenses (this isn't the case for a refractor)
Reflectors are generally cheaper to manufacture, resulting in cheaper telescopes.
These optics don't suffer from chromatic aberration 
On the other hand the cons are as such :
The optics are exposed meaning you'd need to clean them up regularly
You'll regularly need to collimate the device too as they're easy to knock out of alignment
Low focal ratio reflector devices tend to suffer a lot more from comatic aberration
Can't view things on earth very well unlike the other 2 variations
Spherical optics suffer from spherical aberration resulting in a lack of focus and clarity (this shouldn't be an issue for this device as it uses a parabolic mirror)
Maintaining a mirrored telescope is always tough to do but, as long as you follow the correct process for keeping it relatively clean (based off our how to clean telescope article here) it shouldn't be too much of a bother.
As for the collimation process of the mirrors with this device, there seems to be some negative feedback on this regard with users having trouble producing a clear image due to the design of the tube, so if you're a beginner this device may not be the most friendly of experiences for yourself
What Do The Sky-Watcher 8 inch Collapsible's Specifications Mean?
The skywatcher has an aperture of 203mm, a focal length of 1200mm resulting in a focal ratio of f/6. This means that coma won't be as prevalent with the device as the higher focal ratio does minimise some curvature.
In terms of its power, the SkyWatcher is theoretically able to achieve a max magnification of 400x but, as is the case with most reflector devices it's usable value will be 10 – 15% lower then its max level.
Nevertheless, even with the theoretical max magnification not being usable, the SkyWatcher 8 Collapsible will still allow you to see a good number of celestial entities, some of which include the following :
The moon and its craters at really high detail levels
Jupiter and Saturn's moons will also be visible through this telescope where they will show some hints of colour and be seen as disc like entities through the lens.
Uranus and Neptune will also be reasonably easy to view through the scope, showing up as blue coloured disc shape entities without much visible detail and in the best viewing conditions you may even be able to see Neptune's moon, Triton as a bright dot
You'll be able to see most nebula, star clusters, galaxies, the messier catalogue, the hershel 400 along with other dimmer deep space objects in reasonable to good detail depending on how dim the celestial entity is.
As a telescope, the SkyWatcher 8 collapsible is a very competent device and should honestly provide more than enough power for most user to enjoy StarGazing for a long long time.
Of course as a bigger device the SkyWatcher isn't necessarily designed to be the most portable or lightweight of devices but, it certainly is far more portable than the majority of 8 inch devices in the market.
This is partly due to the fact it can be separated into 2 parts making it easier to store, move around or place in your car for when you want to find a great area without light pollution to look at in the night sky.
Furthermore, the optical tube uses quite the unique truss design which shrinks it to roughly the size of dob mount making it just a little easier to carry around.
In total the SkyWatcher 8 collapsible's tube alone comes in at 10.8kg whilst the mount is a little heavier at 14.85kg which results in quite a heavy total of 25.65kg. This explains why separating the two pieces is almost always necessary to move the device around.
The dimensions on the other hand stand at 91.5 x 66 x 48 cm, which isn't the smallest in the market but very respectable considering the SkyWatcher is as big as it is.
Even though in terms of dimensions the SkyWatcher is certainly portable considering its size… The heft of it on the other hand is not.
Accessories Included In The Box
The SkyWatcher comes with 2 1.25 inch Plossl eyepieces at 25mm(48x) and 10mm(120x), a 2" Crayford focuser with a 1.25" adapter, a 8×50 finderscope, an eyepiece tray and a bunch of other miscellaneous documents.
The accessories provided in the box are decent with Plossl eyepieces striking a fine balance for getting some solid views as a starter but an upgrade will definitely be necessary later down the road (here's a list of some great eyepieces to look into).
The other accessories are pretty solid too and will be very good out of the box so, in that sense much like the SkyWatcher 8 traditional, the accessories that come in the box here are far better than the majority of other competitors tend to provide.
The Sky-Watcher 8 inch Collapsible's Mount
Dobsonian mounts are highly regarded mostly due to their stability when viewing stars and in this case the ability to separate itself from the tube for more portability.
These are the main 2 elements about the mount that the SkyWatcher 8 inch collapsible uses along with a few other features that I'll go over in more detail make it a very solid Dobsonian mount. The Teflon coated rockers and built in clutch allow for users to make incremental changes when trying to lock onto a specific celestial object which is obviously a very important element for a mount.
The weight of the base also allows for the telescope tube to be sturdy, which is something that cannot always be said for a far lighter tripod based offering.
However, unlike those offerings (equitorial mounts for example) that allow you to turn the tube in every direction, a Dobsonian mount can only move either left, right, up or down and not diagonally for example.
Another downside to this dobsonian mount in particular is that its made of particle board which does mean it could suffer from rotting down the road but, this is an area that can be fixed by replacing the wood with plywood if your handy enough to do so.
Other than those minor negatives, the mount that comes with the SkyWatcher 8 inch collapsible should be very competent for almost anyone wanting to gaze at a few stars or planets.
What Are Users Of The Sky-Watcher 8 inch Collapsible Saying
Users with a bit of experience in the collimation side of things have found it to be quite a good device when everything is sorted out. Beginners however, do seem to struggle in the setting up process. There also some issue with parts that you need to be aware off too and the weight is obviously an issue too.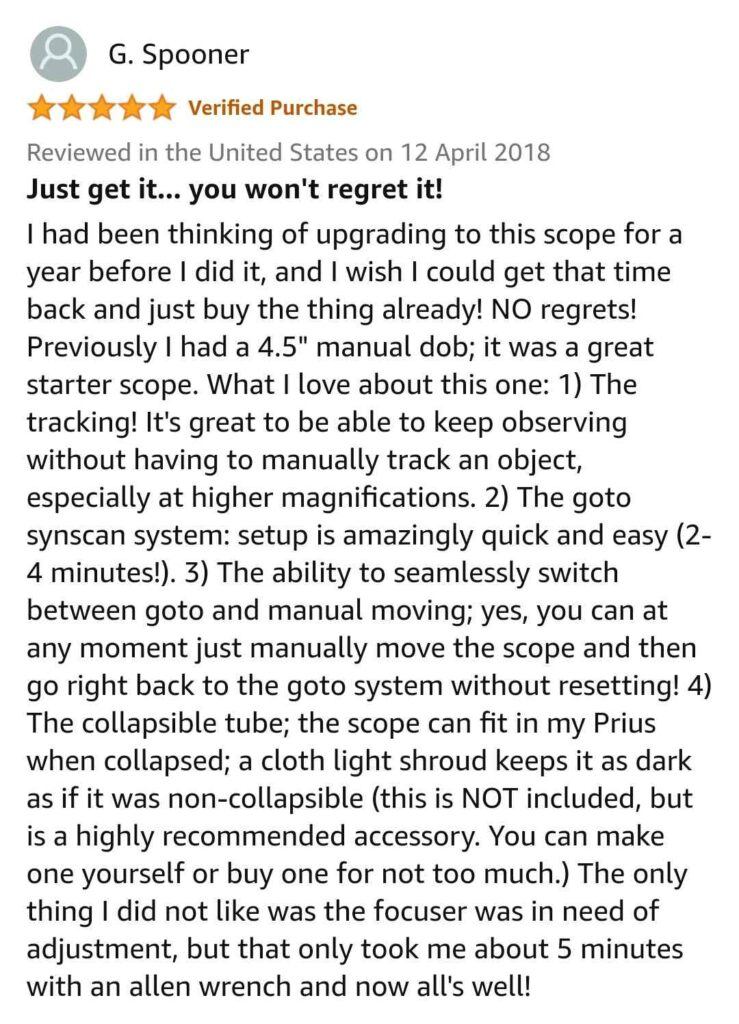 Nevertheless, overall the skywatcher 8 inch collapsible seems to be well received.
Other Alternatives Worth Checking Out
The SkyWatcher 8 inch collapsible is a solid device that comes with a bunch of great inbox accessories, has plenty of power and is even fairly easy to store considering the collapsible nature of the tube however, I still do believe there are quite a few devices much easier to use over it, like for example it's equally as capable offering the Traditional SkyWatcher 8inch. 
On the other hand, it's not necessarily great for astrophotography either so, if that's important to you, our list on some great astrophotography telescopes may be worth looking into, which you can do by clicking here. 
Summary
Even with the few issues that the skywatcher 8 inch collapsible has, it's portable truss tien design, its solid power, great in box accessories and mount do make it a device that many users will find to their liking.
With that being said it does have quite the steep learning curve due to its unique design. If you can handle these issues in exchange for the more portable tube, the SkyWatcher 8 inch collapsible honestly isn't bad device to go for.