*This post may contain affiliate links. This means we may make a commission if you purchase an item using one of our links*
Welcome to my Orion SkyView Pro 8 Review!
In this review I'll cover the pros, cons and the SkyView Pro 8's features to ultimately help you decide whether it's a intermediate level telescope worth investing in or one that you should skip instead.
Overview
Full Name:  Orion SkyView Pro 8
Type: Newtonian reflector
Aperture: 203mm (8″)
Focal length: 1000mm
Focal ratio: f/4.9
Dimensions & Weight: 102.4 x 50.8 x 25.7 centimetres & 25.7kg fully assembled
Included eyepieces: 2 1.25″ plossl eyepieces at 25mm and 10mm
Rating: 3.5/5
Pros
Solid Specs
Decent eyepieces
Does not suffer from chromatic aberration
Cons
Requires a lot of maintenance
Too heavy
Mediocre finderscope
The mount capacity is too low
Optics are subpar compared to other devices
Not really built for astrophotography even though its advertised as such
Orion 9738 SkyView Pro 8-Inch Equatorial Reflector Telescope
A proverbial light bucket 8" reflector telescope on our stable SkyView Pro equatorial (EQ) mount will provide hour after hour of stargazing fun for the whole family
Big 8" parabolic primary mirror and 1000mm focal length (f/4.9) make the SkyView Pro 8 an ideal telescope for viewing deep-space objects such as cloudy nebulas, distant galaxies, and both open and globular star clusters
Also capable of breathtaking views of closer cosmic fare like the planets of our solar system and the Moon
SkyView Pro equatorial mount with stainless steel tripod provides excellent stability and smooth manual tracking control with the included slow-motion control knobs
Includes smooth-adjusting 2" Crayford focuser, two Sirius Plossl 1.25" eyepieces (25mm and 10mm focal lengths), 8x40 finder scope, collimation cap, Starry Night software, and more!
How Do The Orion SkyView Pro 8's Optics Work?
If you were unfamiliar with the 3 main optical variations, they basically include refractor, reflector and compound based optics, where in this case the SkyView Pro utilises reflector based optics.
The optics used here are newtonian reflector based however, through my research I did discover that due to a few manufacturing issues (as SkyView optics tend to be manufactured in China), the optics aren't truly newtonian. This may be as a result of under correction on the primary parabolic lens or even turned down edges which results in spherical aberration.
This isn't something that most newtonian reflector devices should do but, due to poor manufacturing the optics within the SkyView Pro could be mediocre to sub par in performance, at least in terms of their quality.
Now if you do get well made optics within the SkyView Pro, then you would be fine however, even if the performance from the optics should theoretically be positive, there is still a chance that the quality won't be as good as other 8 inch newtonian reflector devices.
Anyways, with that potential con out of the way, some of the pros of reflector optics include the following :
Great for viewings faint objects in the sky as all types of light can pass through the lenses (this isn't the case for a refractor)
Reflectors are generally cheaper to manufacture, resulting in cheaper telescopes.
These optics don't suffer from chromatic aberration 
And the other potential cons include the following :
The optics are exposed meaning you'd need to clean them up regularly
You'll regularly need to collimate the device too as they're easy to knock out of alignment
Low focal ratio reflector devices tend to suffer a lot more from comatic aberration
Can't view things on earth very well unlike the other 2 variations
What Do The Orion SkyView Pro 8's Specifications Mean?
The SkyView Pro has an aperture of 203mm,a focal length of 1000mm resulting in wide and fast focal ratio of f/4.9. What this means is that theoretically the telescope will be able to achieve a max magnification of 400x and that it'd be better for more landscape/wield field viewing as opposed to planetary (although it will be competent at this too).
However, as is the case with reflector devices with lower focal ratio's, the SkyView Pro will suffer with coma and potentially spherical aberration too.
Nevertheless, you should be able to view the following objects with this device :
The moon and its craters at really high detail levels
Jupiter, Saturn, Venus, Mars And Mercury in good detail too.
Jupiter and Saturn's moons will also be visible through this device where they will show some hints of colour and be seen as disc like entities through the lens.
Uranus and Neptune will also be reasonably easy to view through the scope, showing up as blue coloured disc shape entities without much visible detail and in the best viewing conditions you may even be able to see Neptune's moon, Triton as a bright dot
You'll be able to see most nebula, star clusters, galaxies, the messier catalogue, the hershel 400 along with other dimmer deep space objects in reasonable to good detail depending on how dim the celestial entity is
Of course in terms of portability the SkyView Pro is not going to win any awards because when fully assembled it will weigh in at a heavy 25.7kg. Of course you can still separately move the optical tube and tripod but, even then kids will likely have trouble moving the pieces around without help as will some adults who aren't very strong either.
In terms of its dimensions, the SkyView Pro is pretty big too with dimensions of 102.4 x 50.8 x 25.7 centimetres. In short, one of the most irritating things about this device is how heavy it is therefore, if you don't want to deal with this, especially considering it's an 8 inch device, the SkyView Pro won't be for you.
Accessories Included In The Box
The SkyView Pro comes with 2 1.25″ plossl eyepieces at 25mm (40x) and 10mm (100x), a 2″ crayford focuser, a 4 x 80 finderscope, a collimation cap, the Mount and a plethora of get started documents.
The eyepieces provided are pretty typical for this price range but, they won't really get the most out of the SkyView Pro's performance so, that is definitely something worth upgrading (this list of ours may help you pick a solid eyepiece if you're interested).
The 8 x 40 finderscope, although usable, is a bit too small for an 8″ device whilst the 2″ crayford focuser is pretty solid and should get the job done.
The Orion SkyView Pro 8's Mount
The mount that comes with the SkyView is Orion's SkyView Pro mount however, even though this mount is technically good and would be sufficient for astrophotography, it isn't actually good with the 8inch telescope that comes with it.
The maximum capacity of this mount is at best 9kg where as the tubes 7.5kg weight already is putting the entire system near enough its full capacity. If you add eyepieces, dew heaters among other accessories you'd be at the peak of this mounts capacity.
Now imagine adding a dslr to the mix in order to take solid astrophotography images as this device is advertised as. In short the mount for this specific 8 inch OTA telescope tube is way too small meaning the SkyView Pro's mount unfortunately misses the mark.
Furthermore, it has some issue with build quality where the RA and DEC knobs tend to come off constantly. On top of this it is built quite cheaply which is a problem.
It doesn't stop here either, there are also issues regarding how comfortable it would be to view as occasionally you will have to look through the eyepiece at awkward positions.
Overall, the mount itself isn't terrible (it is quite decent in fact) but, it certainly isn't a worthy astrophotography mount for as heavy a tube as the one provided here and it has the occasional build quality issues too.
What Are Users Of The Orion SkyView Pro 8 Saying
A lot of users have found it to be a great system but, it was often described as being too heavy, the mount seems to have a build quality issue according to some users and others didn't find it to be very friendly for causal visual users.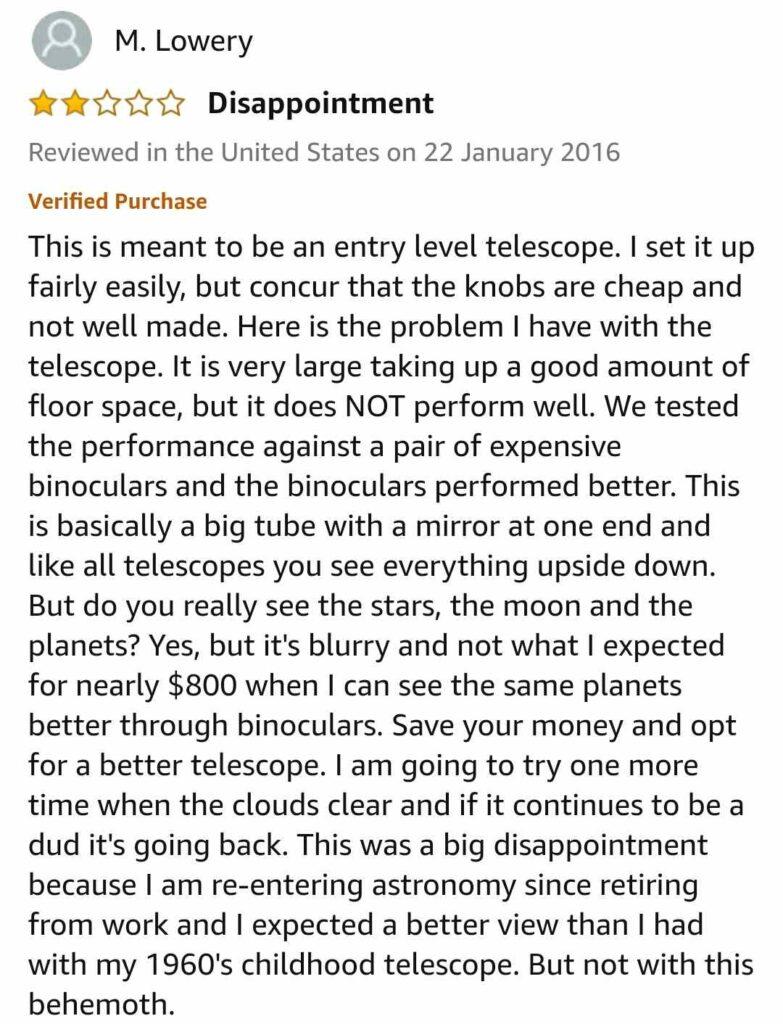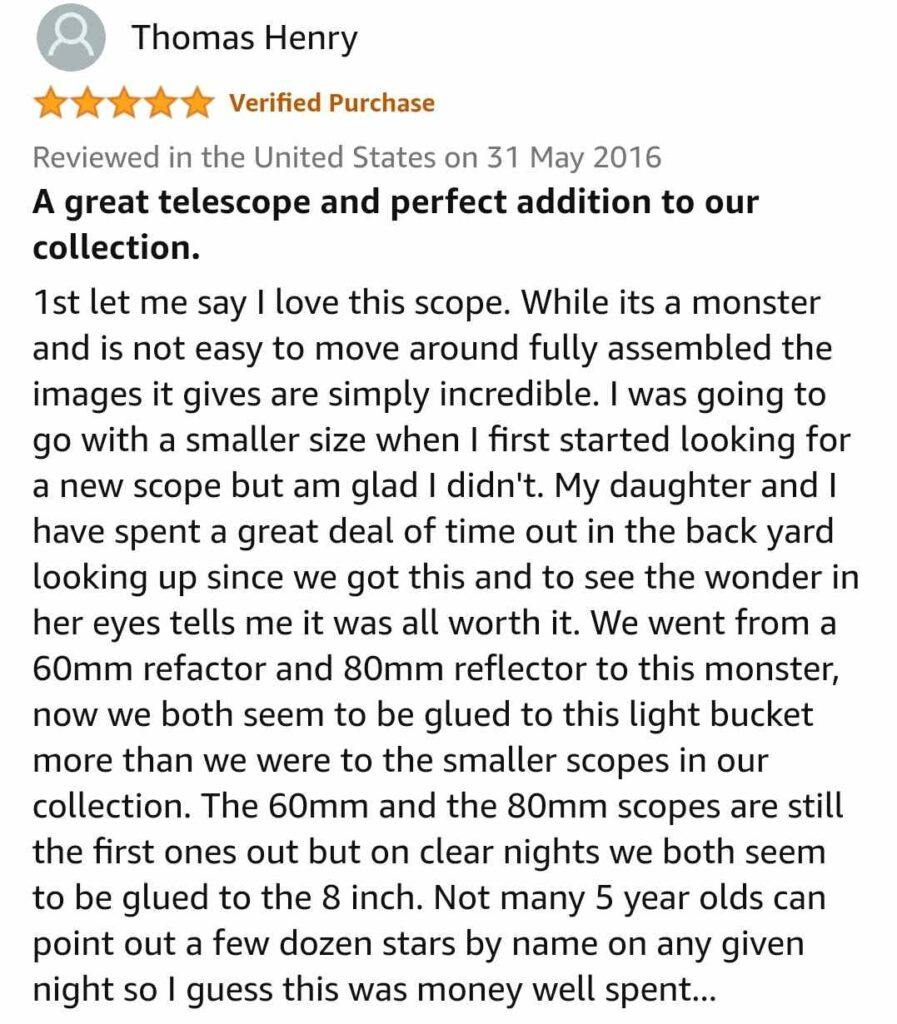 With that being said the majority of users did find the SkyView Pro to be a competent device and it worked well for them, even when taking some very simple astro images of planets.
Other Alternatives Worth Checking Out
Ultimately as a astrophotography device the SkyView Pro falls short and as a visual device, taking into account the issues with manufacturing , even if the telescopes light gathering abilities are solid it still doesn't hit the mark here. So personally I would recommend looking at a Dobsonian device like the Zhumell Z8 or the Skyquest xt8 for a better experience when it comes to visual.
If you're still after an astrophotography device, I'd suggest checking out our list covering the best devices for the activity by clicking here.
Summary
The Orion SkyView Pro is a very mixed bag of a device, especially when you take into account the price you're paying for it with the performance and build issue problems that come with it.
Firstly, its optics although great at capturing light are potentially suspect, the mount is too small to actually participate in astrophotography whilst being built cheaply, the inbox accessories are average at best and it's also very heavy to boot.
I'm not saying that the SkyView Pro is a bad device because clearly a lot of people are happy with it but, it certainly wouldn't be my first recommendation as a normal visual telescope or as an astrophotography device.