*This post may contain affiliate links. This means we may make a commission if you purchase an item using one of our links*
Welcome to my Orion SkyQuest XT8 Classic Dobsonian Review!
If you've found yourself on this review, there's a good chance that it's a system that you've been hearing really good things about, receiving a bunch of positive feedback when it comes to the systems quality however, you also don't want to jump head first into buying it without learning a few things about it right?
If that's the case, it's a good thing you've found yourself on this review because here we'll be discussing the pros, cons, features and other elements to decide if the Orion SkyQuest XT8 is a worthy beginner/intermediate level telescope or one that you should simply skip.
Overview
Full Name: Orion SkyQuest XT8 Classic Dobsonian
Type: Newtonian reflector
Aperture: 8″(203mm)
Focal length: 1200mm
Focal ratio: f/5.9
Dimensions & Weight:
Included eyepieces: 1.25″ 25mm plossl
Rating: 4.5/5
Pros
Great specs
Great value for money
Easy to set up
Good accessories
Cons
Collimation and regular maintenance
Red dot finderscope is mediocre
It's big and bulky
Orion 8945 SkyQuest XT8 Classic Dobsonian Telescope
Item may ship in more than one box and may arrive separately
A large aperture Classic Dobsonian reflector telescope at a very affordable price!
8" diameter reflector optics lets you view the Moon and planets in close up detail, and has enough light grasp to pull in pleasing views of faint nebulas, galaxies and star clusters
A perfect Dobsonian telescope that can last a lifetime for the beginning astronomy enthusiast or whole family
The ultra-stable Dobsonian base keeps the reflector optical tube perfectly balanced for point-and-view ease of use
How Do The Orion SkyQuest XT8 Classic Dobsonian's Optics Work?
The SkyQuest XT8 is simply the bigger brother to the other highly recommended telescope in the SkyQuest XT6 and much like the XT6 the XT8 also uses reflector based optics to contribute to your visual experience with the system.
If you're unfamiliar with the different optics found within telescope, I'm sure you'll be surprised to know that besides reflector optics, telescopes also tend to use 2 other optical variations, namely refractor and compound based optics.
I won't really be going into much detail regarding the other variation in this review but, the reason they've been mentioned is to compare the pros and cons of reflector optics to them
Firstly, you should know that the XT8 uses a Newtonian reflector optics which is a parabolic mirror and not a spherical one meaning it won't suffer from spherical aberration that a cheaper reflector would suffer from. The mirror is also made of a higher quality glass called borosilicate glass AKA Pyrex, which basically means the optics cool down faster.
Besides this pro, the other pros of the SkyQuest XT8, again similar to the XT6, include the following :
Great for viewings faint objects in the sky as all types of light can pass through the lenses (this isn't the case for a refractor)
Reflectors are generally cheaper to manufacture, resulting in cheaper telescopes.
These optics don't suffer from chromatic aberration
As for the cons of the reflector optics, they include the following :
The optics are exposed meaning you'd need to clean them up regularly
You'll regularly need to collimate the device too as they're easy to knock out of alignment
Low focal ratio reflector devices tend to suffer a lot more from comatic aberration  
Can't view things on earth very well unlike the other 2 variations
The optics within the SkyQuest XT8 are very solid for the price bracket it falls within (roughly $350 – $400) and besides the minor annoyances of having to collimate and maintain the system regularly, there aren't anything bad about the optics that stands out.
If you want a visual guidance on how to collimate the SkyQuest XT8, I'd highly suggest watching the video below.
What Do The Orion SkyQuest XT8 Classic Dobsonian's Specifications Mean?
The SkyQuest has some very solid specs with an aperture of 203mm, a focal length of 1200mm resulting in a focal ratio of f/5.9. This means that in terms of maximum magnification the SkyQuest XT8 will be able to achieve an outstanding 400x although it may be a little lower in real world use.
That being said the device will still be able to see more or less everything you'd want to see, even in really good detail at the top end magnification.
With the XT8 you'll be able to see :
The moon and its craters at really high detail levels
Jupiter and Saturn's moons will also be visible through the XT8 where they will show some hints of colour and be seen as disc like entities through the lens.
Uranus and Neptune will also be reasonably easy to view through the scope, showing up as blue coloured disc shape entities without much visible detail and in the best viewing conditions you may even be able to see Neptune's moon, Triton as a bright dot
You'll be able to see most nebula, star clusters, galaxies, the messier catalogue, the hershel 400 along with other dimmer deep space objects in reasonable to good detail depending on how dim the celestial entity is.
All in all, the 203mm aperture makes the XT8 a very competent beginner to even advanced level telescope as for the most part it will allow you to see more or less everything you'd want to.
Now moving onto the weight and dimensions of the SkyQuest XT8, it's definitely not a small system. It's dimensions and weight are 127.5 x 44.5 x 39.4 cm by 13.3 kg meaning it'll be roughly 5ft tall and definitely isn't something that you will effortlessly be able to move around whilst children will have a much harder time with moving or storing it.
Unfortunately this is just what happens the bigger and more powerful a telescope gets. If you're after compactness and portability, the XT8 is unlikely to be a system worth getting but, if you've got the space and can deal with the systems size, you probably won't face too much of problem after buying the SkyQuest XT8.
Accessories Included In The Box
The accessories you'll find in the box will depend on whether or not you go for the XT8 plus or normal variant but within the normal classic variant you'll get a one 1.25″ 25mm plossl eyepiece, a 2″ Crayford focuser that allows you to use 2″ eyepieces, a simple red dot finderscope and a few other miscellaneous documentation.
The XT8 Classic's eyepiece is pretty decent but it is only a lower powered one so you'd definitely need to consider buying one with a smaller focal length of around 10mm or below. The red dot finderscope is fine too but, for the best experience a 9 x 50 will better if you want to observe more deep space objects with the XT8.
The SkyQuest XT8 plus comes with a ton more accessories in the box but of course will be a little more expensive. As for what you'll find in the box, you'll get a 2″ 28mm kellner "DeepView" eyepiece, a 1.25″ 10mm plossl eyepiece, a safety film filter for viewing sunspots, a dual-speed low-profile Crayford focuser and a few miscellaneous documentation.
Both variants of the XT8 do come with a solid set of accessories so, that's something that Orion definitely does well although, it will be worth upgrading the eyepieces a little later down the line if you want to get the max power out of either SkyQuest XT8s.
The Mount
The SkyQuest XT8 uses a Dobsonian mount which uses springs for tensioning. The reason why is because the device is prone to tipping over if it's either too top or bottom heavy. However, because the bearings are a little small, it is a bit finicky to adjust the mount.
The XT8 plus' mount is a step down from the classic variant as it uses regular bearings with adjustable tensioning knobs as opposed to the spring ones. This means If the device is heavier on one side of the device, you'll have no choice but to tighten the altitude axis which in turn will make the whole device stiff and awkward to position.
Now moving back to the normal variant, another one of it's, I guess you could say, cost cutting methods is that it uses a particle board for the base.
The problem with using a particle board for the base is that once it gets chipped or damaged it is prone to rotting, which obviously isn't something you'd want to deal with but, thankfully this is fairly easy to replace if you just DIY yourself another base using a ¾" plywood piece, which are thankfully relatively affordable to buy.
What Are Users Of The Orion SkyQuest XT8 Classic Dobsonian Saying?
For the most part, more or less all individuals who have invested in either variants of the SkyQuest XT8 line up have found it to be an excellent telescope that more than lives up to the bill of it being a great system.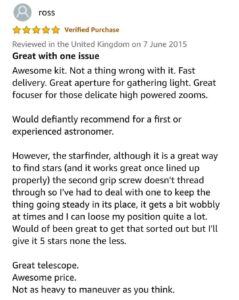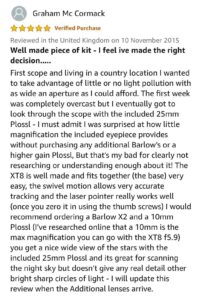 Besides some collimation issues and the device being a relatively bulky system, there really aren't very many negative or bad things users of the device are saying, especially when you consider the price of the system you really can't go wrong with it.

Other Alternatives Worth Checking Out
The SkyQuest XT8 is a great telescope and there really aren't any other systems worth recommending over it. However, there is one thing that it does lack, portability. If you're willing to sacrifice a bit of power in exchange for portability, we've written a list of some great portable telescopes options you can look into by clicking here.
Also the XT8 isn't a great photography system either so, if astrophotography is an important factor for you, we've written a list on some of the best systems you can buy within the area of astrophotography, which you can access by clicking here.
As for other dobsonian options, check out this post. 
Summary
All in all the SkyQuest XT8 is a great device without too many faults if any. Of course of we nitpick it's mediocre finderscope, it's size, weight and of course the fact you will need to collimate it regularly will be somewhat annoying and can be regarded as minor problems.
However, as a whole the SkyQuest XT8's value for money is up there as being one of the best 8 inch systems for the price therefore, I do highly recommend the XT8 as long as you're willing to deal with its (miniscule) shortcomings.