*This post may contain affiliate links. This means we may make a commission if you purchase an item using one of our links*
Welcome to my Orion SkyQuest XT4.5 Dobsonian Review!
In this review I'll cover the pros, cons and the Orion SkyQuest XT4.5 Dobsonian's features to ultimately help you decide on whether the Orion SkyQuest XT4.5 Dobsonian is a beginner level system worth investing in or one that you should skip.
Overview
Full Name:  Orion SkyQuest XT4.5 Dobsonian
Type: spherical reflector
Aperture: 4.5″(114mm)
Focal length: 900mm
Focal ratio: f/7.9
Dimensions & Weight: 89cm tall and 8kg
Included eyepieces: 2 plossl 1.25″ at 25mm and 10mm
Rating: 4.3/5
Pros
Easy to use
Still great value for money
Good accessories
Solid specs for the price
Cons
More expensive than other similarly powered devices
Uses the inferior spherical mirror design
Will require regular maintenance and collimation
Mediocre finderscope
Orion 10014 SkyQuest XT4.5 Classic Dobsonian Telescope
Compact and lightweight - a perfect Dobsonian reflector telescope for traveling or easy trips to the backyard at home
4.5" aperture and 900mm focal length provide clear views of lunar craters and plains on the Moon, planets, bright nebulas and galaxies
Sturdy and portable Dobsonian base and handy navigation knob allow for effortless maneuvering of the reflector optical tube. Focal ratio - f/7.9. Resolving power - 1.02arc*sec
Collects a whopping 260% more light than a typical beginner-level 60mm refractor telescope - which means hundreds more objects will be visible through the Orion SkyQuest XT4.5 Classic Dobsonian
Includes two eyepieces (25mm and 10mm focal length Sirius Plossl), 6x30 finder scope, 1.25" rack and pinion focuser, collimation cap, eyepiece rack, Starry Night astronomy software, and more!
How Do The Orion SkyQuest XT4.5's Optics Work?
The SkyQuest XT4.5 uses what can be referred to as a spherical reflector optic, which is generally cheaper to manufacture than the commonly used Newtonian reflector optics and in turn suffer from a visual abnormality known as spherical aberration.
What this means is that it'll be harder to align a finderscope and lock on whatever you're planning to view with perfect clarity using the XT4.5.
That being said, although the optical performance may not be the clearest when observing through the lens, it still will have a few benefits over the other 2 core optical variations that come with refractor and catadioptric telescopes.
The pros of the reflector optics within the XT4.5
Great for viewings faint objects in the sky as all types of light can pass through the lenses (this isn't the case for a refractor)
Reflectors are generally cheaper to manufacture, resulting in cheaper telescopes.
These optics don't suffer from chromatic aberration
As for the cons they include the following :
The optics are exposed meaning you'd need to clean them up regularly
You'll regularly need to collimate the device too as they're easy to knock out of alignment
Low focal ratio reflector devices tend to suffer a lot more from comatic abbeartion
Can't view things on earth very well unlike the other 2 variations
Spherical optics suffer from spherical aberration resulting in a lack of focus and clarity
The collimation side of things with the SkyQuest XT4.5 will get better over time because the more you use it the more you'll understand how to align the mirrors.
Cleaning it will also be a chore but, even though it will need to be cleaned more often than a refractor or catadioptric telescope, as long you buy and keep a dust cap on, the cleaning should still be manageable.
If you want to learn how to do so properly, check out this article written on the matter.
What Do The Orion SkyQuest XT4.5's Specifications Mean?
The SkyQuest XT4. 5 has fairly decent specs for its roughly $220 price tag with an aperture of 114mm, a focal length of 900mm resulting in a focal ratio of f/7.9. This means that in terms of maximum magnification it'll let you look out into space at a roughly 228x magnification though real world use would mean the numbers will be slightly lower.
The higher focal ratio also will reduce the spherical aberration a decent amount too so the images shouldn't really come out as unclear as smaller focal ratio devices although the clarity and focus will still be average at best.
Nevertheless, at the right magnification levels the XT4.5 will allow you to observe a fair few celestial objects in good detail.
Some of these entities that the SkyQuest XT4.5 can see include :
Jupiter, it's red spot and even its cloud bands with solid detail near the max magnification
Saturn's rings and the colour of the planet at the max magnification
Mars and some of its surface details
Uranus and Neptune as blue disc like shape without any details
Nebulaes
Star clusters
Andromeda and a few other galaxies
The moon and it's craters in very good detail
The higher focal ratio also means the XT4.5 is far better for viewing planets due to the narrowerness of the lens. This also means that it's capability with wider views of the stars in the sky will be somewhat limited although this isn't really a knock on the XT4.5's optics because it should do reasonably well on both types of observations.
Having only a 4.5″ mirror, the XT4.5 is of course decently portable. This is because with a milk crate, or anything of equal height placed underneath, you should be able to get a great view using it whilst sitting down as an adult and of course it'll be a comfortable experience for children to view through when standing up too.
In regards to the XT4.5's dimensions and weight, they are of course fairly reasonable with the height only being 89cm and the weight being fairly lightweight at 8kg when fully assembled.
The dimensions of the device shouldn't be very much of problem for most either although it definitely is larger than the similarly powerful Zhumell Z114 or Lightbridge Mini 114, both of which use tabletop mounts so, if absolute probability is what you're seeking the SkyQuest XT4.5 certainly isn't our top choice.
==>Click Here To Check The Orion SkyQuest XT4.5's Pricing On Amazon!
Accessories Included In The Box?
The SkyQuest XT4.5 comes with 2 1.25″ plossl eyepieces at 25mm and 10mm, a 6×26 finderscope, a 2x Barlow lens, a cheap red flashlight, a plamisphere, a long with a few miscellaneous documents.
The eyepieces included in the box are genuinely really good for the price range and will definitely perform better than the cheaper kellner eyepieces that tend to be supplied with telescopes at this price and the 2x Barlow lens is pretty solid.
The only item that lackluster is the included finderscope as the images you'll see through it will be very dim, which is worsened further due to the erecting prism in the finderscope.
Nevertheless, as a whole, besides maybe upgrading the finderscope in order to see better lit images, the out of the box XT4.5 experience isn't half bad for the price.
As for the mount, it's of the Dobsonian design and uses a spring-tensioned mount just like the bigger variants in the XT6 or XT8.
The only significant difference between the XT4.5's mount over the other 2 is the use of a 0.5″ thick particle board as opposed to a 0.75″ thick particle board. The design of the base is also a little awkward for balancing the mount on taller surfaces however, all in all your experience with dobsonian mount should be very solid
What Are Users Of The Orion SkyQuest XT4.5 Saying
Most people who decided to invest in the SkyQuest XT4.5 did find it to be a solid beginner experience and a great place to get started although the assembly process and initial set up does appear to be a little bit of pain to deal with.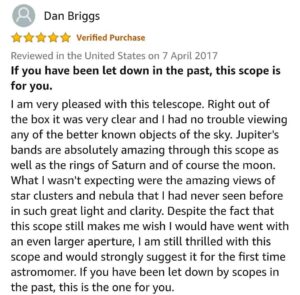 The issues for the most part are small in nature so I wouldn't worry too much about them when it comes to deciding if the XT4.5 is worth it.
Other Alternatives Worth Checking Out
The only major problems I guess you could say that the SkyQuest XT4.5 has is its choice of using the less capable spherical mirrors for the optics and it's price being a fair bit higher than other similarly powered telescopes such as the Zhumell Z114 or meade Lightbridge Mini 114. 
If you're willing to spend maybe an extra 50 – 70 bucks, you could just as easily purchase a significantly more powerful device like the SkyWatcher 6 inch for example. That being said although the XT4.5 is a great $220 – $240 telescope, it does sit in awkward limbo place in terms of pricing
Summary
From my research, besides maybe the subpar mirror design and slightly expensive costs when compared to other similarly powered telescopes, the XT4.5 does deliver well in all areas, relative to its pricing of course.
Nevertheless, if you have a bit of extra money lying around I'd definitely recommend upgrading to a SkyQuest XT6 or even the SkyWatcher 6″ however, if your budget stretches only as far as the XT4.5, I can't really say that it'll be a bad decision to purchase it.