Welcome to my Orion EON 115ED Triplet Review!
If you're in the market for an astrophotography telescope, the EON 115ED has probably popped up on your radar and now you want to see if it's worth buying right?
If so, you've come to the right place as in this review I'll be going all of the pro and cons of the 115ED to help you decide if its worth buying or a telescope you should ignore
Overview
Full Name: Orion EON 115ED Triplet
Type: Apochromatic Refractor
Aperture: 115mm
Focal length: 805mm
Focal ratio: f/7
Dimensions & Weight: 72.1 x 29.8 x 29.8 cm and 6.84kg
Included eyepieces: none
Rating: 4.5/5
Pros
Great specs for astrophotography
Apochromatic lens means you will see very crisp images
Great for normal use
A very sturdy hard case provided
Solid Crayford focuser
Cons
No eyepieces included in the box
Will need to buy a mount
Very expensive for just the OTA tube
How Do The Orion EON 115ED Triplet's Optics Work?
The EON 115ED uses refractor optics within its chassis which is the oldest of the 3 main optical variations (the other 2 being reflector and compound) but, even then it is certainly among the better telescope variations for astrophotography, which is of course the main purpose of this device.
On top of this the 115ED uses the top of the line refractor optics referred to as an apochromatic lens (APO) which in theory fixes more or less all of the visual discrepancies that plague the lower end achromatic refractor lens that cheaper telescopes tend to use. .
Furthermore, the optics within are what can be referred to as a triplet APO. This simply means it will be extremely colour accurate visuals that ultimately will result in both a superior viewing and imaging experience.
But, there is a major price discrepancy that you'll need to pay for APO triplet based devices which is the reason why just the tube that is the EON 115ED is far from cheap.
The main benefits of the optics within the 115ED include the following :
Due to an a enclosed tube being used, the optics won't need to be cleaned or collimated all the time
Refractor devices can also double as a spotting scope of sort.
The images will generally be sharper because misalignment isn't very common
The APO lens minimises the chromatic aberration that is so common within other refractor devices
The images taken with the optics will be far crisper and more colour accurate
As for a few of the cons for the optics, they include the following :
The optics do mean the 115ED will be a fair bit more expensive than other other similar sized lenses
Refractor devices aren't the best for observing faint objects
What Do The Orion EON 115ED Triplet's Specifications Mean?
The EON 115ED has an aperture of 115mm, a focal length of 805mm resulting in quite the middle of the road focal ratio of f/7. This means that the device will be great for visual use when it comes to both planetary and wider field views (although an eyepiece that's dedicated to wide field views may be necessary).
The pure power for visual use isn't the best either with a max theoretical magnification of 230x but, even with these limitations the objects you'll be able to see will still be among the more pleasing considering tame specs.
Nevertheless, these specs do mean that you should be able to see the following objects (provided you have strong enough eyepieces) :
Jupiter, it's red spot and even its cloud bands with solid detail near the max magnification.
Saturn's rings and the colour of the planet at the max magnification.
You'll be able to make out a good amount of detail on mars when it's nearest to the Earth.
Uranus, Mercury, Venus and Neptune can all also be observed although not in very much detail, specifically with Uranus and Neptune both of which will only be visible, in the best case scenario, as tiny blue disc (circle) shaped objects.
Nebulaes
Star clusters
Andromeda and a few other galaxies.
A good amount of celestial entities within the messier catalogue.
The moon and it's craters in very good detail.
In regards to the OTA tubes weight, according to the spec sheet the 115ED is far from lightweight, although I will say it's not terribly heavy either.
At 6.84kg it certainly isn't the lightest of devices and with dimensions of around 72.1 x 29.8 x 29.8 centimetres it doesn't have a small footprint either but, overall it's far more manageable than a lot of newtonian reflectors out there.
Of course with the addition of a mount the set up will be heavier but, in general when it comes to portability the OTA tube on its own shouldn't be too much of a burden to carry around and store.
Accessories Included In The Box
Accessories is one thing that a lot of astrophotography telescopes don't tend to come with. I'm talking no eyepieces and unfortunately no mount in the box either. Considering the already steep price of the OTA tube itself, you'd probably need to at the very least double your investment before you can really start taking some awesome pics.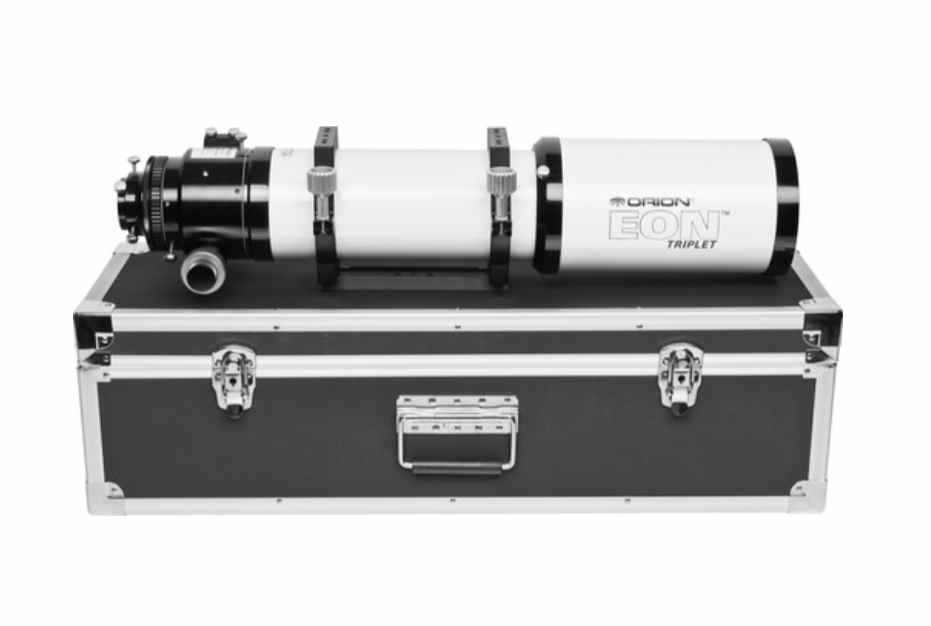 With that being said the 115ED isn't completely bare bones out of the box as you do actually get a 3″ dual-speed Crayford focuser, a hard carrying case with die-cut foam interior, Orion's Starry Night SE astronomy software digital download insert along with a few other documents. For what they're worth the inbox accessories with 115ED are actually good.
With that being said you'd likely need to invest in a mount for astrophotography like the Celestron AVX which is highly regarded but, it will set you back in the region of $1k (yep I know… it ain't cheap). On the other hand if you're looking into other mounts, the 9.7″ vixen mounting bar should allow the 115ED to pop onto a number of other ones.
You'll need to look into some eyepieces too so you can take images of planets that are further away along with a good camera setup, software for astrophotography, field flattner to minimise curvature in your images among other accessories.
So even though the tube itself is expensive already, you'd likely need to invest double if not triple that into a competent astrophotography set up if you haven't already got some of the gear.
The Orion EON 115ED Triplet's Astrophotography Ability
If you're seriously looking at the EON 115ED, the primary reason to be doing so would be because you want to get into astrophotography or upgrade your current set up right to expand your imaging capabilities.
Well, I'm sure you won't be surprised to know that the 115ED is actually a very capable device for this task when the whole set up is in place. The two hinged tube rings have threaded holes too that should allow you to hook up a number of useful astrophotography equipment which will help you to improve the photographs you take.
Below are a few pictures taken by users.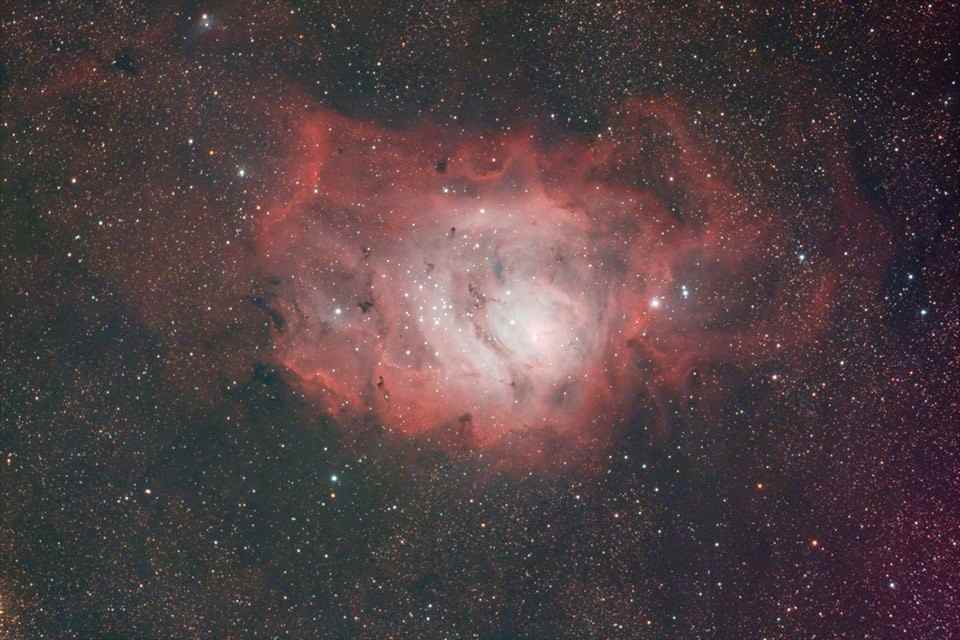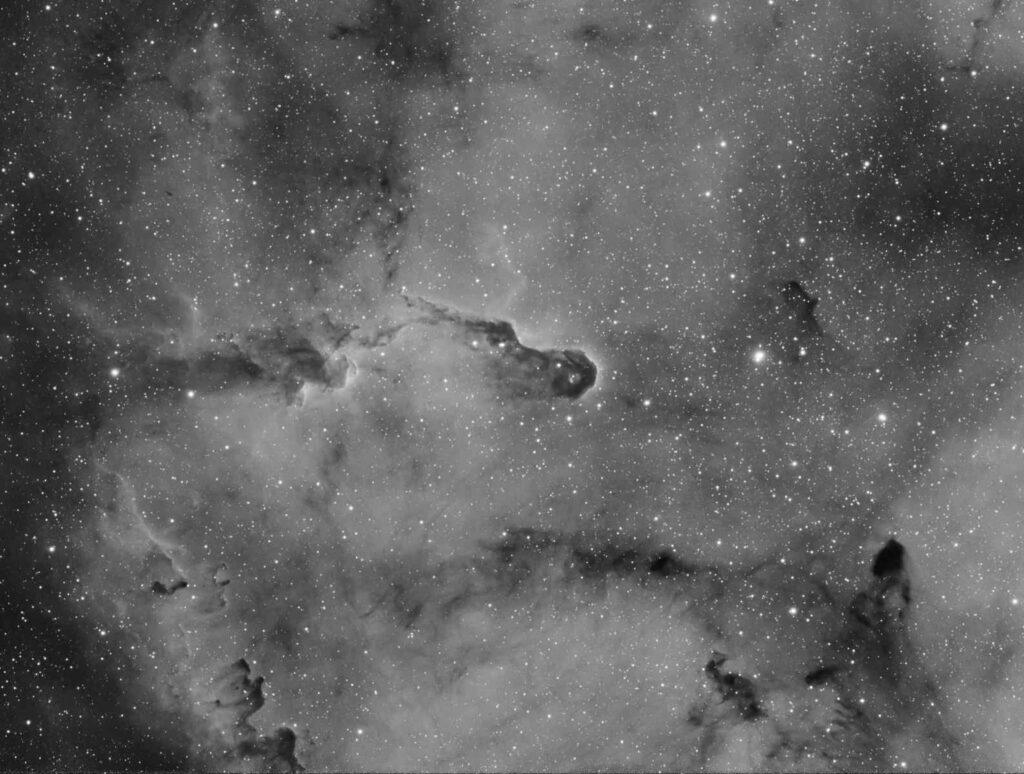 Of course a lot of the magic behind any image will be down to the image processing in the end but, provided you use a decent camera and find yourself on a great night to conduct an astrophotography session, you should find yourself on a winner with Orion's EON 115ED.
What Are Users Of The Orion EON 115ED Triplet Saying
According to users of the 115ED  the consensus on the device is overwhelming positive with the majority of users having a very pleasant experience for both visual uses and for imaging.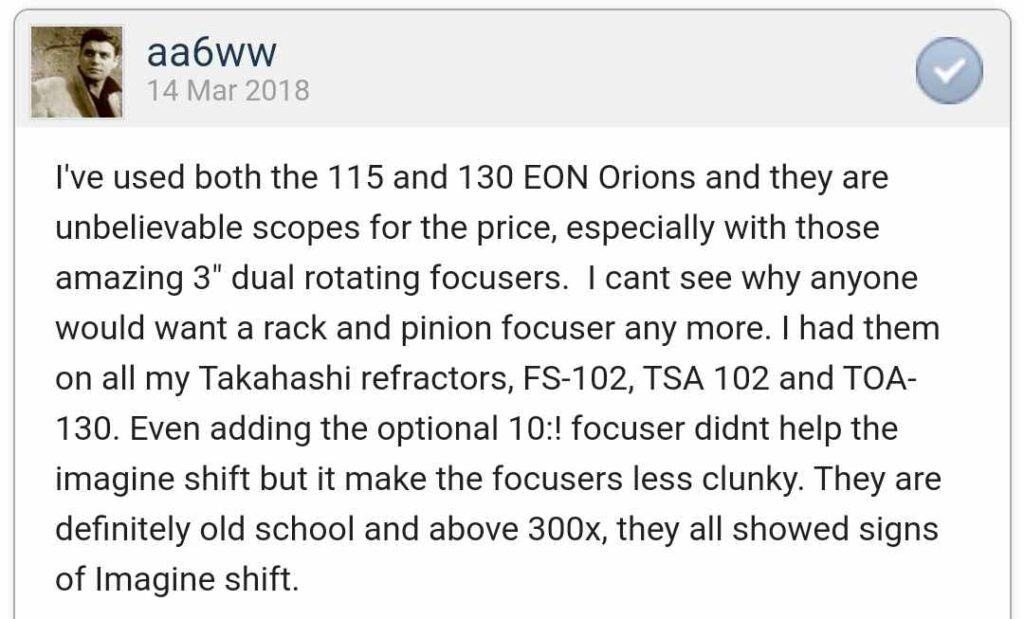 Other Alternatives Worth Checking Out
If you're looking into astrophotography and haven't yet invested in a less powerful rig than the 115ED, I'd firstly suggest doing that in order to save some money. Our list on some of the top astrophotography telescopes has a few OTA's for a more beginner level astrophotography budget (of course astrophotography isn't a very 'budget' hobby anyway).
Other than that list, I can't say that the 115ED has any better astrophotography rigs for the price out there.
Summary
Overall the Orion EON 115ED is a solid device for astrophotography even if you will need to invest in full mount, eyepiece, camera among other pieces of software just to effectively use it.
It's also quite expensive but, as I've mentioned a few times throughout this review if you're looking for a telescope primarily for astrophotography with visual usage being mostly secondary, money shouldn't really be the major reason to avoid a device.
That's why even though the 115ED is expensive and will require further investment to fully utilise, after conducting my research I do believe it's one that most newer users will be more than satisfied with.