*This post may contain affiliate links. This means we may make a commission if you purchase an item using one of our links*
Welcome to my Meade Polaris 130EQ Review!
In this review I'll cover the pros, cons and the Meade Polaris 130EQ's features to ultimately help you decide whether it's a beginner level GoTo telescope worth investing in or one that you should skip.
Overview
Full Name: Meade Polaris 130EQ
Type:  Newtonian reflector
Aperture: 130mm (5.1″)
Focal length: 650mm
Focal ratio: f/5
Dimensions & Weight: 86.4 x 86.4 x 156.7 centimetres & 12kg
Included eyepieces: 2 1.25″ kellner eyepieces at 26mm and 9mm
Rating: 3.8/5
Pros
Great beginner device
Suprisingly solid 2x Barlow lens
Reasonably priced
Cons
Mount is at its weight limit
The eyepieces are below par
Instructions are a bit complicated to understand
Regular maintenance required
How Do The Meade Polaris 130EQ's Optics Work?
Telescopes tend to come in one of 3 different optical variations with each variation having their sub categories too. These 3 optical variations are known as reflector, refractor and compound optics.
The Polaris 130EQ in this case has what can be referred to as Newtonian reflector optics within the tube which means that the mirror inside is a parabolic one. This means that in terms of focusing it'll be far better than a spherical mirror that cheaper telescopes tend to opt for.
Nevertheless, the primary pros and cons of reflector mirrors tend to be the same so I'll go over them below.
The pros of the optics found within the Polaris 130EQ include the following :
Great for viewings faint objects in the sky as all types of light can pass through the lenses (this isn't the case for a refractor)
Reflectors are generally cheaper to manufacture, resulting in cheaper telescopes.
These optics don't suffer from chromatic aberration
As for the cost, they are as such :
The optics are exposed meaning you'd need to clean them up regularly
You'll regularly need to collimate the device too as they're easy to knock out of alignment
Low focal ratio reflector devices tend to suffer a lot more from comatic aberration
Can't view things on earth very well unlike the other 2 variations
Spherical optics suffer from spherical aberration resulting in a lack of focus and clarity
Overall the basic design of the optics found within the Polaris 130EQ isn't half bad and should satisfy most beginner level astronomers.
What Do The Meade Polaris 130EQ's Specifications Mean?
The Polaris has an aperture of 130mm, a focal length of 650mm resulting in a focal ratio of f/5. This means that the telescope should be able to achieve a max magnification of around 260x. The wider focal ratio also means coma at the edges will be visible but, it will still be decent for viewing the wider expanse of space.
As for what you'll be able to see with polaris, it includes the following :
Jupiter, it's red spot and even its cloud bands with solid detail near the max magnification.
Saturn's rings and the colour of the planet at the max magnification.
You'll be able to make out a good amount of detail on mars when it's nearest to the Earth.
Uranus, Mercury, Venus and Neptune can all also be observed although not in very much detail, specifically with Uranus and Neptune both of which willl only be visible, in the best case scenario, as tiny blue disc (circle) shaped objects.
Nebulaes
Star clusters
Andromeda and a few other galaxies.
A good amount of celestial entities within the messier catalogue.
The moon and it's craters in very good detail.
As for its weight and dimensions, the device weighs in at roughly 12kg and its dimensions are at a reasonable 86.4 x 86.4 x 156.7 centimetres so, not quite portable for everyone but, it should be more than manageable for most users.
Accessories Included In The Box
The polaris comes with 2 1.25″ kellner eyepieces at focal lengths of 26mm and 9mm, an EQ-2 mount, a 2x Barlow lens and a bunch of miscallaneous documents.
That's all that comes in the box and to be honest they're hardly worth it meaning you will need to upgrade them, particularly the kellner eyepieces which are plasticy. Nevertheless they do get the job done well enough as in box accessories. The Barlow lens is also almost entirely plastic but, it appears to work reasonably well.
That being said this is one side of the telescope that I would suggest you look at upgrading (check out this list for some guidance on eyepieces or eyepiece sets to pick up).
As for the EQ-2 mount, it comes with 1.25″ steel legs which is held together by a single counterweight. Overall the polaris 130EQ's tube is literally at the limit of the mounts weight capacity which did means using a dslr camera to attempt astrophotography won't be very pleasant as the EQ-2 will be very shaky.
Then again if you're patient enough it may be possible to get a snap or two.
What Are Users Of The Meade Polaris 130EQ Saying
Users have found the polaris to be a solid device as a whole. The assembly appears to be a bit of a problem in the beginning for some along with the focusing being a problem for a few individuals however, overall the device does appear to be a fairly solid sub $200 system.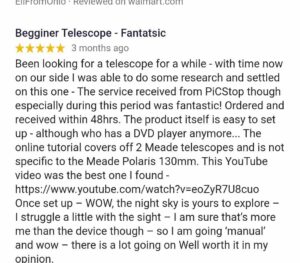 Other Alternatives Worth Checking Out
If you're on a budget and would like to keep it like that, this list comprised of some of our favourite sub $300 Telescope that may be worth checking out.
On the other hand if you're willing to spend a bit more on a device better fit for astrophotography, this list may help you make a decision.
Summary
Although there a few niggles that the polaris 130EQ displays from the complicated set up issues, the average accessories and the somewhat mediocre mount, it is still a very capable device and certainly worth checking out if you're a beginner looking to pick up astronomy.