*This post may contain affiliate links. This means we may make a commission if you purchase an item using one of our links*
Welcome to my Celestron Nexstar 4SE Review!
In this review I'll cover the pros, cons and the 4SE's features to ultimately help you decide on whether the system is worth investing in or a beginner level device that you should skip out on.
Overview
Full Name:  Celestron Nexstar 4SE
Type: Maksutov-Cassegrain
Aperture: 102mm (4″)
Focal length: 1325mm
Focal ratio: f/13
Weight & Height: 10.44kg and between 0.94m – 2.4m
Included eyepieces: 1.25″ 25mm Plossl
Rating: 3.7/5
Pros
Fairly easy to set up
Won't require a ton of maintenance
Very portable
Cons
It's a bit underpowered for the price
The booting sequence is annoying
Only 1 eyepiece provided
Sale
Celestron - NexStar 4SE Telescope - Computerized Telescope for Beginners and Advanced Users - Fully-Automated GoTo Mount - SkyAlign Technology - 40,000+ Celestial Objects - 4-Inch Primary Mirror
NEXSTAR 4SE COMPUTERIZED TELESCOPE: Celestron's iconic orange tube telescope combines 4" Maksutov-Cassegrian optics with updated technology and the latest features for an amazing stargazing experience for beginners and experienced observers alike.
4-INCH APERTURE MAKSUTOV-CASSEGRAIN TELESCOPE: 4-inch primary mirror packs enough light-gathering ability to deliver impressive views of the Moon and planets, along with deep-sky objects like the Orion Nebula, while retaining a compact form factor.
FULLY-AUTOMATED GOTO MOUNT: With a database of 40,000+ celestial objects, NexStar SE's GoTo mount locates and tracks objects for you. It's the perfect telescope for astronomy beginners. NexStar SE is also compatible with StarSense and SkyPortal WiFi.
EASY TO SET UP & USE: Assembling the telescope takes just a few minutes.Once you're set up, built-in SkyAlign technology helps you align the telescope fast. When you're done observing, the telescope breaks down into small components for easy storage.
UNBEATABLE WARRANTY & SUPPORT: Buy with confidence from Celestron, a leading telescope brand in California since 1960. Your purchase includes a 2-Year US Warranty and unlimited support from our team of US-based experts.
How Do The Celestron Nexstar 4SE's Optics Work?
All telescopes tend to have one of 3 different types of optics namely reflector, refractor and compound ones. Of course on top of this each category tends to have their own sub variation of designs.
The Celestron Nexstar 4SE in this case has compound based optics what in this case is referred to as a maksutov-cassegrain design. compound based optics tend to utilise a combination of a mirror and lens as opposed to just one or the other. This is the main difference between compounds and reflective or refractive telescopes
The difference between a base compound design and a maksutov-cassegrain design is that the Mak devices also use a corrector plate to minimise any spherical aberration that would occur as a result of the spherical lens used. This isn't to be confused with a Schmidt-Cassegrain telescope, which although similar to the Mak optics based on their inherent pros and cons, functions slightly differently (here's an article comparing the 2 designs)
That being said the maksutov-cassegrain designed usually tend to be found within cheaper telescope, which does make sense considering the Nexstar 4SE is literally the bottom tier telescope within the mid tier Nexstar SE lineup.
Regarding the pros of the optics found within The 4SE, they include the following :
Great for viewing planets
As the optics aren't exposed, maintenance is not required all too often
Are generally quite compact for their size
As for the cons, they are as such :
the light within the tube is folded one time which means that there will be a loss of some detail
Generally more expensive than similar sized reflector or refractor telescopes
Overall, the optics used by the 4SE are solid and shouldn't be too much of pain to align (due to sky align) and images viewed through the eyepiece should also be of a solid quality for celestial objects closer to you (like the moon for example).
What Do The Celestron Nexstar 4SE's Specifications Mean?
The 4SE's specs are honestly quite the mediocre with it having an aperture of 102mm (4″), a focal length of 1325mm resulting in a focal ratio of f/13.
This means that in terms of raw ability the telescope should be able to theoretically magnify upto 241x although I do believe the max power will be more around the 200x range due to the light within the orange tube being folded.
The larger focal ratio also means that the device will be solid for planetary viewing. Of course the downside is that you won't necessarily get the best views of just the wider expanse of outer space as a whole.
As for what you'll be able to see with the 4SE, they include the following :
Jupiter, it's red spot and even its cloud bands with solid detail near the max magnification
Saturn's rings and the colour of the planet at the max magnification
Mars and some of its surface details
Uranus and Neptune as blue disc like shape without any details (at around peak magnification as well)
Nebulaes
Star clusters
Andromeda and a few other galaxies
The moon and it's craters in very good detail
Overall, the details will be limited when using the 4SE but, it should perform well enough for the completely new astronomer.
Now regarding the weight and height potential of the device, the tube comes in at a very light weight 2.7kg with the mount and tripod probably adding an extra 7.74kg on top. As for how tall the tripod and mount combination can become, it's between 0.94m – 2.4m so it should be useable for most individuals.
The portability side of the Nexstar 4SE honestly isn't much of surprise considering it's aperture nevertheless, if that's one of your primary motives when it comes to purchasing a telescope, the 4SE is a great option to look at.
Accessories Included In The Box?
The Nexstar comes with a bunch of accessories in the box which includes a 1.25″ 25mm plossl eyepiece, a start pointer red. dot finderscope, the computerised mount with a controller, an accessory tray and bunch of other miscellaneous documents.
Although the eyepiece is decent here, the fact you only get one which barley allows use the 4SE's power does mean you will need to invest other eyepieces (here's a list of some of our best eyepiece options). The other accessories seem to decent as well.
The Celestron Nexstar 4SE's Computerised Mount
The mount used by the Nexstar 4SE is a Altitude-Azimuth Single Fork Arm computerised mount that's motorised and has a database of over 40k celestial objects within. However, the limited power of the 4SE does mean that most objects will be dime to be viewed so, for the most part the large number of objects within the database is a gimmick.
The mount as whole does work and due to the 4SE using the vixen dovetail you could also change the mount if you want.
Regarding all the other features whether it be the Sky align for feature for alignment and the setting up process, from what I've researched it appears to suffer from the same annoying process of having to put the time, date and align it everytime you turn it back on.
This also seems to be the case for all the other mounts within the SE line up and honestly is quite a pain in the ass. Furthermore, the lack of GPS also means you'll need to either invest A GPS tracker use their designated app to accurately display your location.
Furthermore, it will require the use of 12 AA batteries or a 12 volt power supply.
As a whole though, the mount does work and should be more than usable despite some of it annoyances. A
What Are Users Of The Celestron Nexstar 4SE's Saying?
The general outlook on the Nexstar 4SE comes as positive amongst the users and it is regarded as a solid beginner level telescope and does even snap some decent astrophotography pics.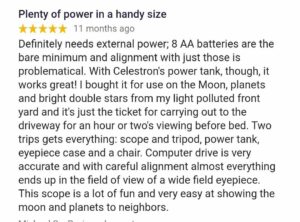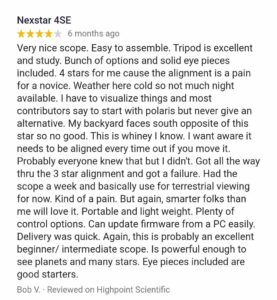 That being said it's still very pricey for the specs it delivers being at $500 range at this moment in time, which totally does not make it the best choice even if it does work well.
Other Alternatives Worth Checking Out
For that $500 price or even less you can find a bunch of solid and powerful devices although generally the computerised nature of the mount will be compromised.
Some great non computerised options to look into are the Zhumell z8, the SkyWatcher Dobsonian 8 inch or the skyquest xt8.
In regards to the computerised market maybe the 6SE might be worth it or you can check out some of our best rated computerised system on this list.
Summary
The Celestron Nexstar 4SE is nice small telescope to use and even though it is some what limited in viewing further objects in space it can be quite worthwhile for a beginner level astronomer.
That being said, being around $500 does not necessarily make it the best value telescope either so, if you're still sold on this orange system, it's far from the worst choice you could make.