*This post may contain affiliate links. This means we may make a commission if you purchase an item using one of our links*
Welcome to my Celestron AstroFi 102 Review!
In this review I'll cover the pros, cons and the Celestron AstroFi 102's features to ultimately help you decide on whether the system is worth investing in or a beginner level device that you should skip out on.
Overview
Full Name: Celestron AstroFi 102
Type: Maksutov-cassegrain
Aperture: 102mm
Focal length: 1325mm
Focal ratio: f/13
Dimensions & Weight: OTA tube (38.1cm length and 11.7 cm diameter) Tripod (0.86 – 1.37m) weight (7.25kg in total)
Included eyepieces: 1.25″ kellner eyepieces at 25mm and 10mm
Rating: 3/5
Pros
Uses an enclosed shell
solid build quality
great optics
Portable and lightweight
Cons
Hard to get the device set up and aligned
The WiFi when connecting your device gets disconnected a lot
not very beginner friendly
The eyepieces are mediocre
Can only move the mount when it's linked to the app
Sale
Celestron Astro Fi 102 Wi-Fi Maksutov Wireless Reflecting Telescope, Black (22202)
102 millimeter Maksutov Cassegrain with fully coated glass optics
Control your telescope via integrated WiFi using the free Celestron SkyPortal app for iPhone, iPad, and Android devices
Observe in no time with a quick and easy, no tool setup
Accessories include: two eyepieces (25mm and 10mm), star diagonal, finderscope, and a NEW integrated smartphone adapter
Adjustable height tripod includes an accessory tray
How Do The Celestron AstroFi 102's Optics Work?
The AstroFi 102 uses catadioptric optics within its chassis, which in simple terms is mix of a refractors glass elements and a reflector telescopes mirrors. This in turn means the optics within the AstroFi will be able to provide the positive elements of both optical variations whilst also retaining a far more compact body as a result of how the optics are laid out within the telescope's chassis.
In particular the AstroFi uses a catadioptric/compound optical variation referred to as Maksutov-cassegrain optics. This in and of itself is a sub variation of cassegrain optics and is often placed in a similar boat to a Schmidt-Cassegrain telescopes, although both of them do differ ever so slightly (this article goes into more depth on that).
Nevertheless, as a whole compound telescopes tend to have very similar pros and cons, especially in the sub $1000 price range so I'll list what they are for you below.
The Pros of Maksutov-cassegrain optics are as follows
Great for viewing planets
As the optics aren't exposed, maintenance is not required all too often
Are generally quite compact for their size
As for the cons they include the following :
the light within the tube is folded one time which means that there will be a loss of some detail
Generally more expensive than similar sized reflector or refractor telescopes
The thicker glass used means it does take a bit longer for the device to achieve optimal temperature (this is also an issue when users want to take photos).
Users of the device have found the quality of the optics and ultimately visuals through the AstroFi to be excellent however, one major concern has to do with the difficulty of aligning the optics. Of course I'll get into that in more detail further on in this review.
What Do The Celestron AstroFi 102's Specifications Mean?
Celestron's AstroFi 102 has an aperture at 102mm, a focal length of 1325mm resulting in a very narrow a wide focal ratio of f/13, which is what generally separates a Mak telescope from others.
Having a narrow focal ratio does mean that the AstroFi will be very good for planetary viewing whilst the aperture means the it'll be able to achieve a max magnification of around 241x although real world use will be 10 – 20% less due to how blurry the visuals will get at the upper end of its capabilities.
Nevertheless, even with that hit in max performance, you should still be able to view and even take pictures of the following celestial entities:
The moon and its craters in great detail
Jupiter, Venus, Saturn and Mars should look pretty great through the scope and fairly easy to locate.
Uranus and Neptune might barely be viewable at the max magnification that the AstroFi 102 can handle.
Galaxies, nebulae, star clusters and large parts of the messier should be viewable although there may be issues showing accurate colors with some stars.
Portability is one of the AstroFi's strongest features, which of course is further amplified by it using Mak optics. As a result the overall size of the OTA tube is quite small with it being 38.1cm in length whilst its diameter is 11.7cm. As a whole it's definitely very short and shouldn't cause too much of an issue when you're looking to store it
At a weight of 2kg the OTA tube is also very light. The total weight of the mount and tripod kit comes in at 7.25kg whilst the tripods height can be adjusted between 0.86 – 1.37m so, it has a fair bit of versatility here too.
If portability is a make or break feature, you'd probably be very happy to know that the entire AstroFi 102 kit will be very much to your liking. Let me put it this way, I'd be very surprised if an adult or even a child somehow broke their back carrying this telescope kit around.
Accessories Included In The Box
Celestron's AstroFi comes with 1.25″ kellner eyepieces at focal lengths of 25mm and 10mm, a 1.25″ star diagonal, a red dot finderscope, a computerized Altitude-Azimuth single fork arm mount, a tripod along with a bunch of documents to show how to work the device.
The eyepieces used will provide solid magnification at 53x for the 25mm and 132.5x for the 10mm but, the material used for the kellner eyepieces aren't great considering its plastic. Therefore upgrading to some higher quality eyepieces may be necessary later down the line (here's a list showcasing our best eyepiece picks). As for all the other accessories, they'll provide solid enough out of the box experience.
The Celestron AstroFi 102's Computerized Mount
One of the AstroFi 102's selling features has to with its app controlled mount however, this feature is also one that a large majority of users have had issues with. The issues are more prominent on android phones as the WiFi connection is terrible and considering the mount does require your phone to move it, this issue can really become major down the road.
However, if you are able to connect to the mount properly, the app does provide a lot of benefits such as over 100k objects within the database that you can automatically guide your device to. You can even use an Xbox gamepad to allow for a more accurate positioning and slewing of the device by using the gamepads analogue stick.
This mount is also battery powered so you'd need to purchase either batteries or look into a 12v power supply (here's a list of our favorite power tanks to invest in).
In short the optics provided by AstroFi are great but, the consistent issue with the WiFi connection constantly dropping and in turn the difficulty of aligning the optics will be a major deal breaker for most. Some have stated that by selecting the telescopes WiFi first before connecting to the app may help or by stopping automatic WiFi on the app, then again this isn't guaranteed and users will need to test this method out just to see if it will work.
Aligning the optics can also be done with more ease if you manually adjust the optics pointing the scope at 3 known stars, a moon and planets. This sounds difficult but, if you follow a tutorial on YouTube you should be able to get past this issue too.
With all that being said, the inconsistency of the WiFi connection is one reason why I'd advise you to think twice before investing in the AstroFi. This is because even if it is an excellent device when everything works out, the issues it has when it doesn't may want to make you pull your hair out in frustration.
Furthermore, besides just the app the entire setting up process is long winded and not very well documented in the guides so once again, just like a good portion of individuals who have purchased this device, you might never even get the AstroFi to work.
Now if you could somehow swap out the inbox mount for a more traditional one, I don't see why the AstroFi wouldn't be brilliant for you. Then again why invest in the AstroFi if you have to go through all this hassle right!?
What Are Users Of The Celestron AstroFi 102 Saying
For those who managed to make the AstroFi work for them, the device was very well received, that being said for those who couldn't make it work, they had a terrible experience (as expected). Furthermore, the whole set up process is just not very beginner friendly with a good portion of the getting started guides not being all that great to follow.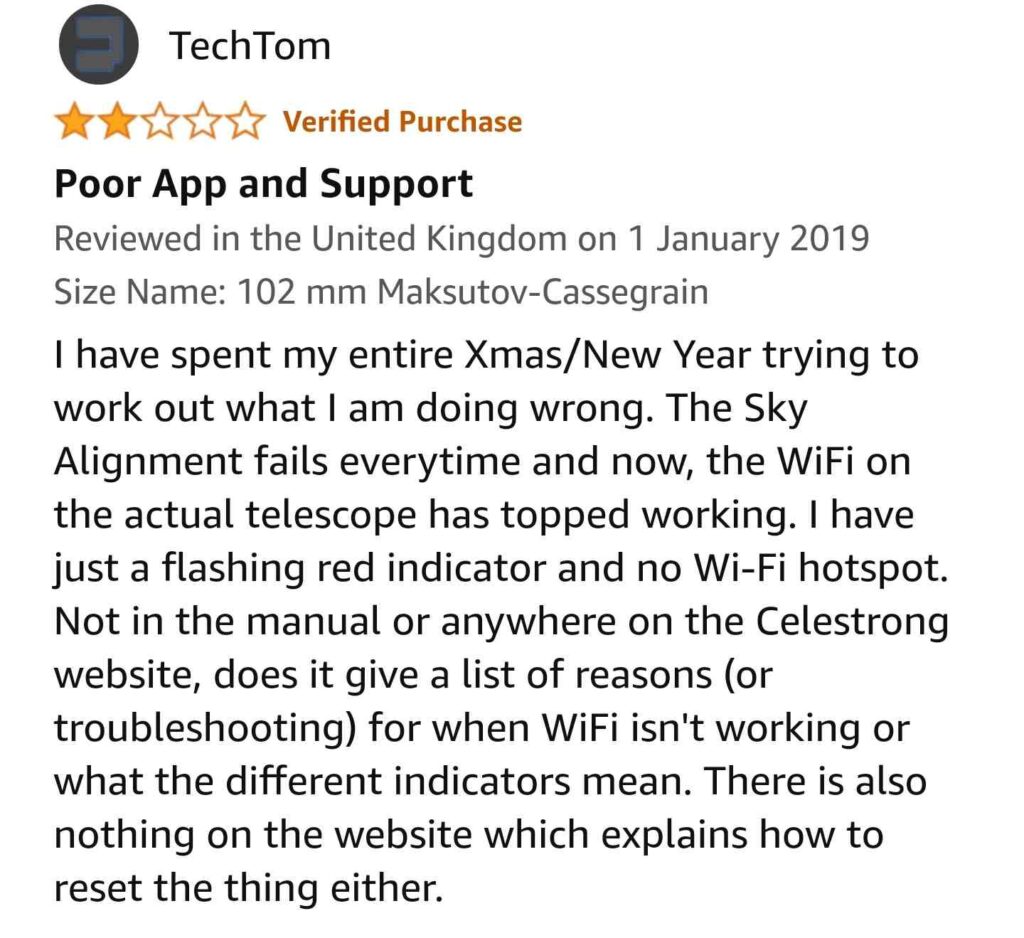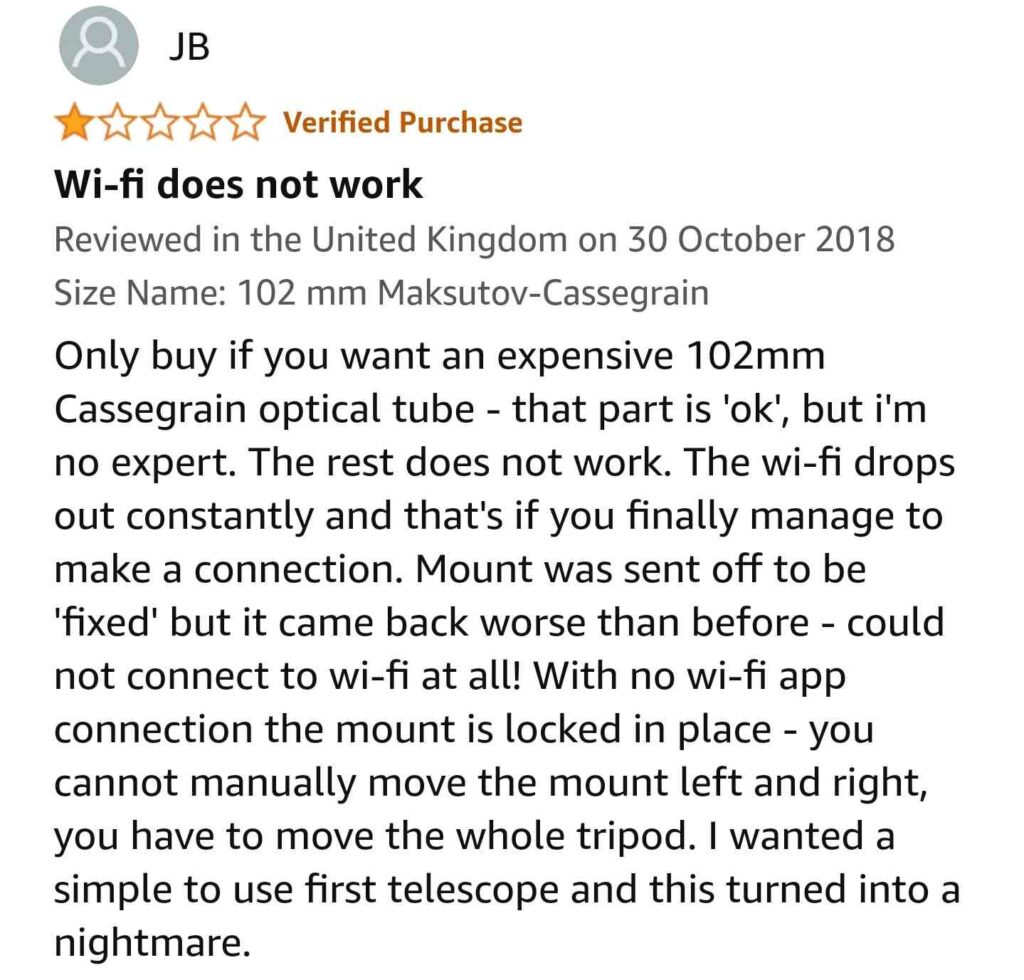 So yeah, unless you like taking risks as a newbie astronomer or just want to check out this device despite the risks, much like the majority of AstroFi 102 users, you probably won't enjoy trying to get it to work.
Other Alternatives Worth Checking Out
There are a variety of computerized telescopes you could look into if you're serious about getting into astronomy and this is a list of some of our favorites.
Celestron Nexstar SLT line is a great starter computerized lineup to look into like the 90SLT or the more premium 127SLT. if you just want the best bang for your buck the skyquest xt6 is also a great option or if want to look into other telescopes more suited for planetary viewing then this list may help you out a little.
Although, the AstroFi's optics are solid when everything is working, due to the other hassles it brings along with it, I and many others would probably advise you to look elsewhere just so you don't lose your mind trying to fix this mess of a device.
Summary
Overall The AstroFi 102 can be a great telescope when it everything is set up and working but, the unfortunate crux of this device is the fact it's very difficult to get it to work without the WiFi constantly cutting off.
That's the reason why I personally would not recommend investing in the AstroFi despite the great prices you can find it at as honestly it'll be too much of headache to get it to work whether you're a beginner or even to some degree a veteran of this space.
Sale
Celestron Astro Fi 102 Wi-Fi Maksutov Wireless Reflecting Telescope, Black (22202)
102 millimeter Maksutov Cassegrain with fully coated glass optics
Control your telescope via integrated WiFi using the free Celestron SkyPortal app for iPhone, iPad, and Android devices
Observe in no time with a quick and easy, no tool setup
Accessories include: two eyepieces (25mm and 10mm), star diagonal, finderscope, and a NEW integrated smartphone adapter
Adjustable height tripod includes an accessory tray