*This post may contain affiliate links. This means we may make a commission if you purchase an item using one of our links*
Since the beginning of time, humankind have always been curious creatures, we figured out how to create fire from nothing, created and destroyed kingdoms and even gone so far as to stand atop the Moon.
Since we figured out there was more to the universe than what we see right in front of us, countless mechanisms have been created just to explore the endlessness of space.
The universe is infinite with the wonders within it equally as infinite and beautiful. Which is why it is the most amazing that with the right tech you and I can very easily locate extraordinary deep space objects within the comfort of your own room.
A normal non computerized telescope can be a very good tool for seeing objects in space however, without any guidance to point them in the right direction, most struggle to locate planets and deep space objects they want to see.
So, if you're someone who wants to be able to see more than just the moon out of the box, I've comprised a list of some of the best computerized telescopes that I could find so, you can just put in a few digits and instantly lock onto the swan nebulae or Hercules clusters without having to fiddle and move your tube around a ton to find it.
This list is made for the sole purpose of helping you make an informed purchasing decision therefore, I really do hope that it does help you out.
In A Hurry? Check Out Our 3 Best Picks Below!
Name
Editor's Choice
Celestron Nexstar 6SE
Most Affordable
Celestron Nexstar 130SLT
Most Powerful
Skywatcher 300 SynScan
Image
What Is A Computerized Telescope?
A computurized telescope is like a normal telescope with a few extra tech additions, this includes a GPS and a computurized software that allows you to track objects without needing a star navigation map or through manual tracking to see a celestial object you're interested in.
These scopes are split into 2 different variants, Motorized and Non-motorized. A Motorized scope is one that has a GoTo mount attached to it which are mounts that are fork driven with a double fork drive or a single fork drive which can also allow it to be equatorial.
So in essence, what a Motorized system does, paired with GPS and a computer, is track a celestial object automatically without you needing to manually move it whilst observing.
A non Motorized on the other hand requires you to manually position the scope after the computer has provided you with the instructions. This obviously means that a bit of work is required on your part, which could be a pain considering how you've paid for a computer to help you out.
One negative to Computerized scopes is that they do run on battery so expect to charge or change the batteries quite regularly if you're planning on using one of these scopes a lot.
1. Sky-Watcher 12″ GoTo Collapsible Dobsonian Telescope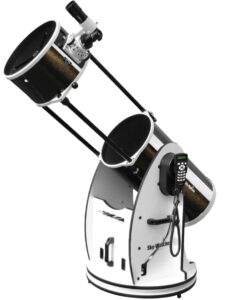 The SkyWatcher 12″ Collapsible is definitely a very big device, weighing in at around 30 – 40kg according to amazon but, the optics and of course the computerized aspect of it, it's a scope that'll definitely be worth the price if you invest the money.
The aperture of the system is 12″ which roughly translates to 303mm, a focal length of 1500mm and a focal ratio of f/4.9, the initial view that you'll have through the scope will be very wide but also very detailed, which is something I'm sure you'd appreciate from the Sky-Watcher 12″.
The mount used for the scope is a motorised GoTo mount which will point the scope to wherever you want it to as long as it pertains to the database of 42, 900+ objects. The mount also comes with a dual encoder design which will allow you to move the telescope manually if that's what you want to do without needing to constantly realign the scope.
This means using the Sky-Watcher 12 manually or through the motorised mount isn't going to cause too many collimation issues.
Within the box you'll be provided with 2 4-element Plossl eyepieces at the 25mm (60x) and a 10mm (150x) sizes.
These magnification are obviously great for an out of box experience but, when you consider the maximum theoretical magnification of the system being roughly 596x, there's potential for a lot more if you decide to get smaller eyepieces or purchase a Barlow lens.
Nevertheless with the eyepieces out of the box, you should have no problem viewing the moon at a very high details, see essentially all the planets within our solar system with good detail as well as view other deep space objects like Nebulae, Star Clusters, Galaxies.
The other accessory included within the box is a 2" single-speed Crayford-style focuser with 1.25" adaptor.
Being a collapsible device, the Sky-Watcher is actually reasonably portable when taken apart into two pieces. With its patented truss tube design, it can easily be put back together in very short periods of time.
All in all the 303mm lens is going to be a very solid reason to pick this scope up over other scopes and the fairly large database of celestial objects even make it easy for beginners to gaze at many beautiful and wondrous objects in space.
However, the size of the scope and the price of it too, being around $2k – $2.5k does mean you'd need to be willing to stretch the wallet quite a bit in order to afford it but, if you do, I'm sure you won't be disappointed.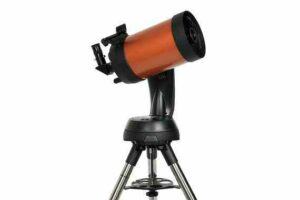 The Nexstar 6SE is a very popular device among astronomers and is generally the middle ground for individuals looking to get into astronomy due to its smaller frame and solid optics. This device will set you back around $800 – $1000 so it's more affordable than the skywatcher 12″ but it's still relatively expensive.
6SE uses a Schmidt-Cassegrain design for its scope which means that it's basically a mix between a refractor and reflector scope but, without any of the major inherent problems such as a high maintenance from a reflective scope or the chromatic aberration from a refractor.
This means that the 6SE will be a very competent scope and the design itself also allows for no loss of focal length with the compact design of the tube that t has.
The specs for the 6SE are 150mm for the aperture, 1500mm focal length which means the focal ratio stands at f/10.
The high focal ratio simply means that the magnification that can be achieved through eyepieces and Barlow lenses will be higher whilst the 150mm (although 4 times weaker at gathering light than the skywatcher 12) will still allow for a maximum theoretical magnification of 354x.
This is of course very solid, once again, when you consider the telescopes portability.
In the box you'll only be provided with a 25mm plossl eyepiece which will give you 60x magnification but, buying a better eyepiece shouldn't cost too much anyways so, this isn't a very big concern. The other accessories included in the box are a red dot StarPointer finderscope, visual back and a mirror star diagonal.
The mount used for this scope is also a motorised GoTo mount which is fully automated with 40k+ objects within it as well as celestrons skyalign procedure which makes collimating the scope very easy. There's also a built-in wedge to polar align NexStar SE for images through a DSLR camera if you're looking to take some images with the scope as well.
People who've used the scope have said that it's great telescope but, the initial startup and figuring out how to use the software isn't very well done by Celestron.
The out of the box experience means that at best you'll be getting pretty good details of the moon and maybe a few sightings of nebulaes and closer planets (with upgrades Jupiter will look great) and the deep space objects but, all in all it is a solid package and has many positives going for it if you're looking for a balanced telescope.
3. Celestron NexStar 130SLT Computerized Telescope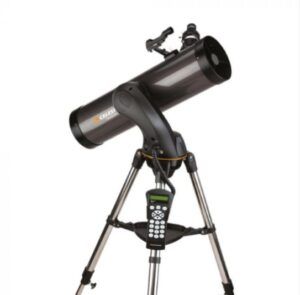 The Nexstar 130SLT is a significantly more affordable (costing $350 – $500) variant than the Nexstar 6SE (being the entry level level nexstar product line and all) without compromising too much in the sense of power although the 130mm lens does mean that it's a fair bit weaker.
The specs of the 130SLT are a 130mm aperture, 650mm focal length, which means that the focal ratio is at f/5. As the system is also a reflector scope, this does mean you'll need to maintain the optics on regular basis as they are exposed.
The accessories included in the box are 2 eyepieces at 25mm (26x) and 9mm (72x), which most customers claim to not be all that great and should be upgraded if you're looking for a more clear and contrasted viewing experience but, with it you'll be able to see Jupiter and its moons as dots and white galaxies as smudges but, the start clusters will look awesome.
Of course once you reach the maximum magnification of the 295x, the views of the singular entities will be significantly more clearer and detailed, allowing for a more pleasing experience.
In the box you'll also get a Star Pointer, Handset Holder, The Sky Astronomy Software, A user manual and of course the Motorised Altazimuth Mount with a NexStar Handcontroller
The GoTo mount of course is going to be the main selling point for this device and from the experiences through customers, the mount is automatically able to locate 4,000+ objects. Clearly this data base is significantly smaller than the other scopes but, 4k+ along with the bonus database of 10k objects isn't anything to complain about
The alignment process of the mount requires you to point the scope at the 3 different objects in space to align the scope. This may take a few tries but when set up, pointing to other stars and clusters shouldn't be a problem.
The dimensions and weight of the scope is another thing that may sway you towards getting this scope. Weighing in at 8.16kg with dimensions at 71.1 x 30.5 x 20.3 cm, it's not necessarily the smallest thing around but it's definitely more than possible to carry it around in a carry-on bag if you're travelling.
All in all, the biggest complaints with the scope are that the eyepieces are a little too cheap out of the box, this is easily fixable if you purchase new ones and the battery consumption of the systems means the longevity of the GoTo motor is very poor. Besides these points, the Nexstar 130SLT is a solid entry level GoTo mount scope.
4. Celestron CPC Deluxe 1100 HD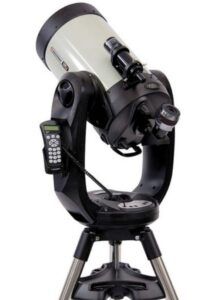 The Computerized scope is yet another system made by Celestron and it's among the most expensive on this list, setting you back $3.5k to $4.5k but, it's also amongst the most powerful an efficient systems on this list, which definitely does make it a device to consider.
The aperture of the lens is 280mm, a focal length of 2800mm which means you'll be left with a focal ration of f/10. This of course means that the magnification displayed by the lens when using the same eyepieces as other telescopes will translate to be much higher. As for the max magnification, it stands at 551x.
The tube used is a EdgeHD optical system which is Celestron's proprietary and premium optical system for their scopes. The benefits to this design is that it corrects both coma and field curvature, resulting in aberration-free images even when using the widest of eyepieces.
The eyepiece that's included in the box is a 23mm(121x), DC cigarette-lighter style adapter, a tripod, a 2″ mirror diagonal, a 9×50 straight-through (inverted image) finderscope.
The mount that's included is a GoTo mount which uses dual fork arm mount anchors for precise automated tracking but it's definitely on the heavier side weighing in at around 20kg.
The telescope as a whole actually weighs around 40kg, which definitely isn't light but, it's certainly manageable due to the carrying handles that are included. You're also provided with their SkyQ Link 2 Wi-Fi Module  where you can control your scope with a phone or tablet.
This is obviously helpful and more efficient, when set up, than a remote control so it's definitely a nice addition.
The CPC 1100 is also a great piece of kit for astrophotography. This means as long as you have a nice camera set up, and decide to invest in a wedge mount, you should be able to take some really nice detailed pics.
The biggest cons to the system are of course the expensive price, the issues that you could have with the somewhat complicated collimation process in the beginning and the inherent power hungry nature of the scope but, all in all the design and relative lightweight compactness, despite the power, make it a very proficient telescope and one worth looking into if you're after the top end computerised scopes.
5. Orion SkyQuest XT8g
The Orion XT8g is a system with a 203mm aperture lens, a focal length of 1200mm making a focal ratio of f/5.9, the XT8g has very solid specs. When you factor in the price tag, which is only around $900 – $1300 for the specs you get and of course the GoTo computerised mount, the skyquest is a value packed device
The accessories in the box includes a DeepView 28mm (42x) and plossl 12.5mm (96x), an EZ Finder II, 2″ dual-speed Crayford and a database of over 42k data of objects to view through the DC Servo motors with encoders GoTo mount.
In terms of the max magnification with the SkyQuest, you'll be able to see at 400x which means you'll be able to see jupiter, star clusters and other faint celestial objects like the Orion nebulae and the hercules clusters at a very detailed and mesmerising level when looked through with a powerful eyepiece.
The biggest advantages to this scope are the motorised GoTo mount and the size of the lens that you get for the money with it. However, there are still a few setbacks to the mount, one such example is that the motorised aspect of the scope when it comes to turning it, is slow and a little whiny according to a user.
The other issues, which are also the biggest issues with the system is the stupidly designed one sided handle which will make moving the skyquest a pain in the butt considering the device is 24kg and the heavy battery consumption is going to be a problem too. In this case, it's pretty much a necessity that you buy a 12v power supply, especially if you're planning on heavily using the scope.
Being a reflector scope also means you've got to clean and maintain the optics regularly as they're exposed.
Nevertheless, it's a powerful computerised scope with a decently powerful GoTo mount to boot therefore, making it a very good device for anyone looking for a powerful computerised system at a reasonable price.
6. Celestron 22050 LCM 60 Computerised Refractor Telescope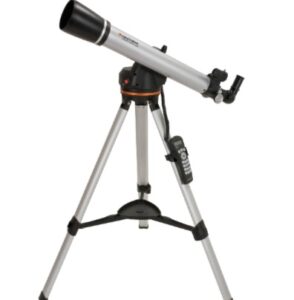 This celestron scope is among the more budget oriented scopes on this list with a pretty small 60mm aperture for the lens with a focal length of 700mm which results in a focal ration of f/11.7.
The device is a refractor, which tends to have this major problem of chromatic aberration but, the focal ratio and the focal length of the LCM 60 will reduce this issue exponentially so you shouldn't worry too much about it.
Nevertheless, there's no denying the lack of power presented by the Celestron LCM 60, only allowing a max magnification of118x, which is abysmal when compared to the other scopes but, the addition of the computerised mount and the lower maintenance and in general, more sturdy design are great reasons to pick it up.
The accessories included in the box are 2 eyepieces at 25mm (28x) and 9mm (78x), a SarPointer red dot finderscope, erect image diagonal, and free Starry Night astronomy software. You'll also get celestron's sky align technology which makes collimating the scope in the beginning easier whilst the refractor design does mean it won't need realigning all the time too.
The LCM is definitely amongst the cheapest computerized scopes on the market being around $250 – $300, which does mean that you may deal with issues figuring out the computerised aspect of the scope, even with the quick start manual.
The power of the scope also is super low especially when you consider there are non computerised scopes out there with 4 – 5x the light gathering potential at the same price.
Nevertheless, if you're still interested in a low maintenance and very portable computerised telescope, the LCM 60 or even the slightly more powerful LCM 80 are worth looking into.
7. Celestron AstroFi 130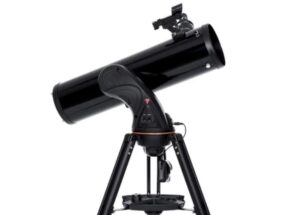 This scope is going to set you back around $450 – $500, putting it the midst of an entry level computerised scope that also has a motorised alt – azimuth mount.
The specs of the scope are 130mm for the aperture and 650mm focal length. This means the focal length for the system will be at f/5. Because the AstroFi 130 is a reflector and also has a low focal length, it's a scope that will need realigning quite a lot however, Celestron's Sky Align technology makes collimating your scope pretty easy so this issue shouldn't be too bothersome.
How the sky align works is by centring any three bright objects in the eyepiece and after this Astro Fi's computer will calibrate to the night sky. This'll essentially set everything ip for you and you should be ready to start locating thousands of celestial objects stored in its database.
One of the main selling features of AstroFi is the modern advancements it displays. You're able to connect your phone or tablet to it, in turn using the smart device as the remote that controls the locating of planets, star clusters and what not, with the GoTo mount obviously rotating automatically to where you want the AstroFi to point.
As for the other accessories included in the box, you'll get a red dot Star Pointer finder scope, 2 Kellner eyepieces at 25mm (26x) and 10mm(65x), mirror star diagonal and a battery pack.
As for the maximum theoretical useable magnification with the AstroFi 130, that's going to be at 256x, which isn't the highest on this list but, it does still mean that you'll  be able to see jupiter with some good detail along with its moons, Saturn's rings and even see many star clusters and nebulae through the lens.
The biggest issues with this scope will be the reasonably high maintenance due to it being a reflector scope, the battery life is unlikely to be all that great and the collimation process, even with the skyalign software will prove to be difficult for users to set up initially.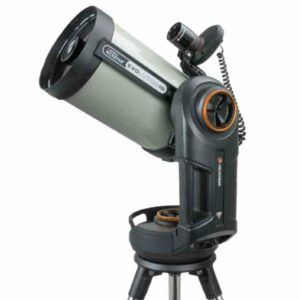 This is a scope that will set you back around $1.5k – $1.9k meaning it's a piece of kit that I would only recommend to people who are serious about astronomy. Of course that applies to the majority of the telescopes on this list.
The nexstar evolution uses a 203mm aperture lens, 1500mm focal length resulting in a focal ratio of f/7.4. The size of its lens means that you'll be able to see a maximum theoretically use able magnification of 480x which makes it a very solid system for stargazing. Then again it only makes sense considering the price point.
The accessories included in the evolution 8's box includes a stainless steel tripod a single Fork Arm Altazimuth GoTo mount that has a rechargeable battery of up to 10 hours of runtime. This rechargeable battery is primarily why the evolution is so much more expensive than just the plain old nexstar SE line, that require you to carry around 12v batteries to charge up.
The charging time for a full battery is around 4 to 8 hours (until the light stops blinking). The other accessories include two Plossl eyepieces at 40mm (50x) and 13mm (153x) of reasonably high quality,
Overall people find this scope to be very good, the aligning process is fairly short, the ability to dissemble the system into 3 pieces makes it fairly easy to carry around and of course it's database objects in the automated and motorised GoTo mount, the lens and the rechargeable batteries make it a very solid pick as a computerised telescope.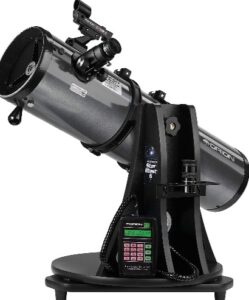 This scope will set you back around $420 – $550 so it's a more entry level computerised scope however, this doesn't means it's not a good piece of kit and unworthy of being bought.
The aperture of this lens is 152mm, the focal length is 750mm which equates to focal ratio of f/5. The aperture also means that the maximum theoretical magnification that's useable is 300x.
The accessories included in the box are a IntelliScope Computerized Object Locato that's capable of locating 14k+ celestial objects , 25mm (30x) and 10mm (75x)Sirius Plossl 1.25″ telescope eyepieces, EZ Finder II aiming device, eyepiece rack, Starry Night software, a user manual and few other less important accessories.
All in all, this system seems to be well received by users saying the set up process is relatively easy due to the well presented manual and the views you can see through the eyepiece, with the moon looking especially detailed however, the tracking system doesn't seem to be the greatest according to a user so that's something to note before taking the plunge.
Then again the system is an entry to intermediate level scope so expecting the highest quality experience with it is asking for too much. Of course this doesn't mean the StarBlast won't be a pleasant experience but, you definitely shouldn't expect it to perform at the same level as the higher level models in this list.
10. Orion SkyQuest XX12g GoTo Truss Tube Dobsonian Telescope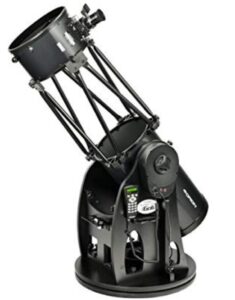 Skyquest XX12g is a very high end GoTo telescope by Orion with high end specs and all sorts for a system worth around $2000 – $2200.
The specs of the system are a 305mm aperture, 1500mm focal length with a focal ratio of f/4.9. What this means in simple terms is that the telescope is a very powerful, of course it's not the most powerful device in the list but it's definitely up there
The really large lens means that the scope can achieve a maximum theoretical magnification of 610x. Through it you'll be able to get very detailed and crisp observations of saturn, jupiter and it's 3 moons, uranus, Mars and pretty much all the planets in the solar system, nebulae and galaxies will look crisp through the lens and faint galaxies from dark sites (like Abells, Arps, Hicksons etc) will also be nicely visible through the scope.
In short the XX12g is a very powerful device that will be able to view more or less anything you point the device provided you're in the best environment for star gazing (minimal light pollution) and have some higher end eyepiece and accessories.
The GoTo mount is fully automated and motorised so it's convenient for finding any of the deep space objects found within its database of 42,000 celestial objects. Locating the hercules clusters, andromeda galaxy, the messier or any planet in the solar system should be easy enough and with the automated aspect of it, locking onto the celestial objects will be even easier still.
As for the accessories included in the box, you'll get 2 eyepieces which are a DeepView 28.0mm(54x) (2″),Plossl 12.5mm(120x) (1.25″), a Cooling accelerator fan included, 2″ Dual-speed Crayford focuser w/ 1.25″ adapter and a EZ Finder II.
The deepview eyepiece is wide angle so it'll be great for capturing some great wide Astro shots if you're into that but, it's also relatively weak too so, you may want to think about a 3x Barlow lens or a more powerful eyepieces to get the maximum ability with XX12g.
The biggest downside to the XX12g I guess you could say is the heft of it. It weighs in at over 50kg and stands at a beastly 6ft making it a monstrous device to move around but, that's just the price you have to pay for the power.
In general individuals who've purchased the device and used it with multiple different eyepieces have found it to be absolutely amazing, in fact they even found the collimation and just the set up in general to be super easy. Then again that's the least you should expect from a system worth $2k.
The skyquest XX12g is a very solid computerised telescope and GoTo scope that worth looking into if you're in the market for a top of the line system.
Conclusion
Hopefully this list has helped you find a computerised telescope that fits your needs, whether it be an extremely powerful system or just something affordable yet very effective for what you want it for.
Of course, the more expensive scopes will be the better systems overall however, if you're a beginner looking for a computerised scope, a cheaper system will still be more than capable for your tracking needs.
Feel free to leave a comment below if you know any other great computerised scopes or your experiences with any of the telescopes present on this list.
Thanks
Amhil