*This post may contain affiliate links. This means we may make a commission if you purchase an item using one of our links*
Welcome to my Orion Starblast 6i IntelliScope review!
Maybe you came across the Orion Starblast 6i IntelliScope whilst doing a bit of research on good computerised telescopes to invest in or maybe it was hilst researching its non computerised counterpart in the Orion Starblast 6.
Either way you're probably looking to buy one for yourself or someone who are aroun beginner to intermediate level and well, you kinda want to know what you're getting into, the pros, cons and other features that come with the scope before buying it right?
Well… then it's a good thing you've come across this review because that's exactly what'll happen in this review, so that  you can make an informed decision on whether or not the Starblast 6i is worth investing in.
Overview
Full Name: Orion Starblast 6i IntelliScope
Type: Reflector
Aperture: 6″(150mm)
Focal length: 750mm
Focal ratio: f/5
Dimensions & Weight: 81.3 x 53.3 x 49.5 cm; 17.2 kg
Included eyepieces:
Rating: 4.1/5
Pros
Easy to use beginner system
Relatively compact
Good power
The PushTo mount is good and sturdy meaning fewer jerky images at higher magnification levels
Good accessories
Cons
Will require regular maintenance and collimation
It's a little on the heavier side
Difficult assembly process
A little expensive
Orion 27191 StarBlast 6i IntelliScope Reflector Telescope
Clever tabletop reflector telescope can lead beginners and experienced amateurs to more than 14,000 celestial objects with its easy to use push-to IntelliScope Computerized Object Locator
Substantial 6" aperture optics reveal sharp views of the Moon and bright planets like Mars, Jupiter, and Saturn
750mm focal length (f/5.0) optics provide contrast-rich views of brighter deep sky objects like nebulas, galaxies, and sparkling star clusters
Compact design gives the Orion StarBlast 6i great grab-and-go portability - weighs just 23.5 lbs. Age Range-13 years
Includes IntelliScope Computerized Object Locator, 25mm and 10mm Sirius Plossl 1.25" telescope eyepieces, EZ Finder II aiming device, eyepiece rack, Starry Night software, and more!
How Do The Orion Starblast 6i IntelliScope's Optics Work?
If you don't already know, there are 3 different types of telescope optics, namely a reflector, refractor and compound. Of course all of these have their own sub categories too with variations on how the optics are designed inside the tube but, for the most part, these are the 3 main telescope optics.
The optics that the Orion Starblast 6i IntelliScope uses is a reflector variant which means it has the benefits and cons of this design. The benefits of these optics include the following elements :
Great for viewing faint objects in outer space
Does not suffer from chromatic aberration unlike a refractor system
Generally cheaper to manufacture therefore costs less to buy over the other 2 variants
They're also better designed for building huge systems
However, reflector based optics have their cons too. These include the following elements :
Regular maintenance required due to exposed optics (this isn't something a refractor or compound telescopes suffer as much from)
Will regularly need to collimate the mirrors
The edges of space in the viewfinder suffer from comatic aberration
Nevertheless, reflector optics for the most part are great for what they do and the cheaper costs associated with these optics are also great if you're a beginner to intermediate level astronomer over refractor telescopes and especially compound based system, which cost much more for similarly powered telescopes.
What Do The Orion Starblast 6i IntelliScope's Specifications Mean?
Regarding the specifications of the optics offered by the Starblast 6i, the aperture is 150mm, the focal length is 750mm resulting in a reasonably wide focal ratio of f/5.
This means that the device will be more optimised for wider filed views of outer space over planetary observation although if you decide to get eyepieces that allow you to magnify a ton with the Starblast 6i, it will still be a very competent planet viewing device.
As for the the power of the Starblast 6i, just like it's non computerised variant in the Starblast 6, it will be able to magnify upto 300x theoretically although, in practical use it's likely that it'll be a little lower.
Nevertheless, even if the practical use is lower than what is theoretically possible you will still be able to see the following things :
The moon and its craters in a lot of detail.
Jupiter, it's cloud bands, the red spot and even notice the atmosphere moving around when you use near the max power.
You'll be able to observe Saturn's surface and see separation in the rings.
You'll be able to make out pretty much all of the planets in our solar system, although not all will be at a high level of detail.
See star clusters, galaxies, nebulae and a large number of other faint objects in sace, once again in pretty minimal detail though.
In short it'll still be a very capable device and you should genuinely be able to get a lot out of it.
As for its dimensions and weight, mostly due to the computerised element of the device it's around 50% heavier and little larger that Starblast 6 Astro but, it should be manageable to move around.
It's dimensions and weight are 81.3 x 53.3 x 49.5 cm by 17.2 kg respectively, which makes it more on the heavier side for systems in the price range with the same specs but, due to it essentially being a tabletop telescope, it is still very compact and should be easy enough to store.
Accessories Included In The Box?
The accessories in the box include two 1.25 inch Sirius Plossl 25mm (30x) and 10mm (75x) eyepieces, EZ Finder II aiming device, eyepiece rack, Starry Night software and other miscellaneous manuals and paperwork.
The eyepieces themselves aren't the greatest but they'll be alright for a little bit until you decide to upgrade to higher quality sets (you can check out some of the best eyepieces I could find by checking out this list) because they do have their limitations, such as not being able to view planets in very much detail and the field of view also being a pretty narrow 52 degrees.
most of the other accessories are decent quality too although people aren't too big a fan of the red dot finderscope.
The Orion Starblast 6i IntelliScope's Computerised Mount
The mount used by the Starblast 6i is a simple altitude-azimuth mount which is a single-arm fork design and not a tabletop Dobsonian mount, which is often what people confuse this mount as being.
This particular mount is actually a pretty great one, mostly because it's designed to provide more stability than lighter systems.
The heft means that when placed on a stable surface and when trying to view planets at super high magnifications, the system won't suffer from as many jitters and jerky movements which for example the lighter EQ-1 style German equatorial mounts would
As for the computerised side of things, the Starblast 6i uses a PushTo system over the more commonly used GoTo mount which allows you to fairly easily locate 14k+ objects using its software.
When you've set up the telescope and mount, all you'd need to do is power up the PushTo software, follow a two star alignment process, which simply requires you to align the scope by identifying two bright named stars and then you should be good to go.
Unlike a GoTo mount which tend to be motorised, a PushTo mount will only provide you with the instructions you'd need to follow in order to lock onto a star but, besides a little bit more manual labour (I guess you could say) there are still a fair few benefits to a PushTo system.
The first benefit is that it'll atleast get you used to using a telescope and learning how to locate objects in space, meaning once you get pretty good at it, you could upgrade to a non computerised system that's higher powered without needing to spend as much for the higher power.
Secondly, unlike systems that use GoTo mounts, of which the cheaper telescopes tend to suffer a fair few manufacturing problems and once broken pretty much makes the telescope in question obsolete (Celestron 6se is one example), people who have to PushTo systems attached to their telescopes won't need to worry about their device becoming obsolete.
The reason I say this is because even if for some reason your PushTo mount were to break down, you'd still be able to use the Starblast 6i in this case, in manual mode so, it won't be as big a pain in the butt.
As for the power requirement for The Starblast 6i, at the very minimum you'd need a 9 volt power supply.
What Are Users Of The Orion Starblast 6i IntelliScope Saying?
The consensus on the Orion Starblast 6i IntelliScope is actually very solid, I couldn't find any negative remarks on the quality of the optics, mount and PushTo mount.
Although, when it comes to assembling the device, some people did have a quite a bit of trouble with it whilst some accessories, particularly the red dot finder was said to be a little questionable. It was also described by a few people as being a little on the heavier side although pretty manageable nonetheless.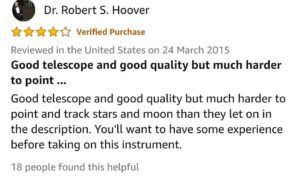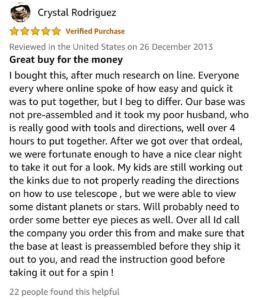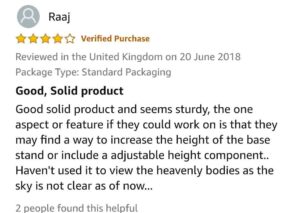 Overall, the system doesn't appear to be getting very many if any, negative remarks which in turn does make the Starblast 6i come across as relatively solid offering.
Other Alternatives Worth Checking Out
If the Starblast 6i IntelliScope isn't to your liking and you would rather get a more powerful computerised device, I've created a list of some of the best ones you can get, which you can check out by clicking here.
If on the other hand, you'd rather invest in a device that's more compact than the starblast 6i, this list I created on that specific subject may be worth looking into instead. You can check it out by clicking here.
Summary
The Orion Starblast 6i IntelliScope is a genuinely very a solid telescope and does tick a lot of boxes, particularly if you think you'd struggle with locating stars and would like a bit of assistance to get you through.
The optics are solid, the design of the mount and PushTo system are solid and the accessories included in the box aren't too bad either.
Of course it's also on the more expensive side due to the PushTo system, being $450+ to buy but, I'd say that If you're willing to spend a bit more for a little bit of convenience, the Starblast 6i isn't a bad system to invest in.