Welcome to my Celestron Nexstar 90SLT Review!
In this review I'll cover the pros, cons and the 90SLT's features to ultimately help you decide on whether the system is worth investing in or a beginner level device that you should skip out on.
Overview
Full Name: Celestron Nexstar 90SLT
Type: Maksutov-Cassegrain
Aperture: 90mm
Focal length: 1250mm
Focal ratio: f/14
Dimensions & Weight:
Included eyepieces: 25mm and 9mm
Rating: 3.7/5
Pro
Requires minimal maintenance
Automated tracking with the GoTo Mount
Good focuser and star diagonal prism
Easy to set up
Cons
The eyepieces provided are mediocre
The specs aren't all that great
The build quality is mediocre
How Do The Celestron Nexstar 90SLT's Optics Work?
The Nexstar 90SLT is the second weakest computerised telescope in the nexstar SLT line however, it's optics are still very solid and wouldn't necessarily be amiss on a bigger more expensive systems. This is because the 90SLT uses maksutov-cassegrain optics within which is a combination of a reflector and refractor telescopes.
In short the optics within 90SLT are compound based and they tend to have thier fair share of pros and cons, which is what I'll list below.
The pros of the 90SLT include the following :
Great for viewing planets
As the optics aren't exposed, maintenance is not required all too often
Are generally quite compact for their size
As for the cons, they are as such :
the light within the tube is folded one time which means that there will be a loss of some detail
Generally more expensive than similar sized reflector or refractor telescopes
Overall the optics within the 90SLT is very like the 127SLT minus the slightly weaker specs, which of course is what I'll go over next.
What Do The Celestron Nexstar 90SLT's Specifications Mean?
The 90SLT has an aperture of 90mm, a focal length of 1250mm which results in a focal ratio of f/14. What these specs means is that the device will be able to achieve a theoretical max magnification of 213x and the higher focal ratio will also make it a very solid telescope for viewing planets.
In terms of real world usage, provided you can get out the max capability of the 90SLT, you'll be able to see the following celestial objects :
The moon and its craters in reasonable detail
Jupiter in reasonable detail
Saturn and an outline of its rings near max power
Mars, Mercury and Venus should be visible although not in much detail
You should be able to make out some star clusters, a few galaxies as bright dots and maybe some asteroids if you're able to track them and if they're near enough to you.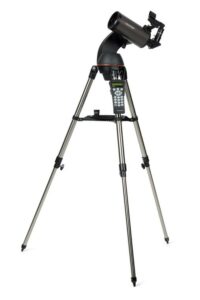 So, it'll be a competent beginner level device despite it's somewhat smaller specs. Of course the benefit of the smaller specs means the frame of the 90SLT will be far more portable too. It's dimensions appear to come in at 101.6 x 48.3 x 27.9 centimetres whilst the weight when fully assembled comes in at very manageable 5.4kg.
Therefore, realistically no one should really struggle moving this telescope around.
Accessories Included In The Box
In the box you'll be provided with 2 1.25″ eyepieces at 25mm and 9mm, a red dot star pointer finderscope, a motorised altazimuth mount, a tripod and a bunch of other miscellaneous documents.
The eyepieces are essentially the same as the larger variations of the SLT line with the one used here being from kellner, which although usable are probably one aspect that you'll need to look at upgrading (here's a list of eyepiece upgrades you could look into).
The focuser included in the box is made of metal and is probably one of it's higher quality accessories, the finderscope is quite mediocre and the rest of accessories are the same. Overall the in box accessories aren't amazing but they should be passable for beginner astronomers.
The Celestron Nexstar 90SLT's Computerised Mount
The computerised mount used is a GoTo Altitude-Azimuth Single Fork Arm one with 40,000 celestial objects within the database according to Celestron's website. Of course in reality the number of celestial objects worth checking out will be far fewer due to the lower aperture of the 90SLT.
The mount is powered using 8 AA batteries or through the use of a 12V AC adapter. The mount it self should provide decent enough tracking as it shouldn't be a shaky experience. This of course is taking into consideration that the telescope itself isn't too big but, it does have one minor annoyance which is quite common amongst Celestron mounts.
This is that everytime you turn it on, you'll be required to put the date, time and location, which can be quite annoying. Nevertheless, it is still only a minor annoyance with the mount as a whole being pretty decent for this entry level nexstar device.
What Are Users Of The Celestron Nexstar 90SLT Saying
For the most part, users found the 90SLT to be a solid device with them only having a few issues with the alignment process of the mirror and lens and of course the lower aperture and slightly expensive price was a bit of a problem too. There are also some concerns with the plastic build of the telescope too.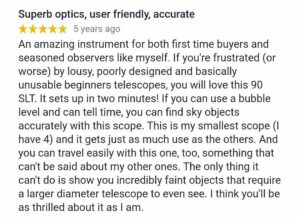 So yeah, users found it to be a fairly competent device, especially as a beginner getting involved in this field.
Other Alternatives Worth Checking Out
If the 90SLT isn't to your liking due to it's power or even it's price I'd recommend checking out this list for some great systems for under $300.
If you're still interested in a computerised telescope then this list may be helpful for you.
Summary
The 90SLT is a solid device if you're looking, I guess you could say, for a budget computerised telescope but, it does have its fair share of compromises from the mediocre specs to the lackluster accessories, most of which will need to be upgraded later down the road.
Nevertheless, it's not terrible device and may even be very good for some however, I personally wouldn't have it at the top of my list especially for beginners looking to invest in their first or even second telescope.