*This post may contain affiliate links. This means we may make a commission if you purchase an item using one of our links*
Since way back when, we've been fascinated with what's out there, fascinated in seeing the unseen and for many many millennia we couldn't do that. However, the worlds a little different now and technology is always changing, always evolving and now, crazily enough we're more than capable of seeing things in deep space, with our eyes through the lens of a scope.
In this list I will go over some of the best telescopes for viewing planets so you can make an informed purchase on a telescope, whether it be for yourself or a gift for a family member or friend.
In A Hurry? Check Out Our Best Options Below!
Name
Editor's Choice
NexStar 6SE
Most Affordable
NexStar 4SE
Most Powerful
NexStar Evolution 8
Image
What Makes A Great Telescope For Viewing Planets?
There's a lot of important components needed when it comes to creating a telescope that'll be the best for viewing planets however, one element that's very important in providing the best planet observation ability through the lens of your eyepiece is the focal length.
Ideally you want the speed at which the telescope captures light to be slow. The reason why you want the speed to be slow is because planets are among the brightest objects in space so gathering more light at too fast a rate isn't the primary component in establishing a good planet viewing experience although a larger lens does mean you'll get more detail.
So a telescope built for viewing planets should have a bigger focal length, preferably f/8 or above. This means if you decide to go for a larger aperture telescope of let's say 130mm, in order to have the best planetary experience with such a scope, you'd ideally need around a 1000mm focal length.
One downside to the larger focal length is that the field of view will be narrow however, if viewing planets is your main goal, the narrower field of view shouldn't be too much of bother (of course if you want a larger field of view, you can always opt to purchase a eyepiece that'll help with that).
Magnification
Another very important thing you should know of is the magnification ability of a telescope. As planets are a very large distance away from us, it's important to know the magnification ability of a telescope as a larger power will allow for a more detailed viewing of planets.
The magnification of a telescope is determined by the focal length and the size of an eyepiece. For example if a telescope had a focal length of 1000mm and you were to use a 25mm eyepiece for magnification purposes, that 25mm eyepiece would allow you to magnify up to 40x.
If it were a 10mm eyepiece you'd be able to achieve 100x and you could theoretically use a 1mm eyepiece to achieve a 1000x magnifications however, there is a limit to how much each telescope can magnify until the magnification becomes redundant.
There is a formula to determine what the theoretical maximum magnification of a telescope is and as a rule of thumb, it's regarded as being 2x a telescope aperture, for example a 90mm aperture scope will have a 180x theoretical max magnification or 120mm lens will have a 240x max magnification.
The theoretical maximum magnification for more higher end telescope will normally be that however, for cheaper scopes you should expect the maximum magnification to be around 70% of what's theoretically possible. So a $100 – $150 telescope that has around a 180x max theoretical magnification will likely only be useful up till 126x.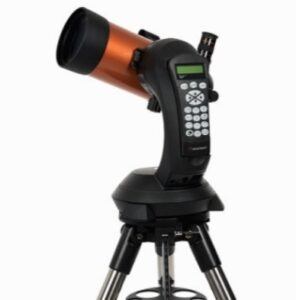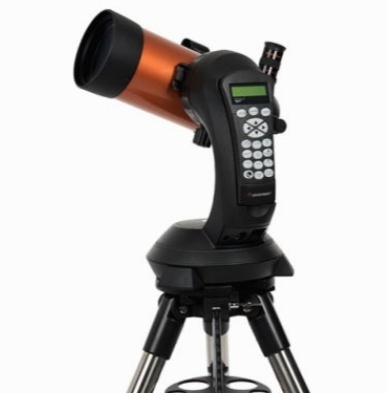 Pros
Fairly easy to set up
Won't require a ton of maintenance
Very portable
Cons
It's a bit underpowered for the price
The booting sequence is annoying
Only 1 eyepiece provided
The Nexstar 4SE is quite pricey at its around $500 price tag. It's also both a computerized and hybrid telescope, being an in-between of a reflector and refractor scope, called a catadioptric based telescope (more specifically it's a Maksutov-Cassegrain design) which is the reason why it costs a lot more than a reflector or a refractor.
The reasons why you'd want to look into a MAK based telescope is due to how it reduces the problems associated with both of the other lenses such as colour anomalies from refractor scopes and deviation from flatness on reflector scopes.
Of course a MAK hybrid mirror lens has its problems too, with its most major being less light captured and ultimately less detail when looking through the scope (although not by much). But all in all the design just has many more pros than cons over the older technologies the other 2 use.
As for the 4SE's specifications, it has an of 102mm, the focal length is 1325mm with a focal ratio of f/13. As I've said above, a slow telescope is desired when it comes to telescopes primarily designed for planetary observation and the f/13 focal ratio clearly goes way beyond the f/8 minimum I suggested above.
Regarding the telescopes maximum theoretical magnification, it stands at around 241x (I guess it'd be a little lower due to the folding of the light in the tube), which is really good and the larger focal length also means that the 25mm eyepiece included in the box will allow a magnification of 53x.
You'd only need to get a 6mm to get the max performance with the system so that means you will be able to save a decent amount on the eyepieces
The other accessories included within the box are a star pointer red dot finderscope, adjustable steel tripod with a built-in wedge , a Sky TM level 1 astronomy software, NexRemote telescope control software and a computerised hand control with nearly 40000 Object Database.
The 4SE weighs in at around 10kg with dimensions of 82.3 x 69.1 x 34 cm which means that it may be too big for a backpack nevertheless, it's more than compact enough to carry in a carry-on bag or just in a fairly large bag.
Users of the scope have said that it's easy to set up and an easy to use scope and very good for beginner astronomers too so, you can't really go wrong with this one.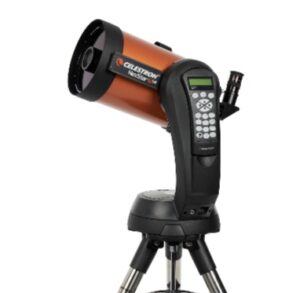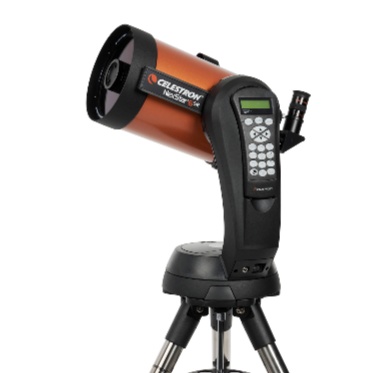 Pros
It's very sturdy and low maintenance
Can see Jupiter, Saturn, The messier catalog, other galaxies and a ton more
light weight
Motorised and automated GoTo mount
Easy to set up and align due to sky align software
Cons
The eyepiece is mediocre
The finderscope is poor
The mount can be prone to failure due to poor manufacturing decisions
The Nexstar 6SE is an upgrade over the 4SE and is a very popular device among astronomers and is generally the place to start when just recommending a good telescope. It costs a a fair bit being around $800 – $1000 but, for mid-high level scope, it's a reasonable price to pay for it.
Unlike the 4SE the 6SE uses a slightly better compound design in the Schmidt-Cassegrain design. This means that it's basically a mix between a refractor and reflector scope but, without any of the major inherent problems such as a high maintenance from a reflective scope or the chromatic aberration from a refractor.
Ultimately this means the 6SE will be a very competent scope and the design itself also allows for no loss of focal length with the tubes compact design, once again much like the lower 4SE.
The specs for the 6SE are 150mm for the aperture, 1500mm focal length which means the focal ratio stands at f/10.
The high focal ratio is going to be great for planetary observation as the the speed at which the light travels is slower allowing for more detail to be captured of the planet.
The 150mm aperture means you can theoretically observe upto a max magnification of 354x, which technically isn't the best for the price but the portability kind of balances that out.
you'll only be provided with a 25mm plossl eyepiece which will allow for a 60x magnification but, buying a better eyepiece shouldn't cost too much anyways so, this isn't a very big concern. The other accessories included in the box are a red dot StarPointer finderscope, visual back and a mirror star diagonal.
The mount used for this scope is a motorised GoTo mount which is fully automated with 40k+ objects within it as well as celestrons skyalign procedure which makes aligning the scope very easy.
There's also a built-in wedge to polar align NexStar SE for images through a DSLR camera if you're looking to take some planetary images with the scope as well (do keep in mind this isn't the 6SE's main function so don't have super high hopes when it comes to astrophotography).
People who've used the scope have said that it's a great telescope but, the initial startup and figuring out how to use the software isn't very well done by Celestron. The mount can also have some manufacturing issues too so be wary of that but, all in all the 6SE is definitely a solid pick for observing planets.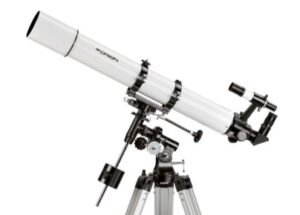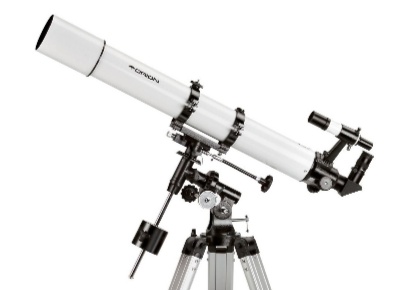 Pros
Great accessories
Great refractor optics
Easy to set up
Good build quality
Cons
The mount is a little flimsy
Chromatic aberration
Finderscope is subpar
Quite expensive for the specs
The Orion AstroView is a upper-entry level refractor scope and it will cost you around $250 – $300 if you were to buy it.
The specs of the device are the following, a 90mm aperture, a focal length of 910mm which equate to a very large focal length of f/10. What this also means is that the chromatic aberration that's a big problem with refractor telescopes is actually significantly reduced and of course the slower focal ratio is gonna be beneficial for viewing planets.
The maximum theoretical magnification of the AstroView 90mm is roughly 177x (around 130x – 177x probably max magnification) which is pretty mediocre but it will allow you to observe some of the larger planets in the solar system with decent detail.
However, the narrower field of view does mean looking at star clusters, constellations and the larger expanse of the universe won't be what AstroView excels at but, it'll still be more than competent in this regard.
The accessories included in the box are Sirius Plossl eyepieces at 25mm (36x) and 10mm (91x), 6×30 finder, 90-deg star diagonal, adjustable aluminum tripod with accessory tray, and an EQ-2 equatorial mount with slow motion controls for manual tracking.
As for the dimensions and weight of the device, it's 96.5 x 43.2 x 29.2 cm and 14.5 kg so it's relatively portable, I'd say portable enough to maybe travel with it in a carryon bag but, it's certainly a little on the heavier side but still definitely more than manageable.
As for the user experience, on amazon the large majority of customers have a lot of good things to say about it however, I did find that some individuals found the mount a little tough to get used to.
Moreover, if you want to get the best out of the system you will need to look into upgrading the eyepieces to higher quality ones because the ones included in the box are, at best, average.
Furthermore, the assembly process of the AstroView is said to be pretty easy but, it is kinda of a long process with users saying it took them that around an hour or so to assemble.
Overall, besides the difficult to use mount that comes with the scope that makes it a not so beginner friendly device, the low maintenance and general benefits of a refractor scope as well as its slower lens design will make it a pretty component scope for observing planets.
4. Meade Series 6000 115mm Triplet APO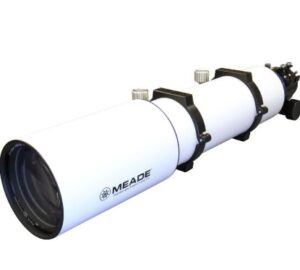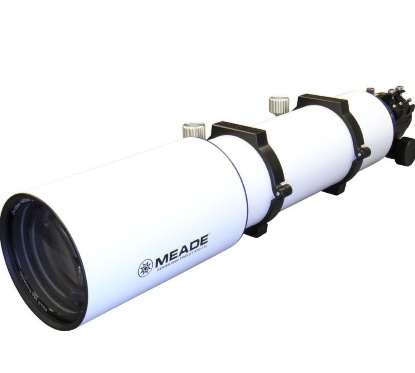 Pros
Will require minimal maintenance
Uses the superior APO refractor optics
Won't suffer from chromatic aberration
Will take great images with true colour rendition
Very portable
Cons
Is very expensive
No included mount
Subpar inbox accessories
The meade 115mm is near enough a top of the line astrophotography telescope considering it has a price tag of around $1.7k – $2.3k depending on where you shop, therefore it's ability to take images as well as view planets should be great.
It's a refractor system that uses an apochromatic lens. This means it's a very sturdy build that doesn't require you to collimate it all that often and even has less spherical and chromatic aberration than the achromatic lens that most refractors use.
The triplet aspect of the lens makes it great for true colour rendition without distortion across the entire field of view when taking photos and observing planets.
As for the specs, this system has a 115mm aperture lens, a focal length of 805mm resulting in a pretty fast f/7 focal ratio. The focal ratio in this case is still slightly faster than ideal but, because of the Triplet APO the images you'll be able to see through the lens, as long as it's paired with some decent eyepieces, should come out very crisp.
The max theoretical magnification of the Meade is 226x so, it's not the greatest but, still pretty good for viewing a fair few planets within our solar system.
However, the system is mostly going to excel at astrophotography so, if you want a very high quality telescope for astrophotography,  the Triplet APO lens will take some solid images with very accurate colours.
The accessories included in the box are a carrying case and a 2.5″ Dual-Speed 10:1 Rack & Pinion Focuser. The systems dimensions and weight also make the meade a highly portable device withe the dimensions being 5.5 x 4.5 x 12.5 inches with the weight being a light 5.5kg
If you want a telescope that's both great at taking images and has very accurate colours and allows for some detailed views of the planets within our solar system, the meade 6000 115mm is a brilliant system to go for.
5. Orion 6" f/9 Ritchey-Chretien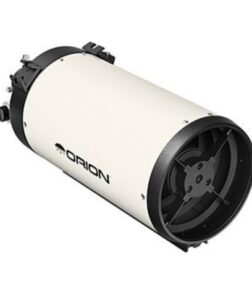 Pros
Issues with coma and spherical aberration are nullified as a result of the RC optics
Narrower focal ratio making it solid for planetary observation and picture taking
Solid specs for the price
Cons
No eyepieces or finderscope included
No mount included
The Orion is a Ritchey-Chretien based astrophotography telescope and will set you back around $500 if you decide to purchase it.
The RC design is a variant of cassegrain so it's essentially a compound based telescope. The thing that defines a Ritchey-Chretien scope is that it's designed to eliminate off-axis optical errors (otherwise known as coma) and spherical aberration. This in turn make the Orion a great telescope for viewing and taking images of wide angle deep space.
The specifications of this device are an aperture of 152mm, a focal length of 1370mm resulting in a focal ratio of f/9. As the focal ratio is large, it's ideal for planetary observations because the slower speed allows for more detailed views of planets.
The specs also mean you'll be able to see and observe upto a max magnification of 300x. This in turn will result in you capturing solid images of planet and bright deep space images but, the quality of observing them won't be as detailed as the more powerful devices on this list
The accessories included in the box are a 2″ dual-speed Crayford focuser, Extension tube, 2″ length (x1) and the Starry Night SE astronomy software digital download.
The systems weight is around 5.5kg with dimensions of 19.1 x 8.4 x 8.4 inches making it a very portable astrophotography telescope, if that's what you're looking for.
However, the system doesn't come with a mount or a finderscope so these are things you will need to consider purchasing. Nevertheless, the system is a great astrophotography kit at a fairly reasonable price.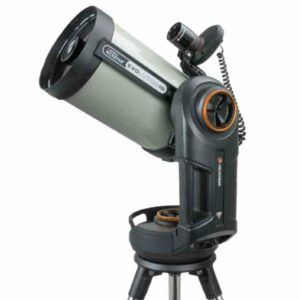 Pros
Mount can be recharged
Awesome optical performance
A versatile visual and photography device
Mount is great and accurate
Cons
It's really heavy
It's expensive
Inbox accessories are a little disappointing
The nexstar evolution line up is actually the highest level within the nexstar line up. Of course the 4SE and 6SE fall within the midrange spectrum and the SLT line is the lowest level. Because the evolution 8 is the highest level, it's also the most expensive and in this case you will be set back around $1.5k – $1.9k.
The evolution 8 uses a 203mm aperture lens, 1500mm focal length resulting in a focal ratio of f/7.4. The size of its lens is very large so it's capable of capturing very detailed views and of course the 203mm aperture allows for a magnification of 480x which makes it a very solid system for stargazing.
Once again the focal ratio isn't ideal but, as an overall telescope, it will be really good for planetary gazing which includes pretty much every single planet in our solar system.
The accessories included in the evolution 8's box include a stainless steel tripod, a single Fork Arm Altazimuth GoTo mount that has a rechargeable battery of up to 10 hours of runtime.
This rechargeable battery is also the main reason why the evolution is so much more expensive than just the nexstar SE line, which require you to carry around 12v batteries whenever the mount dies and you need to charge up.
The charging time for a full battery is around 4 to 8 hours (until the light stops blinking). The other accessories include two Plossl eyepieces at 40mm (50x) and 13mm (153x) of reasonably high quality,
Overall people find this scope to be very good, the aligning process is fairly short, the ability to disassemble the system into 3 pieces makes it fairly easy to carry around and of course it's database objects in the automated and motorised GoTo mount, the lens and the rechargeable batteries make it a very solid pick for very detailed views of planets.
7. Gskyer 90mm Refractor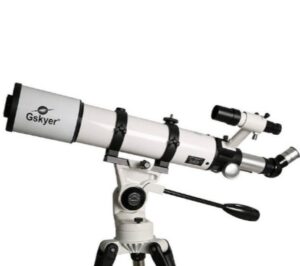 Pros
It's relatively affordable
Accessories provided are good
Will require minimal maintenance due to it being a refractor
Cons
Subpar Barlow lens
Can be rough Collimate the device if ever gets out of alignment
The Gskyer is a German telescope that's also a refractor based system. It costs around $250 to purchase this specific model placing it in the upper entry level price tag in refractor telescope scene.
The Gskyer has an aperture of 90mm, a focal length of 600mm resulting in a focal ratio of f/6.7. This means the scope is somewhere in the middle in regards to having a wide field view and a narrower more magnified view. The Gskyer's maximum theoretical magnification is 177x making it more than capable of viewing planets nebulae, galaxies etc.
Obviously the slightly wider focal ratio doesn't make it the best telescope for viewing planets on this list but, it's still a very solid inbetween system.
As for the accessories included in the box, you'll be provided with a tripod, three replaceable eyepieces which includes a 37.5mm (24X), a 15mm (60X) and a 7.5mm (120X), one 3x Barlow lens (3x the magnification of any eyepiece), AZ Altazimuth Mount and a few other miscellaneous documents.
The dimensions and weight of the Gskyer are 38 x 12 x 8 inches with a weight of roughly 8kg making it a fairly lightweight and reasonably compact device meaning travelling with it shouldn't be all that hard to do (although you'll still probably need a carryon bag).
As for the user experience, according to amazon a large majority who decided to pick up this Gskyer telescope had a great experience with it. The set up process only takes around 10 minutes (which is certainly nice) and viewing mountains is also a nice touch, something a reflector would struggle to do.
The build is sturdy as well however, I found that customers didn't really like the included barlow lens. It was described as plastic and a low quality accessory.
Collimation is also described as being a little annoying according to one customer but overall, the large majority who purchased this system found it to provide an amazing viewing experience, especially for the price and the multitude of accessories that come included in the box.
8. Explore Scientific ED127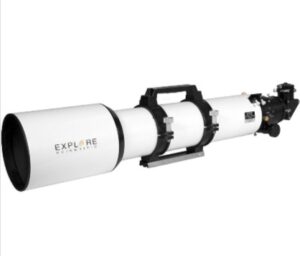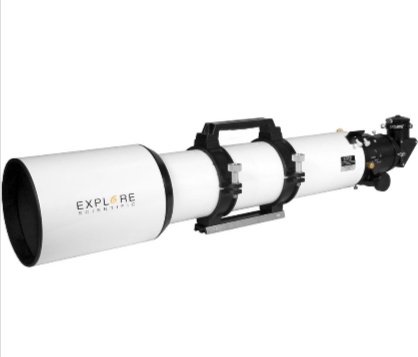 Pros
Great specs
Uses an APO Refractor lens which significantly reduces chromatic aberration
Will be great for taking images of planets due to the narrower focal ratio
Is built sturdily
Won't require regular maintenance and collimation
Cons
Does not come with a mount
Is very expensive
No eyepieces included in the box
This is one of the most expensive telescopes and for the price you pay, you may not think the specs are all that great however, it is more than just your average telescope.
The ED127 is both a refractor and astrophotography device that costs around $1.3k – $2k making it a mid to high range system that's more designed for intermediate amateur astronomers who also like to take pictures as well as have a great viewing experience.
The ED127 is a Apochromatic (APO) refractor telescope meaning it's manufactured to reduce chromatic aberration, which is a very big problem that cheaper refractor scopes tend to face.
Moreover, it has some very good benefits over reflectors such as being a sturdy device that will require minimal maintenance and tweaking for appropriate collimation. It can also act as a spotting scope per say, which isn't something that reflectors are good at either so that's a benefit you may like.
The specifications of the ED127 includes a 127mm aperture lens, a focal length of 952mm resulting in a focal ratio of f/7.5.As the scope is essentially a 5inch offering, the maximum magnification is also quite decent being 250x.
The lower power does mean that it's theoretically not the most powerful device and the slightly below the recommended focal ratio may not make it the best of the best scopes for planetary viewing however, the APO design of the lens does mean that the image through the lens will genuinely be among the best you can find in the market.
Essentially the details of the planets will be very crisp.  This images you take of jupiter and saturn will come out with good detail and of course other celestial objects will look decent too (provided you have a good set up).
The ED127 comes with a fair few accessories which includes a Dew Shield, 2″ Diagonal, 1.25″ Eyepiece Adapter, dust Covers, Ten-to-One & Dual-Speed Focuser and a Universal Adjustable Mounting Plate.
The device is fairly portable with dimensions of 38.4 x 11.4 x 11.2 inches whilst weighing in at roughly 12kg. It definitely won't be a nuisance to move around (after all some telescopes can be very heavy and huge) so, if portability is important to you, I don't believe the ED127 will cause you very many problems.
I did a bit of research to see what users of the scope said and it seems as if they really like the performance of the accessories included in the box and the device as a whole has provided some of the most high quality astrophotography images that these customers have ever experienced too.
Ultimately the ED127 is a targeted a lot more for individuals who like taking images but, it's also just a solid telescope in general. You definitely cannot go wrong with it, provided you have all the necessary camera equipment and a nice mount because astrophotography scopes tend not too come with one and unfortunately the ED127 doesn't come with one either.
9. Celestron Inspire 80AZ Refractor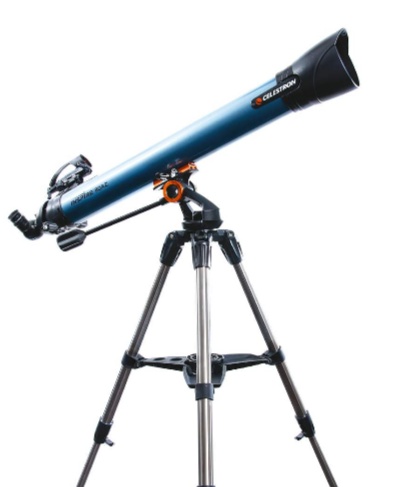 Pros
Will suffer from minimal chromatic aberration due to the slower and narrower focal ratio
Very affordable
Will require minimal maintenance
Lightweight
Decent accessories
Cons
The inspire 80AZ is one of the cheaper telescopes on this list at its $150 price. It's also a refractor meaning it has a few positive points to it such as the low maintenance and sturdy build whilst also having a few minor issues regarding aberration although it's specifications do counteract this negative a fair bit.
The Inspire 80AZ's specifications are an 80m aperture lens, 900mm focal length making a focal ratio of f/11.25. This telescope has one of the highest focal ratio's on this list which is ideal for viewing planets however, it's also a cheaper system so, I'm sure the performance will be balanced out to be a bit lower in the end.
As for the max magnification of the device, it's only around 157x (probably closer to 120x as it is cheaper) so it's not all that powerful but, with the right eyepieces, you should be able to see planets among other celestial objects.
Of course not to a level where you'll be able to make out the details of Jupiter, saturn or neptune but, the 80AZ should be more than competent. In regards to the moon, there's a very good chance that it'll look pretty great through an eyepiece.
As for the inbox accessories they include 2 eyepieces at 20mm (45x) and 10mm (90x), a 90° erect image diagonal, an integrated smartphone adapter, a finderscope, and a red LED flashlight. You also get celestron's starry night software which consists of quite the sum of deep space objects you can learn about.
The eyepieces and finderscope aren't regarded as being all that great out of the box, especially when compared to the other offerings celestron provides in the box nevertheless, they should still be decent enough. The scope is also fairly portable and lightweight with dimensions of 96.5 x 83.8 x 132.1 cm and a weight at a moderately light 7.7 kg
All in all, the inspire 80AZ is a great refractor scope for young children, a fairly competent piece of hardware for viewing a few planets (with decent detail) and a decent piece of hardware for anyone who doesn't want to spend an arm and a leg on their first telescope.
Celestron's 80AZ is very much a beginner scope so, you're expectations should also fall within this somewhat limited range but, it's far from being a poor product.
The Different Types Of Telescopes
There are 3 different types of telescopes, all with their own benefits and weaknesses. These 3 include a Reflector, Refractor and compound.
The benefits of a Reflector system is that it's very solid at viewing faint objects in space, they tend to have significantly higher quality images and can be more compact than refractor systems.
Refractor systems on the other hand are a lot sturdier than reflector scopes because their optics are enclosed in a tube. This also means maintenance is a lot less than that of a reflector device. They're great for viewing closer objects but it isn't as good when it comes to viewing faint objects.
This isn't detrimental to the viewing experience especially when it comes to observing planets but other less bright objects won't be as visible.
Lastly compound scopes take the best of both designs but capture less light due to the light being folded in the tube. For a more in depth look at each design, their strengths and their weaknesses, I'd suggest checking this post out. 
The Importance Of A Good Mount
A good mount is paramount to getting the best viewing experience with your device. If it isn't sturdy then you'd regularly lose sight of what you're trying to see. It's very likely that the planet may be moving very quickly in space therefore, to stick with it you'd need a very good equitorial mount if not a computerised mount to help you.
Of course there are a few systems on this list that utilise a goto mount system but, for the cheaper ones, it might be worth looking into a more computer focused mount to better your viewing experience.
Check out the below articles of you want to learn how to observe the planets within our solar system.
Conclusion
Ultimately, the more expensive devices are going to be better for planetary observational purposes but, if your budget doesn't stretch a lot, the cheaper systems are still more than capable and will be more than able to view planets at a good level.
Hopefully this list has helped in making your decision and cleared up a couple things so that the decision making process is a lot less stressful in the end.
If there's anything else you'd like to add, feel free to so in the comments below!
Name
Editor's Choice
NexStar 6SE
Most Affordable
NexStar 4SE
Most Powerful
NexStar Evolution 8
Image