*This post may contain affiliate links. This means we may make a commission if you purchase an item using one of our links*
If you're in the market for a relatively affordable reflector based telescope, the Orion Starblast 4.5 Astro is undoubtedly one system that should be on your radar, after all there is a reason why it's recommended all over the place.
In general terms the Starblast 4.5 Astro is beginner oriented system so, performance wise it won't be the greatest however, if you're here right now, there's a good chance that you're already kinda knew that and we're interested.
That's why in this Orion Starblast 4.5 Astro review, I'll cover the pros, cons and the features of the device ultimately to help you with making a well informed decision on whether this small telescope is worth picking up.
Overview
Full Name: Orion Starblast 4.5 Astro
Type: Reflector
Aperture: 4.5″ (114mm)
Focal length: 450mm
Focal ratio: f/4
Dimensions & Weight : 59.7 x 47 x 63.5 cm; 5.9 kg
Included eyepieces: 17mm 1.25″ and 6mm 1.25″  kellner
Rating: 4.3/5
Pros
Solid optics for the price
Really portable
A great tabletop mount
Reasonably affordable
Pre-assembled
Good for beginner level astronomers and children
Cons
The eyepieces are mediocre
Will require high maintenance due to exposed optics
Regular maintenance required
Orion 10015 StarBlast 4.5 Astro Reflector Telescope (Teal)
Compact grab-and-go telescope designed for entry-level and intermediate astronomy enthusiasts
Substantial 4.5" aperture and fast f/4 focal ratio provides bright, detailed views of solar system targets like the Moon and planets, as well as wide-field celestial objects like nebulas and star clusters
Low-profile swivel base ships pre-assembled, provides smooth altazimuth motion for easy manual targeting and tracking of celestial objects
Includes 20mm (22.5x power) and 10mm (for 45x power) 4-element eyepieces, EZ Finder II aiming device, eyepiece rack, glare-reducing Moon filter, and Orion's MoonMap 260
Weighs just 10.9 lbs fully assembled, and stands 21" tall when aimed at the zenith
What Are The Benefits Of The Orion Starblast 4.5 Astro's Optics?
The Starblast 4.5 is a reflector based system which is one of the three different variations telescope optics, with the other 2 being a refractor and compound design.
The optical ability of a reflector telescope is actually pretty solid and it even fixes the issues that refractor systems in the starblast's price range have, such as spherical and chromatic aberration and it's better for creating larger optics (this isn't relevant here of course) but, reflector systems also have a couple issues of thier own.
The optics are exposed in reflector systems meaning you'd need to do regular maintenance on the starblast 4.5, unlike systems that use the other 2 optic variations, which use an enclosed tube to minimise this minor annoyance.
Another issue is that starblast's optics will need to be collimated (re-aligned) every session you bring it out but, this is another minor inconvenience considering pretty much every reflector system suffers with it.
However, in terms of the details and the light that can be captured through reflector optics, they tend to be the best out of the three when it comes to viewing faint objects in outer space but, if you'd like a system that's more versatile and is able to see objects on Earth and in outer space, the other 2 optics would do a better job.
What Do The Orion Starblast 4.5 Astro's Specifications Mean?
The aperture of this device is 114mm, the focal length is 450mm resulting in a very fast and wide focal ratio of f/4. This means that the starblast will at best be able to magnify upto a theoretical amount of 228x but, in real world usage there's a good chance it'll be lower and more around the 150x – 200x mark.
This number is still very solid because with the starblast 4.5 you will be able to see :
Jupiter, it's red spot and even its cloud bands with solid detail near the max magnification
Saturn's rings and the colour of the planet at the max magnification
Nebulaes
Star clusters
Andromeda and a few other galaxies
The moon and it's crates in very good detail
The device should more or less allow you to see most things but of course, because of the magnification and the fact the optics of the telescope are both fast and wide, the details you'll see on the planets in our solar system will be a lot more limited than systems with the ideal focal ratios of 8+.
But, as beginner to intermediate grade system, the Starblast 4.5 Astro does have some very solid specifications for the price.
The Orion Starblast 4.5 is also a very portable device too. It's dimensions are 59.7 x 47 x 63.5 cm with its weight being a very manageable 5.9 kg so, moving it around should honestly be a cakewalk. If portability is something you seek, the Starblast 4.5 certainly will not dissapoint in that regard.
What Accessories Are Included In The Box
The Starblast 4.5 comes with two Explorer II 1.25 inch Kellner telescope eyepieces (17mm and 6mm), EZ Finder II reflex sight for easy aiming, eyepiece rack, collimation cap, Starry Night astronomy software, and a few other miscellaneous gear.
The eyepieces themselves are actually very subpar in quality but, as they do come in the box, they are to an extent usable but, I highly recommend upgrading them after a few sessions or immediately even.
To help you out in making that decision and to pick a great eyepiece to go with your system, you can check out this post I created on eyepieces worth buying.
The mount used for the device is a tabletop Dobsonian meaning you'll of course need a table and probably a few other boxes to prop the system upto a comfortable viewing level (depending on how tall you are) but, because the design is a lot wider than other competitors, the starblast 4.5's mount is a lot less prone to being knocked over.
Unfortunately if you planned to use a tripod with the Starblast 4.5, unless you're really creative and a make DIY tripod that's able to hold it up solidly, you won't be able to do that but, the plus side is that because the mount is a tabletop variant, it'll be very easy to store it.
What Are Users Saying About The Orion Starblast 4.5 Astro?
The general consensus on the Orion Starblast 4.5 Astro is very very positive. Users have found it to be a solid device for a  beginner due to it having a user friendly experience.
Customers seem to really enjoy the system and find it to pretty much be a grab and go system, which is super easy to move around due to its portability and easy to set up as long as you read the instructions.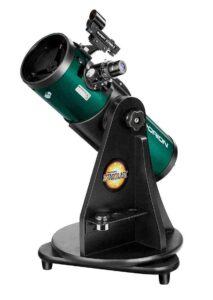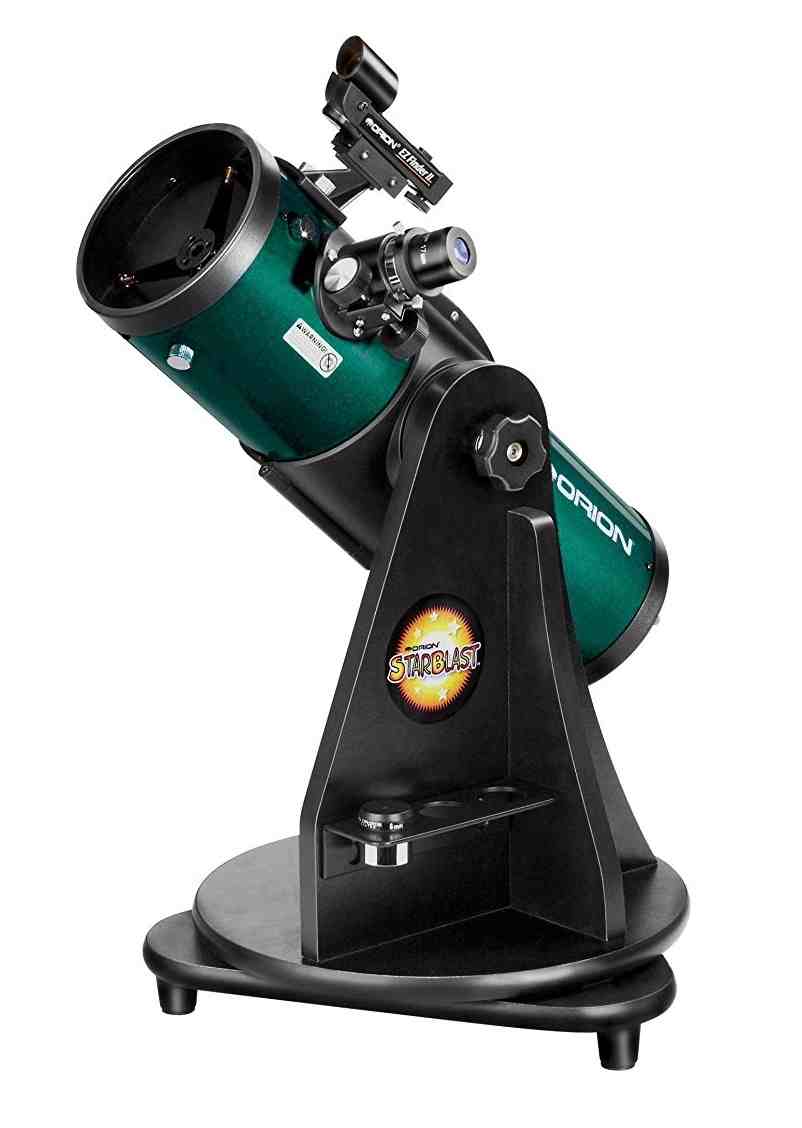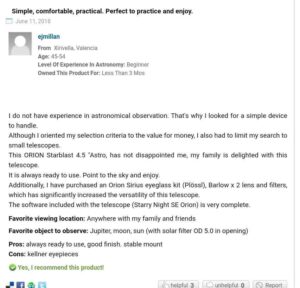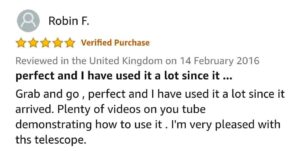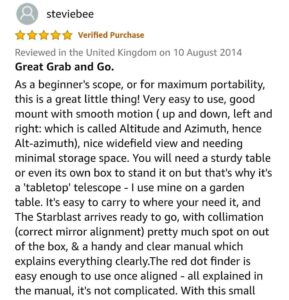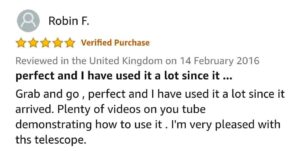 The only cons that users have had with the device is that the secondary mirror is a little tough to collimate and the kellner eyepieces are very lack luster but, other than that, the Starblast 4.5 seems to really be doing a good job.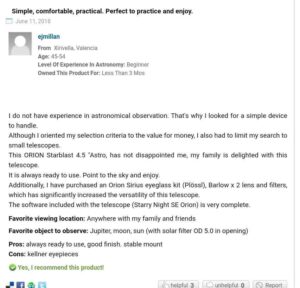 Other Alternative's You Can Look Into
If the weaker powered Starblast 4.5 isn't to your liking, you can always opt to go for its bigger brother in the Orion Starblast 6 or if you'd rather have a larger variety of scopes to choose from, you can click here to check out a best of list I created to help you with that.
On the other hand if you're primarily after a more budget oriented device and are not willing to stretch the budget a little, you can instead check out this best of list I created for the best devices under $300.
Furthermore, if you're looking to gift your teen a telescope but find the starblast 4.5 suitable, click here for other options.
Summary
The Orion Starblast 4.5 Astro, at it's roughly $200 price tag does appear to be a very solid offering for a beginner to intermediate astronomer, if that's where you'd place yourself, and of course it being very portable and easy to use, the starblast does have a lot of pros going for it.
However, this isn't to say that the starblast 4.5 is the best device you can buy for the money, if you're willing to spend a little bit more you can get a better device but, a bigger device does sacrifice portability so, you just have to weigh up your criteria and decide what suits you.
Nevertheless, the starblast 4.5 is still a good device and you can't really go wrong with it if you decide to buy it.