*This post may contain affiliate links. This means we may make a commission if you purchase an item using one of our links*
If you've landed on this post, you're probably an amateur astronomer looking to get into stargazing into vastness or maybe you're a parent or friend trying to buy a gift for someone you care about. If so, you should be prepared because this post will be a long one.
Just so you know, I've not personally bought any of these products however I have done my research and have found that these are regarded as the best telescopes for amateur astronomers from the perspective of the other veteran "amateur astronomers".
In A Hurry? Check Out Our 3 Best Picks Below!
Name
Editor's Choice
Celestron Nexstar 6SE
Most Affordable
Svbony SV35 70mm
Most Powerful
Zhumell Z12
Image
The Basic Buyer's Guide
Before getting into this, you should know that the power and distance that a telescope can see will vary depending on the price you're willing to pay for them. So in order to get the best experience, you've got to decide how large you want the aperture of the lens to be or compromise power portability if that's what you're after.
The Aperture
In terms of the number, the mirror lens, otherwise know as the aperture, will determine how much light the telescope is able to capture. What this means is that the larger the lens the more detail the telescope will be able to capture in terms of the contrast and detail of celestial objects within outer space.
There is a massive difference between smaller and larger aperture scopes, for example the difference between a 80mm lens and a 160mm lens, the amount of light captured within 160mm will be 4 times that of the former meaning you'll get 4 times the detail and contrast (roughly speaking).
The Focal Length
In order to actually see out into space, the light rays must first converge into a single point, other wise know as the focal point. The distance between the focal point and where the light reaches your eye is the focal length.
The focal length is also measured in millimetres. The length between the focal point and your eyes determine your field of view. If the focal length is shorter, you'll get a wider field of view meaning you'll be able to see more celestial objects whilst looking into the lens whilst a longer focal length means you get a narrower field of view so, it's better on closeups of planets.
The Focal Ratio
The focal ratio describes the ratio between the aperture and focal length. In order to get this number you have to divide the focal length by the apeteure. For example the focal ratio of a telescope with a 70mm telescope with a 800mm focal length will equal f/11.42.
The basic premise of the focal ratio is that the larger the number the higher the magnification. This in turn means that a larger focal ration will provide a narrower field of view whilst a lower focal ratio is the opposite.
Magnification
This is the final element of a telescope that you should be aware of. The maximum magnification of a telescope is measured as 50x (in inches or 2x when measuring in millimetres) the aperture of a scope and generally anything beyond that will result in the details being poor and the viewing experience being essentially useless.
For example a an 8″ aperture scope will have a maximum magnification of around 400x. The magnification of a scope is changed depending on the eyepieces that you use and of course the focal length of the system.
The rule of thumb here is that if the aperture of a system is larger, the theoretical magnification the system has will be bigger too.
These are just the basics of how you should go about deciding on a telescope to buy, if you're in the market for a telescope that captures a lot of detail whilst also having a large magnification, you'd probably decide on getting one that's got a large focal ratio but, if you're just wanting to look at the craters in the moon, a cheaper telescope or even pair of binoculars should be more than competent to do the job.
This list I'll be presenting to you is not in any particular order, the final decision on which telescope you go for will be entirely based on what you're looking, whether it's portability or seeing more detail when looking at Saturn's ring or any other celestial objects in space.
1. SVBONY SV35 70MM REFRACTOR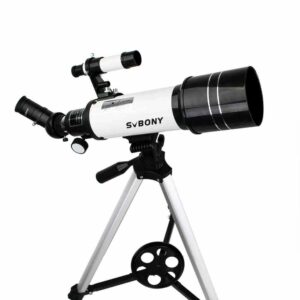 Pros
Compact design
May double as a spotting scope due to the refractor optics
Lightweight
Cons
Will suffer from chromatic aberration
This telescope is a very affordable one being around $100 in amazon (the prices may vary depending on when you decide to purchase it) and a good set up for entry level astronomers.
This telescope's comes with a tripod, a backpack to carry it, a phone mount and the aperture and focal length of the system is at 70mm/400mm which results in a focal ratio of f/5.71.
The magnifications of the system isn't that great which in turn means that at most you'll be able to gaze at the moon with a fair bit of detail but, the details for objects further in space won't be very detailed at all.
The maximum magnification without the use of the eyepieces is at 40x but with the Barlow lens the magnification of the scope can reach upto 120x (max magnification is around 140x) which is good but still unlikely to allow you to observe very far out in space besides, as the aperture isn't very high, the details will be quite limited at 120x range. Nevertheless it's still a solid entry level telescope for the price.

Pros
Very affordable
Easy to use out of the box
A great gateway into astronomy
Fairly light weight and portable
The eyepieces and other accessories are a nice touch
Cons
Regular maintenance needed as it's a reflector telescope
It's not very powerful so the images you see what won't be super detailed
This scope will set you back a little more than the svbony but generally costing around $200 – $250. The aperture for the lens it has is at 130mm with the focal length on default being 650mm which leaves the ratio at f/5.
The minimum magnification for this device is at 18x whilst the theoretical maximum is at 256x. Also as it's essentially got an aperture double the size of the svbony, the detail you'll see will be roughly 4 times better.
The Z130 according to some of it's users is easy to set up and of course is also fairly compact which will allow you to move it around a lot easier. However, weighing in at 10kg it's definitely not the lightest system around but is also far form being heavy so, it moderately portable.
The rotation mechanism also makes it easy to find a comfortable position to gaze at the moon and other nearby objects. The eye pieces that come included with this telescope are a 25mm and 10mm which allow for a magnification of 25x and 65x respectively.
All in all, it's a very good beginner telescope but, considering the magnification and the eye pieces that are included, don't expect to be gazing anywhere beyond our solar system.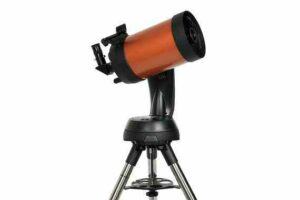 Pros
It's very sturdy and low maintenance
Can see Jupiter, Saturn, The messier catalogue, other galaxies and a ton more
light weight
Motorised and automated GoTo mount
Easy to set up and align due to sky align software
Cons
The eyepiece is mediocre
The finderscope is poor
The mount is prone to failure due to poor manufacturing decisions
Celestron is one of the most prominent and well known brands in the telescope scene so, at the very least the credibility from the manufacturer should mean that what you get is going to be fairly solid.
This system is definitely in the more high end sector of the telescope scene usually retailing for around $1000 – $1500 depending on where you buy it, sales and so on.
If you decide to opt for the Nexstar 6SE, there will be a few cool perks that'll come with it which includes a fully automated go to mount, that'll will help with finding over 40k different celestial entities with the data provided, a 25mm eyepiece that allows for a  magnification of 60x, a red dot starpointer finderscope and a few other accessories.
The aperture for the lens is at 150mm whilst the focal length is at 1500mm which gives it a focal ratio of f/10. The maximum magnification for the 6se is at 354x, which probably doesn't seem like a very great rating for the price however, you've also got to take into account the relative portability of it.
It's a very compact telescope being just under 10kg to carry. Of course this does mean the aperture may not be the highest but, some individuals may prefer having a system that's easy to store and take anywhere which is where Celestron's nexstar line does become a very appealing line to purchase.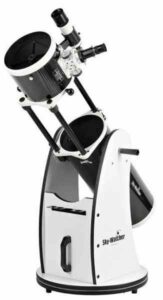 Pros
Can be separated into two pieces for easier storage and portability
Great in box accessories
Great specs
Great mount
Cons
Very heavy despite its portability
Issues with part maintenance
Hard to collimate, specifically for new users
Will require a fair bit of maintenance
The skywatcher can set you back anywhere from $400 – $500 and is yet another more portable offering by celestron and just like the name suggests, the skywatcher has a collapsible tube which can shrink to 36 inches (91.2cm).
Its has an aperture of 200mm and a focal length of 1200mm which results in a focal ratio of f/6 which means that the scope will have a wider field of view than the 6se if that's what you're looking for.
The accessories included within the box are 2 eyepieces of 25mm and 10mm, a 2 inch Crayford style focuser, a rocker mount and a 8 x 50 right angle viewfinder.
The main benefits to this telescope is of course it's portability only weighing in at roughly 12kg and the maximum useable magnification at around 393x, which definitely makes this scope as a solid intermediate scope for any amateur astronomer out there.
According to the users, the assembly process is fairly simple and the scope in general seems to be a very pleasant experience for the users.
Of course considering it's collapsible, this telescope does come in at a higher price than the traditional variation however, if you value portability more so than saving a few bucks, the collapsible 8″ is definitely worth looking into
5. CELESTRON TRAVELSCOPE 70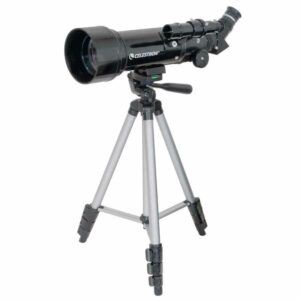 Pros
Portable and compact
Lightweight
Great value for money
Lower maintenance due to being a refractor telescope
Cons
Suffers from chromatic aberration
Limited performance
This is another very affordable telescope and a great entry level system for anyone looking to get involved in stargazing. Of course coming in around $100 or so, it's not going to allow you to gaze all that far into outer space nevertheless, it's not bad for the asking price.
The travelscope 70 has an aperture of 70mm and a focal length of 400mm which results in focal ratio of f/5.71. As for what's included within the box, there are two eye pieces at 20mm and 10mm that allow for a magnification of 20x and 40x. With the right eye piece, the 70 can a have maximum useable magnification of 165x which, considering the price, is a pretty decent.
You also get a preassembled tripod, a backpack to carry the system around, 45 degree erect image diagonal, and 5×24 finderscope.
The telescope is also very light, especially in comparison to the more expensive options only weighing in at 1.5kg, then again as it's a cheaper scope, and has a fairly low aperture, the details you'll see with this as opposed to what's visible through let's say the nexstar 6se is night and day.
All in all users find this to be great compact and travel friendly system that's great for observing closer object in space such as the moon and the other more nearby planets.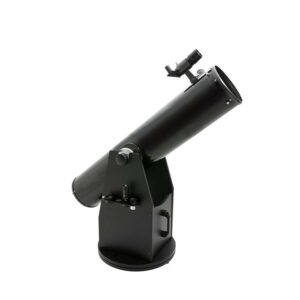 Pros
Great Power For The Price
High Quality Dobsonian Mount
High quality dual speed focuser
Solid eyepieces included
Cons
Open Tube Means Higher Maintenance
It's Somewhat Heavy
The Z8 is a scope designed for novice astronomers and comes with a fair few useful extra accessories in the box. The price range for this scope is between $400 – $500 which puts it more in line with a beginner to mid range system.
As for the specs, the aperture is 203mm with the. Focal length being 1200mm which give its focal ratio of f/5.9. As for the accessories included within the box, you'll be provided a 30mm wide angle eyepiece and another much narrower eyepiece at 9mm. The magnification for these eyepieces are at 40x and 133x respectively.
The eyepieces alone would be the main reason to go for this system over the skywatcher 8″ collapsible or the traditional variant, then again it depends on whether your looking to save some money or not.
The other accessories included are a dual-speed focuser with a micro-adjusting knob, a quality 9×50 finderscope, and even an included laser collimator. With all the other accessories the Z8 definitely does seem to offer a good amount of value for the price.
People have found focusing through the finderscope is easy, the two eyepieces add very good value and just that the value for what you get is very solid.
The biggest complaint anyone had with the system is that the collimation is way off out of the box so adjusting this may be a pain once you get the Z8
Pros
Great value for money
Easy to use
Easy to set up
A good 25mm eyepiece
Easy to collimate
Cons
It's really big
Higher levels of maintenance and collimation due to it being a reflector
The finderscope in the box is poor
The pricing for the Skyquest XT6 will range between $350 – $450 which firmly places it between a beginner and intermediate level telescope.
XT6 Plus' aperture is at 6 inches which is roughly around 152mm whilst the focal length is at 1200mm which results in a focal ratio of f/8.
The system comes with 2 different eyepieces which includes a 25mm (48x) and a 10mm (120x), Shorty 2x Barlow, Safety Film Solar Filter, eyepiece rack, EZ Finder II reflex sight and a collimation cap. As for the maximum magnification for XT6 plus, you can see upto 300x with it.
The smaller aperture for this in comparison to the Z8 and the 8″ Skywatcher does mean that the details you see won't be as great but, at roughly $100 cheaper than both, it's certainly a very solid choice for beginners to look into.
This scope is especially good at viewing sunspots due to the the solar filter included. So, if that's something you want to be able to view, the XT6 Plus is a very solid pick.
Pros
Great value for money
Great accessories included
Easy to use
Great Optics
Cons
Will need to fairly regularly be collimated and maintained
It's big and heavy
This is the high end variant of the zhumell z line, coming in at around $700 – $1000 depending on whether there's a sale or other elements messing with the price.
The aperture of this scope is at 12 inches, as the name would suggest, which is roughly 305mm and the focal length is 1500mm. The focal ratio is f/4.95.
These stats mean that this scope is among the most powerful systems on this list as the huge aperture means it can capture the most light which translates to the most detail amongst all the scopes I've mentioned so far.
This means that the Z12 is able to show an incredible amount of detail when pointed at pluto and you can also see a good amount of detail when gazing at other galaxies. Depending on the night, the Z12 is even capable of examining Uranus' and Neptune's moons.
As for the accessories and the maximum magnification of the Z12, the accessories the come in the box includes 2 full multi coated eyepieces at 30mm and 9mm which allows for a magnification of 50x and 167x respectively and you'll also get an 8×50 right angle finderscopes . As for the maximum magnification, it stands at a massive 600x.
The biggest con when it comes to this system is the size and weight. Weighing in at a pretty hefty 34kg, the size of the scope stands at over a metre tall with circumference around 14 inches (36 cm), this is definitely not system you can carry around and take to camping trips.
The assembly may be a bit of a pain too but, once all of that is sorted out and if you're looking to get the best and most clear viewing experience through a telescope, the 12 inch Zhumell will be a very solid option for you.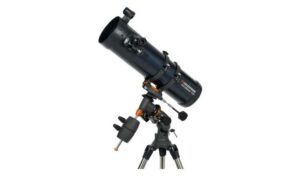 Pros
Reasonably priced
Decent specs
Cons
Uses a spherical mirror
Subpar build quality
Mediocre accessories
Regular maintenance required
Somewhat difficult to align the mirrors
The astromaster 130EQ is another more budget oriented telescope costing you around $170 – $250 depending on where you shop for it.
As it's a relatively cheap scope, the specs aren't all that amazing but, they should be adequate for entry level star gazers. The aperture of the lens is 130mm with a focal length of 650mm which translates to a focal ratio of f/5.
As for the accessories includes, you'll be provided with a mount, tripod and 2 eye pieces which are 20mm and 10mm each. This translates to a magnification of 33x and 65x respectively for both eyepieces. The theoretical maximum magnification for this system is at 307x.
This means that the 130EQ will be best when it comes to viewing the moon in pretty through detail whilst all other planets within the solar system won't have very much detail. In fact mars, being a little smaller than earth, will only appear as a dot through this scope with included eyepieces but, considering what you're paying, this is a comprised that's to be expected.
This scope is most comparable to Z130 on this list as it's got the same aperture and very similar specs in general. All in all it's a fairly compact and a lightweight scope only weighing in a 12.7kg which makes it a solid scope to travel with.
All in all, it's a solid entry level system for anyone looking to get into astronomy without breaking the bank.
The Different Types Of Telescopes
When deciding on a telescope, you should keep in mind that there are 3 different types of telescopes, these are refractor, reflector and compound based scopes
Refractor Telescopes : this type of telescope uses a refractor mechanism. How it works is that the front of this variation has a large lens, and as the lens collects light, it beams it into the mirror that is positioned in the back of the telescope which eventually allows you to see objects at a distant.
Refractor's a great for viewing objects on earth, generally tends to be very low maintenance as the optics aren't exposed and tend to have a very sturdy build. The disadvantage to a refractor scope are that they aren't the greatest scopes for observing faint objects in space and because they are sturdy, refractor telescope also tend to be quite bulky.
Reflector Telescopes : the difference between a refractor and reflector telescopes is that reflector scopes have a mirror built into the end of the tube.
This gathers light which is then reflected onto another mirror before it hits the eyepiece. Reflector scopes have a few distinct advantages over refractor scopes such as being very solid at viewing faint objects in space, the tend to have significantly higher quality images and they tend to be more compact than refractor telescope ls too.
The biggest disadvantages to this variation is the higher maintenance due to the optics being exposed and they're not very good at observing objects within earth.
Compound Telescope : This is the last variation of a telescope and is also known as a catadioptric telescope. Unlike the other styles, this telescope features two mirror, which are located in the front and back. These mirrors work together to capture high quality images which of course means a compound scope is designed more so for capturing images over observing objects.
The benefits to this scope is that they're great at capturing high quality images for astrophotography and objects on earth , the tubes are sealed so the maintenance is a lot less than a reflector scope and they're also useful for viewing faint objects.
Conclusion
The telescope you go for will ultimately be dependent on how much you are willing to invest in them. Pretty much anything below the $300 range will generally be most appropriate as toys or for entry level astronomers whilst portability will also cost you a fair bit more especially if you want good optics to go with it.
Keep in mind that when the system is bigger, it usually means it'll have much better detail but, it's also means it'll be bulkier and harder to carry around.
In the end of the day what telescope you go for isn't the biggest of deals but, what is a big deal is taking a step to observing and enjoying the vastness of space. The technology we have now is pretty great so, getting the chance to see jupiter or even Mars, live, is a pretty awesome position to be in.
A Recap Of Our 3 Favourites!
Name
Editor's Choice
Celestron Nexstar 6SE
Most Affordable
Svbony SV35 70mm
Most Powerful
Zhumell Z12
Image
References
https://www.skyatnightmagazine.com/advice/telescope-stats-explained/