*This post may contain affiliate links. This means we may make a commission if you purchase an item using one of our links*
Welcome to my Celestron Inspire 100AZ Review!
In this review I'll cover the pros, cons and Celestron Inspire 100AZ's features to ultimately help you decide on whether the Celestron Inspire 100AZ is a system worth investing in or one that you should skip out on.
Overview
Full Name: Celestron Inspire 100AZ
Type: achromatic refractor
Aperture: 4″(100mm)
Focal length: 660mm
Focal ratio: f/6.6
Dimensions & Weight:
Included eyepieces: yep 1.25-inch 20mm and 10mm Kellner eyepieces
Rating: 3/5
Pros
Sturdy build
Minimal maintenance required
Decent accessories
Cons
Overpriced for the specs
Chromatic aberration
Mediocre eyepieces
Will be annoying to use when attempting to view object beyond a 44 degree angle.
Celestron Inspire 100AZ Refractor Smartphone Adapter Built-In Refracting Telescope, Blue (22403)
Easiest setup of any entry level scope.  With the folding accessory tray you just pop the tripod legs open, turn the lock knob and you're ready to go.
Bold new design - The main telescope lens cap comes with a fully integrated smartphone adapter built-in, perfect for the budding astrophotographer. The asymmetrical mount design offers light weight and incredible stability. Erect image optics enables a fully correct image for easy viewing day or night, terrestrial or astronomical.
Red LED flashlight - Stowed in the center of the mount head, the flashlight can be used to gently illuminate the accessory tray or can be removed for use as a spotlight when needed.
Focus micrometer - Allows quick return to a specific focus point for specific targets (bird nests, infinity focus, etc.)
How Do The Celestron Inspire 100AZ's Optics Work?
The Inspire 100AZ uses refractor based optics within it's enclosed tube. If you don't already know, refractor optics are only of 3 core telescope optics found within devices, with a reflector and compound being the other 2. Of course all of the core variations do have their sup groups but, these 3 are the core names.
The Inspire 100AZ uses an achromatic refractor lens, which is fully coated meaning it'll be able to provide a crisp and detailed view of space whilst decreasing issues with aberration , provided you don't go beyond it's capabilities but, it also has a few shortcoming due to how the achromatic lens is designed.
The pros of the optics found within Inspire 100AZ include :
As an enclosed tube is used the optics won't need to be cleaned or collimated all the time
The lens also allows the Inspire 100AZ to double as a spotting scope of sort.
The images will generally be sharper because misalignment isn't very common
As for the cons :
As the lens is thicker, it suffers from chromatic aberration therefore, certain lights i.e. ultraviolet light won't be accurately captured but  the coating (although a very thin one at that) will mean that around 80% of all objects you view won't clearly show any form of chromatic aberration.
The optics mean the Inspire 100AZ is more expensive than a similarly powered reflector counterpart
It's not as good at viewing faint objects in outer space as the other 2 variations.
The cons obviously don't mean the Inspire 100AZ's optics are bad per say, it just means that in certain instances the images you'll see through the viewfinder may not appear in the colour that they should, which is mainly attributed to the achromatic lens used.
What Do The Celestron Inspire 100AZ's Specifications Mean?
As for the Inspire 100AZ's specs, it has an aperture of 100mm, a focal length of 660mm resulting in a focal ratio of f/6.6. What this means is that the device will be pretty balanced in the sense the images won't be too wide or two narrow due to the focal ratio and in turn will be able to provide a roughly a 200x magnification when used at its highest magnification.
Some retailers say that the 241x is its highest useful magnification but, generally speaking most telescopes tend to provide a little less power than advertised so expect the inspire 100AZ to not be particularly useable and detailed at its "peak magnification".
Nevertheless, at around the 200x range and below, the Inspire 100AZ will allow you to make out quite a lot of great celestial objects :
The moon and its craters will come across in great detail
Jupiter, Venus, Saturn and Mars should look pretty great through the scope and fairly easy to locate.
Uranus and Neptune might barely be viewable at the max magnification of the the inspire 100AZ.
Galaxies, nebulaes, star clusters and large parts of the messier should be viewable although there may be issues showing accurate colours with some stars.
Relative to other $200 reflector systems for example (Zhumell Z130, Lightbridge Mini 130) the power that the 100AZ has is definitely very lackluster however, as beginner level telescope it does have its advantages such as minimal maintenance.
As for the 100AZ's dimensions and size, the Inspire 100AZ is small and quite lightweight. These specs are 96.5 x 83.8 x 132.1 cm by 6.1kg without the tripod and 9.07kg with it, meaning it's not the lightest system out there but, it'll still be a fairly easy system to move around.
Accessories Included In The Box?
The accessories you'll find in the box are two 20mm (33x) and 10mm (66x) 1.25-inch Kellner eyepieces, a StarPointer Pro red dot finder, a tripod that comes with a built in folding accessory tray which also doubles as a another leg on the tripod for stability, a single-speed rack and pinion focuser with 1.25-inch eyepiece holder, dust cap camera mount and other miscellaneous documentation.
The kellner eyepieces are at best average so I would suggest upgrading them a little down the line for a better, more clear image quality (click here to check out our list on some of the best eyepieces to invest in), the red dot finder and focuser are decent although some users didn't really like them whilst the camera mount will allow you to strap a smartphone to it to take photos and videos but, it won't always be the most sturdy.
As for the tripod, it essentially acts as the 100AZ's mount and is very short meaning if you want to view certain celestial objects in the sky beyond around a 45 degree point, it will be pretty annoying to do. Then again this is less to do with the tripod and more to do with the design flaws of the 100AZ.
What Are Users Of The Celestron Inspire 100AZ's Saying
The user reviews on the 100AZ are very much a mixed bag with some really liking it and others calling it out for being a bit too weak and badly designed system for its asking price.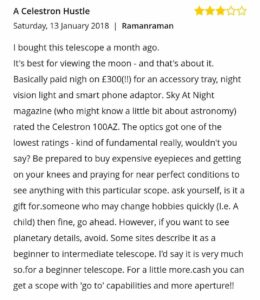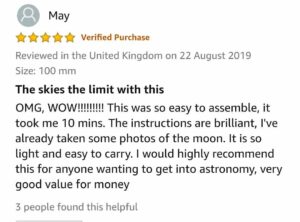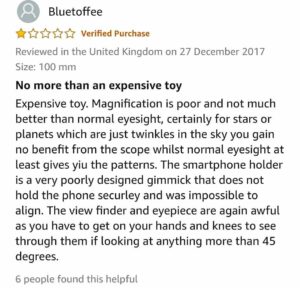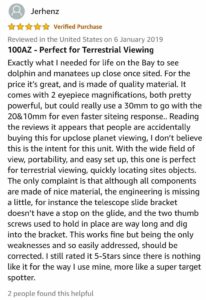 So, definitely take this into account before investing in the device.
Other Alternatives Worth Checking Out
The Inspire 100AZ is a device I would say is very much a beginner level system with sub par specs for astronomy and a few design flaws however, this doesn't mean it's a terrible device all round.
However, if you want more bang for you buck and a telescope that's much more than something that can only see the moon, according to some users, I'd suggest checking this list out on the best systems for viewing planet by clicking here.
On the other hand if you're still interested in other sturdily built refractor telescopes, click here to check out our list on that particular area.
Summary
I personally would not recommend buying the Inspire 100AZ if you're serious about astronomy and want to get the most out of your money.
Don't get me wrong, it's not a bad device, it does have its pros such as a sturdy build, lower maintenance requirements, its ability to act kind of like a spotting scope but, unless you can find it at a discounted price or if you're buying it for a child who is a little clumsy, I'd personally recommend giving this system a miss.
Of course in the end of the day if you decide to buy it whilst accepting the Inspire 100AZ's flaws, I can only hope you have a great experience with it.