*This post may contain affiliate links. This means we may make a commission if you purchase an item using one of our links*
If you're in the market for a sturdier telescope, a system that requires minimal maintenance due to its enclosed casing, maybe you're looking at a telescope for a younger child but don't want to splash the cash or maybe even a scope that dabbles in astrophotography.
If any of these points resonate with you, this list of the best refractor telescopes for beginners should help you in find a scope that fits the bill.
1. Sky-Watcher Evoguide 72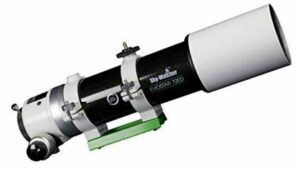 Pros :
Provides a stable and crisp image
The tube is very lightweight
Low maintenance
Quite affordable entry level astrophotography kit
Cons :
No eyepieces included in the box
No mount provided
Suffers chromatic aberration
The Evoguide 72 is a great beginner refracting astrophotography telescope. The sturdy build, low maintenance design and it's relatively affordable pricing at around $350 – $400 makes its a solid scope for anyone looking to take images of the deep sky whilst retaining the benefits of a refractor telescope.
The specs for the Evoguide 72 is a 72mm aperture, 420mm focal length and a f/5.8 ratio but, due to the short focal length, the field of view is very wide meaning capturing and seeing star clusters and a wide field view of the universe will be its bread and butter.
The theoretical max magnification of this device is only at 213x but, at this magnifications you'll still be able to capture some nice images planets and of course the moon and star clusters will be pretty crisp through the lens too when simply observing outer space.
However, although the refractor design is sturdy meaning you can get away without maintaining or collimating the mirrors all the time, it still does mean that the Evoguide will have a bit of distortion and chromatic aberration which will add some form of distortion to some pictures taken or even when viewing the deep sky live.
As for the accessories included in the box, you don't really get any thing besides a 2″ dual speed Crayford focuser.
To make the most out of the scope and maximise the performance of the images by shooting at areas with little to no light pollution, you will need to purchase a lot of things such as a mount to keep the scope sturdy, a few eyepieces for viewing different celestial objects and of course a great DSLR camera to take photos with.
Meaning if you wanted to have a full on astrophotography kit, you'll need to maybe spend double what the the tube itself is worth. Of course if you're just buying it to look at some stars, all you'll need is a mount.
Nevertheless, at around the $400 mark, the Evoguide 72 is great device, fairly portable weighing in at around 3kg's with the dimensions of the tube only being 42cm in length making it just an all round great device.
2. Celestron Inspire 80AZ Refractor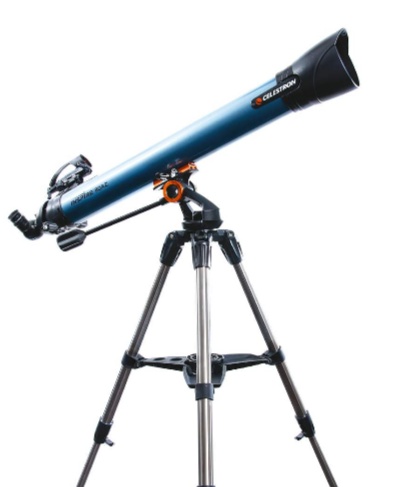 Pros :
Very affordable
Requires low maintenance
Good for planetary viewing
Good for kids looking into astrophotography
Quite portable
Cons :
Does suffer from chromatic aberration
Mediocre accessories
Celestron's inspire 80AZ is a completely noob friendly telescope being roughly $150 and of course because it uses a refractor mechanism, it's a lot easier for younger kids to get into astronomy and basic astrophotography through it.
The specifications are an 80m aperture lens, 900mm focal length making a focal ratio of f/11.25. The higher focal ratio is generally ideal for systems that are designed for astrophotography and although this isn't primarily the focus of the 80AZ, it does make it a little better for the job.
As for the max magnification of the device, it's only around 157x so it's not all that powerful but, with the right eyepieces, you should still be able to see a bunch of celestial entities through the eyepieces like planets in the solar system, the Moon, star clusters and brighter deep sky objects like the Orion Nebula and Andromeda Galaxy.
The accessories in the box includes 2 eyepieces at 20mm (45x) and 10mm (90x), a 90° erect image diagonal, an integrated smartphone adapter, a finderscope, and a red LED flashlight. You also get celestron's starry night software which consists of a quite the sum of deep space objects you can learn about.
The eyepieces and finderscope aren't generally the greatest out of the box, especially from the other offerings celestron provides nevertheless, it should still be decent enough for viewing a few celestial objects. The scope is also fairly portable and lightweight with dimensions of 96.5 x 83.8 x 132.1 cm and a weight of a very light 7.7 kg
All in all, the inspire 80AZ is going to be great refractor scope for young children and people getting into the basics of astronomy and for people not wanting to deal with all the maintenance stuff that's required from a similarly priced reflector scope.
All in all the 80AZ is very much a beginner scope so, you're expectations should also fall within this somewhat limited RANGE but, it is still a good device.
3. Explore Scientific ED127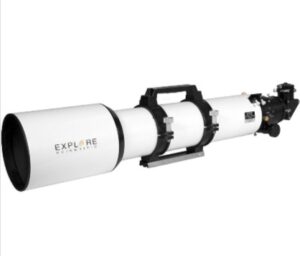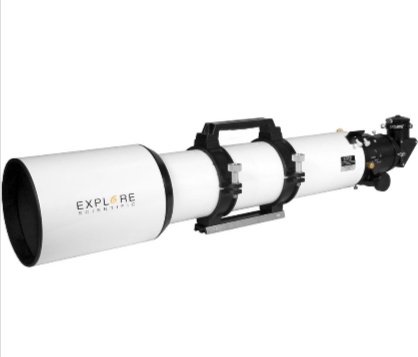 Pros :
Great specs
Uses an APO Refractor lens which significantly reduces chromatic aberration
Will be great for taking images of planets due to the narrower focal ratio
Is built sturdily
Won't require regular maintenance and collimation
Cons :
Does not come with a mount
Is very expensive
No eyepieces included in the box
This is in the region of being one of the highest priced scopes on this list but, it's also among the more complete refractor based astrophotography telescopes around.
The ED127 will set you back $1.3k – $2k making it a mid to high range scope designed for intermediate amateur astronomers who have a decent amount of cash and really want to be able to take great photos.
The ED127 is a apochromatic refractor telescope meaning it's manufactured to reduce chromatic aberration, which is a very big problem that cheaper refractor scopes tend to face.
Moreover, it has some very good benefits over refelectors such as being sturdy devices that require minimal maintenance and tweaking for appropriate collimation. They can also act as a spotting scope per say, which isn't something that Newtonian reflector systems can do.
The specifications of the ED127 includes a 127mm aperture lens, a focal length of 952mm resulting in a focal ratio of f/7.5.
As the scope is essentially a 5inch offering, the maximum magnification is also quite decent being 250x. This makes it a much more versatile scope than the smaller 72mm or 80mm scopes on this list.
This means you'll be able to capture some decent images of jupiter and saturn with good detail and even images of many star clusters and nubulaes.
The ED127 comes with a fair few accessories too. This includes a Dew Shield, 2″ Diagonal, 1.25″ Eyepiece Adapter, dust Covers, Ten-to-One & Dual-Speed Focuser and a Universal Adjustable Mounting Plate.
The device is fairly portable with dimensions of 38.4 x 11.4 x 11.2 inches whilst weighing in at roughly 12kg. It definitely won't be a nuisance to move around if that's what you're worried about.
The accessories appear to be very solid according to users and the device as a whole has provided some of the most high quality astrophotography images that many users have ever experienced so, it's a astrophotography partner that you definitely cannot go wrong with, provided you have all the necessary camera equipment and a nice mount because astrophotography scopes tend not too come with one.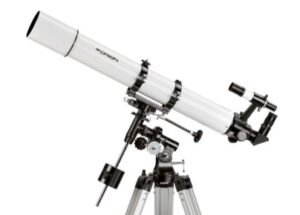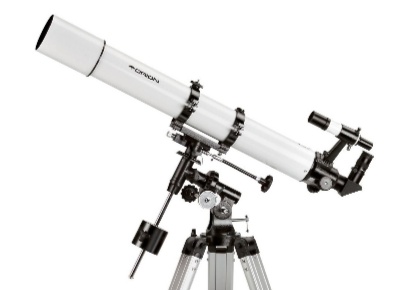 Pros
Great accessories
Great refractor optics
Easy to set up
Good build quality
Cons
The mount is a little flimsy
Chromatic aberration
Finderscope is subpar
Quite expensive for the specs
The Orion AstroView is, I guess you call a mid to upper entry level refractor scope as it will set you back around $250 – $300 if you were to buy it.
The specs of the device are the following, a 90mm aperture, a focal length of 910mm which equate to a very large focal length of f/10. What this also means is that the chromatic aberration that's a big problem with refractor telescopes is actually significantly reduced but the larger focal length does means that the field of view is pretty narrow too.
The maximum theoretical magnification of the AstroView 90mm is roughly 177x (around 130x – 177x probably max magnification) which means you will be able to observe some of the larger planets in the solar system with some detail and be able to view star clusters, constellations etc. however, the magnification does mean the detail when observing will be very limited for objects further away.
The accessories included in the box are Sirius Plossl eyepieces at 25mm (36x) and 10mm (91x), 6×30 finder, 90-deg star diagonal, adjustable aluminium tripod with accessory tray, and an EQ-2 equatorial mount with slow motion controls for manual tracking.
As for the dimensions and weight of the device, it's 96.5 x 43.2 x 29.2 cm and 14.5 kg so it's relatively portable, I'd say portable enough to maybe travel with it in a carryon bag but, it's certainly a little on the heavier side (in comparison to what's on this list) although more than manageable.
As for the user experience, on amazon the large majority have a lot of good things to say about it but, the mount is said to be a little tough for a newbie to get used to, and kf you want to get the best out of the system you will need to look at upgrading the eyepieces to higher quality ones because the ones included in the box are, at best, average.
Furthermore, the assembly of the device was also said to be pretty easy however, it does appear to take around an hour or so sort out.
Overall, besides the type of mount that comes with the scope, the Orion AstroView 90mm may not necessarily be the best telescope for a beginner but, the low maintenance and general benefits of a refractor scope makes it still a very solid system to purchase.
5. Celestron 21064 AstroMaster 90EQ Refractor Telescope
Pros
Portable design
Specs are made for planetary viewing
Relatively lightweight
Decent accessories
Slower focal ratio means chromatic aberration will be reduced
Cons
The build quality isn't great
Hard to set up according to some users
Celestron's Astromaster 90eq is yet another, I guess you could say upper entry level refractor telescope. It's around the $200 – $250 range in terms of pricing.
As for the systems specifications, it has an aperture of 90mm, a focal length of 1000mm which results in focal ratio of f/11. This means that the Astromaster has a narrow field of view and once again because of this larger focal ratio the issues which generally plague refractor scopes, primarily chromatic aberration, is for the most part fixed.
Of course the 90mm aperture is still somewhat small as is its max theoretical magnification of 177x (although on amazon the stats say its 213x). Of course like the AstroView the Astromaster is able to see jupiter saturn, nebulae and galaxies without too much of problem although detail will of course be comprised for the planets that's max out the power to see.
You'll be able to use the Astromaster 90eq as a spotting scope to an extent if that's a feature you like in your telescopes.
As for the accessories that come with it, you'll get 2 1.25″ eyepiece at 25mm (and 10mm (100x), StarPointer red dot finderscope, erect image diagonal, and free Starry Night astronomy software.
The dimensions and weight of the Astromaster 90eq are also quite modest at 43 x 15 x 10 cm and 6.83 kg respectively. The weight and size are more than manageable and shouldn't be any kind of hindrance if you plan to travel with it on a regular basis.
The user experience is also very positive with the large majority of individuals saying that the device is easy to set up and a bargain for the experience it delivers. The set up process also seems to be quite short only taking around 20 – 30 minutes to setup.
The eyepieces have been described as being very mediocre. Then again this is to be expected in this price range but, as a whole, the 90eq is a very solid entry to upper entry level refractor telescope.
Pros
Easy set up process
Fairly easy to Collimate
Can double as a spotting scope
Solid accessories in the box (if they're not faulty that is)
Good mount
Cons
Some individual had issues with the products out of the box (broken eyepieces, faulty tube etc.)
Chromatic aberration
More or less double the price of a similarly powerful 4 inch reflector telescope
The meade Instruments 102AZ is another entry level refractor scope costing around $130 – $170 of you wanted to buy it.
It"s specifications are fairly modest with a 102mm aperture lens, a focal length of 600m result a focal ratio of f/5.9. So technically speaking this meade 102AZ is a little more powerful than most of the others telescope I've talked about on this list however, the smaller focal ratio does mean chromatic aberration will be a bit of problem.
Then again at its fairly modest price it does make sense why the ratio is small. As for the scopes maximum theoretical power, it stands around 200x which means it will be more than capable of viewing a lot of deep space and celestial objects much like the other systems on this list however, the views will be quite distorted.
The accessories that you'll find within the Box include 3 eyepieces (MA6.3mm, MA9mm & MA26mm) and Barlow lens (2X) for viewing a wide range of objects (Moon, planets, or land), 90 Degree Erect Image Diagonal Prism, Meade Infinity Optical Tube,Alt-azimuth mount with slow motion controls, Stainless Steel Tripod with Accessory Tray, a database of over 10k objects and few other miscellaneous documents.
As for the scopes dimensions and weight they stand at 86.4 x 86.4 x 134.6 cm and 5.53 kg. As you can see the device is quite compact and very lightweight so moving it around, whether it be to a hill with minimal light pollution or upstairs to your bedroom should be fairly easy to do.
The telescope, as described by the users is easy to use and is great when it's set up, especially for the price however, the eyepieces are said to be pretty darn useless and there are also issues with loose screws. This means you will need to invest in some better eyepieces but, overall the 102AZ is not a bad device.
7. Gskyer Telescope, 600x90mm AZ Astronomical Refractor Telescope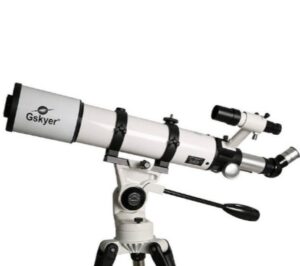 Pros
It's relatively affordable
Accessories provided are good
Will require minimal maintenance due to it being a refractor
Cons
Subpar Barlow lens
Can be rough collimate the device if ever gets out of alignment
The Gskyer is a German telescope that's also a refractor based system. It costs around $250 to purchase this specific model placing it, once again, in the upper entry level price tag for a refractor based telescope.
The Gskyer has an aperture of 90mm, a focal length of 600mm resulting in a focal ratio of f/6.7. This means the scope is somewhere in the middle in regards to having a wide field view and a narrower more magnified view. The Gskyer's maximum theoretical magnification is 177x making it more than capable of viewing planets nebulae, galaxies etc.
As for the accessories included in the box, you'll be provided with a tripod, three replaceable eyepieces which includes a 37.5mm (24X), a 15mm (60X) and a 7.5mm (120X), one 3x Barlow lens (3x the magnification of any eyepiece), AZ Altazimuth Mount and a few other miscellaneous documents.
As for the systems dimensions and weight, it's 38 x 12 x 8 inches with a weight of roughly 8kg so it's a fairly lightweight and reasonably compact device to move around.
As for the user experience, according to amazon a large majority who decided to pick the Gskyer telescope up had a great experience with it. The set up process only takes around 10 minutes (which is certainly nice) and viewing mountains is also a nice touch, something a reflector would struggle to do.
The build is sturdy as well however, the Barlow lens is described as being lousy, it's plastic and pretty low quality. The collimation is also described as being a little annoying according to one customer but overall, the large majority who purchased this system found it to provide an amazing viewing experience, especially for the price you pay for it.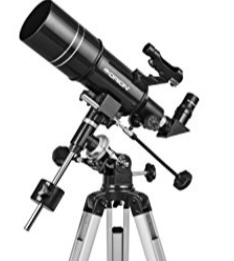 Pros
Very portable
Minimal maintenance required
Great EQ-1b equitorial mount
Decent inbox accessories
Cons
Suffers from chromatic aberration
Isn't the best value for the specs
Is quite cheaply made (a lot of plastic)
This is another lower end refractor telescope, with a price tag in the range of $150 – $200. At that price, especially for a refractor based scope which are generally a little more expensive than their direct twin in the reflector scene, it is still a solid entry level system.
With an aperture of 80mm, a focal length of 400mm, it's focal ratio will ultimately be a fairly average f/5. What these specs mean is that the Orion Observer will only have a maximum magnification of around 157x.
Now this simply means that it's not got the most powerful of optics but, at maximum capacity, you will be able to observe jupiter and definitely a fair few star clusters. As the system has such a small focal ratio, the views you'll be able to see through the eyepiece will be wide meaning nebulaes, constellations and the general cosmos should look nice.
As for the accessories you'll get in the box, you'll be given a 90-degree star diagonal, two anti-reflection coated 1.25″ Kellner telescope eyepieces at 25mm (16x) and 10mm (40x), red-dot reflex sight and the Orion MoonMap 260.
The device's dimensions and weight are 157.5 x 81.3 x 157.5 cm and 4.54 kg so it's not the smallest of devices nevertheless, it is very light and of course the benefits of being a refractor scope make it a pretty solid cheap option if you were planning on buying a telescope for a clumsy teenager or a child that's particularly fascinated about space.
As for the user experience with the Orion Obsever, it's very positive, the wide field view is a really positive feature however, the mount appears to have a bit of learning curve and the eyepiece through which you look was also regarded as being uncomfortable to view through.
So in essence, the general consensus of the scope was that as long as you keep your expectations grounded, the Orion Observer shouldn't disappoint.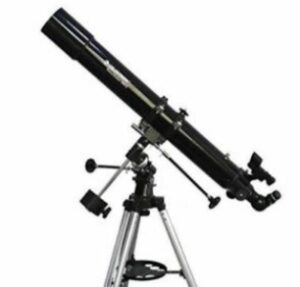 Pros
A good amount of accessories provide
Good value for money
A decent mount
Minimal maintenance
Cons
A bit limited in performance
The 675x magnification marketing is a lie
The PowerSeeker 80EQ is yet another entry level 80mm refractor scope and once again it's a pretty solid one costing around $115 – $150.
The specs, much like the price are pretty modest and entry level with a 80mm aperture lens, a focal length of 900mm resulting a focal ration f/11. Once again the larger focal ratio does mean issues with chromatic aberration are mostly resolved.
The size means you'll be able to achieve a maximum magnification of 157x (it's 213x amazon but the reason I believe it's 157 is due to calculation use to decipher power). This means you'll be able to view a fair few things however, the overall detail you see on the planets or star clusters won't be the best but, the views will be pretty good despite the lower pricing.
In the box the powerseeker 80eq comes with a fair few accessories including a 20mm (45x) and 4mm (225x) eyepieces, a 3x Barlow lens, Astronomy Software download with over a 10,000 object database, printable sky maps and 75 enhanced images, Manual German Equilateral Mount and a few other miscellaneous documents.
The 4mm eyepiece, even when compared to the higher max magnification of 213x would still not be the greatest eyepiece for the scope as it'd cause a huge loss in detail when observing outer space. The Barlow lens is unlikely to be all that great either considering how cheap the whole package is but, it's a nice accessory nonetheless.
As for the scopes dimensions and weight, they're 98.1 x 32 x 24.4 cm and 8.62 kg so the 80eq pretty manageable and quite portable telescope.
10. Meade Series 6000 115mm Triplet APO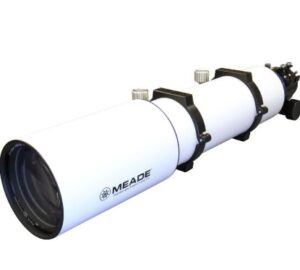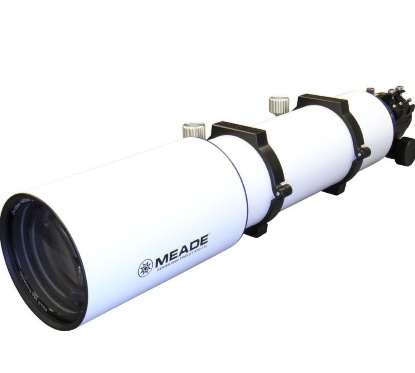 Pros :
Will require minimal maintenance
Uses the superior APO refractor optics
Won't suffer from chromatic aberration
Will take great images with true colour rendition
Very portable
Cons :
Is very expensive
No included mount
Subpar inbox accessories
Meade's series 6000 115mm is near enough a top of the line astrophotography telescope considering it has a price tag of around $1.7k – $2.3k depending on where you shop.
It's a refractor that uses apochromatic lens which means it's a very sturdy build that doesn't require you to collimate it all that often and even has less spherical and chromatic aberration than the achromatic lens that most refractors use.
The triplet aspect of the lens also makes it great for true color rendition without distortion across the entire field of view when taking photos.
As for the specs, this system has a 115mm aperture lens, a focal length of 805mm resulting in a pretty fast f/7 focal ratio. The aperture being 115mm is much larger than the majority of the strictly astrophotography telescopes in this list meaning it'll be pretty solid for taking decent images of some planets with the max magnification of 226x.
Of course, what the scope will shine at most is taking wide field images of outer space star clusters and galaxies and with its Triplet APO lens, the accurate colours will produce mesmerising images.
The accessories included in the box are a carrying case and a 2.5″ Dual-Speed 10:1 Rack & Pinion Focuser. The systems dimensions and weight also make the meade a highly portable device withe the dimensions being 5.5 x 4.5 x 12.5 inches with the weight being a light 5.5kg
It shouldn't really come as a surprise that if you want a telescope that's both a refractor and great at taking images, the meade 6000 115 is a brilliant system to go for.
11. Celestron 21036 PowerSeeker 70AZ Telescope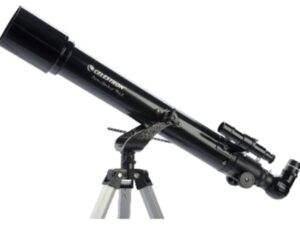 Pros
Very affordable
Very portable
Won't suffer from extreme chromatic aberration due to slower optics
Cons
Low end specs
Mediocre accessories
This is by far the cheapest scope on this list costing around $80 – $100 so you should understand the device won't be very powerful.
It has a 70mm aperture lens, a focal length of 700mm with a focal ratio of f/10. This means that the field of view with the scope is very narrow which also means the aberration issues aren't as prominent as they would be.
The max theoretical magnifying power is around 138x. Theoretically this does mean you'll be able to see a few other planets within the solar system but, for the most part it'll only really be great when it comes to looking at the moon. It can also double as a spotting scope but, do keep in mind this isn't the 70AZ's primary function so it's unlikely it'll be amazing in that regard.
In the box the powerseeker 70AZ comes with 2 eyepieces (20 and 4 mm) for 35 and 175-fold magnification respectively, 5×24 finderscope ,an alt-azimut mount ,an aluminium tripod with accessory tray, a planetarium software Redshift 7 Celestron edition ,a software CD along with a few other documents.
The dimensions and weight of the telescope are 96.5 x 33 x 25.4 cm; and 2.65 kg so it's a very lightweight and quite a portable device which will make it easy to transport.
However, you have got to keep in mind that at the lower price tag, the powerseeker isn't going to provide the best viewing experience. When you're paying less than a hundred bucks, the sights you'll through the lens won't be amazing so keep your expectations in check If the powerseeker 70AZ is what you're planning on getting.
The Types Of Telescopes
There are 3 different types of telescopes and they all have their benefits and weaknesses. These three types include a Reflector, A Compound and of course Refractor telescopes.
The core benefits of a reflector is that they're the cheapest of the three to manufacture meaning you'll have the ability to buy a telescope with more horsepower at a lower price.
And they also don't have issues with chromatic and spherical aberration that refractor's tend to suffer from.
However, the pros come with the cons so even though the aperture per dollar is technically better for reflectors, is it really worth the extra maintenance that would be required on top?
Refractors are the eaiser of the two to look after as the optics aren't exposed like a reflectors, instead it's hidden within its uniform body.
A compound scope also fixes all the issues of a reflector and even for the most part, the issues that refractor base scopes have however, they also tend to cost a lot more to manufacture which means the prices for compound scopes will generally start off at a higher price than both a refractor or reflector telescope.
They also have a loss of detail too because the light is bent inside the telescope, generally to accommodate a more compact design.
Why A Refractor Telescope?
And last but not least it's the refractor telescope design. The refractor design is actually the oldest of the three main optical designs but, this doesn't mean that they aren't great.
These scopes tend to have enclosed tubes meaning the requirement to maintain and collimate every time you decide you want to gaze at some stars will be less of pain than if you had a reflector system.
They make for pretty solid spotting scopes too.
Of course the biggest problem with this design is the issues regarding chromatic aberration and the weight distribution of the device which may make it a bit awkward to position the tube however, as long as you're not trying to having telescope with a lens as big as possible, this design is more than capable and still has a fair few benefits over reflector designs.
Keep in mind that achromatic refractors scopes usually suffer a lot more (the majority of the cheaper refractor telescopes) whilst the more premium APO's fix a lot of the issues and are generally designed for astrophotography purposes.
Conclusion
Hopefully this list has helped you in some way to decide what scope you should go for and whether or not a refractor design is for you.
If there's anything else you want to discuss regarding this list, please don't hesitate to do so in the comments below, many of the readers and I would very much appreciate it!
Thanks
Amhil