*This post may contain affiliate links. This means we may make a commission if you purchase an item using one of our links*
Welcome to my Orion Observer 80ST review!
If you're in the market for an entry level telescope, the Orion Observer 80ST is probably one that's popped up on your radar, which is also the main reason why you've found yourself on the review.
This review on the Orion Observer 80ST will cover all the core features of the device, the pros, cons and ultimately help you make a decision on whether this beginner level telescope is worth the money or one you should skip.
Overview
Full Name: Orion Observer 80ST
Type: Achromatic Refractor
Aperture:  80mm
Focal length: 40mm
Focal ratio: f/5
Dimensions & Weight:
Included eyepieces: 2. 1.25″ kellner eyepieces at 25mm and 10mm
Rating: 3.7/5
Pros
Very portable
Minimal maintenance required
Great EQ-1b equitorial mount
Decent inbox accessories
Cons
Suffers from chromatic aberration
Isn't the best value for the specs
Is quite cheaply made (a lot of plastic)
Orion Observer 80ST 80mm Equatorial Refractor Telescope
Explore the planets and scan the heavens for bright deep-sky gems with the compact and low-cost Orion Observer 80ST refractor telescope
An ideal refractor telescope package for the observer on-the-go, the compact Observer 80ST packs a lot of performance into a petite telescope design
80mm f/5.0 rich-field refractor telescope delivers sharp and bright wide-field views of the cosmos - great for exploring the Moon, wide views of bright planets and their closeby moons, star clusters, bright nebulas and galaxies
The included EQ-1B equatorial mount and adjustable-height tripod allows smooth slow-motion movement to easily track objects in the sky
Includes 90-degree star diagonal, two anti-reflection coated 1.25" Kellner telescope eyepieces, red-dot reflex sight and the Orion MoonMap 260
How Do The Orion Observer 80ST's Optics Work?
Telescopes tend to come in 3 main optical variations either in the form of a reflector, compound or in the case of the observer 80st, refractor based optics. All 3 variants including refractor optics can further be broken into sub variations, with refractors in particular either using an lower quality achromatic lens or the higher level Apochromatic lens.
Of course as the observer is a beginner level telescope, the optics within the OTA is an achromatic one, nevertheless as a purely beginner level device, an achromatic lens will be more than satisfactory despite its issues.
In this case the pros of the refractor optics within the Observer 80ST include the following :
Due to an a enclosed tube being used, the optics won't need to be cleaned or collimated all the time which means less maintenance required
Refractor devices can also double as a spotting scope of sort
The images will generally be sharper because misalignment isn't very common
As for the cons the cons they are as such :
As the lens is thicker, it suffers from chromatic aberration therefore, certain lights i.e. ultraviolet light won't be accurately captured.
Refractor based devices tend to be more expensive than their similarly powered reflector counterparts (A 4 inch reflector may only set you back $100, one example being the Zhumell Z100 which is 50% cheaper)
It's not as good at viewing faint objects in outer space unlike a reflector or a compound device.
Overall the optics aren't amazing but, they should provide a reasonably sharp, contrasted and a competent viewing  experience for most amateur beginning their StarGazing hobby.
What Do The Orion Observer 80ST's Specifications Mean?
The observer 80ST has an aperture of 80mm, a focal length of 400mm resulting in a fast focal ratio of f/5.
What this means is that the max magnification of the device will theoretically be at 160x, the telescope will also be better for wider field shots however, the fringing of colours around the edges of objects will still be extreme as a faster focal ratio isn't very proficient at correcting chromatic aberration for refractor devices.
Moreover, the observer's fast focal ratio won't make it the most competent of telescopes for viewing planets even though it should still do a satisfactory job here. On the other, for what it lacks in close up shots of planets, the 80ST does excel in the more wider field visuals.
In regards to what you'll actually be able to see with this device, if we take into account the 80ST's max magnification it should be possible to see the following :
The moon and its craters in reasonable detail
Jupiter in reasonable detail
Saturn and an outline of its rings near max power
Mars, Mercury and Venus should be visible although not in much detail
You should be able to make out some star clusters, a few galaxies as bright dots and maybe some asteroids if you're able to track them and if they're near enough to you.
Other deep space objects like nebulas and galaxies should be visible too although you should keep in mind Refractors aren't the greatest in this field.
Portability is one aspect that the 80ST is great for largely due to it's smaller aperture and footprint as a whole. It only weighs 4.5kg when fully assembled (0.9kg for the tube, 2.5kg for the mount and 1.1kg for the counterweight) so it should be very easy for the majority to move it around.
It's also relatively small too with dimensions at 157.5 x 81.3 x 157.5 centimetres. This of course is with the mount fully set up but, the size can also be retracted and in turn will be quite easy to store for the majority, especially if you take the mount and tube apart first (which is recommended).
Accessories Included In The Box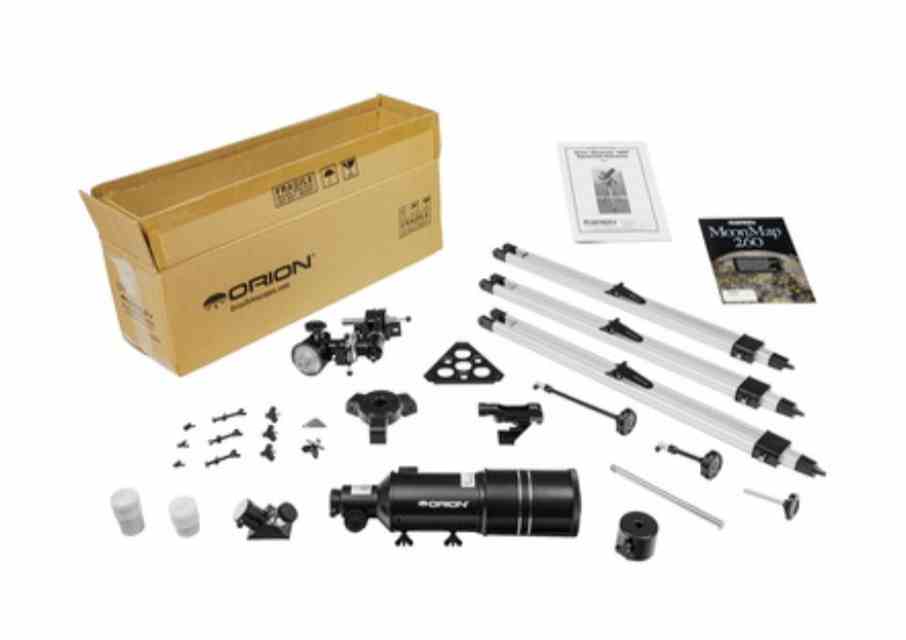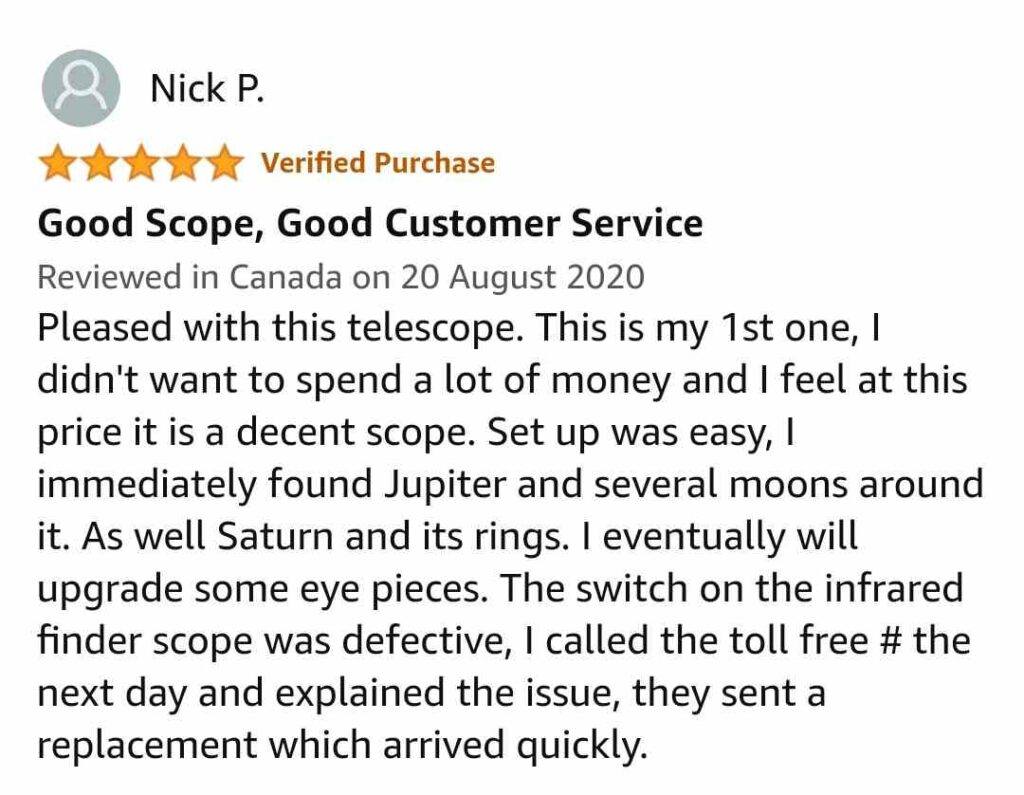 The inbox accessories includes 2 1.25″ kellner eyepieces at 25mm and 10mm, a 90-degree star diagonal, a red dot reflex sight finderscope, the Orion MoonMap 260, a rack and pinon focuser along with a bunch of your normal documents and manuals.
The accessories for a beginner level telescope are great for what they are but, you will definitely need to upgrade some accessories, particularly the eyepieces, to get the maximum performance (click here to see what our top eyepiece picks are).
The focuser seems to be smooth whilst the red dot reflex finderscope is alright but may need an upgrade too for the best performance.
Nevertheless, as an overall package the inbox accessories are adequate for what they are as they should allow you to use 80ST at a good a portion of its capabilities.
The Orion Observer 80ST's Mount
The mount used by the observer is a EQ-1B. It's regarded as being quite the exceptional mount for the price as it allows for a full range of motion when adjusting the visuals whilst being heavy enough to minimise potential issues with stability. With that being said as the 80ST is a super lightweight device you should still expect some shakiness.
One of larger concern users had was to do with the legs of the tripod as they found over tightening the leg lock thumbscrews resulted in damage to the plastic collar.
Minus the general getting to grips with the mount and the lack of stiffness on the legs, resulting in some shaking when adjusting the knobs, the construction (which is metal) and overall quality of the EQ-1B mount is genuinely really good and potentially even the telescope best feature.
Another thing worth noting is that some users struggled with fitting the mounting platform to the equitorial mount but, I assume over time this issue will become less of a problem.
What Are Users Of The Orion Observer 80ST Saying
Users who go in as beginners expecting a lower level of detail have found that the observer is very good for them however, those that were unable to focus the device along with the cheaper build of the observer 80ST overall weren't all that impressed with the device.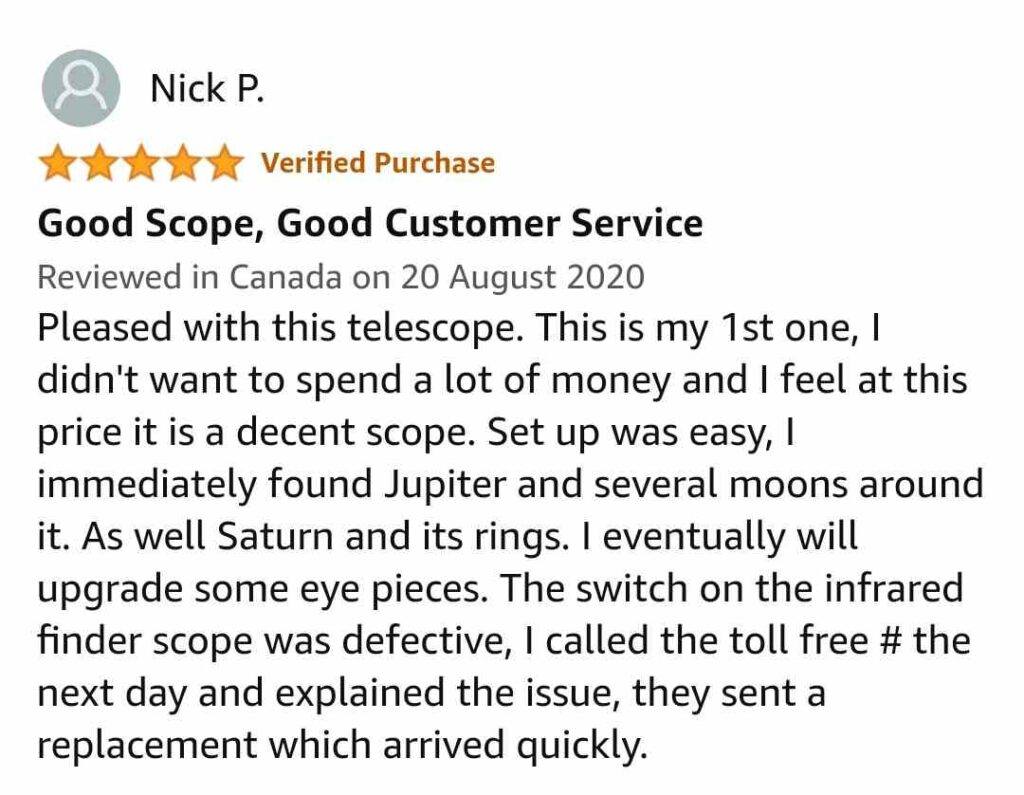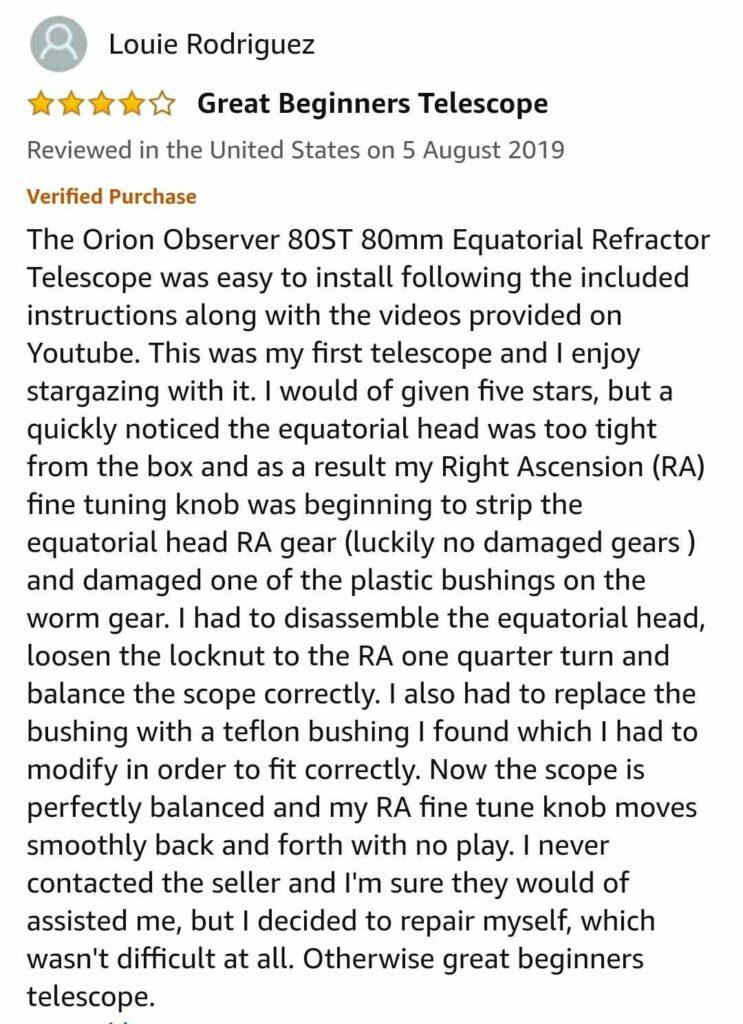 The image quality isn't that impressive as a whole but with better equipment and eyepieces, it should still more than do the job for beginners that both interested and able to accept the colour inaccuracies that achromatic refractors tend to have.
Other Alternatives Worth Checking Out
If you're interested in alternatives you can check out our list on the top refractor telescopes for beginners. Click this link to access that page.
On the other hand if you're versatile in regards to the optics of your telescope, our list on the best telescopes for under $300 maybe worth looking into. Click here to access that.
Summary
Despite its flaws the Orion Observer 80ST is a competent beginner level refractor telescope that's very portable, has decent inbox accessories and an excellent mount for the price.
Of course it does have its short comings (which is to be expected in this price range) but for what it's worth, if you're not necessarily looking for the best overall value and don't want to go through all the maintenance that more powerful reflector alternatives tend to have, the 80ST should serve you well if you ever decide to pick it up.