Welcome to my Orion GoScope 80mm TableTop review!
If you're in the market for an entry level telescope, the Orion GoScope 80mm is probably one that's popped up on your radar, which is also the main reason why you've found yourself on the review.
This review on the Orion GoScope 80mm will cover all the core features of the device, the pros, cons and ultimately help you make a decision on whether this beginner level telescope is worth the money or one you should skip.
Overview
Full Name: Orion GoScope 80mm TableTop
Type: Achromatic refractor
Aperture: 80mm
Focal length: 430mm
Focal ratio: f/4.3
Dimensions & Weight: 48.3 x 27.4 x 26.7 & 2.57kg
Included eyepieces: 2 1.25″ 3-Element eyepieces at 20.0mm (17.5x) and 10.0mm (35x)
Rating: 3.5/5
Pros
Very portable and lightweight
Easy to maintain
Easy to set up
Can be attached to a tripod
Cons
Chromatic aberration is extreme
Image quality is fuzzy
Expensive considering the specs
Mediocre accessories
How Do The Orion GoScope 80mm TableTop's Optics Work?
The Orion GoScope 80 uses refractor optics within its tube, namely of the achromatic refractor variant. This means that it'll be easy to maintain as refractor optics are placed within an enclosed tube and its performance will be quite balanced eventhough it does have its cons.
However, despite the cheap buying price of the GoScope, the overall ability of the optics are satisfactory.
Regarding the pros of refractor optics in general, they include the following :
Due to an a enclosed tube being used, the optics won't need to be cleaned or collimated all the time
Refractor devices can also double as a spotting scope of sort
The images will generally be sharper because misalignment isn't very common
As for the cons they are as such :
As the lens is thicker, it suffers from chromatic aberration therefore, certain lights i.e. ultraviolet light won't be accurately captured.
Refractor based devices tend to be more expensive than their similarly powered reflector counterparts (A 4 inch reflector may only set you back $100, one example being the Zhumell Z100 which is 50% cheaper than the Orion GoScope 80)
It's not as good at viewing faint objects in outer space unlike a reflector or a compound device.
As refractor based telescopes like the GoScope tend to be enclosed, more often than not the collimation aspect of the device wouldn't be necessary however, some users have found that when the GoScope comes out of the box completely unaligned, it becomes really tough or nigh impossible for a beginner to put it back in focus.
Then again this doesn't seem to be a wide spread issue but, certainly one worth keeping note of.
What Do The Orion GoScope 80mm TableTop's Specifications Mean?
The Orion GoScope has an aperture of 80mm, a focal length of 430mm resulting in a focal ratio of f/4.3. This spec list is very entry level and it does mean that chromatic aberration (fringing of colours on the outer edges) will be very prevalent.
It also means the GoScope will be far better suited for wide field viewing, which does make sense considering the overall power of the device being quite low, allowing for a max magnification of 160x with a usable one around the 120 – 130x range.
Once again considering this is an entry level grab and go device, I'm sure this fact shouldn't surprise you too much. As for what you will be able to see with the Orion GoScope it includes the following :
The moon and its craters in reasonable detail
Jupiter in reasonable detail
Saturn and an outline of its rings near max power
You should be able to make out some star clusters, a few galaxies as bright dots and maybe some asteroids if you're able to track them and if they're near enough to you.
One of the GoScopes's biggest selling points has to do with its grab and go nature and ultimately its portability, which unsurprisingly it completely delivers on.
As the GoScope is a table top telescope, the overall size of the device isn't large at all so it should be more than possible to just carry it in a backpack. It only weighs in at 2.57kg when fully assembled and its dimensions are very manageable too coming in at 48.3 x 27.4 x 26.7 centimetres.
Therefore, if you're looking to gift this to a younger member of your family or just want a simple grab and go device that doesn't take up too much room in your home whilst also providing some great views of the moon up close, the stars and other celestial objects, the Orion GoScope is a very neat piece of kit for that.
Accessories Included In The Box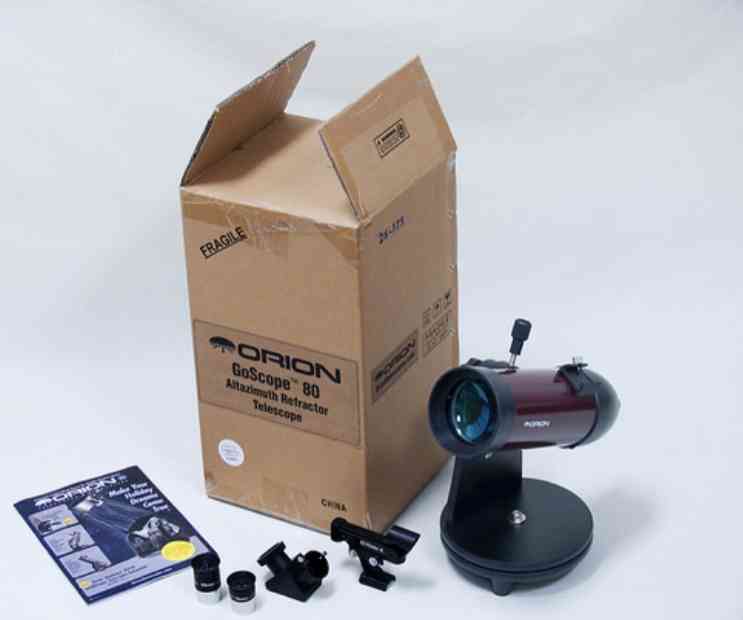 The in box accessories include 2 1.25″ 3-Element eyepieces at 20.0mm (17.5x) and 10.0mm (35x) , a EZ Finder II finderscope, a star diagonals pointer among other miscellaneous documents.
The accessories for the most part are passable but if you do want to get the best performance out of the GoScope, investing in more powerful eyepieces or a 2 or 3x Barlow lens is a must (check out our list for some great eyepieces to look into).
Nevertheless, expecting the highest quality accessories with a GoScope isn't something that will happen so do expect to be putting in a bit more money to get the most out of the GoScopes's power, if that's important to you.
The Orion GoScope 80mm TableTop's Mount
The mount used by the GoScope is quite the cheap table top dobsonian mount so it's intended to be used (as the name would suggest) on a table or stacked upon some books. The device can also be mounted on a tripod with a 3/8 inch or 1/4-20 threaded post which should allow you to use the GoScope at a far more comfortable height when outdoors.
It isn't anything spectacular but, considering the portability of the GoScope, the general competence of a table top dobsonian mount and the positioning of eyepiece not being super awkwardly placed like some smaller devices tend to be is certainly a positive.
A stable and sturdy viewing experience should be expected for the majority of beginners, even if the images won't be the sharpest you can see for the money.
What Are Users Of The Orion GoScope 80mm TableTop Saying
Most beginner level astronomers and even the more experienced individuals interested in smaller portable telescopes found the Orion GoScope a more than competent grab and go system despite its somewhat mediocre plasticy build quality and extreme colour fringing.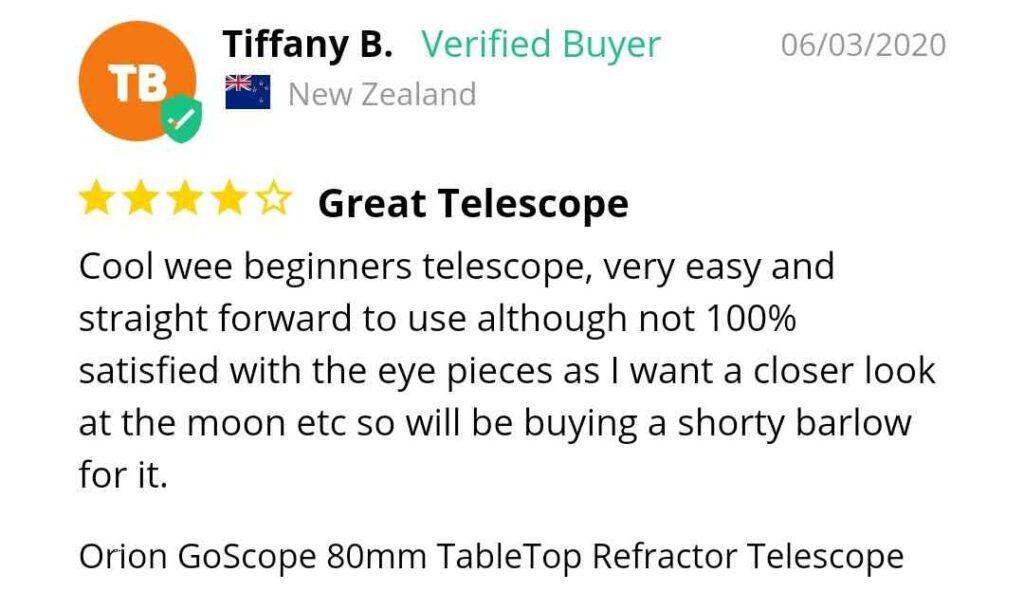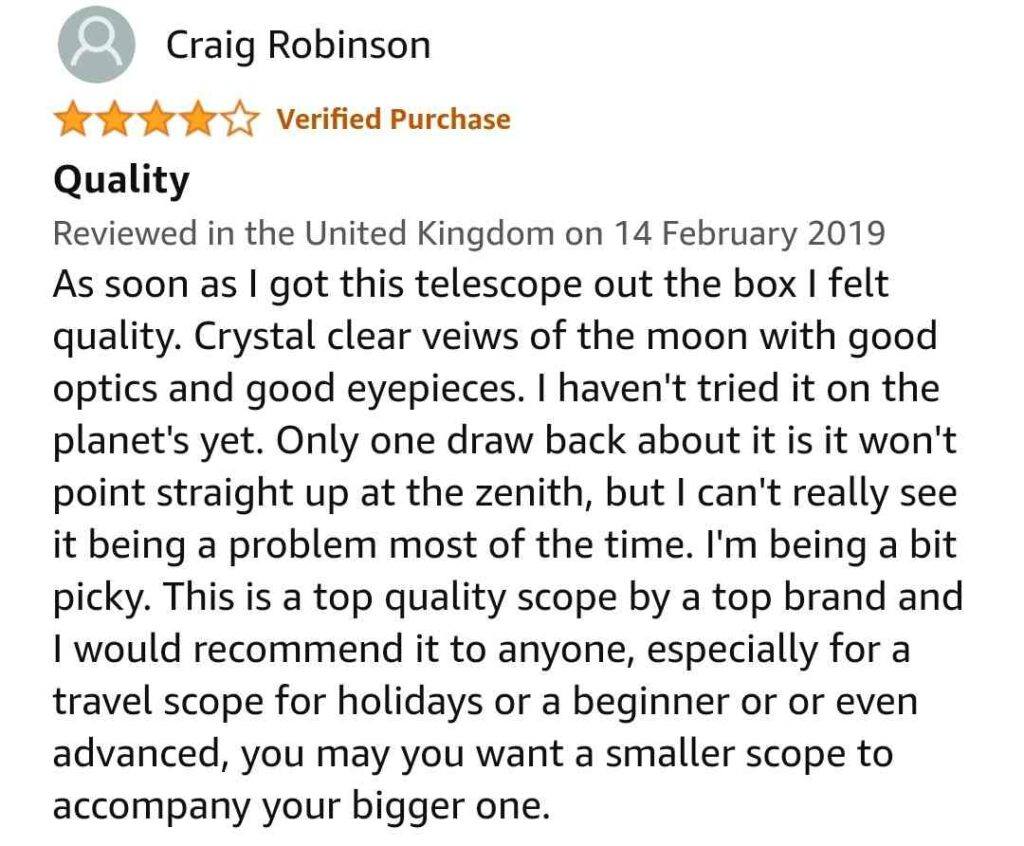 Other Alternatives Worth Checking Out
Although the GoScope is a very low maintenance device and is very much the epitome of portable telescopes, in my opinion if you're genuinely serious about the hobby and want to see more colour accurate and detailed images, you're better off going for a table top reflector dobsonian like the Zhumell Z114 or the meade lightbridge mini 114 (if it's available).
Of course if you're willing to stretch your budget to $300, this list of ours has a plethora other worthy devices that far surpass the GoScope in performance even if they do sacrifice portability.
Summary
Overall the Orion GoScope is far from the best value for money table top dobsonian telescope considering it's chromatic aberration being quite heavy, the occasional issues with build quality and the small power to price ratio but, if you're purely after a grab and go telescope that's extremely portable and can accept its shortcomings, you will have a good time with this device.
Nevertheless, I personally would not suggest buying it purely because of the many better quality table top telescopes you can pick up for roughly the same price but, if you do pick it up the GoScope is still a fine device.