*This post may contain affiliate links. This means we may make a commission if you purchase an item using one of our links*
Welcome to my Orion AstroView 120ST review!
If you're in the market for an entry level telescope, the Orion AstroView 12ST is probably one that's popped up on your radar, which is also the main reason why you've found yourself on the review.
This review on the Orion AstroView 120ST will cover all the core features of the device, the pros, cons and ultimately help you make a decision on whether this beginner level astrophotography telescope is worth the money or one you should skip.
Overview
Full Name: Orion AstroView 120ST
Type: Achromatic refractor
Aperture: 120mm
Focal length: 600mm
Focal ratio: f/5
Dimensions & Weight:
Included eyepieces: 1.25″ Plossl eyepieces at 25mm and 10mm
Rating: 4.3/5
Pros
Very portable for the size of the optics
Good specs
Nice inbox accessories
Lower maintenance
Easy to set up
Solid beginner level astrophotography telescope
Cons
Chromatic aberration will be quite prevalent
It is expensive
Finderscope is sub par
Orion 9005 AstroView 120ST Equatorial Refractor Telescope
Wonderful wide-field refractor telescope for viewing deep-sky objects with crisp resolution
120mm (4.7") aperture and 600mm focal length refractor provides sharp views of nebular clouds, star clusters, and galaxies
Also capable of achieving pleasing views of the Moon and bright planets. Bearing material- Friction bearings
Includes sturdy adjustable-height tripod, equatorial mount for manual slow-motion celestial tracking and an internal polar alignment scope for precision performance
Includes two Sirius Plossl 1.25" eyepieces (25mm and 10mm), 6x30 finder scope, smooth 2" rack & pinion focuser, 90-degree mirror star diagonal, and Starry Night astronomy software
How Do The Orion AstroView 120ST's Optics Work?
The AstroView 120ST utilises refractor optics. Refractor are actually the oldest type of telescope optics we know of nevertheless, despite its age these optics are still very competent as a lot of modern day devices like the 120ST still use them.
Refractors can come is a few different sub variations with the two main ones being achromatic and apochromatic lenses, the former of which can be found in the 120ST. Out of the 2 achromats are definitely not as good when it comes to quality but, they will still amazing visuals for beginner to intermediate level astronomers (for a more in depth comparison between the two variations check out this article).
The general pros of the optics include the following :
Due to an enclosed tube being used, the optics won't need to be cleaned or collimated all the time which means less maintenance required
Refractor devices can also double as a spotting scope of sort
The images will generally be sharper because misalignment isn't very common
They have excellent contrast
As for the cons, they include the following :
As the lens is thicker, it suffers from chromatic aberration therefore, certain lights i.e. ultraviolet light won't be accurately captured.
Refractor based devices tend to be more expensive than their similarly powered reflector counterparts (A 4 inch reflector may only set you back $100, one example being the Zhumell Z100 which is 50% cheaper)
It's not as good at viewing faint objects in outer space unlike a reflector or a compound device.
So yeah, similar sized reflector devices are certainly cheaper but, Refractors more often than will provide more contrast and be a lot less of pain to maintain over extended periods of time due to the enclosed nature of these devices.
What Do The Orion AstroView 120ST's Specifications Mean?
The 120ST has an aperture of 120mm, a focal length of 600mm resulting in a fairly wide focal ratio of f/5. The faster ratio means that the AstroView should be decent for astrophotography (particularly for wider field views) however, a faster lens does also correlated to a more severe form of chromatic aberration.
The aperture of the device will allow you to view images at a theoretical max magnification of 240x although real world use will be 10 – 20% lower.
However, even if the true max magnification isn't necessarily usable, the 120ST should still allow you to view a number of unique celestial objects, some of which include the following :
Jupiter, it's red spot and even its cloud bands with solid detail near the max magnification.
Saturn's rings and the colour of the planet at the max magnification.
You'll be able to make out a good amount of detail on mars when it's nearest to the Earth.
Uranus, Mercury, Venus and Neptune can all also be observed although not in very much detail, specifically with Uranus and Neptune both of which will only be visible, in the best case scenario, as tiny blue disc (circle) shaped objects.
Nebulaes
Star clusters
Andromeda and a few other galaxies.
A good amount of celestial entities within the messier catalogue.
The moon and it's craters in very good detail.
The potential of a telescopes optics obviously is amongst the most important elements for a telescope, but if you've chosen to look into the AstroView because you were after a fairly portable 5 inch device too, considering the ST in its name (aka short tube), I can assure you that the portable nature of the AstroView will not disappoint.
The dimensions of the telescope come in at 96.7 x 42.6 x 29.5 centimetres which is very respectable, with the ota tube being 62.2cm. I imagine that you should be able to find storage space for the AstroView 120ST's tube considering it ain't too long.
As for how heavy the device can be, fully assembled it comes in at a hefty 16.5kg (with the counterweights placed on) but, separated the tube weighs in at a very lightweight 3.9kg whilst the mounts isn't too heavy either weighing in at 7.5kg.
Either way most teenagers shouldn't have an issue moving the separate elements of the AstroView around but, it certainly isn't the most portable device you can get in the market however, as a size to performance ratio, I'd say for the price the portability isn't half bad.
Accessories Included In The Box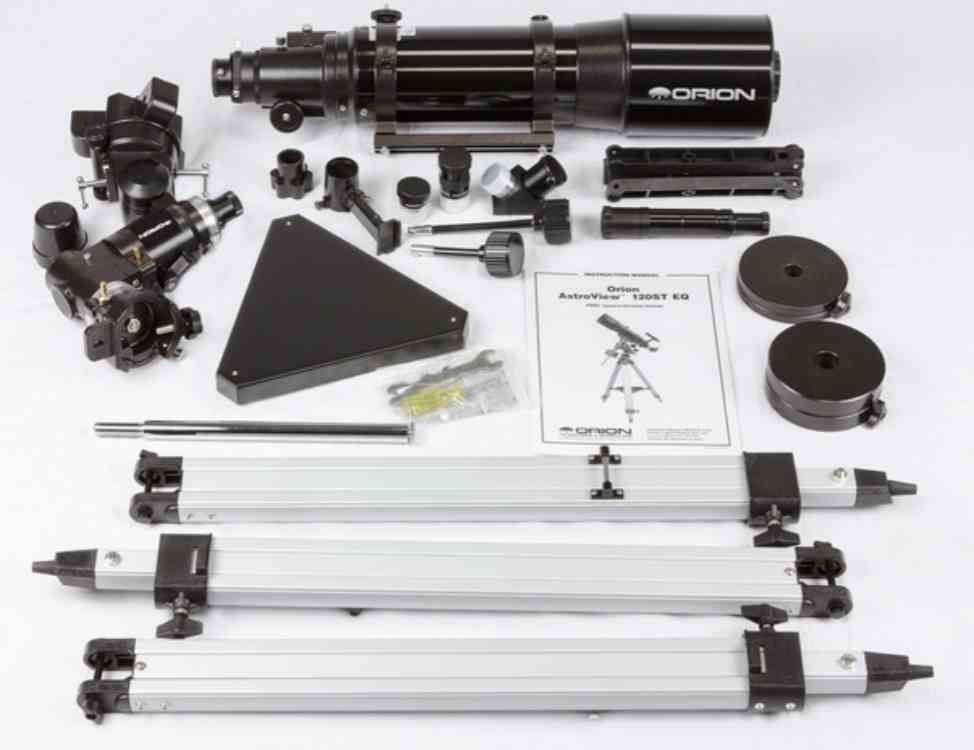 The 120ST's accessories includes two Sirius Plossl 1.25″ eyepieces (25mm and 10mm), a 6×30 finder scope, a 2″ rack and pinion focuser, 90-degree mirror star diagonal, Orion's Starry Night astronomy software along with a bunch of other miscellaneous documentation.
The accessories are pretty decent with the plossl eyepieces providing great quality visuals whilst allowing you to magnify to 24x and 60x.
Of course this is a limited portion of the 120st's power so you will inevitably need to invest in a barlow lens or eyepieces that allow you to magnify further (this list should be helpful for that) but as inbox eyepieces they're certainly up there.
As for the finderscope, it's is a bit too small and will probably need to be replaced in the future if you just want a device that's capable of gathering light more efficiently. Rack and pinion focusers are always solid so you shouldn't have many issues will focusing. The starry night software is also a neat add on as it'll hold your hand (to some degree) when trying to locate celestial objects in space.
The Orion AstroView 120ST's Mount
The AstroView uses what can be referred to as a equitorial mount which is then attached to the inbox tripod. The mount provides a smooth and controlled experience allowing movement within a 360 degree motion.
Polar aligning your should be a breeze with the polar polar alignment scope whilst the slow motion feature provides even more accuracy when attempting to locate celestial objects. It has a push push latitude adjustment system where pressing either button will adjust your tube higher or lower.
Furthermore, if you want the 120ST's mount to have the capabilities of a computerised mount, you can purchase an EQ drive system for around 150 bucks to achieve that functionality.
As a whole this EQ mount is very good for the functionality it provides. The only concern really is to do with the tripod which has legs that are a bit too thin resulting in it shaking the more that it's extended. Of course this shake isn't detrimental for most due to the counterweight but it may be a minor issue nonetheless.
What Are Users Of The Orion AstroView 120ST's Saying
Most users found the 120ST do be a great portable device that was easy to set up, a solid astrophotography partner whilst providing sharp visuals for the price.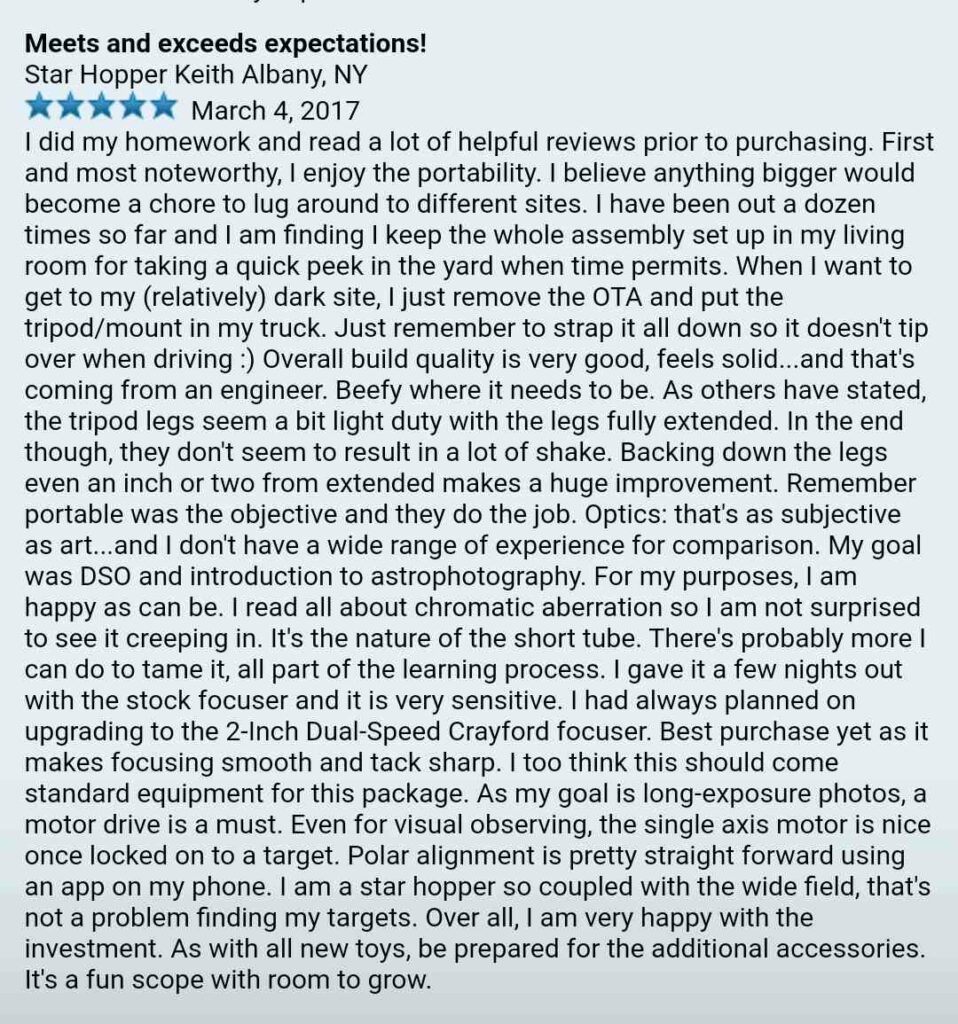 With that being said some users just weren't able to get past the heavy amounts of chromatic aberration visible so, if you don't want to visuals with purple halos around them, looking into a reflector device may be a better option for you.

Other Alternatives Worth Checking Out
Although the 120ST is an awesome telescope, it does have its flaws and of course it is a fair bit more expensive than other options. Therefore, if you're looking for a cheaper telescope and don't mind sacrificing portability, the orion SkyQuest XT6 is always a good option.
If you're looking into other portable devices, this list of ours may be helpful.
Lastly if you want a telescope that's a more capable device for viewing planets, this list of ours may be helpful too.
Summary
The Orion AstroView 120ST is honestly a really great all round telescope providing sharp contrasted visuals, allowing users to dip their toes into astrophotography whilst also being relatively portable for its size.
Furthermore, the maintenance required to sustain the device is not anywhere as bad as cheaper (and more powerful) reflector telescopes.
Of course the biggest con that the 120ST has is mostly to do with the chromatic aberration and and it's price the to some degree however, overall the 120ST is very well liked by the majority of users who purchase it and you likely won't be dissatisfied either.