*This post may contain affiliate links. This means we may make a commission if you purchase an item using one of our links*
Welcome to my Meade Instruments Infinity 102AZ Review!
In this review I'll cover the pros, cons and Meade Instruments Infinity 102AZ 's features to ultimately help you decide on whether the Meade Instruments Infinity 102AZ is a system worth investing in or one that you should skip out on.
Overview
Full Name: Meade Instruments Infinity 102AZ
Type: achromatic refractor
Aperture: 4″(102mm)
Focal length: 600mm
Focal ratio: f/5.9
Dimensions & Weight: 86.4 x 86.4 x 134.6 cm by 5.53 kg
Included eyepieces: 3 x 1.25″ MA eyepieces at 26mm, 9mm and 6.3mm
Rating: 3.5/5
Pros
Easy set up process
Fairly easy to Collimate
Can double as a spotting scope
Solid accessories in the box (if they're not faulty that is)
Good mount
Cons
Some individual had issues with the products out of the box (broken eyepieces, faulty tube etc.)
Chromatic aberration
More or less double the price of a similarly powerful 4 inch reflector telescope
How Do The Meade Instruments Infinity 102AZ's Optics Work?
The Meade Infinity 102AZ uses what is known as an achromatic refractor lens inside its tube, which is a sub category within the refractor optics line.
On top of refractor systems, if you don't already know there are 2 other telescope optic variations too, which include a reflector and compound, both of which have their pros and cons along with a few different sub variations
Anyhow, regarding the achromatic lens within the Infinity 102AZ, which is a beginner oriented lens that has a its fair share of cons and of course a few pros too.
Regarding the pros of this lens, they include :
Due to an a enclosed tube being used, the optics won't need to be cleaned or collimated all the time
Refractor devices can also double as a spotting scope of sort and the infinity 102AZ is no exception.
The images will generally be sharper because misalignment isn't very common
As for the cons :
As the lens is thicker, it suffers from chromatic aberration therefore, certain lights i.e. ultraviolet light won't be accurately captured with the Infinity 102AZ.
Refractor based devices tend to be more expensive than their similarly powered reflector counterparts (A 4 inch reflector may only set you back $100 one example being the Zhumell Z100 whilst in this case the infinity 102AZ is around $200)
It's not as good at viewing faint objects in outer space unlike a reflector or a compound device.
This isn't to say that the refractor optics found within the 102AZ are bad, it's just that for the amount of money your paying for it, unless you really want a telescope that can act as a spotting scope whilst being well built at the same time, you'd be much better off getting a reflector system that can do a lot more for the money.
Anyways, I'll move on to the specs of the device next.
What Do The Meade Instruments Infinity 102AZ's Specifications Mean?
The specs of the infinity 102AZ include an aperture of 102mm, a focal length of 600mm resulting in a moderately fast focal ratio of f/5.9.
These specs means that you'll be able to achieve a maximum power of 200x with the device (in real world use it'll be a little less though) and also be able to see a fairly wide image of space via the lens so, it's a fairly balanced device for vast space viewing and planetary observation although it doesn't excel in either field.
If you are able to get the max power of the device with upgraded accessories, despite the very small 4 inch aperture, you'd still be able to observe quite a few celestial objects, some of which include :
The moon and its craters in great detail
Jupiter, Venus, Saturn and Mars should look pretty great through the scope and fairly easy to locate.
Uranus and Neptune might barely be viewable at the max magnification that the Infinity 102AZ can handle.
Galaxies, nebulaes, star clusters and large parts of the messier should be viewable although there may be issues showing accurate colours with some stars.
As for it's size and weight, both areas show that the device is quite portable and compact. Then again this isn't surprising considering the optics the device has which is quite small out of the box anyways.
The dimensions and weight of the infinity 102AZ are 86.4 x 86.4 x 134.6 cm by 5.53 kg which is reasonably lightweight and should be quite easy to move around for adults or teenagers however, younger children may need a bit of help moving it around considering it is almost a meter long.
Accessories Included In The Box?
The inbox accessories include three 1.25″ eyepieces which come in a 26mm (23x magnification), a 9mm (67x magnification) and a 6.3mm (95x magnification) form, a 2x barlow lens, a 90 Degree Erect-Prism Image Diagonal, Red-dot Viewfinder(battery powered), a focuser, Meade's Autostar Suite Astronomer Edition DVD Software and a few other miscellaneous documents.
The accessories do appear to be of a passable quality, when they work out of the box that is, and will allows you to observe at a petty high magnification whilst also allowing the collimation process to be relatively easy. The Barlow lens has been described as being quite average though.
As for the red dot finderscope, it's not a bad bit of kit either once you manage to find the red dot and align your device, provided you follow the instructions, you should be able to set it up within 10 or so minutes or so. Watch the video below for a video guide on how you can align the infinity 102AZ if you think this aspect of the telescope will stump you.
As a whole the accessories found in the box are decent and will prove to be quite useful for a while if you're a beginner but, later down the line, especially if you want to get a much clearer and better viewing experience, you definitely should upgrade the eyepieces and the Barlow lens considering their quality is generally sub par when compared to other more expensive offerings.
The Mount
As for the tripod or the more appropriately, the Altazimuth mount, it's regarded as one of the better accessories that's provided within the the box, besides of course the telescope tube itself.
It most cool feature you could say is the slow motion controls it has because they'll allow for a much smoother tracking experience and will ultimately make the whole process of locking onto celestial objects easier, which in turn will make it a lot easier to collimate the optics inside.
However, as the mount is very much a beginner level tripod mount, it will be prone to wobbling and in turn will take a bit of time for the optics inside to effectively stabilise (roughly 1 – 2 seconds). If the mount itself was maybe 5kg heavier the stability of the tube would be much better.
That's not the case but it's also not a deal breaker, it's simply a compromise you'll have to accept.
Nevertheless, for the price and when compared to mounts from other similarly priced devices, it is built well as it is stainless steel, has tray attached to it for convenience, can become reasonably tall extending upto 51 inches and despite the common problems entry level mounts have such as a few problems when viewing objects overhead (at or near the zenith), the infinity 102AZ's included mount is very good relatively speaking.
What Are Users Of The Meade Instruments Infinity 102AZ Saying?
The experience that a lot of individuals have had with the infinity 102AZ doesn't appear to be horrible when everything received comes in working order however, the quality assurance for the product does appear dreadful at least from what I could find. Some individuals received faulty accessories whilst others said the whole telescope was broken.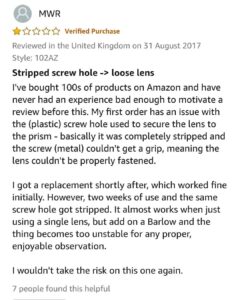 Of course there are individuals that have had a great experience with the highest level infinity AZ line product.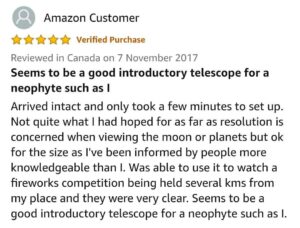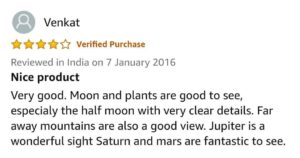 The negative experiences some have had with the infinity 102AZ, in my opinion, is a fairly reasonable reason not to invest in the device as you can't guarantee it'll work out of the box however, those that have received the device in fully functioning order have found it to be great.
In the end of the day whether or not you go for the Infinity 102AZ will be dependant on whether you'd be willing to take the risk.
Other Alternatives Worth Checking Out
The infinity 102AZ is very much a beginner level system with sub par specs for high level astronomy and a few typical optical flaws that all refractor systems have however, this doesn't mean it's a terrible device.
However, if you want more bang for your buck and a telescope that's much more than something that can not only see planets but see them in very good detail, I'd suggest checking out our list on the best systems for viewing planet by clicking here.
On the other hand if you're still interested in other sturdily built refractor telescopes, maybe give this list of ours a check by clicking here to be aware of a few other great if not better systems within the refractor market to get your hands on.
Summary
The infinity 102AZ is a decent entry level telescope that's easy to set up, fairly portable, comes with a whole bunch of (generally useful) accessories and a very good entry level mount however, my biggest concern with the 102AZ is mostly the poor manufacturing of their products, which are mainly due to it being created in China.
So, there's a chance you may receive a faulty system if you were to buy one . On the other hand, if the telescope works out of the box, it seems to actually be well received by the majority of individuals so, if you still want to buy it, you'll need to be willing to take a bit of a risk.
If that's not something you can do, then you should probably skip this one.