*This post may contain affiliate links. This means we may make a commission if you purchase an item using one of our links*
Welcome to my Skywatcher Evostar 120 Review!
In this review I'll cover the pros, cons as well as the Evostar 120's features to ultimately help you decide whether it's a good entry level astrophotography telescope or one that you should skip out on entirely.
Overview
Full Name: SkyWatcher Evostar 120
Type: achromatic refractor
Aperture: 120mm (4.5″)
Focal length: 1000mm
Focal ratio: f/8.33
Dimensions & Weight: 0.9 – 1m length and 5.1kg
Included eyepieces: 25mm and 10mm
Rating: 4.5/5
Pros
Solid price for the optics provided
Good image quality
Lightweight for its size
Good inbox accessories
Minimal maintenance required
Cons
You will need to fork out money for a mount as it isn't included in the box
False colours and chromatic aberration will still be noticeable on the photos taken
How Do The Skywatcher Evostar 120's Optics Work?
The Evostar 120 much like the majority of the other beginner level telescopes made for astrophotography utilises achromatic refractor optics within its chassis. As a result visuals and images will be quite good and relatively clear although don't expect the most detailed visuals as the specs aren't what you'd call top of the line.
Nevertheless, refractor optics are often regarded as the better of the 3 other optical variations for astrophotography so do expect the evostar 120's optics to be focused well and have some deeply contrasting visuals, surpassing many others within this price range.
As for the general pros of the achromatic refractor optical build, they include the following :
Due to an enclosed tube being used, the optics won't need to be cleaned or collimated all the time which means less maintenance required
Refractor devices can also double as a spotting scope of sort
The images will generally be sharper because misalignment isn't very common
And the cons are as such  :
As the lens is thicker, it suffers from chromatic aberration therefore, certain lights i.e. ultraviolet light won't be accurately captured.
Refractor based devices tend to be more expensive than their similarly powered reflector counterparts
It's not as good at viewing faint objects in outer space unlike a reflector or a compound device
Overall the optics are good for the price and sharper than many other options within this price range despite the issues you may face with chromatic aberration. With that being said if you can deal with the minor visual discrepancies, optically speaking you will enjoy the viewing and image taken experience from this device.
What Do The Skywatcher Evostar 120's Specifications Mean?
SkyWatcher's evostar 120 has relatively tame specs but, what you do get is an aperture of 120mm, a focal length of 1000mm and a focal ratio f/8.33.
This more narrower and slower focal ratio means that when it comes to taking images the evostar will be able to gather more detail whilst it also reduces the visual issues a decent amount too although chromatic aberration for example will still be visible on the images you take.
The aperture will also allow the evostar to achieve a max magnification of around 240x although in reality the usable number may be a around 10 – 20% lower. With that being said some have even reported no noticeable image degradation beyond 300x or even as high as 400x. Keep in mind that your mileage may vary.
Nevertheless, even with these slightly inferior specifications you'll still be able to see and capture images of the following celestial objects :
Jupiter, it's red spot and even its cloud bands with solid detail near the max magnification.
Saturn's rings and the colour of the planet at the max magnification.
You'll be able to make out a good amount of detail on mars when it's nearest to the Earth.
Uranus, Mercury, Venus and Neptune can all also be observed although not in very much detail, specifically with Uranus and Neptune both of which will only be visible, in the best case scenario, as tiny blue disc (circle) shaped objects.
Nebulaes
Star clusters
Andromeda and a few other galaxies.
A good amount of celestial entities within the messier catalogue.
The moon and it's craters in very good detail.
So yeah, the evostar is a fairly competent telescope. When it comes to size and weight, this is another area where the evostar doesn't fall short. Of course when you do decide to purchase a mount for the device the heft will increase a good amount.
Anyhow the ota tube itself only weighs in at 5.1kg which is a little more than 11lbs whilst its length is around the 0.9m – 1m mark so, a little long but not too much of a hassle overall. Due to the length, the spreading of that 5.1kg weight does mean the evostar will be very lightweight when carried it around.
Accessories Included In The Box
Even though a mount isn't provided in the box skywatcher still includes a bunch of other accessories which are two 1.25″ eyepieces at 10mm and 25mm, a 9×50 finderscope, a Dual-Fit 1.25″/2″ Focuser, a 2″/50.8mm Star Diagonal, a direct dslr camera connection along with a bunch of other pieces documentation.
These are certainly competent in box items with the eyepieces allowing you to view 40x and 100x magnification respectively.
The focuser does have some issues as the evostar is chinese built device such as it getting loose over extended periods of use. It's definitely advsiable to upgrade this to a more competent focuser to the likes of a 2″ dual-speed crayford focuser or something more high end for better use. Users have not necessarily liked the dew shield provided too.
As for the rest, they're all solid and even great for some with long travel focuses allowing for users to have plenty of room for attactching your DSLR and taking some great pics.
The Skywatcher Evostar 120's Astrophotography Ability
As an astrophotography telescope, before taking any images you'd definitely need to invest in a mount, where the likes of an equitorial EQ-5 should provide enough room and stability for taking images. After this you should be good to go when it comes to the photo taking side of things.
Due to the evostar being an achromatic refractor, in a number of the images you will notice false coloring which of course does reduce the overall quality of the photos.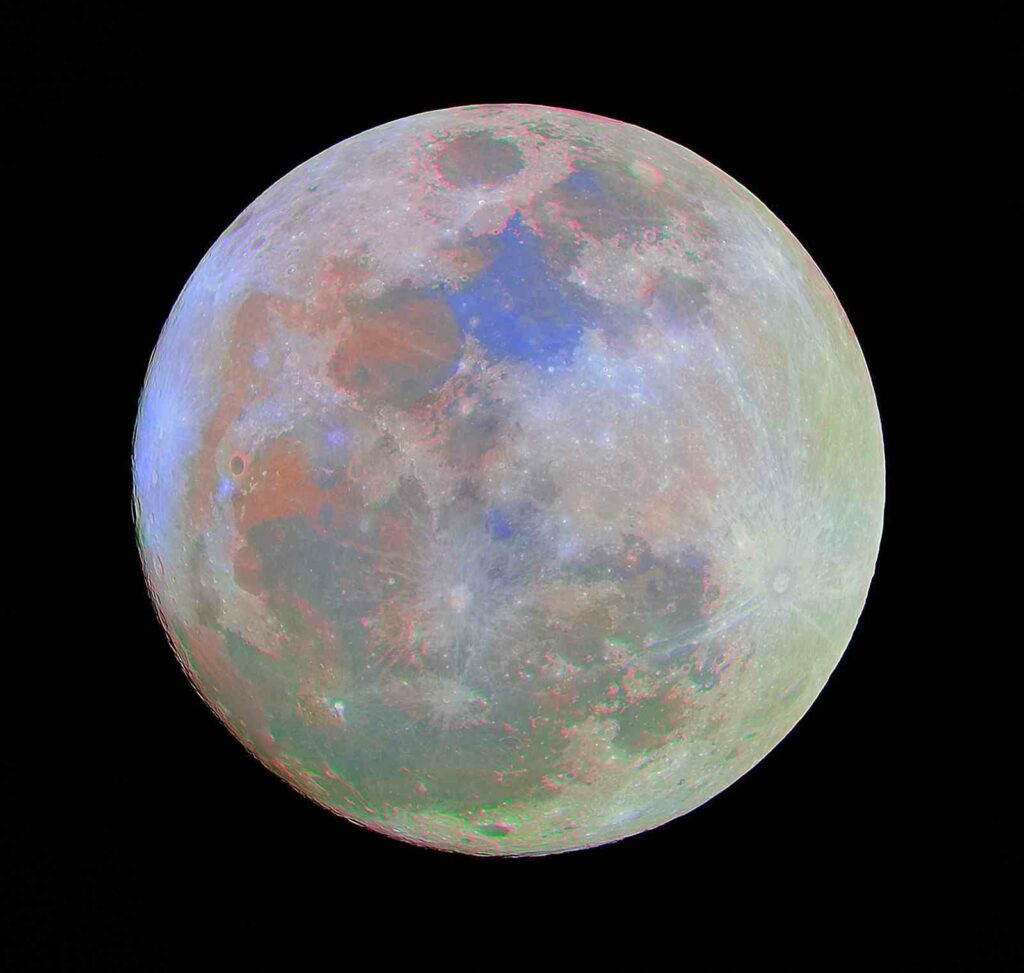 Nevertheless, shots of the moon, jupiter, the other relatively close planets, general deep space star clusters, nebulaes and just the stars as a whole do look great considering the optics are far larger and in turn more detailed than other alternatives for astrophotography around this price range.
Keep in mind that a lot of the magic does happen in the post processing phase so, if you do pick up the evostar along with a quality camera, definitely also be willing to pick up the ins and outs of a quality photo editing software.
What Are Users Of The Skywatcher Evostar 120 Saying
Users do find the evostar 120 to be a great ota tube for astrophotography despite some of its cons, mainly the chromatic aberration and the few issues with the items in the box.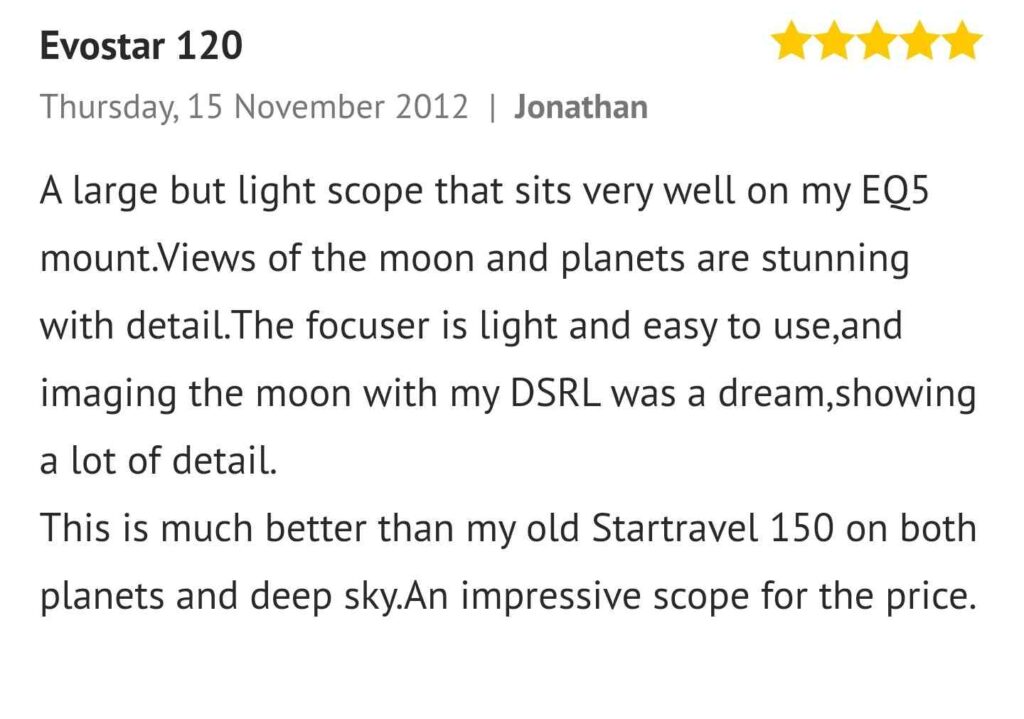 With that being said, considering the evostar is manufactured in china don't expect the greatest of build quality even though I'm recent times there has been a boom in the quality of products from the more quality brands in this space and other tech companies.
Other Alternatives Worth Checking Out
If the evostar isn't to your liking we have comprised a list of some of our favourite astrophotography telescopes on this list so you can take a look there if you want.
Alternatively, if you aren't interested in astrophotography or the extra costs of buying a mount isn't something you're too interested in, the skyquest XT6 that falls within this price range is always a telescope I'd recommend if you can handle the extra size and weight of it.
Summary
When it simply comes to a more budget astrophotography set up, the SkyWatcher evostar 120 is genuinely a very good piece of kit that can produce quality images, whilst also being really lightweight for its size.
Of course as is quite common amongst telescopes specifically designed for astrophotography you do only get the OTA tube and in turn will need to fork out a pretty penny for a competent mount.
Nevertheless, if you do bite the bullet and commit to the heavy expenses that come with taking amazing photos of celestial objects and deep space as a whole, the evostar 120 will definitely meet those needs.