*This post may contain affiliate links. This means we may make a commission if you purchase an item using one of our links*
Are you trying to get your 5 year old into astronomy, wanting to show them the ropes or simply want a telescope that'll be a whole lot of fun for both you and the 5 year old to look through when the skies are clear?
If so, then you've come to the right place because here I'll will go over 7 of our favourite telescope picks so that you and most importantly your 5 year old can experience the wonders of the universe in the comfort of their own home (and sometimes outside too).
Pros
Low maintenance
A good number of accessories included
A solid mount
Lightweight and portable
Cons
A little expensive for the specs
Subpar finderscope
Celestron's PowerSeeker 70EQ is a small and compact refractor based telescope that'll provide excellent views for and allow your 5 year old to start exploring the universe with their eyes.
In regards to specs, the 70EQ has an aperture of 70mm (2.76″), a focal length of 700mm resulting in a fairly narrow focal ratio of f/10. This means that the device shouldn't suffer from severe chromatic aberration or false colouring and should also be an excellent device for viewing planets.
With that being said the specs are very beginner oriented so don't expect uber detailed views of the likes of Jupiter or Saturn but, do keep in mind that it's entirely possible for your child/kin or even yourself to see both of these entities nearer to the devices max power of roughly 100 – 120x magnification.
Celestron provides 2 1.25″ eyepieces one being a 20mm kellner and the other a 4mm Ramsden, a very subpar 5 x 24 finderscope, a 3x Barlow lens, an EQ-1 equitorial mount, an amici prism star diagonal pointer and a bunch of other miscellaneous documents. The accessories are once again very beginner oriented but they will definitely do the job out of the box.
As for the size and dimensions of the 70EQ it'll certainly be manageable for most adults and I'm sure just about light enough for the kid to move it around too. Nevertheless, I'd definitely advise helping out with the moving process. It weighs in at 4.7kg when fully assembled and the dimensions are portable too coming in at 95.2 x 32 x 23.4 centimetres.
Keep in mind that the tube is enclosed too meaning far less maintenance will be necessary to keep 70EQ in working condition, which is always a plus in any budding astronomers book.
Pros
Easy to use
Pre-assembled out of the box
Good accessories
Great value for money
Compact and portable
Cons
Will need regular maintenance and collimation
Not very usable at its max power
Zhumell seem to make a number of excellent telescopes and the Z100 is no exception here. It uses newtonian reflector optics which does also mean an open tube design is used but, with the table top dobsonian mount and specs that are great for the price, I do believe that this device would be an excellent contraption to stargaze for your kid from the age of 5 and beyond.
At the very least they'll pick up a few of the more annoying aspects of reflector based devices such as how to align the mirrors and how to eventually clean and maintain the optics, which will serve them and you well for years to come.
With an aperture of 100mm, a focal length at 400mm resulting in a very fast f/4 focal ratio, the Z100 will be a far better device for wider field viewings over planetary observation however, it can also achieve a max usable magnification of around 150 – 170x so it should still prove plenty powerful for checking planets out too.
The inbox accessories include a 1.25″ focuser, a red dot pointer, two kellner 1.25″ eyepieces at 17mm (24x)and 10mm (40x) and a bunch of other miscellaneous documents.
Once again these accessories are very entry level and will likely need some upgrading down the line (like the eyepieces) but, for what they provide and the ability they bring to the table, these items are more than satisfactory.
A tabletop dobsonian mount is attached to the tube so you may need to place the Z100 on a stool or a pile of books to get an ideal veiwing angle however, this design does make the Z100 very portable and compact, which is certainly a positive in my books and something your kid will probably appreciate too.
When putting stats to this portability, Zhumell's Z100 weighs in at a very lightweight 2.38kg with its dimensions coming in at 36.8 x 27.9 x 29.8 cm.
Although Zhumell's Z100 will require more work than a refractor telescope for example, in terms of value and the pure compact nature of it, the Z100 is still an excellent companion for your 5 year old StarGazing journey.
Pros
Great for planetary viewing
Decent in box accessories
It's low maintenance
Very portable
Cons
The mount isn't great for the Mak optics
Isn't that powerful for the price
Kellner eyepieces are mediocre
Orion's Starmax 90mm is yet another tabletop offering but this time the optics used are a little different being a catadioptric maksutov-cassegrain (Mak) optical offering. This in turn means this device does cost a bit more than your cheaper offerings nevertheless, it doesn't take away from the Starmax's more than competent performance.
The starmax has an aperture of 90mm, a focal length of 1250mm resulting in a very narrow focal ratio of f/13.9. The max theoretical magnification of this device is 180x although real world usage may be around 10 – 20% lower.
Two 1.25″ kellner eyepieces at focal lengths of 25mm and 10mm, a red dot finderscope, a 1.25" prism star diagonal a table top mount along with a bunch of other miscellaneous documents is what you'll find within the box. Once again the eyepieces are relatively low in quality whilst the other items are acceptable.
As a result you may need to upgrade the eyepieces to better quality ones but, they will get the job done. As for the table top mount, it is technically a good mount too so that's a win for the starmax in our books too.
However, due to the really long focal length of Mak telescopes, with the combination of the tabletop dobsonian mount the visuals will shake a lot more than the other alternatives on this list. However, thankfully due to the vixen dovetail bar design for attaching mounts you should be able to purchase a tripod that accommodates and may even fix this issue if you choose to do so.
Orion's Starmax 90mm is portable and lightweight (weighing only 2.9kg) too which is always a major plus as moving it around should be simple enough for your kid.
All things considered, minus the gripe with the shaky visuals the optical quality and the overall quality of the starmax is great as it will most certainly satisfy your little ones astronomy itch.
4. Celestron 22030 Travel Scope
Pros
Low maintenance
Decent value for money
Doubles as an entry level spotting scope
Lightweight and portable
Decent accessories
Cons
Suffers from chromatic aberration due to the fast optics
Subpar finderscope
This Travel Scope by Celestron is another great entry level device for your 5 year old as it once again uses refractor optics. What this means is that the scope harbours its optics within an enclosed tube, which in turn would require less maintenance to upkeep in use and ultimately just makes it user and more user friendly experience for the young ones.
As for the specs the Travel Scope has an aperture of 80mm, a focal length of 400mm resulting in a fast focal ratio of f/5. As a result this telescope can achieve a usable magnification of around 120x. This will allow users to view the likes of Jupiter, saturn and its rings along with some terrestrial views do earth, making it quite the versatile device.
With that being said it will suffer heavily from chromatic aberration due to the faster optics but, other than some false colouring this shouldn't affect the performance of this device all too much.
The Travel Scope comes with 2 1.25″ eyepieces at 20mm and 10mm, an erect image star diagonal, finderscope, a smartphone adapter along with a custom backpack to store the entire kit within.
None of these accessories are spectacular per say nevertheless, they aren't half bad either. Therefore, even though you will likely want to upgrade some elements of it like the eyepieces for example, the out of the box viewing experience should still be good considering the price.
Weighing in at only 2kg when fully assembled the travel scope is among the lightest devices on this list meaning it really shouldn't be too much of a bother to move it around for most 5 year old, which is made even easier when using the Included backpack.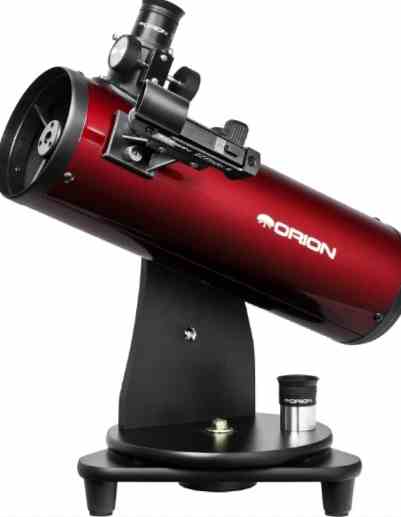 Pros
Great value for money
Fully assembled out of the box (minus the finderscope)
Decent accessories
Can be attached to any tripod you'd like due to the 1/4 20 point at the centre of the dovetail
Very portable
Cons
The placement of the focuser is awkward being at the top as opposed the side
The primary mirror will be hard to adjust
The SkyScanner by Orion is yet another excellent newtonian tabletop telescope that will rovide great visuals for beginner level users and is even set up already out of the box which will simplify the whole setting up process.
Spec wise the SkyScanner has an aperture of 100mm, a focal length of 400mm resulting in very fast and wide focal ratio of f/4. What this means is that coma will be more prevalent when viewing through the eyepiece and it won't necessarily be the best device for viewing planets but, it should still be very capable nonetheless.
With these specifications you'll be able to achieve a max usable magnification of around 150x with the right eyepieces meaning you'll be able to see Jupiter and Saturn even should be more doable with the skyscanner.
The accessories provided in the box include 2 1.25″ kellner eyepieces at 20mm and 10mm focal length, a AltAz Dobsonian mount, a EZ Finder II reflex sight and a bunch of other miscellaneous documents. These accessories aren't the best but they will still be satisfactory for your 5 year old.
As for the mount, it'll be pretty good too although it is a tabletop one so you'll need to position it appropriately to be able to use it. Thankfully if you're not a fan of these kinds of mounts you can always purchase a tripod to upgrade the situation a little.
Overall the Orion SkyScanner is an excellent entry level telescope that will be a very competent device for the 5 year old if you choose to buy it and of course weighing in at only 2.8kg when fully assembled, it should be realively easy to move it around too.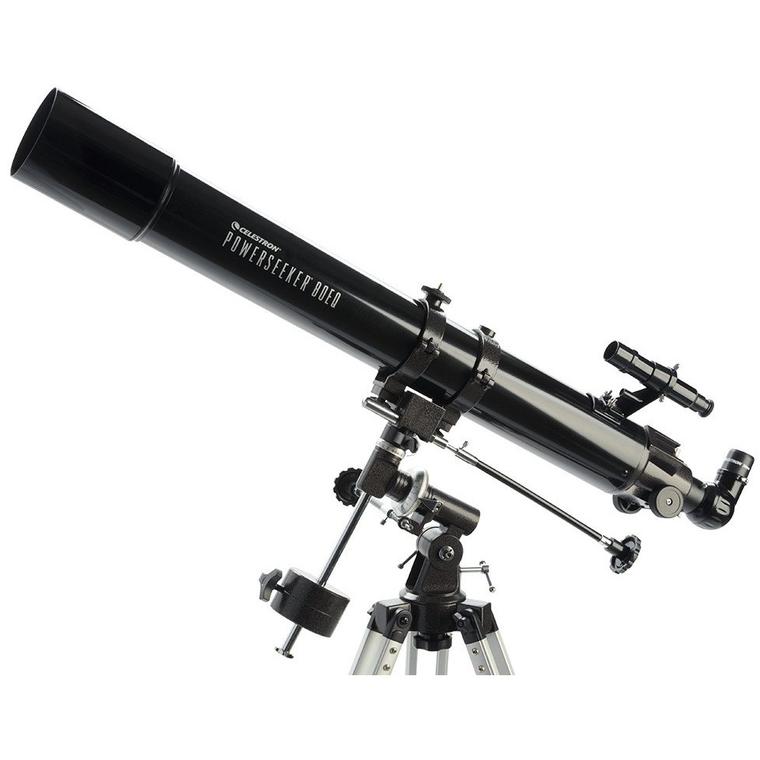 Pros
A good amount of accessories provide
Good value for money
A decent mount
Minimal maintenance
Cons
A bit limited in performance
The 675x magnification marketing is a lie
The PowerSeeker 80EQ is simply a slightly larger and more powerful version of the 70EQ I mentioned earlier. In turn this device is going to provide slightly better visuals than it.
Achromatic refractor optics are used within the enclosed tube of the 80EQ meaning it will provide great contrasted visuals, the design also means less maintenance will be required, which is obviously a good thing when you're buying a telescope for your 5 year old.
Specifications wise the 80EQ comes with an aperture of 80mm (3.15″), a focal length of 900mm resulting in a focal ratio of f/11. This means the 80EQ theoretically can achieve a max magnification 225x although considering the device is a cheaper, real world use would mean it'd probably achieve around 130 – 150x max of usable magnification.
This is still more than good enough and will allow your young one to view quite a number of celestial entities in outer space.
As for the accessories, Celestron provides one 1.25″ kellner eyepieces at 20mm and another Ramsden 4mm, a PowerSeeker 3x Barlow lens, a smartphone adapter, an EQ-1 German equatorial mount, a tripod among other documentation within the box.
The mount is quite good as it transitions really well whilst not being too big for the 80EQ which is a bonus. The other accessories however aren't anything to rave about nevertheless, they do get the job done (as is the case with most accessories in the entry level segment).
It's also relatively light weigh coming in at 6.3kg when fully assembled. However, this can be way more manageable when the Tripod and the tube are separated so it should not be much of a concern as a whole.
If you simply want a more powerful 70EQ then the 80EQ is certainly an option to go for and definitely will not dissapoint.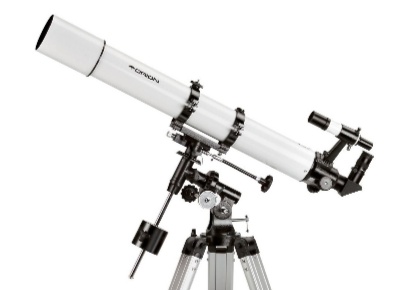 Pros
Great accessories
Great refractor optics
Easy to set up
Good build quality
Cons
The mount is a little flimsy
Chromatic aberration
Finderscope is subpar
Quite expensive for the specs
Orion's AstroView is another excellent device that provides the most powerful optics out of all the refractor telescopes on this list so expect to get just a little more detail when using it.
It's specifications are once again entry level but still very competent as it has an aperture of 90mm, the focal length is 910mm resulting in a very narrow focal ratio of f/10.1. This means it should be able to achieve a usable magnification of around 150x whilst the slower optics will reduce chromatic aberration as well as be better suited for planetary viewing.
In turn you will be able view Jupiter, Saturn and its rings along with a number of other celestial objects and even terrestrial objects but, don't expect the best of details.
As for the accessories, Orion provides two 1.25″ plossl eyepieces at 25mm (36x) and 10mm (91x), a 6×30 finderscope, 90-degree prism star diagonal along with a few other miscellaneous documents in the box. Other than the finderscope all the accessories includes are genuinely very good for the price and definitely far better than most of the ones on this list.
One of the more negative elements for this device has to do with its a bit too small and flimsy mount. Although you won't necessarily need to purchase a new one, the EQ-2 mount will still be a bit of a pain to use.
The AstroView is also on the heavier side weighing in at 14.3kg when fully assembled but, as long as you're there to assist in moving the telescope around (which I'm sure would be the case for all the other telescopes on this list), the AstroView will be a worthy companion for your youth for many years in to come.
Conclusion
Hopefully one of these scopes fits your 5 year olds needs and then some as what I've listed are some of the top entry level telescopes around. Of course there isn't just one perfect device but, if you decide on any one of the telescopes on this list and your youngster is willing to learn the ropes, I'm certain it'll be a blast to stargaze for them!