*This post may contain affiliate links. This means we may make a commission if you purchase an item using one of our links*
Welcome to my Celestron 31150 LCM 114 Review!
In this review I'll cover the pros, cons and the LCM 114's features to ultimately help you decide on whether the system is a is worth investing in or beginner level device that you should skip out on.
Overview
Full Name: Celestron 31150 LCM 124
Type: Bird-Jones
Aperture: 114mm (4.5″)
Focal length: 1000mm
Focal ratio: f/8.77
Weight & height: 5kg and between 83cm – 122cm in height
Included eyepieces: 2 1.25″ kellner eyepieces at 25mm and 9mm
Rating: 2/5
Pros
A database of ove 4k objects to lock on to
Easy to move around
Easy to assemble
Cons
Is too lightweight making it unstable
Uses the lacklustre bird-Jones optics inside
Not very great value for money
Accessories are mediocre at best
Difficult to align the scope
Sale
Celestron - 114LCM Computerized Newtonian Telescope - Telescopes for Beginners - 2 Eyepieces - Full-Height Tripod - Motorized Altazimuth Mount - Large 114mm Newtonian Reflector
COMPUTERIZED AUTOMATIC TELESCOPE: The Celestron 114LCM Computerized Newtonian Telescope with all glass optics can automatically locate 4,000 celestial objects with its computerized GoTo mount.
TAKE THE SKY TOUR: If you're not sure of what to observe, the Sky Tour button will do the work for you. Simply press the button and your computerized telescope will generate a list of the best objects currently available to view in the sky.
EVERYTHING YOU NEED: The Celestron LCM telescope comes with everything you need for stargazing, including a full-height tripod, 2 high-quality eyepieces (25mm & 9mm), and a StarPointer red dot finderscope.
BONUS FREE STARRY NIGHT SOFTWARE: This Celestron 114LCM Computerized Telescope includes a FREE download of one of the top consumer rated astronomy software programs. Simulate the night sky from any location on Earth or plan your next observing session.
UNBEATABLE WARRANTY & SUPPORT: Buy with confidence from Celestron, a leading telescope brand in California since 1960. Your purchase includes a 2-Year US Warranty and unlimited support from our team of US-based experts.
How Do The Celestron 31150 LCM 114's Optics Work?
If you aren't already aware, telescopes tend to have 3 main variation of optics inside their tubes, namely reflector, refractor and compound lenses. The Celestron LCM 114 has compound optics inside the tube with the type of mirror used being a bird-jones compound telescope as it uses both a mirror and a glass lens inside.
For some reason the official websites that it's sold on seems to label the optics as a Newtonian reflector but, this is actually far from the truth.
All 3 types of optics have their pros and cons however, birds-jones optics tend to be regarded among the worst variant telescopes out there due to the fact it doesn't use a parabolic primary mirror a spherical mirror instead.
This will ultimately result in quite a few major cons.
Firstly, the pros of the optics within the LCM 114 include the following :
The optics are great for viewings faint objects in the sky as all types of light can pass through the lenses (this isn't the case for a refractor telescope).
Reflectors are generally cheaper to manufacture, resulting in cheaper telescopes.
These optics don't suffer from chromatic aberration unlike refractors again
As for the cons, they are as such  :
The optics are exposed meaning you'd need to clean them up regularly
You'll regularly need to collimate the device too as they're easy to knock out of alignment
It's tough to Collimate the bird-Jones optics
Low focal ratio reflector devices tend to suffer a lot more from comatic abbeartion  
Can't view things on earth very well unlike the other 2 variations
They can't double spotting scopes unlike the other 2 variants
The bird-jones will suffer from spherical aberration due to the primary mirror being spherical in nature
Overall the optics within the LCM 114 are not great but, this doesn't mean they can't be usable when aligned properly. Then again the collimation process with Bird-jones optics aren't great either due to the Barlow lens tacked onto the tube making the whole image through the eyepiece being unfocused.
What Do The Celestron 31150 LCM 114's Specifications Mean?
The LCM 114 has decent specs with a aperture of 114mm, a focal length at 1000mm resulting in a focal ratio of f/8.77. This means that the performance of the device will be far better for looking at celestial objects in a more narrower manner however, because the aperture is lower, the quality of the planets you'll see won't be all that amazing.
So, even though technically Celestron claim you'll be able to magnify the view upto 269x, the legit max magnification will be likely closer to 200x.
Of course this is still a solid number and should theoretically allow users to see a decent number of celestial objects in space, some of which include the following :
Jupiter, it's red spot and even its cloud bands with solid detail near the max magnification
Saturn's rings and the colour of the planet at the max magnification
Mars and some of its surface details
Nebulaes
Star clusters
Andromeda and a few other galaxies
The moon and it's craters in very good detail
So yes the LCM 114 is far from the most powerful of devices when it comes to specifications but, it's still a decent performer despite its lackluster in-tube optics.
As for the weight and height of the telescope, it comes in at around 5kg for the device, which is very reasonable and should not be very difficult for anyone to move around, even children. As for its height, it stands between 83cm – 122cm which is reasonable for children.
That being said if it is too short for you when standing up you can always position it differently or just change the tripod entirely however, as a whole the weight and height of the LCM 114 is very manageable even if not necessarily practical for adults.
Accessories Included In The Box
The accessories included within the LCM 114's are 2 1.25″ eyepieces at 9mm and 25mm, a built-in star pointer finderscope, a tripod, a Skyx Dvd, a basic rack and pinion focuser, a computerised mount, a remote controller to access the 4000 large database of celestial objects that the mount can lock onto along with a bunch of miscallaneous documents.
The eyepieces provided aren't that great for inbox ones as they're kellner branded and they don't have rubber around the edges for comfort therefore, it'll definitely be a good idea to upgrade these later down the road (here's our list of some of the best options).
The Celestron 31150 LCM 114's Computerised Mount
The computerised mount used by the LCM 114 appears to be quite cheaply made and is very lightweight too, which unfortunately will affect the systems stability. The main reason why the stability will be affected a lot is due to the design of the mount.
Unlike the better mounts out there that tend to use a dual or bowed fork arm to keep the telescope centered on the tripod and mount, the tube on the LCM 114's mount isn't designed like that meaning that more often than not the device will be unbalanced resulting in a shaky viewing experience.
With that being said though, the computerised capabilities of the GoTo Mount is still quite accurate and should be able to track objects reasonably well.
However, the lightweight nature of the mount and the small, lightweight and frankly mediocre as a whole tripod that's provided as well, will make the experience using the LCM 114 quite unstable and susceptible to being knocked over if you're not careful.
As for how to power the mount on, you can either place a 8 AA batteries inside or use a 12 volt power supply.
What Are Users Of The Celestron 31150 LCM 114 Saying?
Users of the device have stated multiple times that it's reasonably easy to assemble but quite hard to align the mirrors. Of course users have also liked the fact it's easy to move around due to its weight but, as I've already mentioned this lightweight nature of the LCM 114 is quite the double edged sword.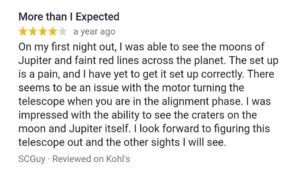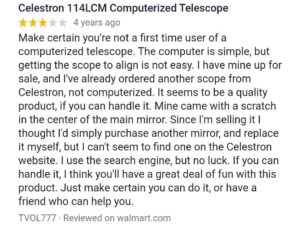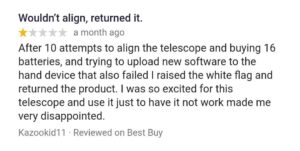 In short, some users have found success using the LCM 114 whilst others completely gave up on trying to figure it out due to the collimation process, which is why you're probably better off looking at alternatives. That is of course what I'll delve into on the next section of the review.
Other Alternatives Worth Checking Out
If you're still interested in computerised telescopes, check out this list on some of our best options available although keep in mind these tend to be fairly expensive.
On the other hand if you're willing to invest in a manual system that just ticks every box available from more power, to just better value overall, the SkyWatcher Dobsonian 6-inch or the Orion SkyQuest XT6 are great systems to go for too.
Summary
As a whole I personally don't believe the Celestron LCM 114 is worth the roughly $350 asking price due to how many issues it has from the mediocre specs, the cheap and flimsy mount and of course the frankly lackluster accessories included in the box.
Of course the device is still usable and users have found to be decent for first time users but, for the price your paying, the number of better non computerised and even computerised telescopes you can find in the market just do not make the LCM 114 a very good system to go for and I personally would suggest you skip it.
Of course if you still want to test it out, you can totally do so.