*This post may contain affiliate links. This means we may make a commission if you purchase an item using one of our links*
Welcome to my Orion AstroView 6 Review!
In this review I'll cover the pros, cons and the AstroView 6's features to ultimately help you decide whether it's a beginner level telescope worth investing in or one that you should skip instead.
Overview
Full Name: Orion AstroView 6
Type: Newtonian reflector
Aperture: 150mm (6″)
Focal length: 750mm
Focal ratio: f/5
Weight: 16.7kg when fully assembled
Included eyepieces: 2 1.25″ Plossl 25mm and 10mm
Rating: 4.4/5
Pros
Great specs
Great optics
Solid in box eyepieces and focuser
Great quality EQ-3 equitorial mount
Great for viewing deep space objects
Cons
It's heavy
mediocre inbox finderscope
Mount unable to handle DSLR cameras for astrophotography
It's a little pricey
Orion 9827 AstroView 6 Equatorial Reflector Telescope
Versatile 6" reflector telescope and sturdy equatorial (EQ) mount and tripod excels at all-around night-sky performance
6" (150mm) aperture and 750mm focal length Newtonian reflector optics provides pleasing views of a rich variety of celestial objects from the close-by Moon to distant galaxies and cloudy nebulas
Includes sturdy adjustable-height aluminum tripod and equatorial mount for precise slow-motion manual tracking of celestial objects as they appear to migrate across the night sky
Includes 25mm and 10mm Sirius Plossl 1.25" telescope eyepieces which provide 30x and 75x views respectively for a variety of magnification right out of the box
Also includes a 6x30 finder scope, 1.25" rack & pinion focuser, polar alignment scope, collimation cap, Starry Night astronomy software, and more!
How Do The Orion AstroView 6's Optics Work?
The AstroView 6 has netonian reflector optics within it chassis which means it has two mirrors with the primary utilising a parabolic design. This in turn will result in visuals that will come as far clearer than, for example spherical reflector telescopes.
On top of this the collimation process will be also better as parabolic mirrors are designed to allow images to focus on a singular point.
With that being said a small minority of individuals have experienced difficulties with collimating AstroView so, if you're a beginner expect a bit of learning curve here.
Newtonian optics also tend have amazing clarity too partly due parabolic optics once again.
As for the other pros, they include the following :
Great for viewings faint objects in the sky as all types of light can pass through the lenses (this isn't the case for a refractor)
Reflectors are generally cheaper to manufacture, resulting in cheaper telescopes.
These optics don't suffer from chromatic aberration 
As for the cons, they are as such :
The optics are exposed meaning you'd need to clean them up regularly
You'll regularly need to collimate the device too as they're easy to knock out of alignment
Low focal ratio reflector devices tend to suffer a lot more from comatic aberration
Can't view things on earth very well unlike the other 2 variations
Overall, though in terms of quality the optics found within the AstroView are very solid however, just because the newtonian reflector optics with this telescope are or good quality, it doesn't are solid always translate superior performance…
So, that's why I'll be covering the performance of the newtonian optics within the AstroView in the next section.
What Do The Orion AstroView 6's Specifications Mean?
The AstroView 6 has an aperture of 150mm (6″), a focal ratio of 750mm resulting in quite a wide focal ratio of f/5. This focal ratio is very middle of the road meaning views will still suffer from coma but, for wide field viewing of the night sky and planetary viewing too, the AstroView will be reasonable although not necessarily the best out of the box.
In regards to what the aperture means in this case, the device will be able to achieve a theoretical max magnification of 300x although the real world max will be around 250x as stability and lack of detail will be an issue the more you magnify.
Nevertheless, with this magnification level you will be able to make out the following celestial objects :
The moon and its craters will in very high detail
You should be able to make out all of the planets within our solar system uptil Neptune, although you won't be able to make it out beyond its blue disk like shape.
Jupiter can be seen at some really good detail with the AstroView 6 as well as observe some of it's moons
You'll be able to make out a good amount of separation on Saturn's rings as well a few of the moons orbiting it.
Start clusters, galaxies and nebulae and the messier catalogue will all be visible through the scope but, mainly as bright spots in the night sky.
So yeah, as a beginner level astronomer the capabilities of a 6inch telescope like the AstroView will be very usable for most, which is even better when you consider it's also a great performer in heavily light polluted areas too.
Portability is always something that users look for when dealing with telescopes and even though the AstroView is far from portable, it is still quite reasonable in this sector.
The device weighs in at 16.7kg when fully assembled. Of course this can be separated into two pieces which should make it easy enough to put in your truck when looking for a good place to star gaze, for when you want to it around your home or even for storage.
It's true that the AstroView is far from the most portable of devices but, that's just a sacrifice that every amateur astronomer has to make for better performance.
Accessories Included In The Box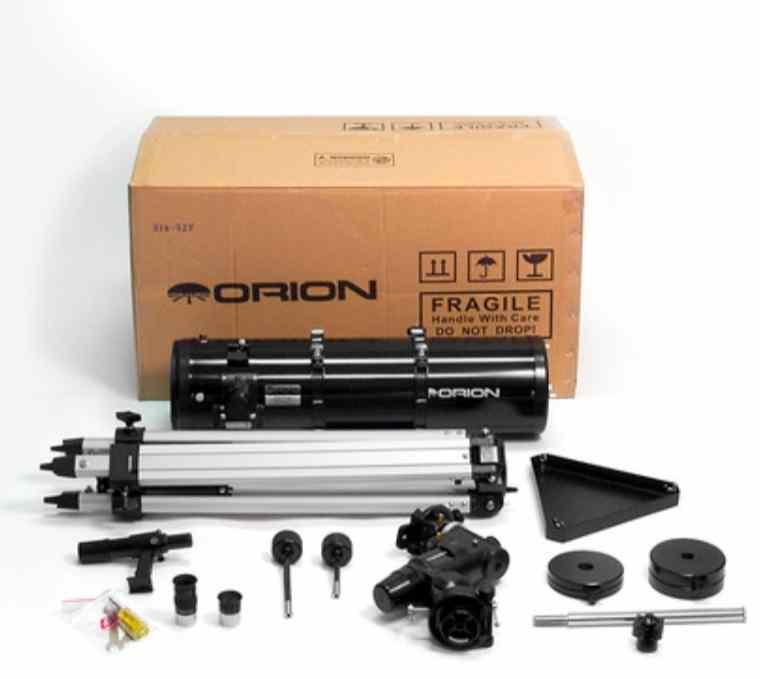 The AstroView 6 comes with 2 Sirius Plossl eyepieces with focal lengths of 25mm (30x) and 10mm (75x), an all metal 1.25" rack-and-pinion focuser, a 6 x 30 finderscope the equitorial mount and the typical books and documentation.
The eyepieces in the box are quite good and will allow you to see a decent amount of celestial objects in space even if it only displays a portion of the telescopes power. In that regard I would definitely recommend upgrading to lower focal length eyepieces (we have list of eyepieces we recommend here if you're interested).
The all metal focuser is of good quality and will allow you to use 1.25″ eyepieces however, you will need an adapter in order to utilise the wider 2″ eyepieces. This of course will limit the AstroView 6's astrophotography capabilities as the focuser just isn't strong enough to handle the weight of a dslr (of course a smartphone is a different story).
The only poor aspect about the in box accessories has to be the subpar 6 x 30 finderscope. That's an area that you definitely should upgrade, probably to a 9 x 50 finderscope.
The Orion AstroView 6's Mount
The AstroView 6's mount is one of its stronger elements with the one included being an EQ-3 equitorial mount. The mount is attached to the telescope tube via a Vixen Polaris design.
The mount is of course manual but, even with its single knob to turn the telescope, you'll be able to do so slowly and accurately which allows for effortless tracking of celestial bodies.
For the most it should do well for you but, as I said previously the EQ-3 mount is unlikely to be all that great at legit astrophotography as it wouldn't be able to handle the maximum load of a DSLR camera let alone an eyepiece and DSLR at the same time.
With that being said though, if astrophotography isn't one of your goals, at least when it comes to taking high quality pics, this mount should more than do the job.
On top of this the polar alignment as a result of the polar scope means it will be very intuitive and easy to align the device at whatever latitude you intend to use the scope at.
Lastly and probably the mounts biggest criticism is to do with the plastic material used to construct its legs that can be easily damaged or broken if not handled properly.
Other than the 2 issues mentioned above, for the price, the EQ-3 mount is actually one of the better ones out there, especially amongst those that come in the box.
What Are Users Of The Orion AstroView 6 Saying?
Most users found the AstroView to be a great device for themselves, especially those wanting to get a solid scope for the first time. The only issues it has seems to be with the weight of the fully assemble device, it's mediocre finderscope and some problems with shakiness.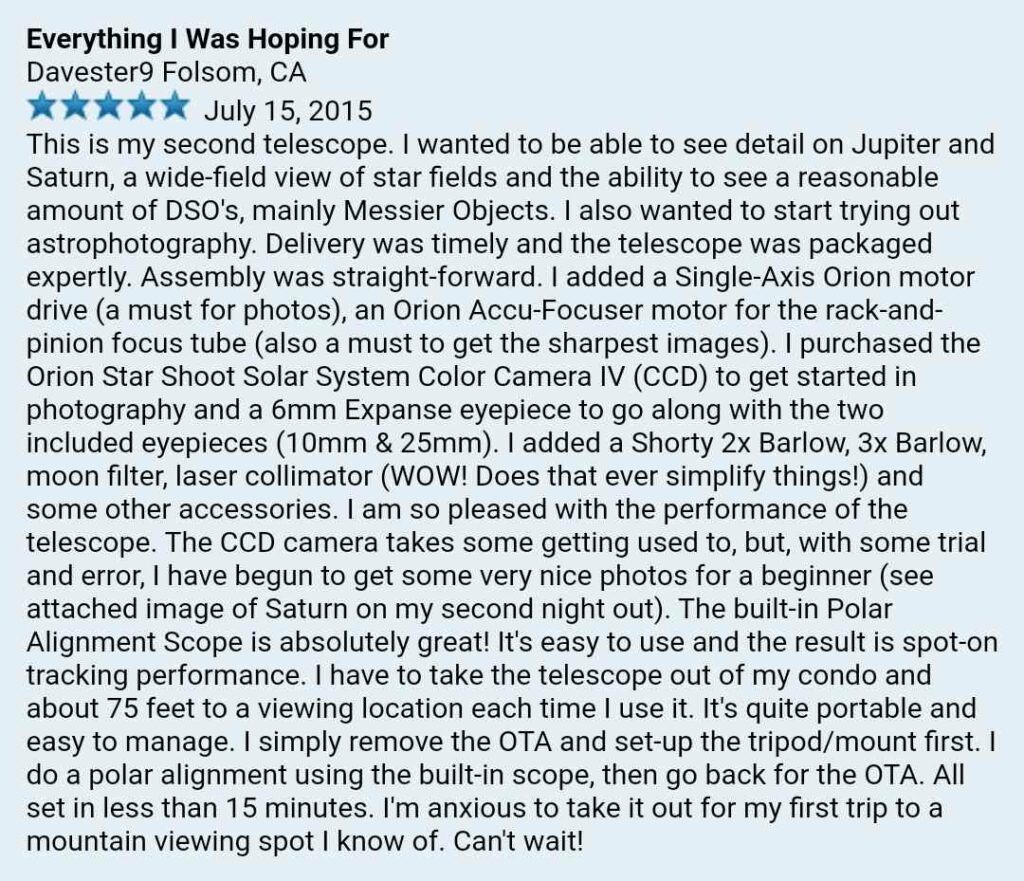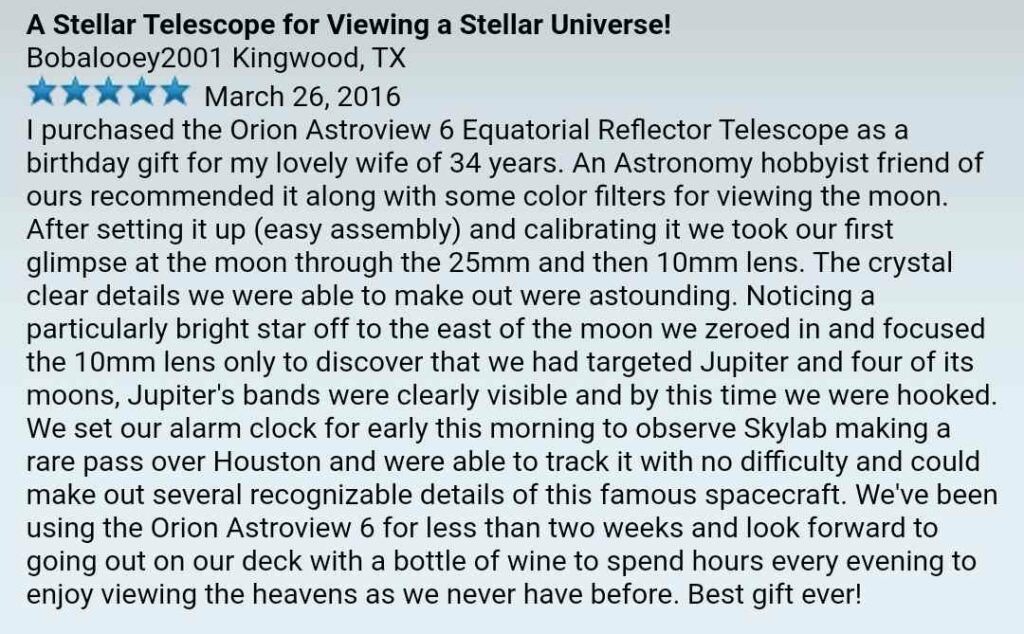 Nevertheless, even with those minor issues users found the overall image quality provided by the AstroView to be excellent even straight out of the box.
Other Alternatives Worth Checking Out
The AstroView 6 is as far as I can tell an excellent device with only a few nitpick, mostly to do with portability and not necessarily being great for astrophotography based activities.
Therefore, If you're in the market for a more portable device, this list of ours may be useful for you.
On the other hand if astrophotography is the path you wish to take with your telescope, this list will be helpful as well.
Summary
Overall The Orion AstroView 6 is a great 6 inch device that I would definitely recommend, as great optics, a quality mount despite it not necessarily being suited for astrophotography and the accessories included in the box are above par too.
Granted that it is a little pricer than other similar devices like the skyquest xt6 but, for what it offers as an overall experience, you certainly wouldn't be making a mistake by purchasing Orion's AstroView 6.