*This post may contain affiliate links. This means we may make a commission if you purchase an item using one of our links*
If you travel a lot, particularly on long plane journeys or train rides, having a case that comfortably stores your optical equipment is a must. That's probably the reason why you've found yourself on this article right.
Within this post I'll be going over 7 of our best cases for telescopes so that the next time you go on an astronomy journey to another country a plane a ride away, you'll do so with full confidence that your telescope won't suffer any damage or possibly break halfway through .
Do keep in mind that some of these cases are specifically designed for particular telescopes but, that does not mean they won't be versatile enough to allow other similarly sized devices to fit into them so, with that being said let's move onto the cases.
1. Celestron Case for NexStar 4/5/6 and 8 OTAs (Our Best Pick)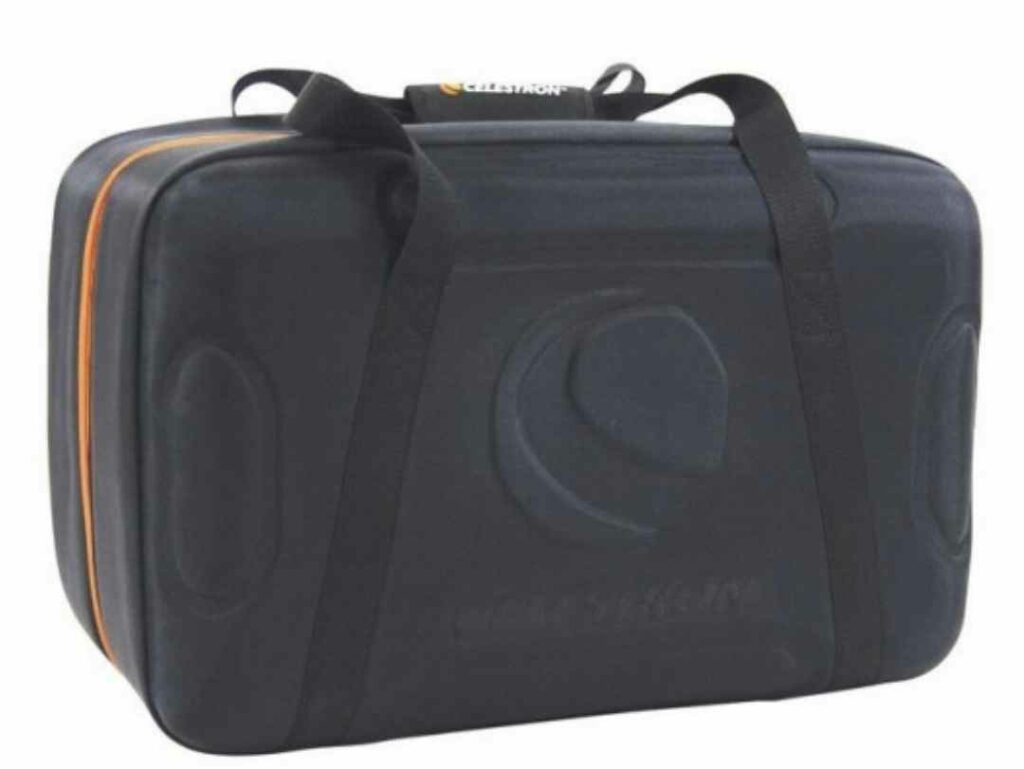 Pros
The case has a very thick foam coating
Multiple pockets for other accessories
The exterior is thick and sturdy
Has an adjustable strap to allow storage for device varying in size
Cons
A little pricey
The size is limited
The handle is basic with no height adjustability
Can't store your mount in the case
This deluxe carry case is designed to protect OTA tubes that are the size of Celestron's Nexstar 8 inch OTA tube and lower. The cases internal dimensions come in at 48.26 x 27.94 x 25.40 cm therefore, as long your telescopes size falls within this it should theoretically be able to hold the OTA tube of telescope.
What this means is that this deluxe carry case will mostly be limited to smaller reflector devices or catadioptric/compound based systems like a Schmidt-Cassegrain or Maksutov-cassegrain. 
Then again telescopes with those optics tend to be far more costly than your typical reflector or refractor so paying a premium for a carryon case will be worth it in the long run.
Firstly, the exterior of the case is made of what can be referred to as an EVA mold. This is a hard yet flexible mold that will protect your device from getting damaged any knocks and bumps.
The interior of case is far from a disappointment too. It's filled with 2 dense foam spacers (approximately 30mm)and a built-in compression strap which will be used to adjust to the size of an catadioptric or smaller refractor telescope.
There are various pockets of space within the case too which will allow you to store many of your other accessories when on a trip abroad, going to a local StarGazing spot or simply for storage.
Although this deluxe case may be on the pricer side, you do get what you pay for and what you pay for here is an excellent and very secure carry and storage case for the OTA tube of your device.
2. Celestron Case – NEXSTAR 8 and 9/11 OTAs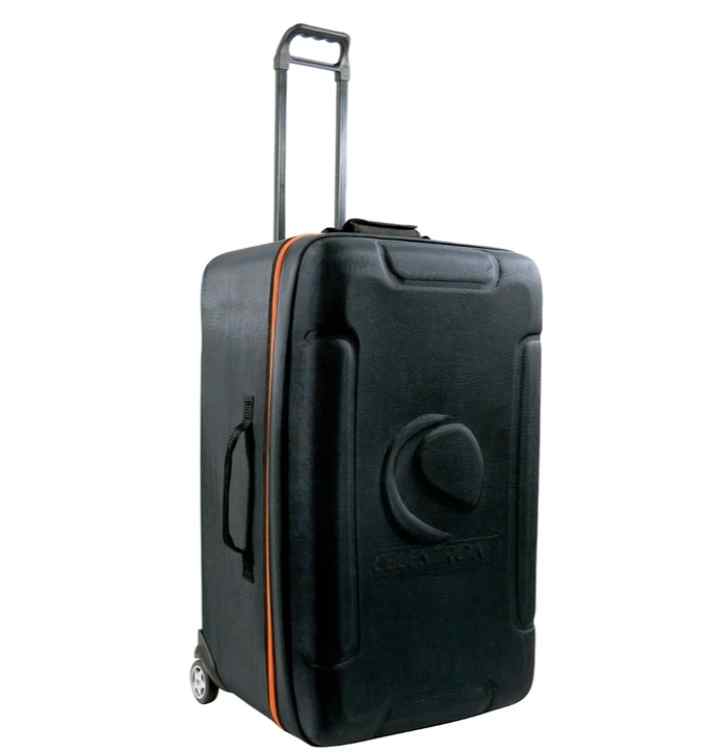 Pros
Hard exterior case and well protected
Thick foamed interior for protection
Wheels and a handle to move the case around
Extra room for accessories
Cons
It's heavy
Quite expensive
Not enough room to place tripods in
Quite expensive
Much like the smaller variant this deluxe carry case by Celestron, made for devices as large as the 11″ inch nexstar catadioptric OTA's, should provide secure protection for any OTA device that you choose to place within its interior.
The outside of the case is Eva coated meaning it's both flexible and hard and should save your device from getting damaged as bumps to the case will be absorbed by it.
The interior is more or less the same as the smaller deluxe bag as it's padded with thick foam (around 38mm thick) and has an adjustable strap allowing you to comfortably and snuggly hold your device in place.
As for the amount of space available inside, it's 66 x 35.56 x 30.48 cm so it does have plenty of room for the bigger devices. Of course the carry case significantly larger too, akin to a suitcase, and it's quite heavy to boot being 8.1kg. Nevertheless, the weight shouldn't be an issue as the case does have wheels and a handle to pull it along with.
Extra storage space is available within a zipper area inside to store your accessories within if you plan on flying with your telescope.
Overall, if you want a quality carrying bag for your telescope tube, this larger deluxe bag by celestron is definitely one worth looking into despite its somewhat steep price tag.
3. Orion 15164 47x11x14 – Inches Padded Telescope Case (Best All Rounder)
Pros
Can fit both the OTA tube and the tripod
One long zip to allow easy access to the device
Relatively affordable
Cons
The foam padding can be quite thin at points
No mold for extra protection on the exterior
Not much room to fit in other accessories
If the two bags above are out of your price range then this padded telescope bag by orion is certainly one worth getting, particularly if you want to carry the OTA tube, the mount and the tripod within one bag.
This feature and the long zip from end to end makes this offering by orion to be a worthy choice. The padding is acceptable for the price (although it is thinner near the bottom).
However, unlike the two carry bags above that are unable to fit a tripod within them, this bag will not only fit your telescope but a tripod too. Of course there is a trade off here too as you won't be able to carry any other accessories necessary for your StarGazing session.
With that being said, this is probably a sacrifice worth making as at least with Orion's offering you'll have a bag with padding that's designed to hold your telescope and not have to carry big bags for the tripod and mount.
Due to the longer design of the bag this padded bag will be able to accommodate a telescope as large as 8 inches (plus the tripod). For anything bigger you'd probably need to look into one of our other recommendations.
4. Orion 15146 48.5×9.5×10.5 – Inches Padded Telescope Case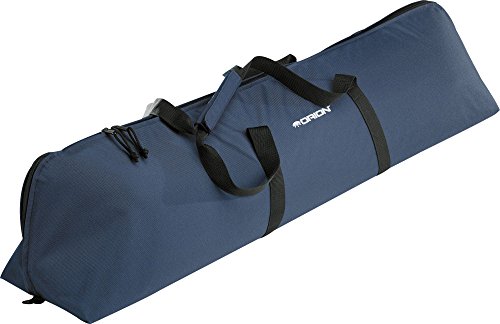 Pros
You can fit your tripod and tube into the case
Relatively affordable
Has the long zip for easy access to the telescope
Is large enough to carry larger telescopic devices
Waterproof exterior
Cons
No mold on the exterior
No strap to conveniently hold the bag
This Orion padded telescope is simply a bigger version of the bag mentioned prior. This means it should have more room allowing for the larger devices to fit in more comfortably.
The padding certainly isn't the most robust however, for the price you're paying for the bag and considering you do have more room to put more padding within the interior, it's hardly a major problem.
Once again the ability to store both your tripod and OTA in the same bag does make this padded case a convenient one for most users even if it isn't necessarily the prettiest looking or easiest to carry.
In short, if you pick this case up you won't be dissatisfied, much like the majority of individuals who've picked it up. The only real negative has to do with the lack of a strap allowing for an easier to carry design over simply holding it with the handle, but at this price range expecting every convenience a telescope carry bag could have is unlikely.
5. Telescope Bag – 29x10X9.5 inch Telescope case – 127EQ PowerSeeker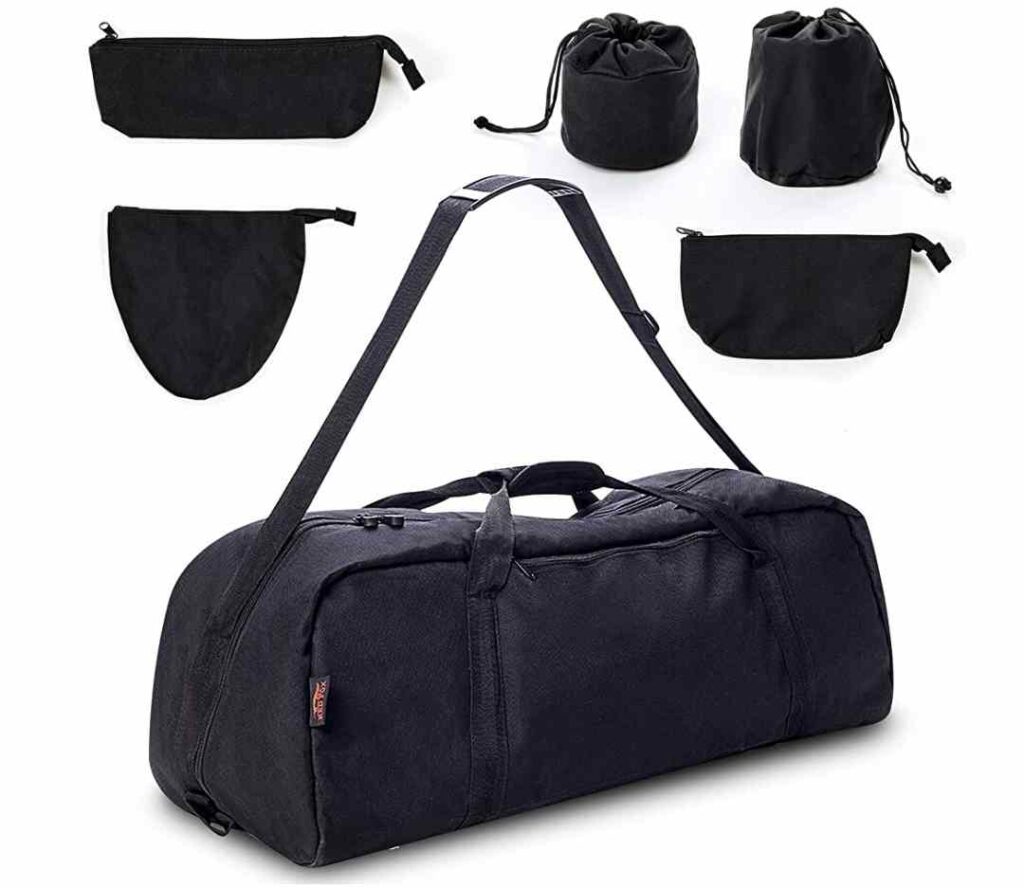 Pros
Padded really well
Has a long strap allowing you to easily carry the bag when the telescope is inside
Fits accessories (within the multiple bags provided) the OTA tube and a tripod
One long zip allowing for easy access to the equipment inside
Cons
The capacity of the bag is limited to smaller telescopes
The exterior isn't the most durable
The size of the bag is very limited
127EQ PowerSeeker's bag is another excellent bag that will provide protection and will allow you to easily store your telescope and other accessories quite comfortably.
Although this telescope bag is said to be specifically designed for the PowerSeeker, in reality any device that has very similar dimensions to the 127EQ will be able to fit within too.
The interior is divided into 2 main parts allowing you to store both the tripod and OTA tube within. Do keep in mind that devices like the PowerSeeker 130EQ will not fit in the bag properly so, the bag in and of itself will only be limited to telescopes with a smaller footprint. There are also straps to snuggly hold the equipment in place.
Plenty of room is available to store a good amount of your accessories whilst the long strap will let you hold the whole bag on your shoulder allowing you to comfortably carry your telescope to your stargazing destination.
The innards are also padded very well so you shouldn't expect the telescope to suffer any damage from the moderate to light nicks the bag may receive.
6. Meade Instruments 609001 Infinity 50-60-70 mm Carry Bag Telescope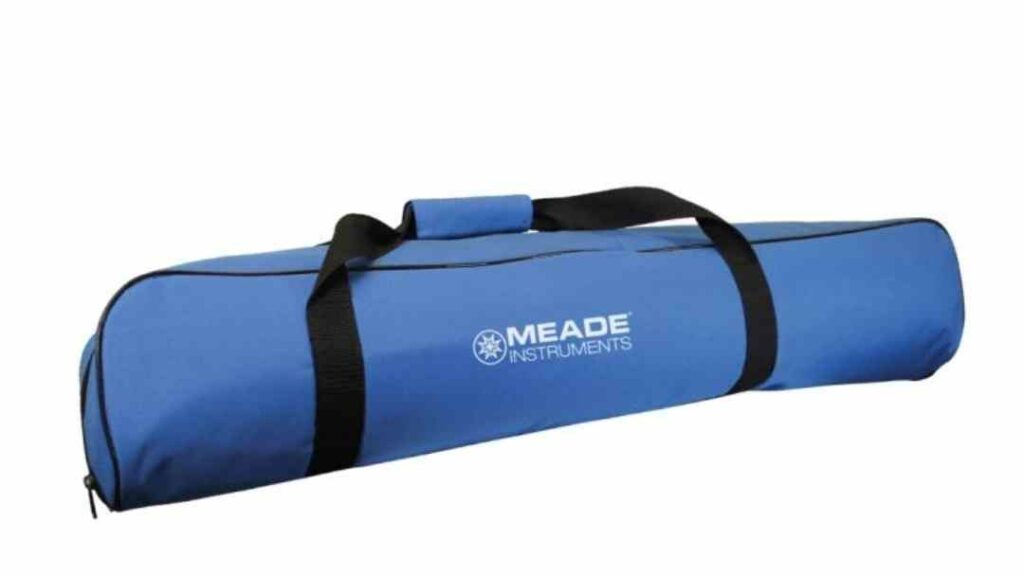 Pros
Very affordable
Has room for some accessories, a tripod and OTA
Cons
Limited capacity
Not enough padding
Not enough room for accessories
The telescope carry bag by meade is yet another smaller bag that won't break the bank especially if you've only got a smaller astronomy set up.
As a result of the smaller size, it will be significantly lighter than the other bags whilst it also has a divider to separate the tripod and OTA tube from touching and potentially resulting in damage.
Padding doesn't even seem to be present or at least there's a very small amount of it here so, purchasing some extra foam padding may be worth doing. As a whole it's definitely not the best in terms of quality but for the price that this bag can be found for, there really aren't many that will perform better.
There is a duffle bag provided in which you can place you accessories, it has a shoulder strap for fairly easy carrying and a velcro strap to keep your device in place.
Once again this bag is primarily for the really small telescope whilst even some 80mm telescope don't fit in it so I wouldn't suggest looking into this bag if your pushing the size limit.
Other than that, if you can exchange the price for the slightly inferior quality over the other bags on this list, meade's offering should serve you well.
7. MrStarGuy SGC10 Telescope Carry Bag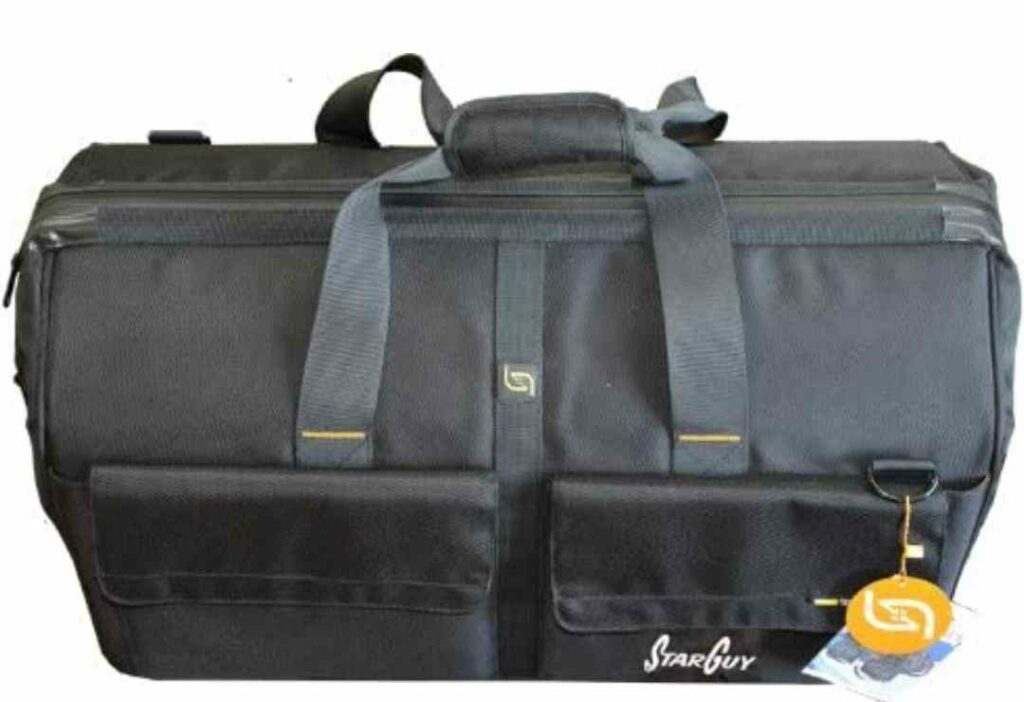 Pros
Thick foam padding in the interior
Comfortable shoulder room
Plenty of room for accessories
Durable exterior
Cons
Can't store both the OTA tube and tripod within the case
On the pricer side
Quite heavy
The final telescope carry bag on our list is called the MrStarGuy SGC10 and this is one that many users have found to be among the cream of the crop for securely storing your telescope.
The interior is padded with thick foam, it has enough room to store the OTA but, by looking at the dimensions of 27.9 x 25.4x 50.96 cm, it does show there isn't much room for anything but the OTA. Users have been able to fit a 8″ celestron Schmidt-Cassegrain device within although at a very tight fit with the 2 velcro straps to keep it in place.
Of course you'll need to invest in a separate bag to carry your tripod. I guess you could say that in exchange for the lack of space to store a tripod, there is ample space for storing accessories in the very spacious pockets outside.
The whole bag implements the bag length zipper (which in this case is waterproof), there are rubberised pads at the bottom of the bag for grip, there's great padding in the interior, the over the shoulder strap is very comfortable and the design of the bag as a whole is very premium in comparison to the majority of other bags available in the market.
Being at the pricer side you would expect a quality product and in this case MrStarGuy seems to deliver in spades. Therefore, if you want a bag that will protect your OTA tube at an elite level, I don't believe that purchasing this telescope case will be detrimental to you whatsoever!
How To Prep Your Telescope For Storage
I've written on article on this subject so, if you're interested in the whole storage process click here however, if you just want to skip to main bits I'll break it down for you here.
Firstly, after any session that you may have with the device, the first thing you'll want to do is allow the telescope to acclimatise to room temperature. This simply means that you should let the device sit in a room until all the dew and liquid as a whole is dried.
It's only after the device has dried when you should take your telescope apart and place it in the carry bag.
In some instances you may need to purchase foam cases for extra protection, below are a few of the best sellers on amazon so, if you're thinking about purchasing one of the cheaper cases, purchasing extra thick foam may need to be an item on your to buy list.
Summary
Hopefully this list has helped you ind deciding on buying a carry case that suits the needs of your telescope. Although times have been rough in regards to travel over the last few years, if you're simply going on a hike and just want an easy bag to store your telescope parts in, a carry case is always worth looking into.