Welcome to my Celestron C90 Review!
In this review I'll cover the pros, cons and the Celestron C90's features to ultimately help you decide whether this telescope is worth investing in or a entry level device that you should probably skip out on.
Overview
Full Name: Celestron C90
Type: Maksutov-cassegrain
Aperture: 90mm
Focal length: 1250mm
Focal ratio: f/13.89
Dimensions & Weight: 40.64 x 17.78 x 25.4 cm & 2.1kg
Included eyepieces: 1.25″ 32mm plossl
Rating: 4/5
Pros
Very well built
Compact and portable
Good optics
Great for viewing objects on earth
Good start for basic astrophotography
Cons
Accessories are subpar
No mount provided
The finderscope is a bit finicky
How Do The Celestron C90's Optics Work?
The Celestron C90, particularly the one that's being reviewed here, is an upgraded and more polished version to a quite famous spottings scopes from the past with an orange tube design. Although the C90 is technically a portable spotting scope in name, in reality it can also double as a slightly weaker (in terms of power) telescope for astronomy purposes as well.
Regarding the optics used within, it is of the maksutov-cassegrain design which means it uses a combination of mirrors and glass within it chassis namely a spherical mirror and  a thicker corrector lens.
In turn the entire tube is enclosed allowing for more durability whilst the optics are generally better suited for planetary viewing and in this case for views of the earth too. Furthermore, the coating used on the modern C90's allows for more light to be captured in turn adding more details in the shadows of the visuals being observed.
Maksutov-cassegrain telescopes tend to have a bunch of common positive which in this case include the following :
Great for viewing planets
As the optics aren't exposed, maintenance is not required all too often
Are generally quite compact for their size
The cons on the other hand are as such :
The light within the tube is folded one time which means that there will be a loss of some detail
Generally more expensive than similar sized reflector or refractor telescopes
Not great for astrophotography
Furthermore, one of the major positives for the C90 has to do with how the optics are far better at focusing as opposed to its predecessor utilising a primary mirror that slides back and forth on the rod essentially duplicating the maneuverability of a telescope significantly more expensive than itself.
What Do The Celestron C90's Specifications Mean?
Celestron's modern C90 has an aperture of 90mm, a focal length of 1250mm resulting in a slow and narrow focal ratio of f/13.89. Maks are know to have very slow and narrow optics meaning they'll be pretty solid for viewing planets as mentioned above and decent for entry level photography (whether astro or terrestrial) too.
The max magnification of the device will allow a user to view at a 180 – 200x magnification multiple which are great numbers for more entry astronomy scopes considering the portability. Moreover, as the C90 is a spotting scope it'll also be able to view objects on Earth that are as close as 15ft or around 4.5m away in good detail too.
As for the celestial objects that you can view through the C90's eyepiece, they include the following :
The moon and its craters in reasonable detail
Jupiter in reasonable detail
Saturn and an outline of its rings near max power
You should be able to make out some star clusters, a few galaxies as bright dots and maybe some asteroids if you're able to track them and if they're near enough to you.
When it comes to the dimensions and weight of this spotting scope, considering it weighs in at only 2.1kg whilst it's dimensions are 40.64 x 17.78 x 25.4 cm, it's clearly a very portable device that won't cause any backs to break in the process of moving it around and finding a good spot to do some stargazing.
Accessories Included In The Box
The accessories included in the box are a 32 mm Eyepiece, 45° Erect Image Diagonal, a 8×21 Erect Image Finderscope, a nylon backpack, a built-in T-Adapter along with a bunch of documents.
These accessories are solid for the most part but, there are a few items that you will need to purchase as they're not included such as a lower focal length eyepiece that brings out more of the C90's power as well as a mount (An eq-3 should do the trick as the adapter used is a vixen dovetail) if you want stability when zooming in at the higher magnification levels.
If you also want to do some small bits of astrophotography the t-adpater will be able to connect to a dslr if you also decide to purchase a t-ring. Obviously you shouldn't expect the best results as the focal ratio will make it quite impractical for long exposures but, it'll still be reasonably competent at taking images of planets and the moon.
What Are Users Of The Celestron C90 Saying
Users have had a very pleasant experience with the C90 where they've enjoyed the build quality, portability and the powerful optics that it provides. One issue that some have is with the finderscope being a bit finicky and using lower focal length eyepieces do only allow for dimmer views but, for most users Celestron's C90 is a great, versatile and compact device.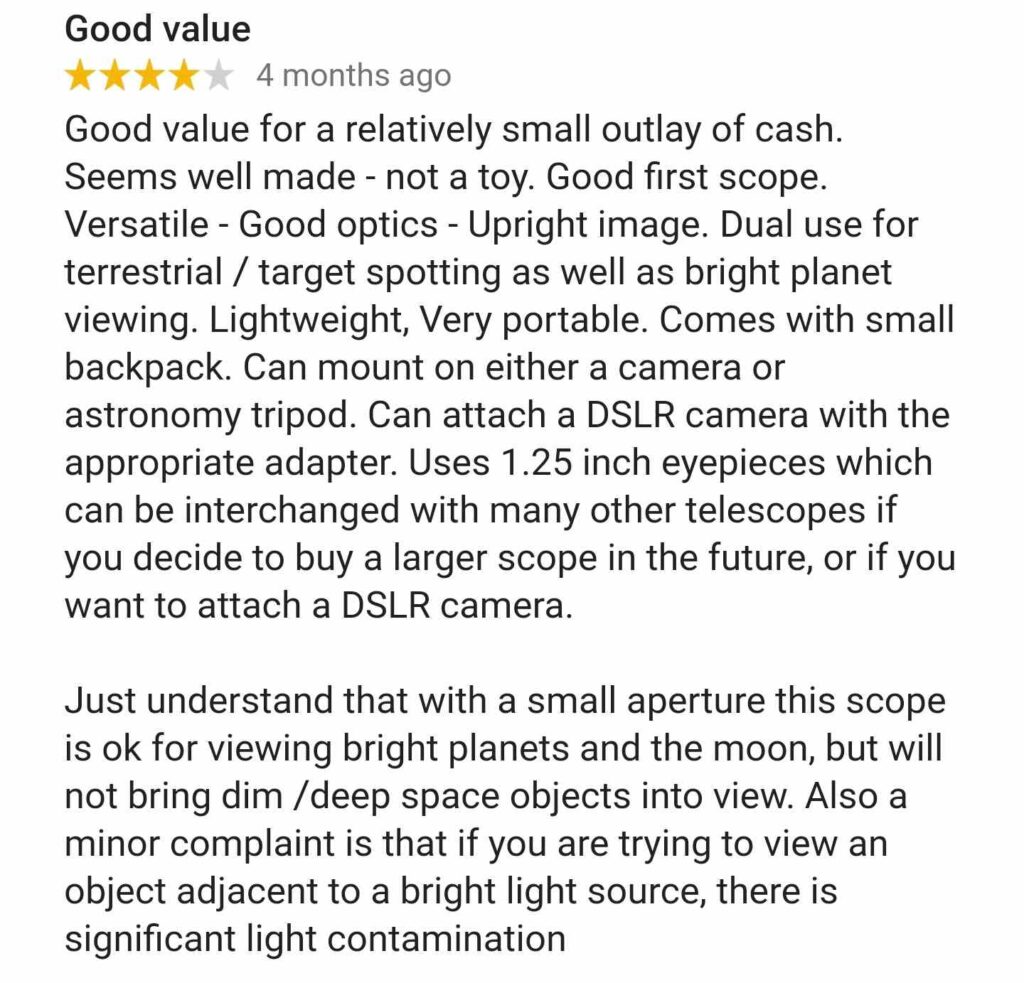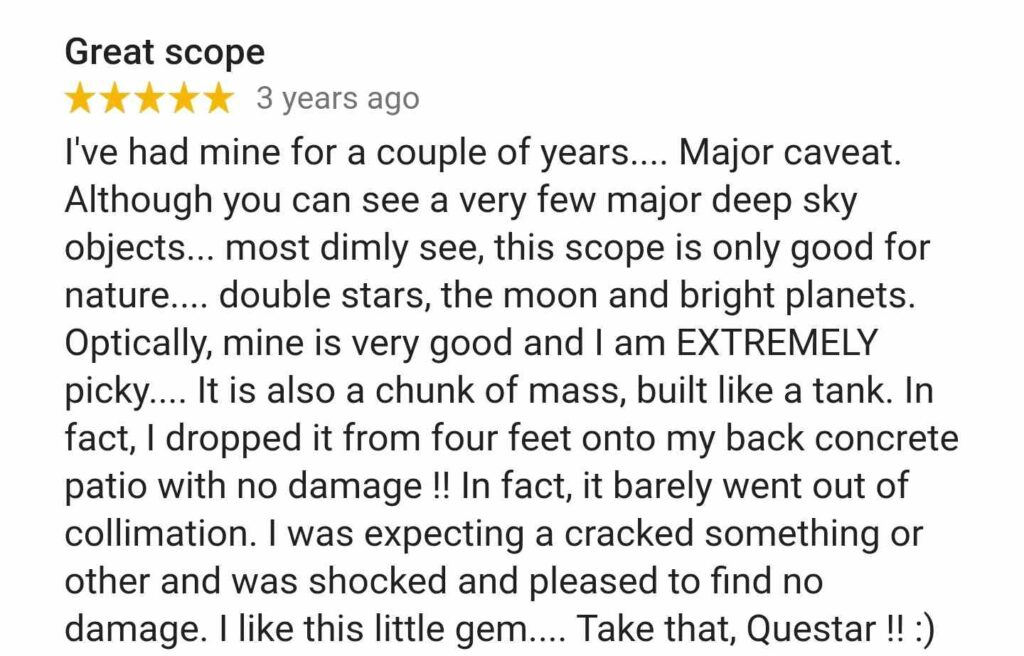 Other Alternatives Worth Checking Out
For what it is the C90 is genuinely an excellent buy but, if you don't want to deal with all the extra accessories that you may need to buy in order to actually do some stargazing with this device, we've compiled a list of some of our top compact telescopes that also provide all the necessary equipment to delve into looking at some planets out of the box.
Summary
This device isn't specifically made for astronomy, afterall it is labelled as a spotting scope, which is why a lot of important items such a mount and extra eyepieces are missing. Nevertheless, if you can fork out a bit more money on a good quality mount and want a versatile device that's great at viewing distant objects on Earth too, the C90 does do quite well.
Overall, Celestron's C90 is well liked by many who decide to pick it up due to its general quality overall therefore, if you do decide that it fits your needs, it'd probably be a great purchase.